Two Alberta UCP members kicked out of caucus after challenging Kenney's leadership
EDMONTON — Members of Premier Jason Kenney's United Conservative Party caucus have voted to turf two of their own for challenging the leader.
Backbencher Todd Loewen was ejected Thursday night after publicly announcing earlier in the day the party is adrift and out of touch under Kenney and that the premier must quit before things spiral further.
Backbencher Drew Barnes had been the most vocal critic of the government's COVID-19 health restrictions, saying they are of questionable effect and an intolerable infringement on personal freedoms. He was also voted out.
"Members recognize the need for government caucus to remain strong and united behind our leader, Premier Jason Kenney, as we continue to fight through what looks to be the final stages of the COVID-19 pandemic and beyond," UCP whip Mike Ellis said in a statement.
"There is simply no room in our caucus for those who continually seek to divide our party and undermine government leadership, especially at this critical juncture."
Kenney's spokeswoman, Jerrica Goodwin, added in a statement: "The premier is proud to stand with his caucus colleagues and lead Alberta through the greatest health and economic crisis in a century."
Loewen, representing the northern rural riding of Central Peace-Notley, had been the chair of the UCP caucus. Barnes represents Cypress-Medicine Hat in the south.
Loewen and Barnes join a third backbencher, Pat Rehn, who was expelled earlier this year after his constituents complained he wasn't doing any work or listening to their concerns.
Weeks of bubbling internal discontent within the caucus boiled over into an open challenge by Loewen in a public letter to Kenney published on Loewen's Facebook page in the pre-dawn hours Thursday.
In the letter, Loewen called on the premier to resign, saying he no longer sees a commitment to teamwork and party principles.
"We did not unite around blind loyalty to one man. And while you promoted unity, it is clear that unity is falling apart," writes Loewen.
He accused Kenney and his government of weak dealings with Ottawa, ignoring caucus members, delivering contradictory messages, and botching critical issues such as negotiations with doctors and a controversy over coal mining in the Rocky Mountains.
"Many Albertans, including myself, no longer have confidence in your leadership," Loewen says in the letter.
"I thank you for your service, but I am asking that you resign so that we can begin to put the province back together again."
In a radio interview later in the day, Loewen said he wanted to stay in the UCP and that he was not seeking to split the party but save it from looming disaster in the next election.
"The people are upset. They are leaving the party," Loewen told 630 CHED. "We need to do what it takes to stop the bleeding.
"We need to have our constituency associations strong. We've got to quit losing board members."
Loewen later received a message of support from a second UCP backbencher, Dave Hanson.
Hanson wrote on Facebook: "Todd, I applaud your courage and stand behind your decision.
"I hear the same thing from our supporters in my area. I along with many of our colleagues share in your frustration."
Hanson, Barnes and Loewen are three of 18 UCP backbench members who broke with the government in early April over restrictions aimed at reducing the spread of COVID-19. The group said the rules were needlessly restrictive and infringed on personal freedoms. Sixteen wrote an open letter expressing those concerns.
Since then Barnes has remained vocal, actively questioning why the regulations are needed in low-infection areas and demanding to see data underlying the health decisions.
Kenney tolerated the open dissension for weeks. He has said he believes in free speech and that backbenchers are not in cabinet and don't speak for his government. But Loewen was the first to openly challenge Kenney's leadership.
Kenney's poll numbers, along with party fundraising contributions, have dropped precipitously during the pandemic while those of Rachel Notley's NDP have climbed.
Notley said regardless of Kenney's internal political troubles, Albertans need to see him focus on governing the province.
Alberta has seen in recent weeks some of the highest COVID-19 case rates in North America that threaten to swamp the province's health system.
"It's not looking good," said Notley.
"What we need as a result is for the premier to clean up his house, get his house in order and provide the kind of leadership that Albertans desperately need during one of the most challenging times in our history."
There were rumours of a widening internal UCP breach two weeks ago when Kenney suspended the legislature's spring sitting. He said it was to keep staff and legislature members safe from COVID-19.
On Wednesday, the government extended the hiatus for another week.
Political scientist Duane Bratt said Kenney had little choice but to expel Loewen but noted it took several hours of debate among the caucus to get there.
"This is not a good day for Jason Kenney. He is wounded by this. And I don't think it's over," said Bratt with Mount Royal University in Calgary.
Pollster Janet Brown said the open dissension magnifies Kenney's leadership woes. Brown said a premier relies on three pillars of support: party fundraising, caucus support and support in the popularity polls. Any one of those three can help offset crises somewhere else.
But Kenney, said Brown, doesn't have support in any area right now.
"If you're down in the polls, if you don't have the confidence of your caucus and your donors are keeping their hands in their pockets, what's your justification for continuing?" said Brown.
"It seems like he's failing with all three audiences."
This report by The Canadian Press was first published May 13, 2021.
Dean Bennett, The Canadian Press
Flames bounce back with 5-1 victory over Ducks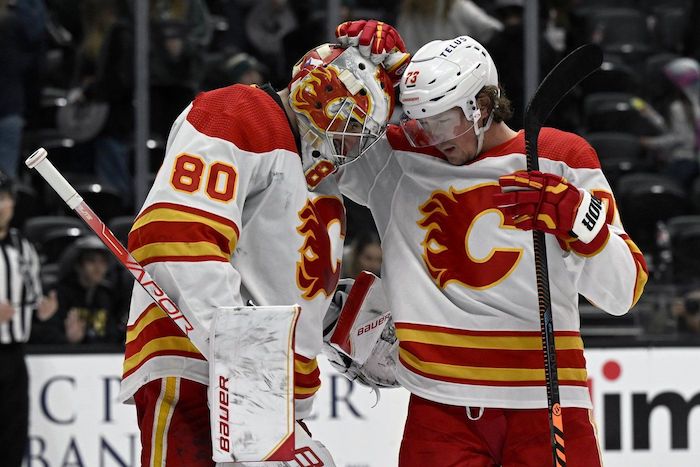 Calgary Flames right wing Tyler Toffoli (73) celebrates with goaltender Dan Vladar (80) after the Flames defeated the Anaheim Ducks in an NHL hockey game in Anaheim, Calif., Tuesday, March 21, 2023. (AP Photo/Alex Gallardo)
By Joe Reedy in Anaheim
ANAHEIM, Calif. (AP) — Tyler Toffoli had three assists, Calgary scored twice on the power play and the Flames bounced back from a six-goal loss one night earlier with a 5-1 victory over the Anaheim Ducks on Tuesday.
Toffoli has nine points in the past four games, including six assists.
Nick Ritchie, Troy Stecher, Rasmus Andersson, Elias Lindholm and Andrew Mangiapane scored Calgary's goals. Mikael Backlund had a pair of assists and Dan Vladar stopped 19 shots for the Flames, who rebounded from an 8-2 defeat Monday night in Los Angeles.
"We just wanted to put that game behind us. And there's no better way to put it behind you than to just go out there and play right away," said Mangiapane, who scored on a breakaway with less than five minutes remaining for his 12th of the season. "I think the first period set the tone for us. We wanted to come out strong and hard and just keep building off of that."
The win kept Calgary four points behind Winnipeg for the final wild-card berth in the Western Conference with 10 games remaining after the Jets beat Arizona 2-1.
"As a coach it is really simple: I just want to keep every game meaningful," Flames coach Darryl Sutter said.
Frank Vatrano scored Anaheim's lone goal. John Gibson made 38 saves, facing more than 40 shots for the 20th time this season.
"We knew that they were going to be a little ornery after their game last night against L.A., and other than a few spurts in the second period, maybe for about six minutes in the second, we couldn't sustain much. Every time we turned, they were in our face," Ducks coach Dallas Eakins said.
Calgary has 12 goals with the man advantage over the past month, which is fifth best in the NHL.
Andersson put Calgary up 3-0 less than three minutes into the third period on a one-timer off Toffoli's pass. It was Andersson's 11th goal and his third in the past six games.
The Flames grabbed the lead 37 seconds into the game when Ritchie put in the rebound after Gibson made a pad save on Noah Hanifin's shot from the point. Ritchie's 12th of the season marked the sixth time Calgary has scored in the opening minute.
Stecher broke a 90-game goal drought at 16:50 of the first with a snap shot from the right faceoff circle to the high side of the far post. Stecher — whose last goal was on Feb. 17, 2022 — has three points (one goal, two assists) since being acquired from Arizona at the trade deadline.
Anaheim got on the board five minutes later when Vatrano lifted a wrist shot over Vladar's shoulder on his glove side. Vatrano's 17th marked only the second goal in Anaheim's last 15 power-play opportunities.
Lindholm scored his 21st and gave Calgary a 4-1 lead 46 seconds into the third on a one-timer.
NOTES
Hanifin extended his point streak to six games with the first assist on Ritchie's goal. He has six points (two goals, four assists) during that span. … Calgary defenceman Chris Tanev was scratched an hour before the game due to an upper-body injury. … Anaheim forward Nikita Nesterenko made his NHL debut. Nesterenko was acquired from Minnesota in the John Klingberg trade at the deadline. Nesterenko played three seasons at Boston College and signed a two-year, entry-level contract last Wednesday.
UP NEXT
Flames: Open a three-game homestand against the Vegas Golden Knights on Thursday.
Ducks: Host the Winnipeg Jets on Thursday.
2022 World Senior Men's gold medalist rink and Cheryl Bernard among teams at Senior Curling Championships at Red Deer's Pidherney Centre this week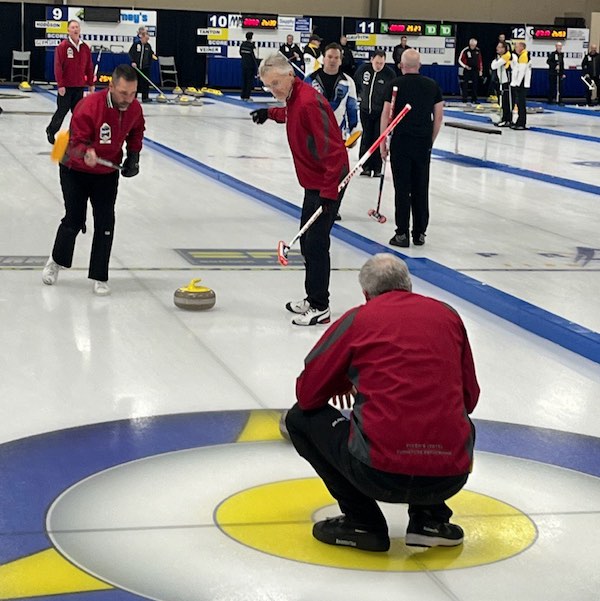 The 2023 Alberta Servus Credit Union Senior Men's and Women's Championships will take place at Red Deer's Pidherney Centre on March 21 to 26.
Thirty-three rinks are on hand to vie for the right to represent Alberta at the Men's and Women's Canadian Championships next fall.
The 2022 World Senior's gold medalists, Team Wade White looks to add yet another championship title to his name alongside teammates, third Barry Chwedoruk, second Dan Holowaychuk and lead George White. While defending Alberta champion, Team Pahl will keep the pressure on to represent Alberta once again.
Other noteworthy names on the men's side include, Mickey Pendergast; Master's Provincial Champion and former teammate of local legend, Rob Armitage, and 2017 Senior's Champion, Glen Hansen.
The talent continues on the women's side with nine of the top senior women's teams in the province.
The star studded line-ups include Olympians, Cheryl Bernard, Carolyn McRorie, Sandra Jenkins and Shannon Kleibrink forming a team under Bernard, and Glenys Bakker and Atina Ford-Johnston skipping their own rinks, with Cory Morris joining Ford-Johnston as lead.
With defending champion, Diane Foster, out of the race, it truly is anyone's title to claim.
Draws run throughout the week with the semi-finals of both the women and men at 9 am on Sunday March 26 followed by the finals at 2 pm.
Admission is free thanks to support from Servus Credit Union.