Transit safety and violent crime: Enough is enough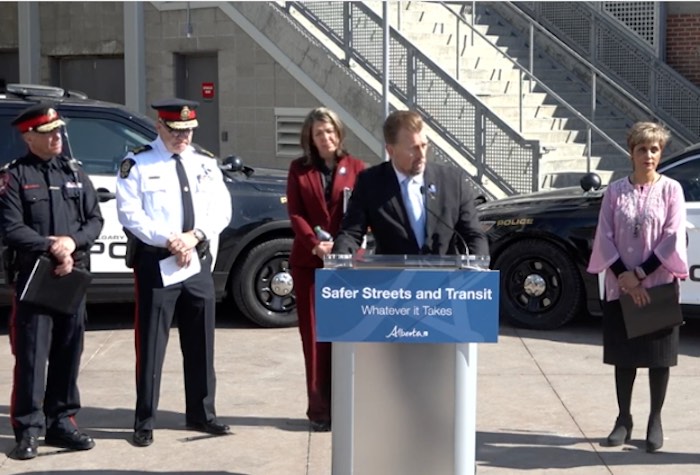 Alberta's government is taking action to restore order and improve public safety in response to increasing crime and disorder in the province's big cities.
In both Edmonton and Calgary, criminal activity is on the rise. Between July 2022 and January 2023, Edmonton's LRT and transit centres experienced an increase in violent criminal incidents of 75 per cent. In Calgary, overall criminal occurrences at LRT stations increased 46 per cent between 2021 and 2022.
Premier Danielle Smith has directed Public Safety and Emergency Services Minister Mike Ellis to work with his cabinet colleagues to develop a plan to hire 100 more street-level police officers over the next 18 months to increase the visible law enforcement presence and tackle criminal activity in high-crime locations in Calgary and Edmonton.
"Safety on public streets is never negotiable. We can address root causes like mental health and addiction at the same time, but we will not compromise on security for all Calgarians and Edmontonians. This starts with the federal government reforming its broken catch-and-release bail system and includes us working with cities and police services to fight back against criminals."
In addition to increasing the number of street-level police officers on city streets, Alberta's government is encouraging the City of Calgary and the City of Edmonton to transfer command and control of transit peace officers to the Calgary and Edmonton police services. This transfer would enable the police to better lead a coordinated and strategic response to the increase in violent crime on public transit.
"Enough is enough – the rising crime levels in Edmonton and Calgary are unacceptable. Albertans have a right to use public transit and walk the streets without fear. We are working with our partners to develop a clear plan to take our cities back from those who seek to cause harm."
Improving public safety on the cities' transit networks also involves stations and vehicles that are clean of drug paraphernalia and debris. Through a new $5-million grant to each city, municipal governments will be able to provide the services needed to keep station platforms and vehicles clean, safe and welcoming for law-abiding Calgarians and Edmontonians.
"The safety and security of our transit systems and downtowns will remain a top priority. No single order of government can solve this issue alone. We will continue to work together by deploying our safety resources in an integrated and collaborative way."
"We are seeing a significant portion of those who are improperly using transit and other public spaces becoming entrenched, with many displaying resistance to offers for services, as well as reduced cooperation and compliance with authority figures. For those people, consequences will follow."
Police and crisis teams
As part of building strong recovery-oriented systems of mental health and addiction care, Alberta's government is investing almost $8 million over three years to increase the number of police and crisis teams (PACT) in Calgary and Edmonton. PACT pairs police constables with mental health therapists from Alberta Health Services to respond to 911 calls where there is a mental health concern. Police and mental health therapists work together to assess a client's mental health challenge and determine what support is required to keep the individual and the community safe.
"We are taking a fair, firm and compassionate approach to keeping our communities safe while treating mental health and addiction as health-care issues. By working with our partners in the Calgary and Edmonton police services, we can connect people in need with critical mental health services and better address the social issues affecting our two largest cities."
With this funding, Alberta's government is adding 12 new PACT partnerships in each city. This will double the number of PACT teams in Calgary, increasing from 12 to 24, and triple them in Edmonton, increasing from six to 18. These partnerships will better support Albertans struggling with mental health challenges while improving public safety for everyone.
"These additional resources will help us to gather what we need to get ahead of the concerning spike in crime and particularly violent crime that we are witnessing in areas like our downtown core and transit stations across Edmonton. The support, not just for police but for PACT, means prioritizing those who need support while ensuring appropriate focus on safety. Centring police as leaders within this work shows a key understanding that we cannot have well-being if we don't have safety."
Quick facts
Edmonton crime:
The average crime severity index in downtown Edmonton has increased 29 per cent, to 116 in December 2022 from 90 in July 2022, driven primary by an increase in serious criminal offences, in particular second-degree murder, assault causing bodily harm with a weapon, robbery and aggravated assault.
In Edmonton, a person is about twice as likely to be victimized by a stranger at a transit centre than for the city as a whole (70 per cent at LRT transit versus 36 per cent citywide).
Calgary crime:
Property crime occurrences in Calgary nearly doubled – increasing 95 per cent to 463 in 2022, up from 238 in 2021.
Total calls for service to Calgary LRT stations increased to 9,317 in 2022, up 39 per cent from 6,706 in 2021.

Public-generated calls for service to LRT stations increased to 5,012 in 2022, up 20 per cent from 4,160 in 2021.
Officer-generated calls for service to LRT stations increased to 4,305, up 69 per cent from 2,546 in 2021.
PACT facts:
Police and crisis teams (PACT) offer mental health assessment, support and/or consultation in crisis situations. Mental health therapists work with police constables to assess mental health needs and determine appropriate action in accordance with the Mental Health Act and the criminal justice system.
Running Reins Ranch in Red Deer County picks up $250,000 grant from province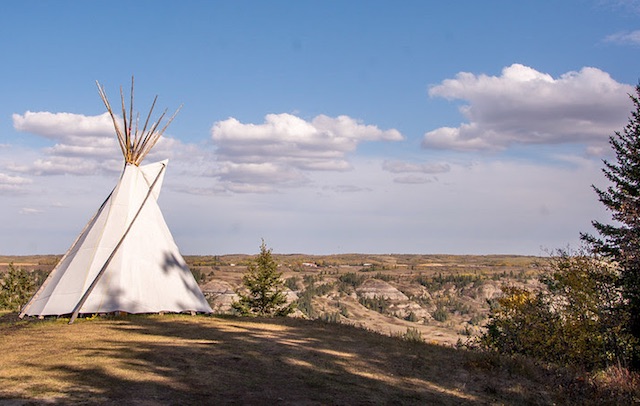 Running Reins Ranch partners with members of the local Indigenous community to set-up teepee accommodations and host regular cultural programming for guests.
Tourism investment fuels growth in rural Alberta
Alberta's government continues to support regional tourism opportunities across the province, generating jobs and new tourism destinations for locals and visitors alike.
Ahead of World Tourism Day 2023, Minister of Tourism and Sport Joseph Schow visited Running Reins Ranch to see first-hand how tourism investment grants are making a difference in the lives of Albertans.
"Alberta's government is proud to invest in growing visitor destinations like Running Reins Ranch that celebrate the richness and diversity of Alberta's rural destinations and provide a sustainable tourism experience for visitors to enjoy."
As part of the Tourism Investment Program, Running Reins Ranch received a $250,000 grant from Travel Alberta.
"Our investment will support the building of additional unique accommodations at the ranch that will triple their capacity, emphasize their year-round offerings and create five new full-time jobs. This investment in Running Reins Ranch is a perfect example of how Travel Alberta is driving tourism growth in rural communities across the province."
Running Reins is located east of Innisfail, offering cabin and teepee accommodations and a wide range of outdoor activities for visitors looking to combine the beauty of the Prairies with farm experiences for a one-of-a-kind getaway.
Right to Left: Minister of Tourism and Sport Joseph Schow, Owners of Running Reins Ranch Terry and Janice Scott, and team member Grace Finlan.
"This funding is a game-changer for us and our business. We are excited to bring our vision to life and provide visitors with unforgettable experiences while supporting the economic growth of the surrounding community."
Tourism is Alberta's No. 1 service export sector. In 2019, Alberta welcomed 34.6 million visitors, generating $10.1 billion in expenditures and supporting more than 80,000 full-time jobs. The Tourism Investment Program is Travel Alberta's commitment to investing $15 million annually with communities and operators to develop the province's tourism sector. Developing Alberta's rural and agri-tourism sector is an essential component of the government's efforts to grow Alberta's tourism economy to more than $20 billion by 2035.
Quick facts
In 2022-23, Travel Alberta funded 166 projects across 73 communities – about 75 per cent of the projects and 70 per cent of the funding were in smaller urban and rural areas of the province.
In December 2022, Alberta's government released its Economic Development in Rural Alberta Plan, with supporting initiatives that demonstrate the government's commitment to building healthy and prosperous communities across rural Alberta and Indigenous communities.
Company at centre of E. coli outbreak at Calgary daycares faces licensing charges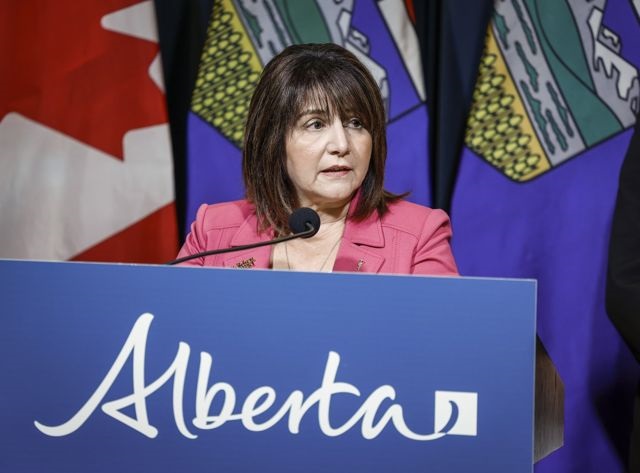 Alberta Health Minister Adriana LaGrange speaks to the media about an E. coli outbreak linked to multiple Calgary daycares in Calgary on Tuesday, Sept. 12, 2023. THE CANADIAN PRESS/Jeff McIntosh
By Colette Derworiz in Calgary
The company that runs a commercial kitchen at the centre of an E. coli outbreak that has infected hundreds at numerous Calgary daycares has been charged with operating without a business licence.
The City of Calgary announced Wednesday that Fueling Minds Inc. and its two directors face a total of 12 charges under municipal business bylaws and face a total fine of up to $120,000.
The company declined to comment on the charges in an emailed statement Wednesday afternoon.
Meanwhile, Alberta chief medical officer Dr. Mark Joffe said the number of cases has plateaued at 351, and tests and interviews indicate the cause of the outbreak was meat loaf and vegan loaf.
He said there are also 37 confirmed secondary cases and four children remain in hospital.
Fueling Minds provided meals to six of its own daycares that were affected by the outbreak, which was declared Sept. 4, and also to five separate daycares.
The city alleges Fueling Minds did not have the proper licence to serve those other five.
Joffe said the investigation into the cause of the outbreak included interviews with hundreds of parents and daycare staffers and the testing of 44 food samples.
"We believe that meat loaf and vegan loaf meals that were served for lunch on Aug. 29 most likely contained the E. coli bacteria that led to these infections," said Joffe.
"Unfortunately, neither of these items could be tested as they were either eaten or discarded before this outbreak was identified.
"While we now have a likely source, what we do not know exactly is what was contaminated or how."
The company's statement said the "exact source of the infections has not yet been identified" and it continues to work with Alberta Health Services on its ongoing investigation.
Joffe said the province is to hire a third party to verify its work and findings.
Premier Danielle Smith said former Calgary police chief Rick Hanson would lead a panel to investigate what went wrong and make recommendations on how to make commercially prepared food safer in daycares.
Smith said the panel does not have a set timeline, but she expects to hear from him monthly and would implement interim recommendations if necessary rather than wait for the final report.
"Mr. Hanson will be joined by Alberta parents, childcare operators, food service operators, and food safety and public health experts," said Smith.
"The panel will be examining all aspects of this tragic situation, large and small, as well as taking a full broader look at the legislation and regulations that govern food safety in our province."
Smith said she met with parents of affected children, and a policy change they suggested was posting kitchen health inspection reports in a daycare rather than just online.
Health Minister Adriana LaGrange and Searle Turton, minister for children and family services, are already reviewing food handling in commercial daycare kitchens.
The kitchen remains closed and in recent months has been flagged for numerous health violations, including food transportation concerns.
Diana Batten, the Opposition NDP critic for childcare and child and family services, said Wednesday's developments were a good start to getting answers.
"This will really help some of the families I'm speaking with," she told reporters.
"However, it brings up or illustrates there's a lot of problems inside the system. We heard Premier Smith talk about how we should trust now that the system is safe. Why? We continue to identify more concerns."
Batten said a panel isn't going to help solve those problems.
"It's just spending more money and, honestly, putting a Band-Aid on what is honestly a huge public health crisis."
The province has promised parents affected by the closures in the original 11 daycares a one-time payment of $2,000 per child to cover off financial hardship. Those facilities were closed Sept. 4 but have since reopened.
Eight more daycares faced closures or partial closures in the days that followed as secondary cases were identified.
Smith said last week that the compensation program would only be available to parents of the 11 daycares at the root of the outbreak.
Turton, however, confirmed parents affected by the later closures would also be eligible for the one-time payments, and that was the plan all along.
"The program hasn't expanded," said Turton.
"It's important to note that just more daycares since the original announcement have actually become eligible for those payments."
— With files from Dean Bennett in Edmonton
This report by The Canadian Press was first published on Sept. 27, 2023.