This is what overdose reversals means to me. An opportunity to save and change a life. By Chris Hancock
Todayville Edmonton supports local community efforts, the original source of this writing from: https://www.facebook.com/justaguywithapack
The day has been like any other (we see anywhere from 50 to 80 users per day). My attention is piqued by a sound, almost like a wheeze but accompanied by the heavy beating sound of a drum. That sound is a man violently hitting his chest.
This is the beginning of an overdose.
The man is standing and rocking back and forth, almost like a dance. This is normal for a person who is using drugs mixed with crystal meth and / or cocaine.
I look at the computer to see what he says the drug is and it says "fentanyl" which is a usual drug for him.
He is now starting to sweat profusely and it looks as though he has just finished running a marathon.
I call the nurse and tell her of my observations so far. He is now matching a person who is starting the scary road of overdose.
I approach and place my hand on his shoulder, it's hot to the touch and sweat glistens on my medical glove. I ask him, "How's it going buddy?" He cannot respond to me. He is still standing but his pupils are dilated and he's rocking back and forth. What is missing is his breath, his voice, and his normally calm demeanor. His lips are turning a shade of blue/purple.
The nurse is now approaching after putting on gloves. I give her as much relevant information as I can before I prepare to step back and take an assistance role in the overdose situation.
I have been trained for years to do emergency response. I went to school for this. I cope with the stress by repeating directions and documenting the times and dates for
the significant markers that I know are about to follow.
He gets an SPO2 monitor put on his finger. This little machine gives the nurse information about his heart rate and how much oxygen is in his blood. As we wait in anticipation for the monitor to tell us his number I just keep hoping, wishing it is above the magic number of 66%. However, anything below 90% and the nurse will start to offer means to reverse or help ride out the overdose. Without oxygen getting to the brain there is a chance for brain damage.
His number is low and the nurse makes the call – "Chris I need the oxygen tank and you to predraw naloxone." I repeat the instructions back so nothing is missed in the communication. This man's life is in our hands.
The nurse has now put oxygen on the man and is reminding him to breath. He is now in a seated position and you can see the determination on his face to get that gasp of air. He can, and my inner being is cheering yes, you can do it; you can beat the overdose and come back. But the reality of the situation is the gasp is not even close enough to raise his oxygen levels out of the danger zone.
The nurse now asks him, "Do you want narcan?" My heart leaps with joy. This will help you, we can get off this ride, you have a way to get air! But his response is "no" and the cold reality of addiction slaps me in the face. The "no" "not yet" words were whispered as almost as a plea out of fear. My stomach is wrenched out and my heart that was just hurting before is now broken.
My thoughts stray.
What are you running from that not being able to breathe and having no control over your body is a better option?
I check myself.
I will never know someone's past or their current pain unless they share it with me. When he recovers from this overdose, he might tell me.
So I patiently plea with the man. Your oxygen is low, you are in pain, and you are overdosing. Let us give you narcan so you can come back to us. Also, in the next room we have snacks.
With the oxygen remaining low the nurse makes it clear to the man naloxone is now needed and she informs him that we will be administering the medication. Recognition is now on the man's face – he now understands and gives consent by nodding yes to the nurse. The nod reminds me of the many nods I've seen athletes give their coaches when they are ready to start the fight.
One of the staff hands me a needle ready and filled with the antidote to opioids. The next challenge begins. Since the man is moving so much it takes a few tries to get the needle in and the medicine administered. It takes 3 vials of narcan to reverse whatever the drug has done to his system.
The first words out of the man's mouth are "I am sorry." Here is why I do what I do. This is the moment where he may say to me "Chris, I am tired of all this and I need help. That shot almost killed me and I need to change my life." In reality we talk: where he is living, what his plan is for his next meal. These conversations will lead to a better connection and understanding of his life story. They will build trust between us so when he's ready, he will ask me for help.
He has now successfully recovered from the overdose and will now hang out for the next while in case the antidote wears off and he overdoses again.
My name is Chris Hancock and my current role is a harm reduction support worker.
This is what overdose reversals means to me. An opportunity to save and change a life.
Three suspects charged for allegedly sex trafficking Edmonton teens
From the Alberta Law Enforcement Response Teams (ALERT)
"One of the victims, a 13-year-old girl, was part of a missing persons investigation earlier in the year"
Four teens have been rescued following an ALERT Human Trafficking investigation in Edmonton. Two men and a 17-year-old face a total of 48 charges.
ALERT's Human Trafficking unit charged three suspects on October 12, 2023 in a case that dates back several months and involved underage victims. ALERT alleges that the youths were recruited and groomed into working in the sex trade and were being sexually exploited at a local hotel.
One of the victims, a 13-year-old girl, was part of a missing persons investigation earlier in the year. ALERT worked with the Edmonton Police Service on the case, which also led to the identification of other youth victims.
"These youths met their perpetrators over social media and were lured and groomed into working in the sex industry. As is often the case, there are a bunch of false promises of money, relationships, gifts, but those never seem to materialize and these survivors endure tremendous hardship," said Staff Sgt. Chris Hayes, ALERT Human Trafficking.
All four survivors are receiving the appropriate supports and resources with partner agencies.
Obinna Nwanekezi, 19 years old, faces 22 charges, including:
Trafficking a person under 18;
Procuring a person under 18;
Luring a child;
Sexual exploitation;
Material benefit from trafficking a person under 18;
Making child pornography;
Distributing child pornography;
Possessing child pornography;
Agreement/arrangement of sexual offence against child; and
Assault.
Jelani Ried, 19 years old, faces 21 charges, including:
Trafficking a person under 18;
Procuring a person under 18;
Luring a child;
Sexual exploitation;
Material benefit from trafficking a person under 18;
Making child pornography;
Distributing child pornography;
Possessing child pornography; and
Agreement/arrangement of sexual offence against child.
Five additional charges have been laid against a 17-year-old youth who cannot be identified under the Youth Criminal Justice Act. They have been released with conditions.
ALERT encourages anyone who believes they are a victim of sexual assault or abuse to report it to police. Victims of sexual exploitation can report it to the Edmonton Police Service by calling 780-423-4567, or 9-1-1 if they are in immediate danger. Alternatively, anyone seeking supports is encouraged to contact the Safety Network Coordinator with CEASE at 780-471-6137. There is no time limit on how long a victim has to report a sexual assault in Canada.
Members of the public who suspect drug or gang activity in their community can call local police, or contact Crime Stoppers at 1-800-222-TIPS (8477). Crime Stoppers is always anonymous.
ALERT was established and is funded by the Alberta Government and is a compilation of the province's most sophisticated law enforcement resources committed to tackling serious and organized crime.
Edmonton Police charge 19 year old with trafficking gun used to kill Constables Jordan and Ryan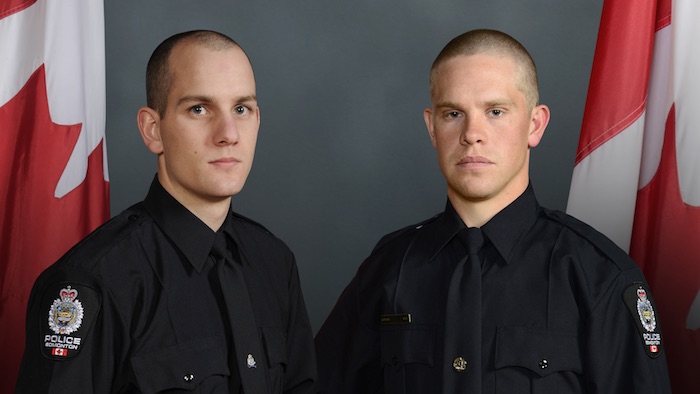 From the Edmonton Police Service
Charges laid in line of duty deaths
The EPS Firearms Investigations Unit (FIU) has completed their investigation into the origins of the firearm used in the Mar. 16, 2023, officer deaths.
Following the shooting deaths of Const. Brett Ryan and Const. Travis Jordan, FIU launched an investigation into the origins of the gun used by the 16-year-old male shooter.
Early in the investigation, detectives determined a bullet cartridge casing recovered from the scene of a Mar. 12, 2023, shooting at a nearby restaurant (133 Street and 114 Avenue) was forensically matched to the firearm that was recovered at the 132 Street and 114 Avenue apartment where both officers were tragically murdered. Investigators have since confirmed that the suspect in both shootings was the same.
Following several months of extensive investigation, FIU determined that Dennis Okeymow, 19, trafficked the firearm used in both shootings directly to the 16-year-old male shooter prior to Mar. 12.
On. Thursday, Nov. 23, 2023, police conducted search warrants on Okeymow's residence, vehicles and cell phone. Okeymow was arrested without incident from the residence and police seized a stolen loaded handgun, ammunition, illegal drugs, $10,000 in cash and other items indicative of drug trafficking.
Okeymow is charged with:
manslaughter (x3) and criminal negligence causing death (x3) in relation to the deaths of Const. Ryan, Const. Jordan and the 16-year-old male shooter
criminal negligence causing bodily harm (x2) in relation to the man injured in the restaurant shooting on Mar. 12 and the youth's mother, who was injured during the Mar. 16 shooting
firearms trafficking
unauthorized possession of a firearm
possession of a restricted firearm with ammunition
·other drug trafficking related charges
"In my 20 years in this career, this is the most complex and tragic file I have worked on," says Staff Sergeant Eric Stewart with the EPS Guns and Gangs Section. "It's heartbreaking that the trafficking of a firearm has led to multiple deaths and life-altering injuries."
"The trauma suffered by the impacted families as a result of this one simple transaction is unthinkable."
FIU would like to thank the RCMP, the Calgary Police Service (CPS) and the Alberta Law Enforcement Response Team (ALERT) and the many dedicated members of the EPS who assisted with this investigation.
Background information
On Sunday, Mar. 12, 2023, at approximately 12:25 a.m., a lone male suspect entered a pizza restaurant in the area of 133 Street and 114 Avenue carrying a firearm. The suspect shot a male employee and then fled the location. EMS attended and transported the injured 55-year-old male to hospital with serious life-threatening injuries.
At approximately 12:47 a.m. on Thursday, Mar. 16, 2023, Const. Travis Jordan and Const. Brett Ryan responded to a family dispute call in an apartment complex near 114 Avenue and 132 Street.
When the two officers arrived, they were met by a 55-year-old female complainant outside of the complex. The two officers then responded to the suite where she resided with her 73-year-old male partner and their 16-year-old son.
Immediately upon arriving at the suite, both constables were shot multiple times by the youth and were immediately incapacitated. The youth then reportedly shot his mother before turning the firearm on himself, taking his own life. The father was not physically injured during the shootings. Neither officer discharged their firearm.
Following 911 calls by multiple reporters, additional police and EMS arrived. One of the injured officers was transported in a police vehicle to hospital, while the other injured officer was taken by ambulance. The female complainant was taken by ambulance to hospital. Soon after arriving at the hospital, both officers were declared deceased.
On Saturday, Mar. 18, 2023, the Office of the Chief Medical Examiner in Edmonton conducted autopsies on both officers. In both cases the cause of death was confirmed to be gunshot wounds with the manner of death being homicide.
On Mar. 22, 2023, the Edmonton Medical Examiner confirmed that the 16-year-old male shooter's cause of death was a single gunshot wound to the head consistent with being self-inflicted.
The 55-year-old man shot in the restaurant on Mar. 12 survived, but suffered life-altering injuries. The youth's mother continues to recover from her injuries.