This is not just another protest – Freedom Convoy is heading to Ottawa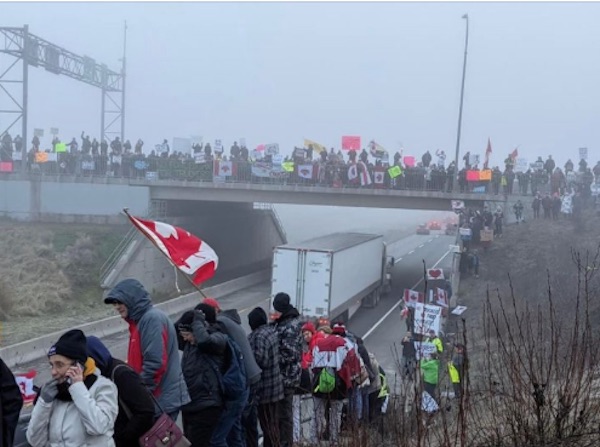 Millions of Canadians are wondering exactly what is happening on the highways leading to Ottawa. An overwhelming amount of traffic is forming, not only on the highways, but also in social media, and on websites dedicated to the "Freedom Convoy".
It appears the federal government's decision to implement a vaccine mandate for truckers has hit a nerve with Canadians opposed to the mandating of vaccines to treat covid. What started out as a cross country rally by truckers aiming to make a statement in Ottawa has exploded into a national and international phenomenon as people from around the world are turning their eyes to Canada to see more and more of the videos, posts, news articles, and podcasts focussing on opposition to mandating health restrictions.
Images of flag-waving Canadians lining up on overpasses to cheer on the truckers which started to trickle out on the weekend, are now flooding the internet. Videos of trucks blowing their horns at intersections and overpasses are being heard in homes across the country and increasingly around the world.
Just what do all these protestors want? One explanation comes from the
GoFundMe page
set up to help support the expenses truckers and supporters are encountering on their trip to Ottawa. That fundraiser easily blew through its initial goal of $3,000,000.00 on Monday morning. The message from fundraiser organizer Tamara Lich begins with these comments:
To our Fellow Canadians, the time for political over reach is over. Our current government is implementing rules and mandates that are destroying the foundation of our businesses, industries and livelihoods. Canadians have been integral to the fabric of humanity in many ways that have shaped the planet.
We are a peaceful country that has helped protect nations across the globe from tyrannical governments who oppressed their people, and now it seems it is happening here. We are taking our fight to the doorsteps of our Federal Government and demanding that they cease all mandates against its people. Small businesses are being destroyed, homes are being destroyed, and people are being mistreated and denied fundamental necessities to survive. It's our duty as Canadians to put an end to this mandates. It is imperative that this happens because if we don't our country will no longer be the country we have come to love. We are doing this for our future Generations and to regain our lives back.
As of Monday morning, a facebook page called
Convoy To Ottawa 2022
is already closing in on 400,000 followers. The group is quickly becoming a favourite place for supporters to share their photos, videos and supportive messages.
Here's a sample of posts and videos streaming in from across the county beginning with videos from the west coast and the east coast posted on Sunday. The beginning stages of this convoy seem to show there's already a groundswell of support. It the momentum continues throughout this week as the convoy approached Ottawa, this may culminate in something Canadians have never seen before.
From a facebook post by Jon Lively
The number of trucks and light vehicles slow rolling out of the east and west coast's today is astonishing. And the turnouts to wave them off were incredible.
I'll admit, I live in a constant state of skepticism to avoid disappointment. But what I'm seeing today sends chills down my spine and brings tears to my eyes. It feels very real.
Regardless of what happens in Ottawa next week, this movement has me feeling a little prouder to be Canadian. I needed that in a bad way. I think we're all feeling that.
I had people message me today who were in the various reception parties in BC and Alberta and they said it was very emotional. Many tears were shed. I understand why.
This is the most encouraging thing any of us in Canada have seen in two years. The love and unity is palpable.
Thank you to everyone involved. Behind you all the way
.
Sunday morning in Vancouver
Sunday morning outside Vancouver
Sunday morning at Abbotsford, BC. Amazing turn out In Abby this morning! Video from Shari Decker
Freedom Convoy to Ottawa coming through Langley, BC, at the crack of dawn on Jan 23, 2022. Video from Jacob Lequijt
Highway 2 North Lacombe overpass just after 10 PM Sunday night
Joining the convoy from Aluc, New Brunswick on Sunday afternoon. Video from 91.9 The Bend
A message from Ontario police Constable Erin Howard representing "Police On Guard"
Leaving Calgary Monday morning.
Edmonton Oilers, Calgary Flames weigh in on NHL playoff Battle of Alberta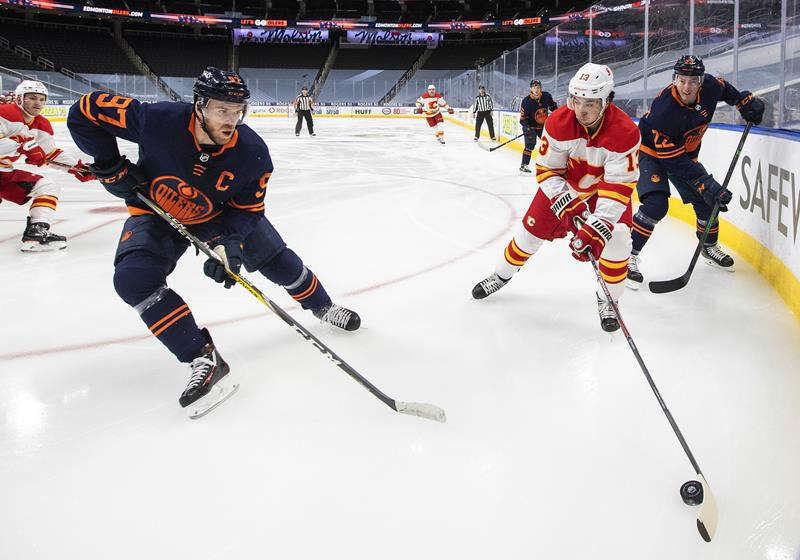 CALGARY — The Calgary Flames and Edmonton Oilers meet in the playoffs for the first time since 1991 in a best-of-seven Western Conference semifinal starting Wednesday. Here are some key quotes from both teams:
"We became a province in 1905 I believe, so that's 116 years ago. How many people are in Alberta? Four and a half million maybe? What brings our province together, always? No. 1 sports, No. 2 church, No. 3 music.
"What's this doing to Alberta right now? It's bringing people together. They might cheer for the Oilers, they might cheer for the Flames. Big deal. It's sport. That's what it's about.
"Is it important? Damn right it's important. It's great for the league. It's great for Alberta, especially with what's gone on. COVID, oil and gas, livestock, agriculture, we've all got smoked here the last two years, right? It's good to see that energy, all that's positive and it's awesome." — Flames head coach Darryl Sutter
—
"It's huge. The Battle of Alberta is another level in the regular season, and now for us — as players, fans and the cities — to have that rivalry exist in the playoffs is something special. I think we are all going to try and take it in, do our best and live in the moment." — Oilers forward Derek Ryan.
—
"Honestly, I think (the media) hypes it up more than the players do. Being close distance-wise makes it a little more interesting, but to us, we are not getting caught up in the hype. It is just another series for us." — Oilers goaltender Mike Smith.
—
"I haven't been to the second round since my first year in the league, so this is real exciting for me, especially being the Battle of Alberta. I've been in the city long enough to know what that means." — Flames defenceman Michael Stone.
—
"It's not so often you get traded from a rival team to another that's in the same province, and then you end up playing them in a playoff series. And not just the playoff series, it's the second round of the playoffs. Add it to the list of things I've been very fortunate enough to experience in my hockey career." — Flames forward Milan Lucic.
—
"I know everyone is looking forward to it. Two really good teams that just got out of two hard-fought series. It's not only big for the teams. It's big for the province. This is, personally, probably the biggest series I've ever played in." — Oilers forward Zack Kassian.
—
"Being part of a series that has history is special. It's moments that fans will relish and look back on. To have the chance to go to the conference final and have the chance to be Canada's team, that's an opportunity that both sides are eager to be (have)." — Oilers forward Zach Hyman.
—
"It's big for the province and all that, but I think our focus is Game 1. It's a really important game. Get ready and all the noise and media and that stuff, you've got to block it out. It's going to be fun, it's going to be wild in the crowd, but on the ice, we've got to be composed and play our game. — Flames goaltender Jacob Markstrom.
This report by The Canadian Press was first published May 17, 2022.
The Canadian Press
Loaded handgun seized in Red Deer traffic stop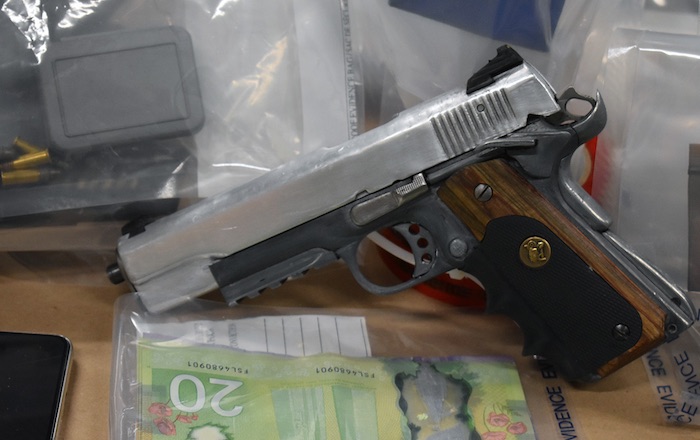 News release submitted by the Alberta Law Enforcement Response Team (ALERT)
A variety of drugs and a loaded handgun were seized from a suspected Red Deer drug dealer by ALERT. The handgun, which had its serial number defaced, was located following a traffic stop.
ALERT Red Deer's organized crime and gang team made the seizure on May 4, 2022 after conducting a planned vehicle stop near Gasoline Alley in Red Deer County. A 41-year-old suspect was arrested, but has yet to be formally charged.
"Taking a handgun out of the hands of a drug dealer is a measure of success towards reinforcing community safety. ALERT continues to work with our partners at Red Deer RCMP, and neighbouring detachments, to disrupt and dismantle drug trafficking activity," said Staff Sgt. Jason Gibson, ALERT Regional teams.
Along with the handgun ALERT located a variety of drugs inside the vehicle, including:
40 grams of fentanyl;
28 grams of methamphetamine;
6 grams of cocaine;
30 milliliters of GHB;
16 assorted illicit prescription pills; and
$360 cash.
The handgun will be submitted for ballistic testing and firearms analysis.
The investigation remains ongoing as investigators are preparing reports and disclosure for Crown Counsel.
Members of the public who suspect drug or gang activity in their community can call local police, or contact Crime Stoppers at 1-800-222-TIPS (8477). Crime Stoppers is always anonymous.
ALERT was established and is funded by the Alberta Government and is a compilation of the province's most sophisticated law enforcement resources committed to tackling serious and organized crime.