THE HALFTIME REPORT News from the Alberta Sports Hall of Fame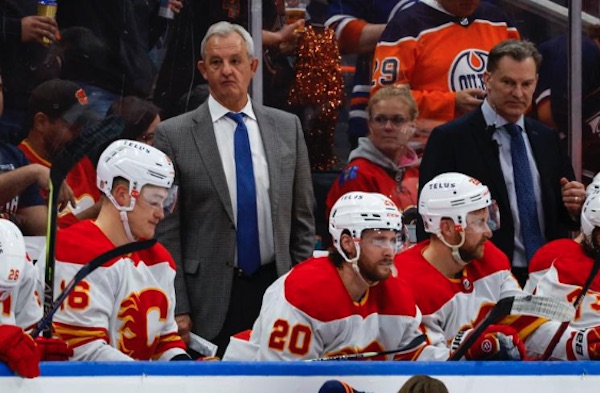 Honoured Member Darryl Sutter Wins Jack Adams Award
Calgary Flames head coach Darryl Sutter has won the 2021/22 Jack Adams Award, presented annually to the NHL's coach of the year.
Sutter was Inducted into the Alberta Sports Hall of Fame in 2000, with his brothers Brian, Duane, Brent, Rich, and Ron. All six brothers grew up and played minor hockey in Viking before moving to Red Deer to play with the Red Deer Rustlers of the AJHL.
The NHL announced the award winner on Sportsnet prior to Game 2 of the Western Conference Final on Thursday, with a video of Brian Sutter, a winner of the award in 1991, presenting the award to his younger brother Darryl.
The Flames missed the playoffs in the 2020/21 season when Sutter took over halfway through the year. In the following 2021/22 season, Sutter captured the 6th best record in the NHL for the largest season to season improvement, as well as winning the Pacific Division.
To learn more about Sutter's amazing coaching story, click the link below.
Honoured Member Dr. Willie Littlechild has been Awarded by the Governor General of Canada
On May 26th Honoured Member Dr. Willie Littlechild received the Meritorious Service Cross (Civil Division), a prestigious award by the Governor General of Canada. The award is given to a nominated individual in recognition of their contributions that bring honor to the country in various fields including advocacy, health care, research, humanitarian, and more.
For more information, please click on the article link below.
This newsletter is sponsored by Travel Alberta.
Honoured Member in Focus: Edmonton Grads
Basketball Team – Inducted 1974
The amazing record of the Edmonton Grads spans an era of 25 years. Under the expert coaching of the late Percy Page, the Grads played 522 official games in Canada, the United States, and in Europe, winning 502 and losing 20 for an average of 96.2%. The Grads won seven of the nine games they played against men's teams. In establishing their outstanding record, they had two consecutive winning streaks of 147 and 78 games respectively. They won the Provincial Championship during their first year of existence in 1915, and continued to win 23 of the 24 times they competed for it. In the Western Canadian Championship, the Grads won all 21 games they played from 1926 to 1940. In the Canadian Championships they never lost a series, from commencement of title play in 1922 to the team's disbandment in 1940. They were crowned World Champions from 1937 to 1940.
The Edmonton Grads received many honours over the years. They were inducted into the Edmonton Sports Hall of Fame in 1973 and the Canadian Basketball Hall of Fame in 1980. The Grads still have the record for best winning percentage of all time for North American teams. In 1976, the Edmonton Grads' achievements were declared a National Historic Event and Parks Canada dedicated a plaque in their honour, two years later, in 1978. The Edmonton Grads Youth Basketball Association was founded in 2002, in Edmonton, to honour the legacy of the famous women's basketball team.
Provincial Sport Organization: Alberta Basketball
Alberta Basketball is the governing body for the sport of basketball in Alberta. We believe that our amazing sport is more than just a game; it is – A Game for Life. The game of basketball assists all who participate by developing life skills and habits that will benefit and enrich their lives. ABA's mission is to champion the sport of basketball by inspiring unity, facilitating development, and delivering superior value.
Visit their website by clicking on the link below.
Artifact in Focus!

This large Silver Vase-like trophy that is engraved to read "Offert Par La Municipalite De Monaco 1936" was given to the Edmonton Commercial Graduates Basketball Team while they were in Europe playing exhibition games prior to the 1936 Olympics in Berlin.
Every person should have the ability to pursue their dreams without fear of discrimination or prejudice based on age, race, religion, gender, or sexual identity. Unfortunately, this is not always the case. Many athletes have faced, and many still do, discrimination from sports organizations, team management, coaches, and even fellow athletes for things they have no control over.

Four of our Honoured Members have come forward to share their journey through sports and coming out to help inspire the next generation of athletes to be true to who they are in all aspects of their lives. By sharing these heartfelt stories with you, we hope that we can start to see the changes needed to allow all athletes regardless of age, race, religion, gender, or sexual identity to feel safe to be their authentic selves in and out of the locker room. Our featured honoured members in this exhibit are Mark Tewksbury, Danielle Peers, Keely Brown and Kessie Stefanyk.
Soon we will be saying goodbye to our 'True to You in Sport' Exhibit which highlights these Honoured Members. Mark Tewksbury, for example, became Canada's first sports hero to openly declare his homosexuality in 1998. He helped start a national conversation on the taboo subject of gays in sport. Since that time, Mark has been an outspoken advocate for inclusive and safe sport spaces for all.

Come see it before it's gone!
Hall of Fame in the Community​
Our Hall of Fame summer students were out in the community attending events geared towards our youth. We were at the Central Alberta Family Expo on May 28 in Red Deer as well as the Central Alberta Children's Festival which showcases opportunities for the children of Central Alberta to learn, play and be active.
If you would like your Hall of Fame to visit your event please contact us at 403-341-8614 or [email protected]
Donate Now​
The Alberta Sports Hall of Fame needs your support to continue the ongoing preservation of Alberta's sports history and the development of museum exhibits. We are grateful and appreciative of the generosity of our supporters and friends. We would be happy to assist you in choosing how your personal legacy will be fulfilled and the many options available. Here is some information on donating shares to ASHFM and the benefits to you as a donor.
Premier Jason Kenney kicks off campaign to attract skilled workers to Alberta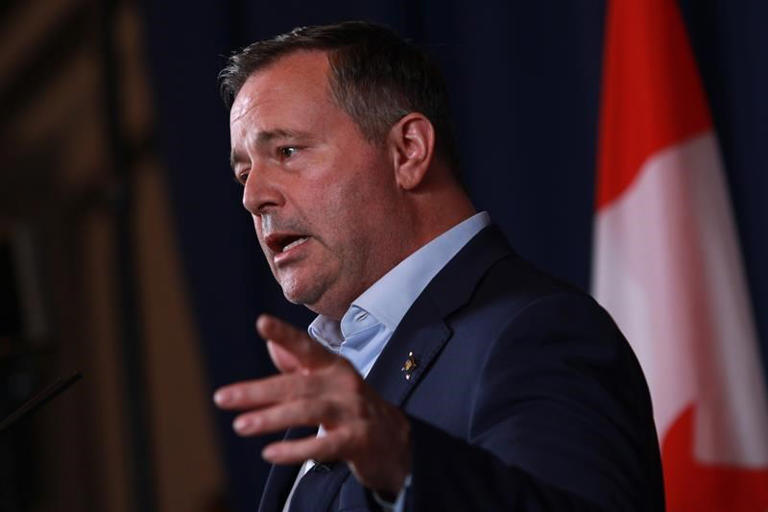 CALGARY — Premier Jason Kenney kicked off a campaign to lure skilled workers from Toronto and Vancouver as he doubled down on his criticism of a so-called Alberta sovereignty act pitched by one of the candidates running to replace him.
Kenney held a news conference Monday to announce the United Conservative government's plans to start recruiting workers to Alberta as the provincial economy grows.
"Alberta is back in a big way, but one of the biggest challenges to sustaining that amazing growth is having enough people who are filling the jobs that are being created," he said.
"As far as problems go, that's a pretty good one to have."
The campaign comes after Kenney called a key platform promise of one of the candidates to succeed him as leader and premier "nuts."
Candidate Danielle Smith has said if she wins the leadership, she would bring a bill this fall to give Alberta the power to ignore federal laws and court rulings deemed not in the province's interest.
Legal scholars say such a bill would be illegal, unenforceable and a dangerous dismissal of respect for the rule of law.
Kenney said he's certain that even if the legislature passed the law, the lieutenant-governor would refuse to give it royal assent and Alberta would become a "laughingstock."
Smith chastised Kenney in a statement Sunday for "interference" in the leadership contest, saying his comments were "ill-informed and disrespectful to a large and growing majority of UCP members that support this important initiative."
"If elected to replace him as leader and premier, I will work closely and collaboratively with our entire UCP Caucus to ensure the Sovereignty Act is drafted, passed and implemented in accordance with sound constitutional language and principles," Smith said in her statement.
Kenney said Monday that he's not interfering in the leadership campaign, but restating his position on an important public policy issue.
"This government was elected on a commitment to create jobs, grow the economy and get pipelines built," he said. "This so-called sovereignty act would be a body blow to all three of those things.
"It would massively drive away investment, it would cause people to leave the province, businesses not to come here just when our economy is experiencing fantastic economic investment."
Kenney said it could also hurt the campaign to attract people to the province.
"Here we are launching a campaign for Canadians to move to another part of Canada," he said. "If Alberta were to decide effectively to launch a separatist project, I think that would automatically exclude a lot of Canadians.
"To the contrary, instead of being able to attract people, we would start hemorrhaging people."
He said that's not theoretical because of what happened in Quebec in 1976 when René Lévesque and the Parti Québécois were elected on a separatist platform.
"Quebec overnight began to hemorrhage people, money and investment," Kenney said.
This report by The Canadian Press was first published Aug. 15, 2022.
Colette Derworiz and Bill Graveland, The Canadian Press
WEF? Capital NO: Danielle Smith replies to claims she endorses Justin Trudeau's green agenda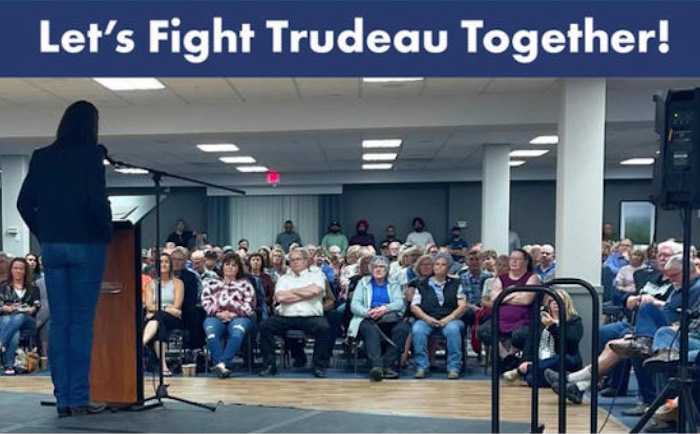 Submitted by Danielle Smith
Say No to the WEF and Trudeau Agenda!
In politics, negative attacks are still an unfortunate part of the process. I usually just tune them out.
However, I did have to do a bit of a double take on the latest attack by my friends, Travis Toews and Brian Jean, who accused me of endorsing…wait for it…Justin Trudeau's radical green agenda.
Now, that's a new one I haven't heard before! Until yesterday I was accused of being too tough on Ottawa…what changed gentlemen?
Danielle Smith and 300 friends in Grande Prairie, Alberta. August 6th.
Obviously, their accusation is absurd on many levels, but I thought this might be a good opportunity to share my thoughts with you on the dangers of Justin Trudeau's WEF-inspired radical climate agenda, and why we need to tackle environmental issues in a much different way – the Alberta way.
First off, the WEF is an anti-democratic group of woke elites that advocate for dangerous socialist policies that cause high inflation, food shortages and a lack of affordable energy, which in turn, leads to mass poverty, especially in the developing world.
There is no question what their agenda is – they want to shut down our energy and agriculture industries as fast as they can.
We need to join with allies, like Scott Moe in Saskatchewan, and stand up for our farmers and our provincial rights.
Justin Trudeau has openly adopted the WEF agenda and has instituted a wealth of policies meant to drive up the cost of energy and food production so he can meet arbitrary and aggressive WEF CO2 emissions targets.
Let me be perfectly clear – As Premier, no individual in my government or provincial agency will be permitted to associate with the WEF in any manner.
Secondly, WEF inspired policies imposed upon us by Ottawa will not be enforced by any Provincial agency under authority of the Alberta Sovereignty Act.
The fact is the Federal carbon tax, the recent announcement of a 30% reduction in fertilizer use by farmers, and the proposed arbitrary emissions cap on our energy sector are scams that do nothing to improve the environment.
You don't improve the environment or reduce emissions by destroying livelihoods and causing food shortages.
We can, however, lower emissions and pollutants the right way, the Alberta way – through Alberta technology and exporting our clean Alberta energy to the world.
We must support and recognize the work of Alberta companies working on technology that makes producing and using fossil fuels more sustainable.
Alberta is a world leader in carbon tech, carbon capture and hydrogen and we must maintain this advantage.
Our largest oilsands producers have proposed a pioneering project, called Pathways, to use carbon tech and small modular nuclear to dramatically reduce all types of emissions from oilsands production.
Further, we must get Alberta LNG and our other clean energy products to Asia, Europe and the US to replace reliance on higher polluting fuels such as coal, wood and dung.
Our forestry, ranching and farming sectors are also proud to provide nature based solutions to offset emissions, and they deserve recognition and credit for providing this service to the world.
These initiatives – advancing Alberta technology and exporting our clean energy to the world – will do more for the environment than all of the harmful virtue signaling policies of the WEF and Justin Trudeau combined – and will do so while creating jobs and wealth, rather than unemployment and poverty.
I invite my friends, Travis Toews and Brian Jean, to stop the silly attacks and join with me in fighting Justin Trudeau, Rachel Notley and their WEF Agenda together!
– Danielle Smith