"The Family Farm" is a poignant short film about a farmer's relationship with the land
Anna Kuelken was not even born when I left Fort Assiniboine in the early 1980's to pursue a life that didn't include farming. I wasn't particularly well-suited to it, though for the first 18 yeas of my life, I knew little else.
Anna was raised on a family farm in that same tiny community a few hundred kilometres NW of Edmonton. Her experience may not have differed much from my own; things don't change quickly in a community of 150 hardy souls more than 200 miles from the nearest city, in this case Edmonton.
Her father Peter and I were of a similar generation. Although a few years older than me, we grew up attending the same small school, and knowing most of the same people. To give a sense of size, there were 19 in my high school graduation class, the 2nd largest in history. Our people farmed for the most part, and almost all had other jobs off the farm to support their habit. Today the notion of the "family farm" is challenged more than ever in its history.
While the family farm I was raised on has been gone from the family for 3 decades, Anna is still very attached to land she grew up on. She recently submitted this short film she produced about her father's relationship with the land. It examines the changing dynamic and circumstance of the family farm; at times seeming very much like the now almost 40 years removed from my own day to day experience, and yet, not that different. Farmers still work off the farm to support their habit, just like my dad did in the 60's, 70's and 80's. It remains a solitary and noble lifestyle for those who have survived.
I hope you enjoy this glimpse into the relationship between a farmer and the land they farm.
Anna's father Peter Kuelken provides some background:
"This Farm and I became acquainted in 1958. I was 2 years old and was the child of immigrant parents who loved us as dearly as they did the country they had come to. It was at a very young age that I was taught about the power of the land. I learned from my parents the importance of the respect for the air the water the soil and the life that flourished there. In my later years returning to the farm was because of the love that had been in my life from my family and community. My return was because of the sense of security of this life that was imbedded in my soul as a child. The miracle of life that emerged constantly around us and the curiosity it created was something that my wife and I wanted our children to embrace and have in their lives. We also followed the path of the conventional agriculture but returned to a holistic model that is sustainable. We now use technology and the tools that it provides to be better stewards of this land. I am so proud now that my children carry this flag of stewardship in its truest sense. They now have become like our indigenous people in the understanding of the importance of this land which sustains us. The circle of life continues." by Peter Kuelken
Read more stories from Todayville.com.
Headliners Wickenheiser and Straschnitzki lead the way at Lending Cupboard fundraiser with $10,000.00 donation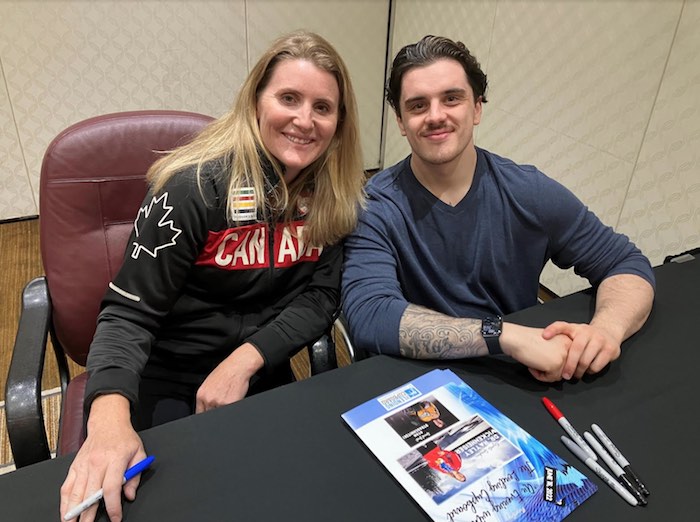 'An Evening with The Lending Cupboard' proves an inspiring, community-building event
Special guests Dr. Hayley Wickenheiser and Ryan Straschnitzki strongly endorse TLC's vision
'An Evening with The Lending Cupboard', held on June 16th at the Cambridge Hotel in Red Deer, proved to be an exciting, inspiring event featuring Dr. Hayley Wickenheiser and Ryan Straschnitzki.
"When I was contacted to come and do this, it was a no-brainer given what I do now in medicine," explained Wickenheiser, who is also of course a highly-acclaimed Olympic gold medalist and author in her own right. "This is a brilliant idea. I don't know why we aren't doing this across the country – it makes a lot of sense!
"It provides a very valuable service in the community…if we can help to raise that profile, that's so good."
During the event, Wickenheiser shared many details of her own memorable journey, reflecting on the hockey dreams that have been intrinsic to her life from a young age. She then interviewed Straschnitzki onstage, giving him the opportunity to reflect on the Humboldt bus crash of April 6, 2018 and the courageous steps he has taken to re-build his life since.
"My entire process from the time of the accident has made me realize how this kind of support really helps out," explained Straschnitzki, adding that bolstering awareness about the service is critical as well. "It's such a great idea, and it benefits so many people. The more the word can be spread about it, there's even more of an impact that can be made. "Being in a wheelchair these past four years, I've realized how inaccessible things can be when you live with a disability, so I think it's important to raise awareness about these kinds of programs," he added. "I think it's a great initiative!"
Executive Director Dawna Morey also commented on how thankful she was for how the event unfolded, and how inviting Wickenheiser and Straschnitzki – who turned out to be a powerful duo – was indeed the right choice. "I'm humbled that they joined us, and I'm also humbled by their incredible generosity – having donated $10,000 back to The Lending Cupboard."
Amanda Blair, TLC's Board Chair, said she was blown away by the generosity of all the attendees, including of course Wickenheiser and Straschnitzki – and the overall support from the community. "Seeing everyone pull together just gives you that faith in humanity – it warms your heart," she said. "Everyone there was also super enthusiastic about it – I think a lot of people learned more about The Lending Cupboard, which is also what we are trying to do."
Last chance!! The 2022 Red Deer Hospital Lottery ends tonight!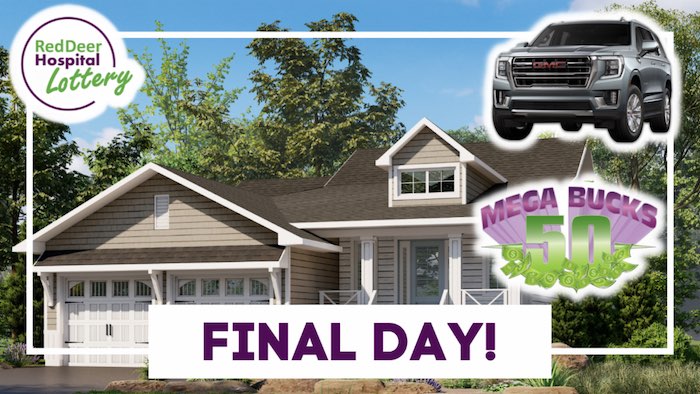 Get your Red Deer Hospital Lottery and Mega Bucks 50 tickets today for your chance to win one of 120 amazing prizes, including this beautiful Sorento Custom Dream Home!
Proceeds from this year's lottery will help secure funding for 83 pieces of equipment for our hospital.
We have currently funded 72 of the 83 pieces, and you can help us reach our final goal.
Every ticket counts!
The 2022 Red Deer Hospital Lottery Dream Home, designed by Sorento Custom Homes, continues Sorento's tradition of award winning designs. This $890,000 bungalow features 2,994 sq ft of developed living space. Located at 145 Emerald Drive in the new neighbourhood of Evergreen, this outstanding home brings together the charm of a beach house with the sophistication of city living.
Among its most unique features are a shower room – in keeping with Sorento's custom of exquisite ensuite designs, as well as a functional pocket office that provides just the right amount of space for your home office. You'll enjoy 3 large bedrooms, 2 1/2 baths, and large flex room on the lower level next to the spacious family room. You'll love the large sundeck off the dining room, and the kitchen is sure to please every foodie!
Enjoy the convenience of the 5 piece ensuite connecting to a large walk-in closet and adjoining laundry room. The design of this unique home is complemented by gorgeous furnishings provided by Urban Barn.
Vehicle may not be exactly as shown.
2022 GMC Yukon SLT
RETAIL VALUE $81,987
Purchased from Kipp Scott GMC
Panasonic Chair with Heated Foot & Calf Massage
Canvas Bala Section Patio Furniture Set. 6 pc
$1,000 Gift Card for Skiing Accessories
Camping Accessories & Spikeball Game
Breton Outdoor Fire Pit Table 40,000 BTU
$1,000 Scooter/Skateboard Gift Card
Dyson V11 Torque Cordless Vacuum
Acer Chromebook Spin 11.6"
Dyson Pure Cool Me Air Purifier Fan
Family Games Night Package
Instapot 8Qt. Duo Crisp P/Cooker
$250 Superstore Gift Card
MotoMaster Jump Starter Safety Kit. 44 pc
MOZA Mini-MI Handheld Smartphone Gimbal
Hand-crafted Willlow Bird Feeder
SodaStream Source Sparkling Water Maker Package
Prizes may not be exactly as shown.