The book that could spell the end of Anthony Fauci and the incredible push for vaccine mandates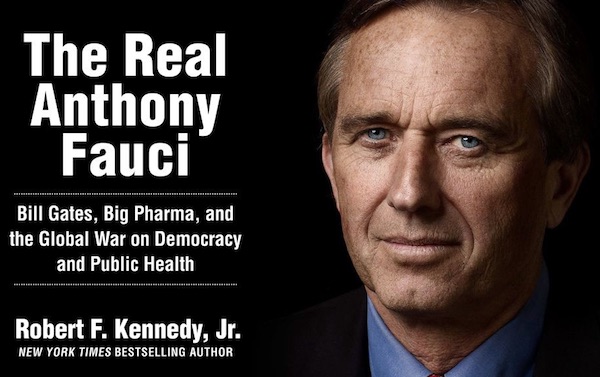 In the end, it all comes down to well meaning but twisted ambition, with a nice big helping of good old fashioned and really evil, greed.
At the beginning of this time we'll forever simply call 'covid', we dutifully lined up in front of our neighbourhood Costco while the owners of small independently owned stores were forced to lock their doors and watch helplessly as the businesses they built over a lifetime of blood, sweat, and tears drifted away from them. Over time, we've become accustomed to measures like masks and distancing rules, and regulations that allow 18,000 people to watch a hockey game (mostly without masks), or 100,000 people to watch a football game (entirely without masks), while the parents of grade 12 athletes can not come into a gym to watch their own children compete for a long prepared for championship title.
Today we wait to see which vaccine mandate will rock someone's world next. It's become clear over the last several months of mandates that a good percentage of people (somewhere around 25%) feel they're being forced into a vaccination they aren't so sure about taking (they're still not approved) and a further percentage of people (8 to 10%) will simply not agree to take an emergency ordered vaccine. I'm not saying any of this is right or wrong. I'm just saying it clearly makes no sense. I'm just saying..
Everyone I've talked to since covid has begun, and I mean EVERYONE has admitted in private conversation if not very publicly, that this restriction makes no sense, or that restriction is contradictory to another one. EVERYONE admits the various restrictions, rules, and regulations our governments have used to respond to covid just don't add up. And for the few people who can't bring themselves to admit it, even to a close friend.. just ask yourself how the "two weeks to flatten the curve" is going at the two year mark.
For me, the biggest mystery in an ocean of mysteries has been the complete lockdown on access to and information about medical therapies. Anyone who puts in the effort to look behind the curtain of attack articles, can see there are preventative treatments, early treatments, and now "long covid" treatments which are showing tremendous success. As you can see at ivmmeta.com and ivmstatus.com, 0ver 25% of the world's population has access to at least ONE of the effective treatments. While millions of Canadians chuckle at unintelligent, simple people who take Ivermectin (horse paste they call it), those poor simple people in nations such as India and Japan have nearly eliminated covid. Here, all we hear is that vaccines are the ONLY answer. Usually they say it's "the best way" to fight covid. They leave out the part where they've banned every other way of fighting covid. You can argue if you want about how widespread Ivermectin use is in India and Japan, but you can't really argue with data. Take a look at these graphs from worldometers.com and you'll have to conclude something different is going on in countries where early treatment options aren't always the butt of the latest woke-joke.
Sorry for the long lead-in. If you stayed with it, here's the reward. There's a new book out by best selling author and life long US Democrat Robert F. Kennedy Jr. Yes, this is the son of THE Bobby Kennedy, and the nephew of President John F Kennedy. If you're one of the millions of 'simple' people like me who just can't understand why we're not even allowed to talk about actually treating covid, this book will set out an argument that makes it all finally come together. That's what The Real Anthony Fauci is all about. Either this book is shedding a WORLD of lies, or it will put AN ENTIRELY NEW LIGHT on what is driving the forces behind covid-19 vaccine mandates. If you have a bit of time, check out the video interview below with RFK Jr. The allegations go well beyond disturbing and right to shocking. It's going to be interesting to see if this book will make a difference. For me. I don't really care what happens to Dr. Fauci. I just want politicians to show courage and stand up for the most vulnerable people. It's time to save lives by allowing Albertans, and Canadians to use some of the two dozen or so medical treatments which have emerged to fight covid in the last two years.
Here's the description of this book by Amazon
Pharma-funded mainstream media has convinced millions of Americans that Dr. Anthony Fauci is a hero. He is anything but.
As director of the National Institute of Allergy and Infectious Diseases (NIAID), Dr. Anthony Fauci dispenses $6.1 billion in annual taxpayer-provided funding for scientific research, allowing him to dictate the subject, content, and outcome of scientific health research across the globe. Fauci uses the financial clout at his disposal to wield extraordinary influence over hospitals, universities, journals, and thousands of influential doctors and scientists—whose careers and institutions he has the power to ruin, advance, or reward.
During more than a year of painstaking and meticulous research, Robert F. Kennedy Jr. unearthed a shocking story that obliterates media spin on Dr. Fauci . . . and that will alarm every American—Democrat or Republican—who cares about democracy, our Constitution, and the future of our children's health.
The Real Anthony Fauci reveals how "America's Doctor" launched his career during the early AIDS crisis by partnering with pharmaceutical companies to sabotage safe and effective off-patent therapeutic treatments for AIDS. Fauci orchestrated fraudulent studies, and then pressured US Food and Drug Administration (FDA) regulators into approving a deadly chemotherapy treatment he had good reason to know was worthless against AIDS. Fauci repeatedly violated federal laws to allow his Pharma partners to use impoverished and dark-skinned children as lab rats in deadly experiments with toxic AIDS and cancer chemotherapies.
In early 2000, Fauci shook hands with Bill Gates in the library of Gates' $147 million Seattle mansion, cementing a partnership that would aim to control an increasingly profitable $60 billion global vaccine enterprise with unlimited growth potential. Through funding leverage and carefully cultivated personal relationships with heads of state and leading media and social media institutions, the Pharma-Fauci-Gates alliance exercises dominion over global health policy.
The Real Anthony Fauci details how Fauci, Gates, and their cohorts use their control of media outlets, scientific journals, key government and quasi-governmental agencies, global intelligence agencies, and influential scientists and physicians to flood the public with fearful propaganda about COVID-19 virulence and pathogenesis, and to muzzle debate and ruthlessly censor dissent.
Survey reveals widening gap between views of double-vaxxed and boosted people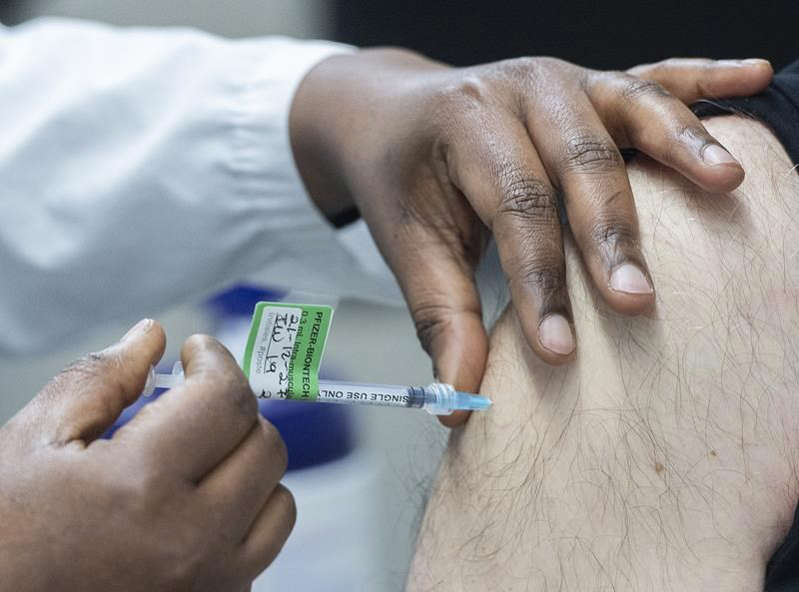 OTTAWA — A new survey suggests a widening gap between the pandemic views of people who have opted to get a COVID-19 vaccine booster and those who are holding steady with only two shots.
A web panel survey carried out by Leger for the Association for Canadian Studies shows 67 per cent of people with a booster dose who responded are afraid of contracting COVID-19, compared to just 52 per cent of those with two doses.
"We're seeing what I call a 'booster hesitancy,' as opposed to a vaccine hesitancy, and it's shaping some of their attitudes. Their level of concern about COVID is a bit different from the boosted. The degree to which they're concerned about the vaccination is a bit different," said Jack Jedwab, president of the Association for Canadian Studies.
For instance, 82 per cent of boosted respondents said they supported vaccine mandates at shopping malls and retail outlets, compared to only 57.8 per cent of people with two doses.
And 79 per cent of boosted people responded that they strongly support vaccine mandates in other non-essential public places like bars, restaurants and gyms.
That's compared to only 48 per cent of people with two vaccine doses.
There appears to be a growing split between the "boosted and the two-timers," Jedwab said.
"The issue takes on a bit more complexity than it (had) previously," he said.
People who received a booster shot were also more likely to respond that governments should not lift COVID-19 restrictions, at 85 per cent, compared to 71.5 per cent of people with two doses.
Generally, unvaccinated people responded at the other far end of the spectrum, with 65 per cent responding that COVID-19 restrictions should be lifted, and 94 per cent expressing opposition to vaccine mandates in shopping centres.
"They're in a completely different place," said Jedwab.
The results were gathered from 1,547 Canadians over the age of 18 between Jan. 7 and Jan. 9, and cannot be assigned a margin of error because the web survey did not randomly sample the population.
The number of COVID-19 cases have hit record highs in January thanks to the Omicron variant of the virus, which is said to be relatively more mild compared to past variants but can infect even vaccinated people.
Governments and public health officials have urged Canadians to get a third mRNA vaccine to protect them against the most serious effects of the virus, which has still sent people to the hospital in large numbers and threatened to overrun Canadian health systems.
The booster can also stave off the effects of waning immunity from the first two shots, which appear to offer less protection against contracting the virus over time.
About 41 per cent of Canadians over the age of 18 have opted for a COVID-19 booster as of Jan. 15, according to the Public Health Agency of Canada, but the survey suggests 73 per cent of respondents intend to get three shots.
At the same time, less than 10 per cent of adults have eschewed vaccination against the virus altogether.
Of those with two doses who say they don't want a third, 25.5 per cent said they don't believe a booster would work, and 14 per cent said they felt that two shots are enough.
Those reasons are very different from the ones given my people who have opted to remain completely unvaccinated, who since the beginning of the vaccine rollout least year have typically said they're more afraid of vaccine side-effects than the virus itself, Jedwab said.
In this latest poll, the unvaccinated were six times more worried about vaccine side-effects than getting COVID-19.
"That's not what people who are double-vaccinated are saying and it's not any meaningful degree," he said.
Only eight per cent of double-vaxxed people reported being concerned about the side-effects of the booster.
"They're more concerned with its effectiveness. So it will be up to policy-makers to remind people about the effectiveness."
This report by The Canadian Press was first published Jan. 26, 2022.
Laura Osman, The Canadian Press
This is not just another protest – Freedom Convoy is heading to Ottawa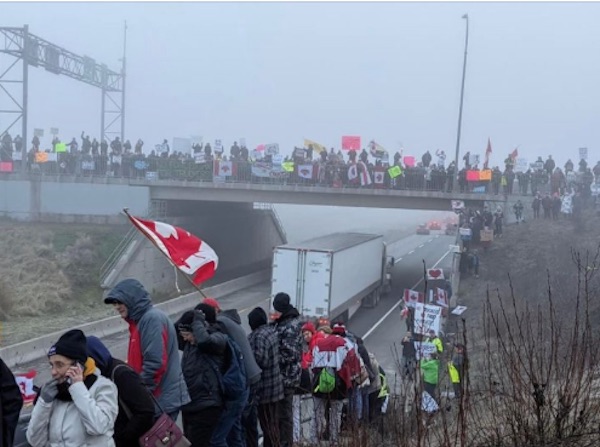 Millions of Canadians are wondering exactly what is happening on the highways leading to Ottawa. An overwhelming amount of traffic is forming, not only on the highways, but also in social media, and on websites dedicated to the "Freedom Convoy".
It appears the federal government's decision to implement a vaccine mandate for truckers has hit a nerve with Canadians opposed to the mandating of vaccines to treat covid. What started out as a cross country rally by truckers aiming to make a statement in Ottawa has exploded into a national and international phenomenon as people from around the world are turning their eyes to Canada to see more and more of the videos, posts, news articles, and podcasts focussing on opposition to mandating health restrictions.
Images of flag-waving Canadians lining up on overpasses to cheer on the truckers which started to trickle out on the weekend, are now flooding the internet. Videos of trucks blowing their horns at intersections and overpasses are being heard in homes across the country and increasingly around the world.
Just what do all these protestors want? One explanation comes from the
GoFundMe page
set up to help support the expenses truckers and supporters are encountering on their trip to Ottawa. That fundraiser easily blew through its initial goal of $3,000,000.00 on Monday morning. The message from fundraiser organizer Tamara Lich begins with these comments:
To our Fellow Canadians, the time for political over reach is over. Our current government is implementing rules and mandates that are destroying the foundation of our businesses, industries and livelihoods. Canadians have been integral to the fabric of humanity in many ways that have shaped the planet.
We are a peaceful country that has helped protect nations across the globe from tyrannical governments who oppressed their people, and now it seems it is happening here. We are taking our fight to the doorsteps of our Federal Government and demanding that they cease all mandates against its people. Small businesses are being destroyed, homes are being destroyed, and people are being mistreated and denied fundamental necessities to survive. It's our duty as Canadians to put an end to this mandates. It is imperative that this happens because if we don't our country will no longer be the country we have come to love. We are doing this for our future Generations and to regain our lives back.
As of Monday morning, a facebook page called
Convoy To Ottawa 2022
is already closing in on 400,000 followers. The group is quickly becoming a favourite place for supporters to share their photos, videos and supportive messages.
Here's a sample of posts and videos streaming in from across the county beginning with videos from the west coast and the east coast posted on Sunday. The beginning stages of this convoy seem to show there's already a groundswell of support. It the momentum continues throughout this week as the convoy approached Ottawa, this may culminate in something Canadians have never seen before.
From a facebook post by Jon Lively
The number of trucks and light vehicles slow rolling out of the east and west coast's today is astonishing. And the turnouts to wave them off were incredible.
I'll admit, I live in a constant state of skepticism to avoid disappointment. But what I'm seeing today sends chills down my spine and brings tears to my eyes. It feels very real.
Regardless of what happens in Ottawa next week, this movement has me feeling a little prouder to be Canadian. I needed that in a bad way. I think we're all feeling that.
I had people message me today who were in the various reception parties in BC and Alberta and they said it was very emotional. Many tears were shed. I understand why.
This is the most encouraging thing any of us in Canada have seen in two years. The love and unity is palpable.
Thank you to everyone involved. Behind you all the way
.
Sunday morning in Vancouver
Sunday morning outside Vancouver
Sunday morning at Abbotsford, BC. Amazing turn out In Abby this morning! Video from Shari Decker
Freedom Convoy to Ottawa coming through Langley, BC, at the crack of dawn on Jan 23, 2022. Video from Jacob Lequijt
Highway 2 North Lacombe overpass just after 10 PM Sunday night
Joining the convoy from Aluc, New Brunswick on Sunday afternoon. Video from 91.9 The Bend
A message from Ontario police Constable Erin Howard representing "Police On Guard"
Leaving Calgary Monday morning.