The book that could spell the end of Anthony Fauci and the incredible push for vaccine mandates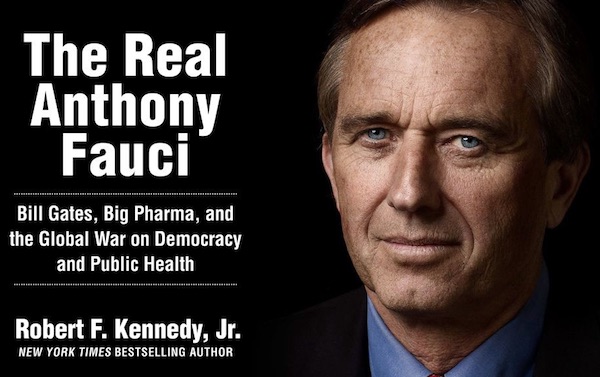 In the end, it all comes down to well meaning but twisted ambition, with a nice big helping of good old fashioned and really evil, greed.
At the beginning of this time we'll forever simply call 'covid', we dutifully lined up in front of our neighbourhood Costco while the owners of small independently owned stores were forced to lock their doors and watch helplessly as the businesses they built over a lifetime of blood, sweat, and tears drifted away from them. Over time, we've become accustomed to measures like masks and distancing rules, and regulations that allow 18,000 people to watch a hockey game (mostly without masks), or 100,000 people to watch a football game (entirely without masks), while the parents of grade 12 athletes can not come into a gym to watch their own children compete for a long prepared for championship title.
Today we wait to see which vaccine mandate will rock someone's world next. It's become clear over the last several months of mandates that a good percentage of people (somewhere around 25%) feel they're being forced into a vaccination they aren't so sure about taking (they're still not approved) and a further percentage of people (8 to 10%) will simply not agree to take an emergency ordered vaccine. I'm not saying any of this is right or wrong. I'm just saying it clearly makes no sense. I'm just saying..
Everyone I've talked to since covid has begun, and I mean EVERYONE has admitted in private conversation if not very publicly, that this restriction makes no sense, or that restriction is contradictory to another one. EVERYONE admits the various restrictions, rules, and regulations our governments have used to respond to covid just don't add up. And for the few people who can't bring themselves to admit it, even to a close friend.. just ask yourself how the "two weeks to flatten the curve" is going at the two year mark.
For me, the biggest mystery in an ocean of mysteries has been the complete lockdown on access to and information about medical therapies. Anyone who puts in the effort to look behind the curtain of attack articles, can see there are preventative treatments, early treatments, and now "long covid" treatments which are showing tremendous success. As you can see at ivmmeta.com and ivmstatus.com, 0ver 25% of the world's population has access to at least ONE of the effective treatments. While millions of Canadians chuckle at unintelligent, simple people who take Ivermectin (horse paste they call it), those poor simple people in nations such as India and Japan have nearly eliminated covid. Here, all we hear is that vaccines are the ONLY answer. Usually they say it's "the best way" to fight covid. They leave out the part where they've banned every other way of fighting covid. You can argue if you want about how widespread Ivermectin use is in India and Japan, but you can't really argue with data. Take a look at these graphs from worldometers.com and you'll have to conclude something different is going on in countries where early treatment options aren't always the butt of the latest woke-joke.
Sorry for the long lead-in. If you stayed with it, here's the reward. There's a new book out by best selling author and life long US Democrat Robert F. Kennedy Jr. Yes, this is the son of THE Bobby Kennedy, and the nephew of President John F Kennedy. If you're one of the millions of 'simple' people like me who just can't understand why we're not even allowed to talk about actually treating covid, this book will set out an argument that makes it all finally come together. That's what The Real Anthony Fauci is all about. Either this book is shedding a WORLD of lies, or it will put AN ENTIRELY NEW LIGHT on what is driving the forces behind covid-19 vaccine mandates. If you have a bit of time, check out the video interview below with RFK Jr. The allegations go well beyond disturbing and right to shocking. It's going to be interesting to see if this book will make a difference. For me. I don't really care what happens to Dr. Fauci. I just want politicians to show courage and stand up for the most vulnerable people. It's time to save lives by allowing Albertans, and Canadians to use some of the two dozen or so medical treatments which have emerged to fight covid in the last two years.
Here's the description of this book by Amazon
Pharma-funded mainstream media has convinced millions of Americans that Dr. Anthony Fauci is a hero. He is anything but.
As director of the National Institute of Allergy and Infectious Diseases (NIAID), Dr. Anthony Fauci dispenses $6.1 billion in annual taxpayer-provided funding for scientific research, allowing him to dictate the subject, content, and outcome of scientific health research across the globe. Fauci uses the financial clout at his disposal to wield extraordinary influence over hospitals, universities, journals, and thousands of influential doctors and scientists—whose careers and institutions he has the power to ruin, advance, or reward.
During more than a year of painstaking and meticulous research, Robert F. Kennedy Jr. unearthed a shocking story that obliterates media spin on Dr. Fauci . . . and that will alarm every American—Democrat or Republican—who cares about democracy, our Constitution, and the future of our children's health.
The Real Anthony Fauci reveals how "America's Doctor" launched his career during the early AIDS crisis by partnering with pharmaceutical companies to sabotage safe and effective off-patent therapeutic treatments for AIDS. Fauci orchestrated fraudulent studies, and then pressured US Food and Drug Administration (FDA) regulators into approving a deadly chemotherapy treatment he had good reason to know was worthless against AIDS. Fauci repeatedly violated federal laws to allow his Pharma partners to use impoverished and dark-skinned children as lab rats in deadly experiments with toxic AIDS and cancer chemotherapies.
In early 2000, Fauci shook hands with Bill Gates in the library of Gates' $147 million Seattle mansion, cementing a partnership that would aim to control an increasingly profitable $60 billion global vaccine enterprise with unlimited growth potential. Through funding leverage and carefully cultivated personal relationships with heads of state and leading media and social media institutions, the Pharma-Fauci-Gates alliance exercises dominion over global health policy.
The Real Anthony Fauci details how Fauci, Gates, and their cohorts use their control of media outlets, scientific journals, key government and quasi-governmental agencies, global intelligence agencies, and influential scientists and physicians to flood the public with fearful propaganda about COVID-19 virulence and pathogenesis, and to muzzle debate and ruthlessly censor dissent.
Eye Protection Wasn't Misdirection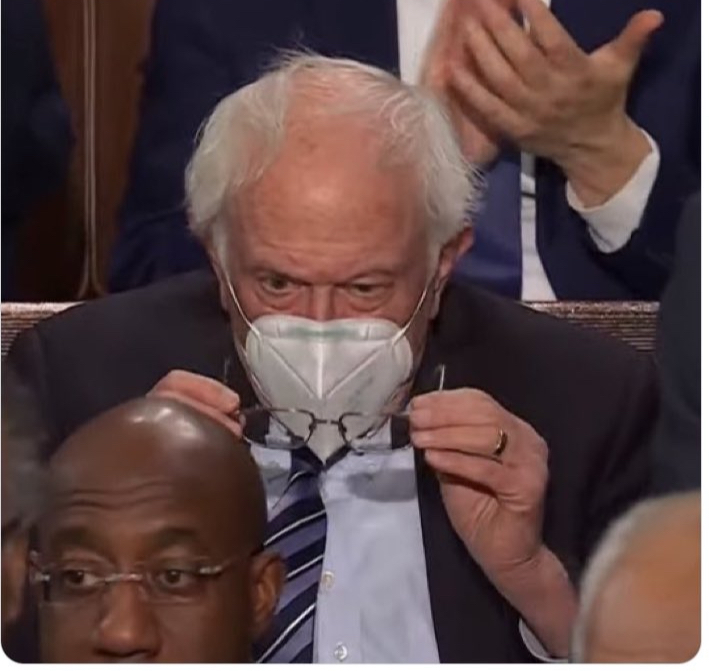 "If you have goggles or an eye shield, you should use it." ~ Anthony Fauci, July 30th, 2020
We had heard enough from Fauci by the time this comment was made in mid-2020 to begin automatically tuning out his frequently contradictory advice. What if we had given weight to this comment and explored why he began recommending goggles (yet never donned them himself)?
While I'm not surprised that the inner anatomy of the face including ocular ducts and connectivity within structures aren't common knowledge, I expected more of a reaction from the medical community regarding Fauci's push for eye protection. Not only do medical professionals take extensive coursework on human anatomy — they are required to meet annually with an Industrial Hygienist for fit tested, hazard-specific kit for each exposure setting , including ocular protection. This testing process requires going into detail about each exposure setting and required donning and donning practices within the scope of their professional duties.
Instead of elaborating on his recommendation, Fauci just publicly hushed on the issue and folks carried on, obediently masked up yet entirely neglectful of their nasolacrimal ducts. Shame, shame.
These are the structures of the lacrimal apparatus connecting ocular and nasal pathways. Basically, the eye drains into the nasal cavity. None of the talking heads of the medical community ever seem to bring up that these parts of the body connect with one another, and while we hear about masks ad nauseam three entire years after the onset of the SARS-CoV-2 pandemic, no one is arguing with strangers on the internet about goggles.
Bernie Sanders was recently praised for being the only person at the February, 2023 State of the Union donning a (sub-grade, non-mitigating) respirator, but eye spy something fishy. It was noted that he kept removing his glasses, as they were fogging up.
Those who have donned respirators have experienced that exhale emissions are generally redirected out of the nose bridge (or out of side gaps if improperly sealed). This is the exhale emission plume create by a fitted, unvalved N95 respirator:
This plume of warm, moist respiratory emissions is what causes glasses to fog. This is precisely why I continue to argue that masks are NOT source control for respiratory aerosols, because these apparatuses are not designed nor intended to protect others from your emissions, but solely for protection of the wearer. The ASTM agrees with me on this matter:
The American Society for Testing and Materials (ASTM) Standard Specification for Barrier Face Coverings F3502-21 Note 2 states, "There are currently no established methods for measuring outward leakage from a barrier face covering, medical mask, or respirator. Nothing in this standard addresses or implies a quantitative assessment of outward leakage and no claims can be made about the degree to which a barrier face covering reduces emission of human-generated particles."
Additionally, Note 5 states, "There are currently no specific accepted techniques that are available to measure outward leakage from a barrier face covering or other products. Thus, no claims may be made with respect to the degree of source control offered by the barrier face covering based on the leakage assessment."
So does it matter if your neighbor's exhale emissions are directed in your face for the duration of your 6-hour flight?
Absolutely. Imagine sitting between these two fine fellas with your eyes exposed, and their emission plumes directed right in your face.
In mitigation of aerosol hazards, eye protection is a standard part of required kit, because those from the correct domain of expertise, Industrial Hygiene, know enough about human anatomy to remember the interconnectivity of facial structures.
Ocular transmission of SARS-CoV-2
There has been a great deal of focus on respiratory protection since the start of the pandemic, but ocular transmission was already established for SARS-CoV-1.
"SARS-CoV-1 has been shown to be transmitted through direct contact or with droplet or aerosolized particle contact with the mucous membranes of the eyes, nose and mouth. Indeed, during the 2003 SARS-CoV-1 outbreak in Toronto, health care workers who failed to wear eye protection in caring for patients infected with SARS-CoV-1 had a higher rate of seroconversion."
We are beginning to see mounting research on ocular transmission for SARS-CoV-2 emerge, as well, traveling through the nasolacrimal duct from the eye, draining into the sinus cavity.
"There is evidence that SARS-CoV-2 may either directly infect cells on the ocular surface, or virus can be carried by tears through the nasolacrimal duct to infect the nasal or gastrointestinal epithelium."
"The nasolacrimal system provides an anatomic connection between the ocular surface and the upper respiratory tract. When a drop is instilled into the eye, even though some of it is absorbed by the cornea and the conjunctiva, most of it is drained into the nasal cavity through the nasolacrimal canal and is subsequently transferred to the upper respiratory or the gastrointestinal tract."
"SARS-CoV-2 on the ocular surface can be transferred to different systems along with tears through the nasolacrimal route."
Seldom did ocular exposure result in eye infection, while systemic infections occurred regularly. Ocular exposure cannot always be determined as the point of contact for this reason, as an eye infection does not always coincide with systemic infection.
The nasolacrimal duct is often discussed in ocular transmission research, but this is not the sole ocular transmission pathway discussed.
"There are two pathways by which ocular exposure could lead to systemic transmission of the SARS-CoV-2 virus. (1) Direct infection of ocular tissues including cornea, conjunctiva, lacrimal gland, meibomian glands from virus exposure and (2) virus in the tears, which then goes through the nasolacrimal duct to infect the nasal or gastrointestinal epithelium."
Additionally, research is being conducted on the usage of ocular secretions in transmitting SARS-CoV-2.
"Then here comes the question, whether SARS-CoV-2 detected in conjunctival secretions and tears is an infectious virus? Colavita et al inoculated Vero E6 cells with the first RNA positive ocular sample obtained from a COVID-19 patient. Cytopathic effect was observed 5 days post-inoculation, and viral replication was confirmed by real-time RT-PCR in spent cell medium. Hui et al also isolated SARS-CoV-2 virus from a nasopharyngeal aspirate specimen and a throat swab of a COVID-19 patient. The isolated virus not only infected human conjunctival explants but also infected more extensively and reached higher infectious viral titers than SARS-CoV."
According to this study, ocular secretions were highly infectious.
"The ocular surface can serve as a reservoir and source of contagion for SARS-CoV-2. SARS-CoV-2 can be transmitted to the ocular surface through hand-eye contact and aerosols, and then transfer to other systems through nasolacrimal route and hematogenous metastasis. The possibility of ocular transmission of SARS-CoV-2 cannot be ignored."
This paper also has a focus on aerosols coming into contact with ocular mucosa.
"Once aerosols form, SARS-CoV-2 can bind to the ACE2 on the exposed ocular mucosa to cause infection. In order to prevent aerosols from contacting the eye surface, eye protection cannot be ignored."
An additional area explored in this analysis discusses rhesus macaques wherein solely those inoculated through the ocular route became infected.
"If the ocular surface is the portal for SARS-CoV-2 to enter, where does the virus transfer after entering? An animal experiment reveals the possible nasolacrimal routes of SARS-CoV-2 transfer from the ocular surface. Five rhesus macaques were inoculated with 1×106 50% tissue-culture infectious doses of SARS-CoV-2. Only in the conjunctival swabs of rhesus macaques inoculated via conjunctival route could the SARS-CoV-2 be detected. Conjunctival swabs of the rhesus macaques that were inoculated via intragastric or intratracheal route were negative. Three days post conjunctival inoculation, rhesus macaques presented mild interstitial pneumonia. Autopsies showed that SARS-CoV-2 was detectable in the nasolacrimal system tissues, including the lacrimal gland, conjunctiva, nasal cavity, and throat, which connected the eyes and respiratory tract on anatomy."
An additional macaque study had similar findings.
"Deng et al. showed that SARS-CoV-2 infection could be induced by ocular surface inoculation in an experimental animal model using macaques. Although the researchers detected the virus in conjunctival swabs only on the first day after inoculation, they continued to detect it in nasal and throat swabs 1-7 days after the inoculation. Their findings demonstrated that the viral load in the airway mucosa was much higher than that in the ocular surface. They euthanized and necropsied one of the conjunctival inoculated-animals and found that the virus had spread to the nasolacrimal system and ocular tissue, nasal cavity, pharynx, trachea, tissues in the oral cavity, tissues in the lower-left lobe of the lung, inguinal and perirectal lymph node, stomach, duode-num, cecum, and ileum. They also found a specific IgG antibody, indicating that the animal was infected with SARS-CoV-2 via the ocular surface route."
While the nasolacrimal route is the primary focus in most current research, the blood-retinal barrier (BRB) is also discussed as a possible pathway.
"Once it reaches the ocular surface, SARS-CoV-2 could invade the conjunctiva and iris under the mediation of ACE2 and CD147, another possible receptor for SARS-CoV-2 on host cells. De Figueiredo et al described the following possible pathways. After reaching blood capillaries and then choroid plexus, the virus reaches the blood-retinal barrier (BRB), which expresses both ACE2 and CD147 in retinal pigment epithelial cells and blood vessel endothelial cells. Since CD147 mediates the breakdown of neurovascular blood barriers, the virus can cross the BRB and enter into blood."
RSV
There has been a push recently to bring back masks for Respiratory Syncytial Virus (RSV), especially in schools, as this pathogen largely impacts youth populations, yet ocular transmission is a proven method of infectivity for RSV.
In this paper, intranasal dosing of the given pathogen resulted in onset of illness for nearly all respiratory pathogens studied. It reviews transmission routes and minimum infective dose for Influenza, Rhinovirus, Coxsackievirus, Adenovirus, RSV, Enteric Viruses, Rotavirus, Norovirus, and Echovirus, including ocular transmission.
"The infective doses of rhinoviruses in the nose and eyes are thought to be comparable because the virus does not infect the eyes but appears to travel from the eyes to the nasal mucosa via the tear duct."

"Hall et al. (1981) investigated the infectivity of RSV A2 strain administered by nose, eye, and mouth in adult volunteers. They reported that the virus may infect by eye or nose and both routes appear to be equally sensitive. A dose of 1.6 × 105 TCID50 infected three of the four volunteers given either into the eyes or nose while only one out of the eight were infected via mouth inoculation, and this was thought to be due to secondary spread of the virus."

"RSV A2 had poor infectivity when administered via the mouth but was shown to infect by eye and nose and both routes appear to be equally sensitive to the virus."

"Bynoe et al. (1961) found that colds could be produced almost as readily by applying virus by nasal and conjunctival swabs as by giving nasal drops to volunteers."
Would masks save schools from RSV circulation? Most kids have robust immune systems, with a very, very small percentage of the youth population undergoing chemotherapy or taking immunosuppressives, who usually are not on campus for in-person learning. But for those seeming protection and in-person instruction, we must not set them up for immune bombardment by offering a false sense of security while feigning ignorance of other viable transmission routes. Masks are not the answer.
Summary
Ocular transmission of respiratory pathogens hasn't been a focal point of study, but with other pathogens and mounting research on SARS-CoV-2 showing such ease of systemic onset for this transmission route, more attention should be given to this area of research.
Consider all of the people you've seen donning masks or respirators over these past three years, assured in the merit of their virtue. How many still got sick? Did you ever once see someone donning goggles? Are we ever going to get around to discussing exhaustion of the hierarchy of controls, or are actual mitigating measures too taboo, too fringe?
TLDR: Ocular transmission is a viable method of transmission for SARS-CoV-2. Masks are not source control. Even N95s aren't going to fix this. And all child masks are unregulated, untested, unethical, and unsafe, with zero efficacy, fit, term of wear, or medical clearance standards, and with ocular transmission being a proven route of transmission for RSV, masks aren't going to fix that issue, either.
Dr. John Campbell – The man who explained the pandemic to millions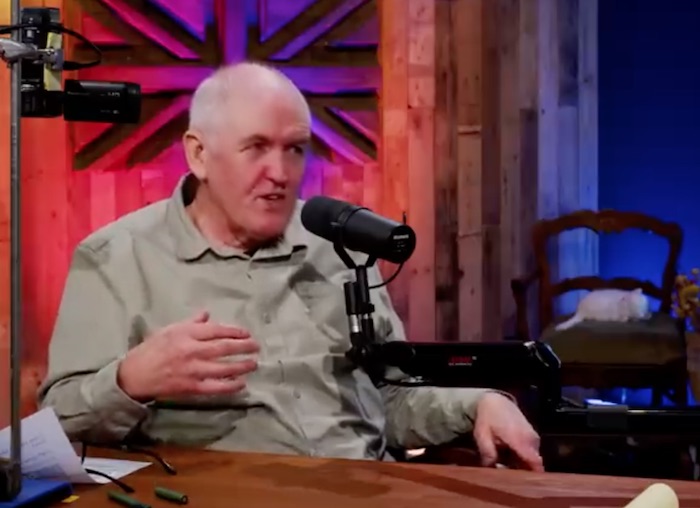 We'll get to Dr. John Campbell soon enough. First the back story.
For three years the COVID-19 pandemic has wreaked havoc on families, communities, and entire nations. One could put a pretty good argument together that the psychological, political, and societal toll may in the end, be even more devastating than the death of nearly seven million victims. Of course that likely won't be true for those who lost a loved one to covid. But think of all those who couldn't see their beloved family member drift away in a nursing home, or see their family member dying of cancer in the hospital. Think of the business owners and employees who lost their businesses and livelihoods. And think of the millions of families who may never talk again because of brutal disagreements over various controversial decisions made by health officials and governments as the pandemic dragged on and on and on.
At first governments all over locked their citizens down to "flatten the curve" and we all banded together to face the virus together. That was supposed to last for two weeks. As two weeks turned into multiple weeks and then multiple months, millions of people started to drift away.
No doubt a few were simply radically anti-authoritarian. But not the VAST majority. For millions it started when they personally encountered information that contradicted the official line. It was still very early in the pandemic when the advanced age and unhealthy comorbidities of most of the victims became obvious to those who analyzed data. Many couldn't understand locking down younger people in good health, or closing businesses and schools.
Before long a divide formed in society. On one side, people who consume information through news casts the way we always have. On the other side neighbours, friends, and family members who listened to podcasters and read substack articles. They were learning about doctors who were treating covid against the direction of those in charge, or reading information the regular media simply wouldn't talk about.
A great example is ivermectin. While the regular media attacked the incredibly common and incredibly cheap treatment, calling it horse dewormer (which is one of the things it does), popular podcast interviewers were talking to doctors who were successfully treating patients with ivermectin and other early treatments. Websites showing
have been slow to take a deep dive into their own responses. With hindsight being 20/20 it would take a brave and rare politician who would be willing to open themselves up to criticism, or something worse.
How did it all happen?