The Alberta SPCA lays 54 Charges in connection to Horse Neglect Investigation
The Alberta SPCA has laid 54 charges against two people in connection with horses in distress on two properties west of Edmonton.
Charged are MOORE, Patricia Lynn (48), and ATKINSON, Ross Andrew (50) of the Evansburg area.
In early December 2018, The Alberta SPCA received a complaint from a member of the public of numerous horses in distress or dead on a property in the Evansburg area. Peace Officers attended and their investigation led the Peace Officers to a second property in the same area. As a result of the investigation, the Alberta SPCA has laid 27 charges each against the two individuals listed above under the Animal Protection Act (APA) of Alberta. Each individual faces nine charges of causing an animal to be in distress 2(1), nine charges of failing to provide adequate food and water 2.1(a), and nine charges of failing to provide adequate care when an animal is wounded or ill 2.1(b).
The two persons charged are scheduled to appear in Evansburg court on March 11, 2019.
We would also like to note that there was a lot of false information circulating on social media during the investigation that often became a distraction to the work of our Peace Officers. Our time and resources were often diverted to deal with these rumours, taking away from our ability to manage other investigations in the province. Proper investigations take time and often involve the gathering of forensic evidence. Our Peace Officers always appreciate the patience and understanding of the public when we are gathering evidence to support laying charges.
$5.3 million worth of cocaine seized at Coutts. 25 year old Calgary man arrested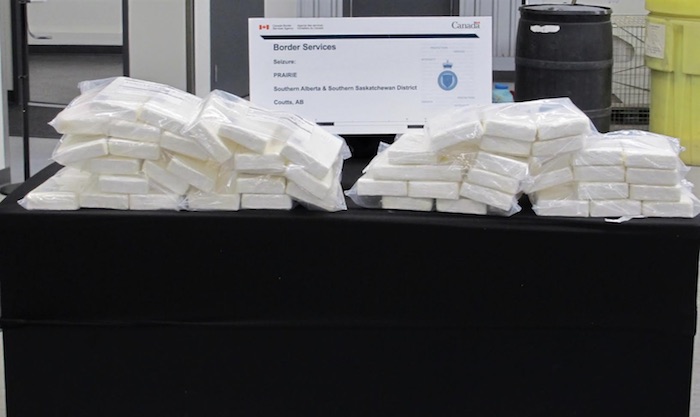 News release from the Integrated Border Enforcement Team (IBET)
Integrated Border Enforcement Team lays charges for drug importation
Coutts, Alta. – The Integrated Border Enforcement Team (IBET), a joint force operation between the Royal Canadian Mounted Police, Canada Border Services Agency (CBSA) and Calgary Police Service (CPS), has charged a man for importing cocaine into Canada.
On Nov. 21, 2022, CBSA officers discovered and seized 53 kg of cocaine following a secondary examination of a commercial transport vehicle at the Coutts border crossing. The drugs, which has a street value of approximately $5.3 million, were hidden within a shipment of produce and have been referred over to IBET for further investigation.
On Nov. 22, 2022, Jagroop Singh, 25, a resident of Calgary, was charged with the following offences:
Importation of a Controlled Substance contrary to section 6(1) of the Controlled Drugs and Substances Act; and,
Possession of a Controlled Substance for the Purpose of Trafficking contrary to section 5(2) of theControlled Drugs and Substances Act.
Singh is scheduled to appear in Lethbridge Provincial Court on Nov. 29, 2022.
"I cannot overstate the contributions of each law enforcement partner represented in IBET. Together, we successfully prevented harmful drugs from entering Canada and harming our communities."
– Supt. Sean Boser, OIC of Federal Policing – Calgary
"The safety and security of Canadians is our government's top priority. By stopping illegal drugs at the border, we're keeping our communities safe. This seizure is another great example of the ongoing cooperation between the CBSA, the RCMP and the Calgary Police Service in securing our borders."
– Brad Wozny, Regional Director General, Canada Border Services Agency
"Anytime a significant seizure like this is taken off our streets is a win for the communities we all work in partnership to protect."
– Acting Supt. Melanie Oncescu, CPS Criminal Operations and Intelligence
IBET's mandate is to enhance border integrity and security along the shared border, between designated ports of entry, by identifying, investigating and interdicting persons, organizations and goods that are involved in criminal activities.
Alberta bans masking mandates in schools, guarantees in-person learning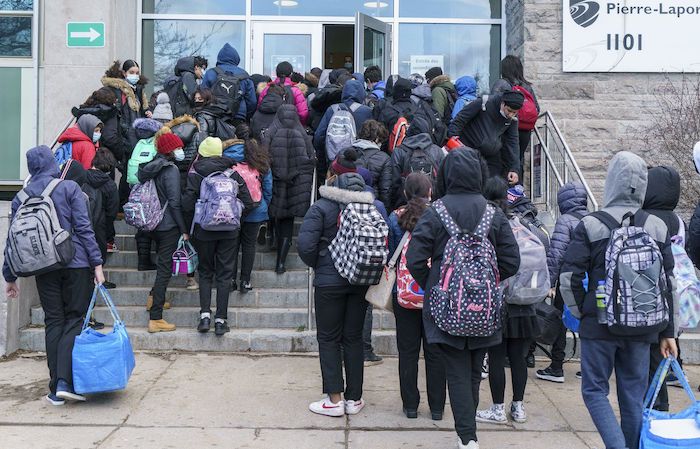 Edmonton – The Alberta government says school boards can't require students to wear masks in school or be forced to take classes online.
In a release, the government says it has made regulatory changes that guarantee students have access to in-person learning.
The changes also say that students cannot be denied in-person education by school authorities due to their personal decision to wear or not wear a mask.
Last week, the Edmonton public school board asked Alberta Health and Alberta Education whether it can require masks as schools deal with a wave of viral illnesses that is sending thousands of students home sick and straining hospitals.
Premier Danielle Smith says the changes go into effect immediately and will create an inclusive environment by ensuring personal and family choices are respected.
Smith has been critical of mask rules in schools, saying they have adversely affected the mental health, development and education of students during the COVID-19 pandemic.
"Parents and students have told me time and time again that they want a normal school environment for their kids," Smith said in a release Thursday. "We have taken steps to protect and enhance educational choice.
"Families are free to make their own personal health decisions, and, no matter what that decision is, it will be supported by Alberta's education system."
The government said the in-person learning change applies to grades 1-12 in all school settings, including public, separate, francophone, public charter and independent schools.
The masking change applies to those same grades and schools, but also to early childhood services.
NDP education critic Sarah Hoffman said the changes show the government doesn't have a clue about what's happening in Alberta schools.
"We know that respiratory illness outbreaks have been widespread this fall, causing intense stress and increased challenges for students, staff, and families," Hoffman said in a release.
"School districts are struggling to staff classrooms as illness moves through students and employees."
Hoffman said it is unrealistic to expect that school districts can staff in-person and online classes simultaneously with no additional resources.
This report by The Canadian Press was first published Nov. 24, 2022