The 3Rs are very important, when it's convenient, when it's trendy…….
Reduce, Reuse, Recycle, the 3Rs is popular among people and is tossed out there, often, in the news. When it comes to plastic bottles, bags and straws but not when it comes to cars and neighbourhoods, for example.
There are a lot of small cars out there and most often it is an economic decision, but not always. You go to any parking lot, even those in front of discount stores and you will see many new, very large vehicles. The 3Rs do not seem to apply to our vehicles, apparently.
Our neighbourhoods offer another example. We all seem to be clamouring for newer, bigger homes in new neighbourhoods. When I was growing up it was normal to see a family of six living in houses of a 1,000 square feet. Now a family of six is rare but houses of 1000 square feet is rarer, and even rarer still is a family of six living in a 1000 square foot house.
The 3Rs comes into play when you hit retirement and it is usually a health or an economic decision.
Why do we march on Parliament Hill to stop using plastic straws and piping oil if we insist on bigger houses and bigger cars?
History says that we are building on the best agricultural land as we expand our cities with new neighbourhoods. I do not think reducing our arable land or reusing or recycling our farmland into residential neighbourhoods and industrial parks is in the goal of the 3Rs philosophy.
It seems to me that we pave over 1000s of acres of farmland to build newer homes every year, but we are worked up over how many plastic straws hit our waste management sites.
Every city has older run down neighbourhoods, ignored or avoided by homebuyers and politicians. Often times they become rentals or the first step on the property ladder, seldom thought about in the 3Rs scheme of things. Focusing on appearances and not on the potential it often easier to build or buy new houses in new neighbourhoods.
I live in an older neighbourhood, a mid century home, with deer visiting my yard. I have a view of trees and a short walk to the creek. I also have decade old cracks in my sidewalk, a shrub growing in my street. The neighbour's house sold recently but it was a hard sell and it went for less than it was bought for almost 10 years ago. A realtor mentioned that people want new, modern homes inside mid-century houses. They see antiques and character as simply old.
So the politicians are only following the wishes of the populace when they abandon the 3Rs, pave over farmland to make room for new homes, new roads and new conveniences.
Are we only environmentalists when it is convenient and only in trends?
I do not wish to live in a cave, but I think that there is a sense of disproportionate importance in our lives that needs addressing.
Maybe the answer is paving new roads out of used plastic bags and straws, and building new houses out of bricks made of compacted trash. Maybe, and this may be unrealistic, we could just reduce the number of neighbourhoods, recycle our old houses and reuse abandoned schools.
Just a thought.
United Nations Now Claims to "Own the Science"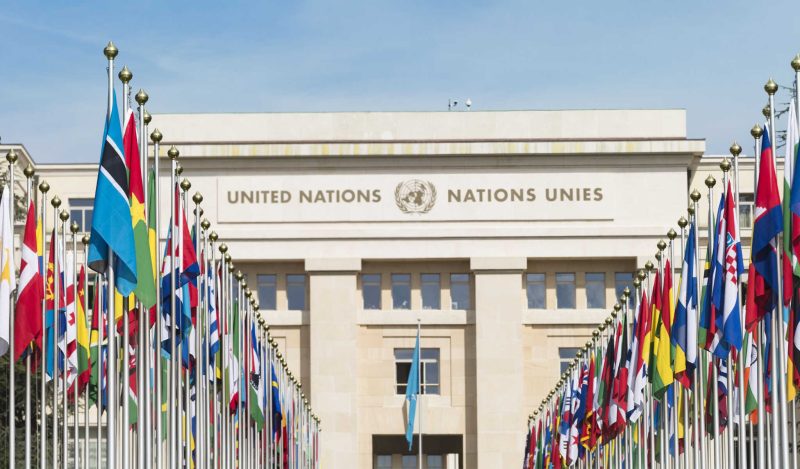 BY
ROBERT MALONE
The United Nations claims that they 'own the science.' For this reason, they have partnered with the Big Tech platforms to manipulate search results, and they are pouring vast quantities of money into globalist media outlets to ensure their version of "the science" is the one that we get to read.
The statement is from United Nations' global communications representative Melissa Fleming, who spoke on a World Economic Forum disinformation panel on Sept 28, 2022.
A transcript of that clip reads:
We partnered with Google, for example. If you Google climate change, at the top of your search, you will get all kinds of UN resources. We started this partnership when we were shocked to see that when we'd Googled climate change, we were getting incredibly distorted information right at the top.

We are becoming much more proactive. We own the science and we think that the world should know it, and the platforms themselves also do. But again, it's a huge, huge challenge that I think all sectors of society need to be very active.
The thing is – when you listen to the full panel discussion linked above, the UN speaker -Ms. Fleming is not just saying that the UN is censoring speech on climate change. She also suggests that the UN with the WEF is censoring many scientific discussions, such as the topic of COVID-19, and the UN is in the process of setting up the tools to censor ALL misinformation that the UN deems unhelpful for a "stable, peaceful, harmonious and UNITED world."
Moderating the "Tackling Disinformation" panel was the WEF managing director Adrian Monck. He states that there has been "professionalization of disinformation" including "COVID-19 state-sponsored actors engaged in that." What does that even mean? That somehow those of us critical of the COVID-19 policies are "state-sponsored" actors? Frankly, his statements during the discussion were bizarre and paranoid.
This is what is clear. The measures of the UN, acting with its strategic partner the WEF, to stifle free speech have created a dangerous situation for our country and the world. The United Nations is engaging in psyops operations, on information control on all of us. This is beyond anything we all could have imagined ten years ago. We all used to joke about "1984;" now it just seems like a cliche. Because that future is here. This is a situation that only Congress can rectify.
Melissa Fleming's remarks in this discussion were astounding. Here are a few examples:
"We partnered with Google. For example, if you Google 'climate change,' you will, at the top of your search, you will get all kinds of UN resources" — Melissa Fleming
"Another really key strategy we had was to deploy influencers […] and they were much more trusted than the United Nations." — Melissa Fleming
"We trained scientists around the world and some doctors on TikTok, and we had TikTok working with us." — Melissa Fleming
Mr. Monck. who now calls critics of the WEF and components of its great reset agenda white supremacists and anti-Semites.
"Own nothing, be happy. You might have heard the phrase. It started life as a screenshot, culled from the internet by an anonymous anti-semitic account on the image board 4chan. 'Own nothing, be happy – The Jew World Order 2030', said the post, which went viral among extremists." — Adrian Monck, WEF, 2022
This statement of course, is completely false. One could say that it is disinformation even. In other words, this is pysops from the WEF. The phrase didn't "start life as a screenshot…culled from the internet by an anonymous anti-semitic account on the image board 4chan" as the WEF director states.
The phrase came directly from a video on the WEF's own website and social media channels in 2016. The WEF still has it on their own website and it is still part of their agenda!
"You'll own nothing. And you'll be happy." — 8 Predictions for the World in 2030, WEF, 2016 (from the WEF website)
The UN, with its strategic partner the WEF, wants to own more than "The Science," they want to own and control what is published on the Internet in total. They want to own "The Politics," "The World Agenda," and "The Narrative."
The United States as a country, and the free people who are citizens of the United States, cannot let the United Nations and their World Economic Forum strategic partners control what we write and publish, what we get to read, and even what we think. We must elect leaders who are willing to stand up to the UN. Congress must become engaged – the UN is out of control, and the President of the United States is acting like a captured ally of the Globalists.
Let's be clear about this.
The United Nations' global communications representative Melissa Fleming is explicitly stating in this interview that the United Nations and their World Economic Forum partners are intentionally training and creating controlled opposition scientists, physicians, and social media influencers to assist in their global propaganda campaigns managed via partnerships with corporate media and Big Tech.
Reposted from Substack
Concussed: The NFL Needs Its Head Read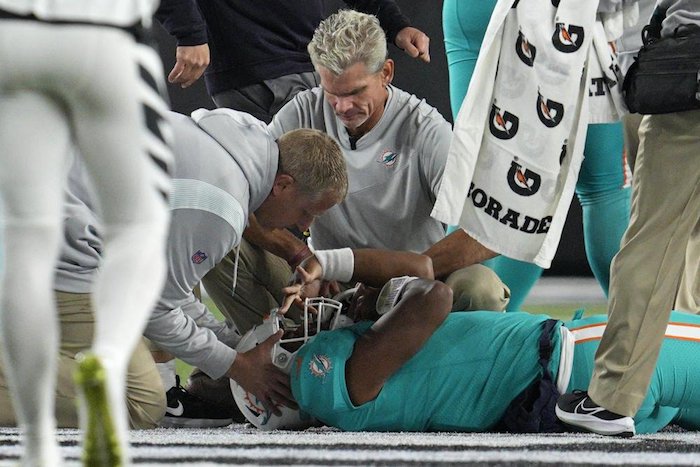 Sign up today for Not The Public Broadcaster newsletters. Hot takes/ cool slants on sports and current affairs. Have the latest columns delivered to your mail box. Tell your friends to join, too. Always provocative, always independent. https://share.hsforms.com/16edbhhC3TTKg6jAaRyP7rActsj5
In 2014 Tipping Point author Malcolm Gladwell commented that, within 25 years, the NFL might become a renegade sport outside the mainstream of culture. "We will go to a middle position where we will disclose the risks and essentially dare people to play …," Gladwell repeated in the recent film United State of Football "That's what the Army does. So we leave the Army for kids who have no other options, for whom the risks are acceptable.
"That's what football is going to become. It's going to become the Army. That's a very, very different situation. That's a ghettoized sport, not a mainstream American sport." Many derided Gladwell at the time, but events this past week have leant credence to his theory.
Perhaps it's the hangover from being lied to about The Science of Covid-19 by the mahatmas of healthcare. But if the NFL medics were hoping the public would give them the benefit of the doubt about their treatment of the gruesome Tua Tagovailoa head injury the past ten days they are sadly mistaken.
For a league that has pounded its chest about its attempts to lessen the danger from head hits, the farce that followed Tagovailoa's injury the past week is a cruel deception. Whatever the facts eventually reveal (the NFL says it's investigating) the PR failure of a system designed to protect employees is irreversible.
Former All Pro and now NBC broadcaster Rodney Harrison summed up the players' reaction to the Tua episode. ""Please take care of yourself. Don't depend on the NFL. Don't depend on anybody. If something's wrong with your head, report it." – @Rodney_Harrison
Tagovailoa exhibited concussion symptoms after hitting his head late in the first half of Miami's Week 3 game against Buffalo. He staggered and weaved before being helped off the field and into the dressing room. He was soon cleared by a team physician and an unaffiliated neurotrauma consultant to return in the second half as Miami beat the favoured Bills. Tagovailoa and the team later said his legs were wobbly because of a back injury.
Dolphins head coach Mike McDaniel said that he was comfortable with his team's processes regarding Tagovailoa's health and clearance to return to play so quickly. "He was evaluated and then cleared by several layers of medical professionals, who – I don't pretend to be one – but those people, the collection of them, cleared him of any head injury whatsoever. He had a back and ankle issue." The team said it was good with sending Tagovailoa to play in Cincinnati. again on Thursday, just four days later.
Bad idea. After the Dophins QB rolled out on a play, 340-pound Bengals defensive tackle Josh Tupou slammed Tagovailoa backward into the turf. In the classic sign of concussion, Tagovailoa's hands froze in an upright position while his fingers splayed awkwardly as he lay still on the ground. After a long delay he was taken away on a stretcher and sent to a local hospital. He was later released from the hospital and flew home with the Dolphins hours later.
The tsunami of outrage from media, fans and players quickly destroyed the NFL's cultivated narrative of a proper protocol. So a scapegoat had to found. Accordingly, the neuro-trauma consultant who let Tagovailoa back into the Bills game in Miami was fired by the NFLPA after it was discovered that the doctor has made 'several mistakes' in his evaluation.
Sure. You go with that. Baltimore head coach John Harbaugh— for one— was not buying., "I couldn't believe what I saw," Harbaugh said about Thursday night's re-injury. "I couldn't believe what I saw last Sunday. It was astonishing to see. I've been coaching for 40 years — college and the NFL — and I've never seen anything like it before."
Players present day and retired chimed in. Chris Long: "Now IF protocol wasn't followed & I'm a coach or executive who greenlit him playing 4 days after a head injury… I have no idea how you're focused on the game… shit is going to get real." Patriots star DB Adrian Phillips: "Dude should not have been playing tonight."
Shannon Sharp: "That's a serious injury . Tua shouldn't have been out there with Sunday Thursday turn around. Sometimes players need protecting from themselves. Dolphins failed Tua"
Ben Watson: "I know what I saw and Tua was concussed last week. The fact that he was able to return to play is everything that's wrong with the game so many of us love. A full investigation is forthcoming. Praying for this young man right now. This is awful to witness."
What even lay people now understand is that one brain injury makes a person more vulnerable to another injury— especially in a short period of time. Meaning the NFL needed to be extra diligent with Tagavailoa. They failed. Now no one can say when— or if— Tagavailoa will return to playing.
While attention is focussed on the NFL's shortcomings it needs to be pointed out that the NHL continues its own nonsense over brain injuries. Knowing what is known now the league still allows fit, powerful players to punch each other in the head over… no one is sure. If Don Cherry were still the measuring stick he'd say it's about honour.
NHL commissioner Gary "The Good Doctor" Bettman somehow can say that the link between punching a man in the head and brain trauma is still unproven. He seems unaware that protecting the NHL's sluggo past may make him popular with his owners, but sponsors and fans are no longer with him.
They are eventually going to follow Gladwell's advice and avoid a lucrative sport that employs only those who have nothing to lose.
Bruce Dowbiggin @dowbboy is the editor of Not The Public Broadcaster (http://www.notthepublicbroadcaster.com). A two-time winner of the Gemini Award as Canada's top television sports broadcaster, he's a regular contributor to Sirius XM Canada Talks Ch. 167. Inexact Science: The Six Most Compelling Draft YearsIn NHL History, , his new book with his son Evan, was voted the eighth best professional hockey book of by bookauthority.org . His 2004 book Money Players was voted seventh best, and is available via http://brucedowbigginbooks.ca/book-personalaccount.aspx