Take Me Out To The Ball Game in Sylvan Lake
Baseball fans in Sylvan Lake and the surrounding area will soon be able to buy peanuts and cracker jack while cheering on the home team.
The Western Canadian Baseball League approved the expansion team, that will hit the field in 2021 at their annual league meetings last weekend.
Edmonton Prospects Head Coach and AGM Jordan Blundell announced the news on the Prospects Baseball Show Friday. "2021 Sylvan Lake will be operational in the WCBL, really good group man. They're going to look to put a facility up there."
Hear the full episode of the Prospects Baseball Show.
Sylvan Lake's population is almost 15,000 but when you add in Red Deer (103,558 according to the 2016 census) some say the area is more than 250,000 people.
"It is that area that is important" Blundell continued. "That area commerce wise has a couple of hundred thousand people within shooting distance of a ball park in Sylvan and if you're around here you know what Sylvan Lake is like in the summer."
The new owners, Hard 4 Sports will have Aqil Samuel as it's General Manager and President of Baseball Operations and are planning a 2,200 state of the art facility which will be located in the west end of Sylvan Lake at Pogadl Park.
The WCBL is a summer collegiate league made up mostly of Canadian and American players, but there have been players from Japan and Mexico to name a few other countries. The league is for players who are in college or have just completed their senior season and are 25 and under.
The WCBL (then the Western Major Baseball League) has been in the area before as the Red Deer Generals competed in 2005.
Central Alberta Child Advocacy Centre 50/50 Cash Lottery is Back!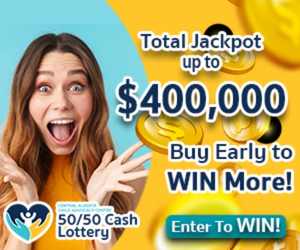 The highly anticipated Central Alberta Child Advocacy Centre 50/50 Cash Lottery is back with even more chances to win!
This year, the jackpot is set to $400,000, with the winner taking home half! Plus, the Central Alberta CAC has added an additional early bird drawing, bringing the early bird prize total to four all-cash prizes of $1,000, drawn weekly in December. All in if purchased before the first Early Bird deadline, entrants have 4 chances at $1,000 dollars, PLUS a chance at the Grand Prize Draw with a sell-out take-home winnings of $200,000!. Tickets start at just $10.
Early Bird Deadlines: December 2, 9, 16, 23.
The Central Alberta Child Advocacy Centre's 50/50 Cash Lottery raises much-needed funds to support their services and programs; supporting our community's most vulnerable. Each year, the Centre supports hundreds of children from across Central Alberta who have experienced abuse. The Central Alberta CAC provides a safe space for these children, a place with the goal for a child to only have to share their story once – eliminating the chance of revictimization and helping them through their journey of healing one step at a time.
Mark Jones, the CEO of the Central Alberta Child Advocacy Centre, is once again thanking Albertans for their generosity, and for facilitating strong partnerships over the years.
"Through the Loyalty campaign, we've been able to raise over $100,000 already! The success of last years' lottery allowed us to help more children and families from across Central Alberta. To date, we've helped nearly 1800 children, and our advocacy team has worked tirelessly to protect and support the youths that come forward. From disclosure to triage and court appearances, our advocacy team has been working around the clock. This year has been especially difficult, with October and November being some of the busiest months with the most extreme and complex cases we have yet to see. So, we hope people will consider buying a ticket to help us help these kids." – Mark Jones, CEO
Tickets are available online at www.cacac5050.ca and will be emailed to the purchaser. You can also call the Centre directly to purchase tickets at 587-272-2233. Lottery license number: 578482.
The CACAC 50/50 Cash Lottery final deadline is February 4th, 2022 at 11:00pm and the draw will take place on February 10th, 2021 at 11:00am.
Together, we can end child abuse. Purchase your ticket today to support the CACAC and the children of our community.
The Central Alberta Child Advocacy Centre is also looking for opportunities to sell their 50/50 Cash Lottery Tickets on location. If you have an event or location you would like to host the CACAC at, please contact Jodie at [email protected] or call 587-272-2233.
About CACAC: The Central Alberta Child Advocacy Centre is a not-for-profit organization rooted in the protection and recovery of today's most innocent and vulnerable – our children. The Centre is comprised of a collective that is driven by the courage to support children, youth, and their families affected by abuse, enabling them to build enduring strength and overcome adversity.
We work in a collaborative partnership with the Central Region Children's Services, Alberta Health Services, Alberta Justice, Alberta Education, the Central Alberta Sexual Assault Support Centre and the RCMP. Together we harness our collective courage to provide children with supported recovery.
For more information on CACAC, please visit: centralalbertacac.ca
Exporting Publicly Funded Jobs is Bad for Alberta.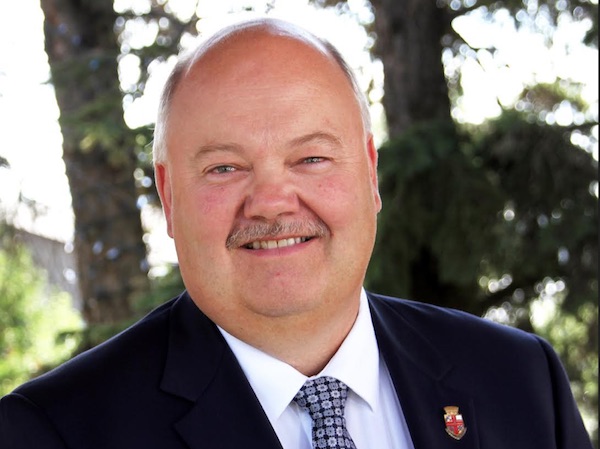 This article is submitted by The City of Lacombe
Mayor Grant Creasey
Recently, the Mayor of the Town of Athabasca, Colleen Powell, outlined what she described as a battle with implications for all Alberta. The problem she described was the decision by the Board of Governors of Athabasca University (AU) to adopt a "near-virtual" model. This model effectively takes well-paying rural Albertan jobs in her community and outsources them to communities like Victoria, Toronto – or anywhere else the institution approves. Over 10 years, this decision will reduce employment in that community by nearly 500 high quality jobs, according to Mayor Powell's opinion column submitted to the Edmonton Journal.
A similar battle is brewing in the City of Lacombe. Our largest employer, Alberta Financial Services Corporation (AFSC), has opted to pass a 'Work Away Policy,' essentially allowing staff to work remotely, anywhere in Canada.
Our Council has significant concerns with this decision, as it erodes employment opportunities both provincially and locally. Further, this policy change is not compliant with the formative legislation of AFSC.
It is important to remember that Athabasca University, and AFSC, were deliberately placed in our respective communities to promote rural development and viability. Premier Lougheed had a vision for Alberta that included locating publicly funded entities beyond the Edmonton and Calgary metropolitan regions – he recognized that strengthening rural Alberta strengthens all of Alberta.
As outlined in letters to our local MLA, as well as the Minister of Jobs, Economy and Innovation, the Minister of Agriculture and Forestry, and Premier Kenney, the City of Lacombe believes this Alberta Crown Corporation policy is bad for Lacombe and the province as a whole. While the letters outlining our concerns have gained limited traction, we believe Albertans should be aware of the implications when organizations outsource jobs away from rural communities like Lacombe and Athabasca.
AFSC's decision is against the Agriculture Financial Services Regulation; the governing document of the crown corporation. The regulation designates "Lacombe, Alberta as the location in Alberta at which the head office of the Corporation will be situated." Like AU, AFSC was intentionally placed in our community to support economic viability in smaller rural communities – and indeed it did, bringing highly-skilled and highly-paid employees to our community for years. Simply stated, AFSC's "Work Away Policy" disadvantages Lacombe and negatively impacts our local economy. It increases commercial vacancy and results in less overall commercial investment.
For this reason, I want to publicly thank Mayor Powell for speaking out on the damage caused when large publicly-funded institutions outsource Albertan jobs from the communities that rely on them, into other provinces.
These changes should concern us all, and we hope that Albertans will agree. Exporting publicly funded, high quality jobs from small Albertan communities to Toronto, Vancouver, or Montreal is ultimately harmful and will damage the economic viability of not only Athabasca and Lacombe, but all of Alberta.