LISTEN: Bryn and Robin talk Heritage Classic, Hockey and Baseball – guest Mitchell Blair

This episode: Heritage Classic / Mitchell Blair / Hockey & Baseball Talk
Because 'some' of you have asked, there's more of the banter between the boys today. However, we also have a great interview with CKRM Radio's Mitchell Blair in Regina, talking about the Heritage classic this past weekend. Plus we veered into a discussion about how much Saskatchewan has contributed to the NHL, why they won't ever get an NHL team, and the sensational season for the Green Riders. Plus the usual BS.
Hot Topics of the week
Who are The OUTSIDERS?
The Outsiders are Edmonton media veterans Bryn Griffiths and Robin Brownlee. Together, they intend to bring us a different perspective on sports gained from decades inside the business. They've been around for a while, and both have rolodexes literally overflowing with the contacts of some amazing sports figures.
This is a new weekly sports podcast with a keen eye on the hottest topics of the week in Canada. Expect them to serve up some outstanding conversations with a sports luminaries new and old.
Above all, expect lots of opinions!
"NOT always right but willing to listen." – Bryn Griffiths
Bryn Griffiths and Robin Brownlee take a weekly look at the World of Sports from their unique perspective. Great guests. Outstanding conversation. Lots of opinion. NOT always right but willing to listen.
Why some Infectious Disease experts say COVID-19 will soon be behind us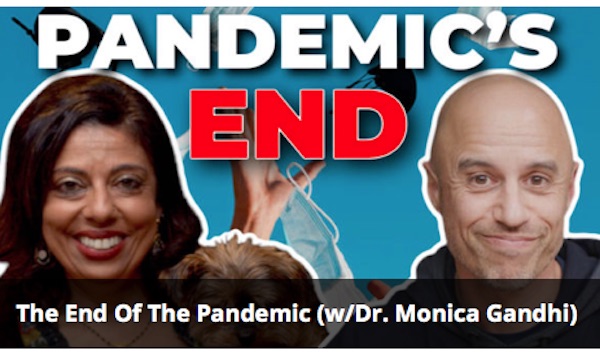 The common belief seems to be the COVID19 pandemic is going to be with us at least until the end of this year and possibly well into 2022. But some infectious disease experts are making much more aggressive predictions. In fact Dr. Monica Gandhi (bio below) is already beaming with joy over the data pouring in showing the vaccines spreading throughout the world are working incredibly well. Enjoy this interview. It will absolutely help you feel better about the state of our battle against COVID-19.
A UCSF (University of California, San Francisco) infectious disease doctor is convinced this pandemic is ending, and sooner than you think…here's why.
Dr. Monica Gandhi is a professor of medicine at UCSF and here are our other episodes together.
And here's her latest study in the Lancet.
An excerpt from the following video: "So we have tons of PhD epidemiologists who are painting gloom and doom pictures everywhere. Well, you know, first it was this. And then, you know, okay, now we have a vaccine but you know what, the variants are coming. So we're probably gonna have to wear seven masks and stay shut down. And by the way, don't even think about opening schools. Why are you thinking about opening schools? Oh, by the way it's your bad behavior that caused all this death, and so we're gonna shame you. And on top of that, it's never gonna get better. So expect 2023, before we get back to a semblance of what will be a new normal, which will be we'll all be in bubbles. So get those guys out of the picture and go with actual physicians who touch patients. What's your thinking right now? Where are we in this mess?
Dr. Gandhi: We are just facing like complete dawn of hope and light and love. Like it's gonna be so great. It is getting so great. So what happened, right? Like March 11th was the day that the WHO declared this a worldwide pandemic. November 9th, we got the first press release from the first vaccine. Phase three clinical trial, that fast. And then we've had seven phase three clinical trials. So we have seven vaccines in circulation around the globe that work. And they work exactly using the same protein in different ways using that protein, and they work beautifully, and they all work beautifully against preventing what even made us notice on January 31st, 2019 or December 31st, 2019 that something terrible was happening, which is severe disease. They all work almost 100% to prevent… 100% for hospitalizations. And then like in the 90s to prevent you not even feeling well at home. So they're amazing."
The interviewer is Dr. Zubin Damania. Trained at Stanford and the University of California, San Francisco, Dr. Damania is the founder of Turntable Health, an innovative primary care clinic and model for Health 3.0. He produces videos and live shows under the pseudonym "ZDoggMD" which have collected nearly a billion views.
Click play to watch.
3 Questions for John Wing (The Tonight Show, America's Got Talent, Just For Laughs)
I think it's safe to say my first large scale comedy show I ever put on was bringing John Wing to town. Two sold out shows back to back in a market that hadn't really seen that kind of comedy talent in a long time. John had just finished up a stint on America's Got Talent and I remember thinking "holy heck, he's actually coming here…"
"I'm not a BARBARIAN, you know!"
– John Wing
Since then I have remained somewhat buds with John and have followed his journey over the last several years. John has performed on the Tonight Show with Jay Leno six times, performed several Just for Laughs and countless other festivals, clubs, cruise ships and more. John is an accomplished author spanning several books and most recently launched his "The Bad Piano Player" podcast.
I caught up with John and gave him the "3 QUESTIONS FOR" treatment.
1) As a Comic who's normally on tour a huge percentage of the time, what activity if any have you taken up or rekindled to keep the mind occupied?
I started playing the piano three or four hours a day, and planning podcasts. That's totally what kept me sane. Writing the episodes as well.
2) What's your favourite memory of being on the Tonight Show?
My first Tonight show was in 1990. Jim McCawley, the guy who booked and wrangled the comics, was holding the curtain, ready to pull it back when I was introduced. We were coming back from commercial. As we did, a couple of seconds before Jay started my intro, McCawley turned to me and said, "Hey, don't forget your jokes." I had my set typed out in my suit jacket pocket and I whipped it out for a final scan. Jesus, what an A-hole.
3) Ketchup or no ketchup on your Mac n' Cheese? Or no Mac n' Cheese at all?
No Ketchup on anything. I occasionally dip fries in Ketchup one by one, and I like cocktail sauce with shrimp, which is a form of ketchup but never ON anything. I'm not a BARBARIAN, you know!
Check out John's podcast and enjoy a little you time with your headphones on or cozied up by the fireplace with the bluetooth. The Bad Piano Player Podcast is available on PodTail, Buzzsprout, Apple podcasts and basically anywhere you get your podcast fix.
OR JUST CLICK HERE!
.
Click to see more stories on Here to Mars.