TAIT: I don't find this Name Game No. 4 is funny. You?
Fall commercial vehicle inspection takes more than half of vehicles checked out of service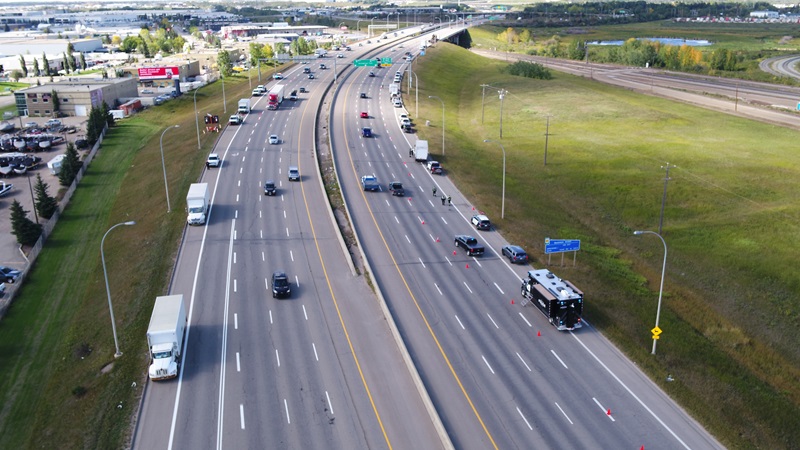 September 17, 2021
The EPS Commercial Vehicle Investigation Unit (CVIU) pulled 112 commercial vehicles off the road for failing to meet various safety compliance regulations during its recent three-day fall inspection event. 
Aerial view of the fall 2021 commercial vehicle inspection
From September 14-16, 2021, CVIU resumed its fall commercial vehicle inspection for the first time since 2019. Working with partners including the Provincial Sheriffs, RCMP, Calgary Police Service, AGLC, Fuel Tax Enforcement and Peace Officers from local counties and Grande Prairie, officers inspected a total of 216 commercial vehicles at three sites around the city. The results are as follows:
65, or 30% of the total 216 vehicles inspected passed the inspection.
112, or 52% of the vehicles were declared out of service, meaning the vehicle had a defect that was an immediate risk to the safety of other road users.
39, or 18% of the vehicles required non-urgent attention.
In total, 601 violations were discovered, resulting in 174 tickets being issued for a total of $56,376.
28 vehicles were towed due to their dangerous condition.
71 breath tests were also administered, resulting in one warning.
Two charges were laid for suspended driving.
Comparing these statistics to those from the 2019 inspection, the out of service rate has increased by 10 per cent, with a similar number of inspections conducted. (In 2019, 231 inspections were completed compared to this year's 216.)
The most dangerous vehicle inspected was a U.S. semi-truck towing heavy trailers that was found to have unsecured cargo, as well as mechanical issues that included brakes and trailer attachment points. The vehicle was towed to a licensed inspection facility and ordered to have a complete annual inspection.
"The bulk of our inspections this year looked at commercial vehicles traveling in and around the City of Edmonton," says Sgt. Dave Beattie, with EPS CVIU. "It's important to note that despite the one very dangerous semi truck we found, most of the long-distance highway trucks we see are in safe condition. So while the results are not indicative of the transport industry as a whole, it shows that there is work to be done within certain sectors. It is my hope that future operations like this, combined with education and collaboration with industry advocates, such as the Alberta Motor Transport Association (AMTA) will go a long way to improving the safety of the commercial vehicles operating on our roads."
For more information on commercial vehicle inspections and the EPS Commercial Vehicle Investigation Unit, visit https://www.edmontonpolice.ca/trafficvehicles/trafficsafety/commercialvehicles
Alberta RCMP charge man knocked to ground by police vehicle during arrest
WETASKIWIN, Alta. — A central Alberta man who was knocked to the ground by an RCMP vehicle on a highway during his arrest faces weapons, assault and other charges.
Mounties say the suspect was carrying a gun Friday while walking along Highway 2A just south of Wetaskiwin, Alta.
A video of the arrest shows a man ignoring calls to drop the gun before a police cruiser bumps him twice from behind, causing him to fall.
Police say he was taken into custody and transported to hospital with non-life-threatening injuries.
RCMP say that while in hospital, the suspect attempted to escape, was combative towards officers and bit one officer.
Abraham Harvey Whitebear, who is 35, of Maskwacis, Alta., is charged with possession of a weapon for a dangerous purpose, assault with a weapon, assault of a peace officer and other offences.
Police say he remains in hospital due to concerns for his well-being.
This report by The Canadian Press was first published Sept. 14, 2021.
The Canadian Press