Strathcona County Municipal Drug Unit executes search warrant on rural property
Strathcona County, Alta – On Jan. 25, 2019 Strathcona County Municipal Drug Unit with the assistance of the RCMP Property Unit and RCMP General Duty members executed a search warrant at a rural residence in Sherwood Park, Alta.
One adult female and one adult male were arrested on scene without incident and are facing numerous charges.
During the search several items were seized including;
Two stolen vehicles
Firearms
Stolen identification
Forged identification
Drug paraphernalia
15.9 grams of what is believed to be methamphetamine
Both vehicles have been confirmed to be stolen out of Edmonton and Ponoka within the last two weeks.
Christopher John ELDER (35) of Sherwood Park has been charged with:
Possession for the purpose of trafficking methamphetamine
Possession of stolen property (x3)
Possession of weapon for a dangerous purpose
Unauthorized possession of a firearm
Possession of firearm knowing it is unauthorized
Fail to comply with recognizance (x6)
Alexis Joi Lynn ANDERSON (40) of Sherwood Park has been charged with:
Possession of stolen property (x3)
Possession of government documents (x3)
Possession of forges passport
Unauthorized possession of a firearm
Possession of firearm knowing it is unauthorized
Fail to comply with recognizance (x4)
ELDER and ANDERSON were both remanded into custody and are scheduled to appear in Sherwood Park Provincial Court on Wednesday Jan. 30, 2019 at 9:30 a.m.
If you have any information this crime, or any other crime in your area please call Strathcona County RCMP at 780-467-7741 or your local police. Should you wish to remain anonymous, you can contact Crime Stoppers at 1.800.222.8477 (TIPS), online at www.P3Tips.com or by using the "P3 Tips" app available through Apple or Google Play Store.
RCMP search for suspect leads to multiple shoot outs over 24 hours. Suspect dies from wounds.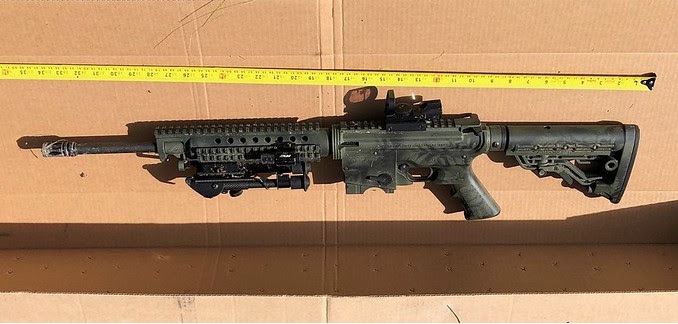 News Release from the Alberta Serious Incident Response Team and Alberta RCMP
Investigation into fatal RCMP officer-involved shooting near High Prairie continues
On June 17, the Alberta Serious Incident Response Team (ASIRT) was directed to investigate the circumstances surrounding an encounter between members of the Royal Canadian Mounted Police (RCMP) and a 29-year-old man that took place that same day near High Prairie.
The incident was ongoing when the matter was assigned to ASIRT, and while the man was not believed to have sustained any injuries, ASIRT was directed to investigate on the basis that police officers had discharged their service firearms.
Following the assignment of the matter to ASIRT, RCMP officers continued to search for the man. On June 18, the man appeared at a containment point and a confrontation occurred during which officers discharged their firearms, fatally injuring the man. ASIRT's investigation will examine not only the first encounter that resulted in the discharge of service weapons but also the circumstances surrounding the death of the man during the final encounter.
On June 17 at about 10:57 a.m., a fully-marked RCMP unit initiated a traffic stop on a red Cadillac which was associated with a 29-year-old man who had outstanding criminal warrants. The Cadillac fled from police, who did not pursue the vehicle. The RCMP officers who had attempted the traffic stop broadcast for other officers to be on the lookout for that vehicle, and at about 11:30 a.m., a different RCMP unit located the Cadillac just east of Range Road 175 about three kilometres north of Highway 679. The vehicle was stuck in the mud and partially covered with a blanket.
Two RCMP officers cleared the vehicle, which was unoccupied, and found a bag containing three different types of ammunition, as well as identification belonging to the man. Two additional police officers, one of them a Police Service Dog (PSD) handler, attended to the location. The PSD established a track and all four officers and the police dog began tracking east into thick bush for approximately three to six kilometres over about two hours. When the officers eventually encountered the man, whose identity was visually confirmed as the wanted 29 year old, the man and police exchanged gunfire. During this incident, the PSD was struck by gunfire and killed. No police officers were injured during this incident, nor was the man believed to have been struck. The officers received direction to disengage, and were removed from the area by a civilian Search and Rescue helicopter.
Additional police resources were deployed to the area, including members of the RCMP's Emergency Response Team (ERT). ERT members attended to the area of the initial incident, and again encountered the man. During this encounter, several police officers discharged their firearms. At the time, the officers believed the man had been struck. After attempts to communicate with the man or force him out of the thick bush were unsuccessful, a physical search of the area was conducted, but failed to locate the man.
After a lengthy search through dense brush spanning several hours, police made contact with the man on two additional occasions, and issued verbal commands to him. No shots were fired during these encounters, and officers were able to establish that the man did not, in fact, appear to be injured.
Police established containment around the roads in the area and continued searching for the man. On June 18, at about 11:45 a.m., two RCMP officers who were assigned to maintain containment spotted the man in a ditch on the west side of Range Road 170, about two kilometres north of Township Road 770. The officers exited their marked police vehicle and a confrontation occurred between the man and the police officers, during which both officers discharged their service firearms. The man fell to the ground in the tall grass, and additional police officers and ERT medical officers responded to the area. Medical officers attempted to treat the man, but ultimately he died at the scene. A loaded semi-automatic .22-calibre rifle, as well as a range finder, were recovered from the incident scene and have been seized as exhibits.
ASIRT's investigation will examine the actions of police during this incident, while the RCMP will maintain responsibility for the investigation of the man and his actions. As ASIRT's investigation is underway, no further information will be released at this time.
ASIRT's mandate is to effectively, independently and objectively investigate incidents involving Alberta's police that have resulted in serious injury or death to any person, as well as serious or sensitive allegations of police misconduct.
RCMP looking for suspect in weapons investigation after disturbance at Sylvan Lake Beach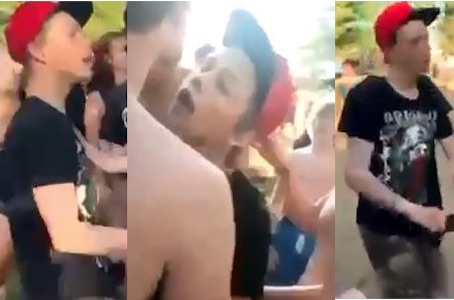 Sylvan Lake RCMP Investigate Weapons Offences
On June 2, 2021 at approximately 8 p.m., members of the Sylvan Lake RCMP detachment responded to numerous 911 calls regarding a large disturbance involving firearms and knives in the pier area of Sylvan Lake Beach
Approximately 200 people were in close proximity to the event, and the investigation has identified a smaller group and a person of interest.  Sylvan Lake RCMP are seeking the assistance of the public in identifying the subject of interest in the photographs.  The subject is described as follows:
Caucasian male
Slim build
Wearing red high top shoes with black laces,
Camouflage pants,
Red ball cap with flat brim
Black t-shirt with a masked skull logo.
Should you have any information regarding the subject of interest, please contact the Sylvan Lake RCMP Detachment directly at 403-858-7200 or via e-mail at [email protected] or CrimeStoppers at 1-800-222-TIPS (8477).