Stay off the river and away from the banks this weekend
Stay off the river and away from the banks this weekend
May 29, 2020
Edmonton Fire Rescue Services is reminding people to NOT be stupid (our words, not theirs) and stay off of the North Saskatchewan River. And, stay away from the river banks.
Last weekend, the City of Edmonton said the same kind of thing, and some of you didn't listen because Edmonton Fire Rescue Services received five calls regarding river rescues last Sunday.
"Don't let your guard down. It is very easy for you, or your pet, to lose your footing and slide into the water which will take you downstream," says Chief of Special Operations, Bruce McWhinnie. "Typically, this time of year, the river flow rate is 350 cubic metres per second. At the peak last week, we were experiencing five times that amount. The flow rate remains high."
Swift moving water is relentless, making it unsafe for anyone—or their pets—to be near it and especially on it. This includes emergency personnel.
The weather may improve this weekend but the river levels will not. The North Saskatchewan River is almost one metre higher and almost twice the normal flow rate than usual. It remains above the High Streamflow Advisory threshold.
Edmonton man charged with possessing, distributing, and accessing child pornography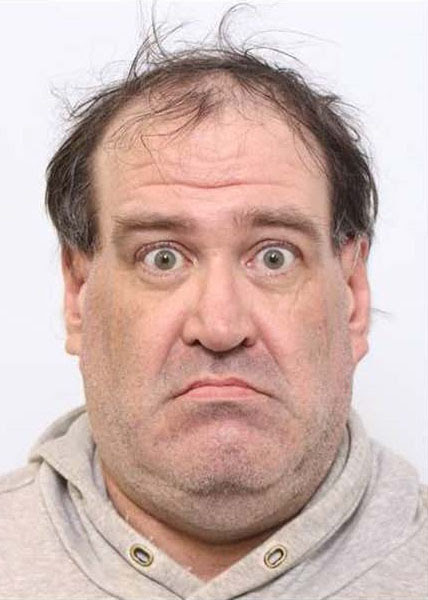 44 year old Jason Campbell arrested
News release from the Alberta Law Enforcement Response Team (ALERT)
Extreme child abuse depicted in seized materials
Child sexual abuse material that have been called "extreme" were located on the computer of an Edmonton man following an ALERT Internet Child Exploitation (ICE) investigation.
Jason Campbell, a 44-year-old man from Edmonton, was arrested at west Edmonton home on November 9, 2023 with the help from the Edmonton Police Service. Campbell has been charged with possessing, distributing, and accessing child pornography.
Computers and electronic devices seized from Campbell's home were analyzed. ICE forensic technicians located a collection of child sexual abuse materials depicting extremely graphic abuse and violence against young children.
"The unfortunate trend we are seeing in our office is the escalation of the egregiousness of the child sexual abuse material located during our investigations, which causes our unit great concern. Some of the child sexual abuse material I saw in this investigation ranks amongst the worst I have had to be exposed to," said Staff Sgt. Jonathan Morrison, ICE.
Campbell's arrest came after the National Center for Missing & Exploited Children shared information about an unknown suspect sharing child sexual abuse materials online. ICE opened its investigation in September 2023 as a priority file given the extreme content depicted.
This is not Campbell's first-time facing charges in relation to an ICE investigation. In November 2015 he was charged for similar offences and public notification was issued as he was also reportedly offering his services as a babysitter.
"Given the nature of the material and the prior history of the accused, ICE is concerned that Jason Campbell may have had access to children in the creation of child sexual abuse material. We are working with the RCMP Victim Identification Unit, but I also want to encourage anyone to contact police with any information they may have in relation to this matter, or if their children had contact with Jason Campbell," added Morrison.
Campbell was released from custody and is awaiting his next court appearance scheduled for November 24, 2023.
Anyone with information about either of these cases or any child exploitation situation is asked to contact their local police, or Crime Stoppers at 1-800-222-TIPS (8477).
ALERT was established and is funded by the Alberta Government and is a compilation of the province's most sophisticated law enforcement resources committed to tackling serious and organized crime.
Record setting drug bust in Edmonton. EPS takes $1.8 million worth of cocaine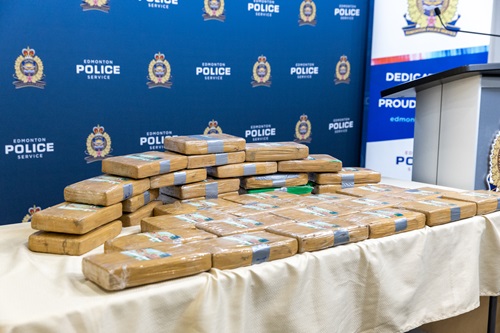 News release from the Edmonton Police Service
EPS Gang Suppression Team makes major illicit drug seizure
The Edmonton Police Service Gang Suppression Team (GST) made an arrest leading to a substantial illicit drug seizure last week.
In September 2023, GST began an investigation into a 40-year-old male suspect who was believed to be involved in drug trafficking. The investigation led to a traffic stop with the suspect on Friday, October 27, 2023, where 40.5 kg of cocaine was located in his vehicle and the suspect was subsequently arrested. The approximate street value of the cocaine is $1,800,000.
"This is the single biggest cocaine seizure in EPS' history," says Staff Sergeant Eric Stewart of the EPS Guns and Gang Section. "This will undoubtedly make a dent in this suspect's illicit drug network as we work to stop those that are preying on our vulnerable community members."
Randhir Singh Gill, 40, was charged with possession for the purpose of trafficking. Gill is expected to appear in court on Nov. 8, 2023.
Anyone with any information about this or any other crime is asked to contact the EPS at 780-423-4567 or #377 from a mobile phone. Anonymous information can also be submitted to Crime Stoppers at 1-800-222-8477 or online at www.p3tips.com/250.