St. Albert RCMP seek help to identify thief at London Drugs
September 23, 2020
St. Albert RCMP – Assist to identify
St. Albert, Alta – St. Albert RCMP are seeking the assistance of the public in identifying a male responsible for the theft of a Marshall Kilburn II speakers valued at $300 from the London Drugs in St. Albert.
On September 10, 2020, at approximately 4:30 p.m., the male suspect entered the store, selected the speakers, and left without paying for the speakers.
The male suspect is described as:
approximately 35 years of age
approximately 6'1″ tall and about 220 pounds
short dark hair
wearing black sweater, blue jeans and white addidas shoes
wearing a black mask and a long siver necklace
If you have any information on this person or crime, you are asked to contact St. Albert RCMP at 780-458-7700 or your local police. If you wish to remain anonymous, you can contact Crime Stoppers at 1-800-222-8477 (TIPS), online at www.P3Tips.com (http://www.p3tips.com) or by using the "P3 Tips" app available through the Apple App or Google Play Store.
O'Toole says CSIS told him he was focus of Chinese misinformation, suppression effort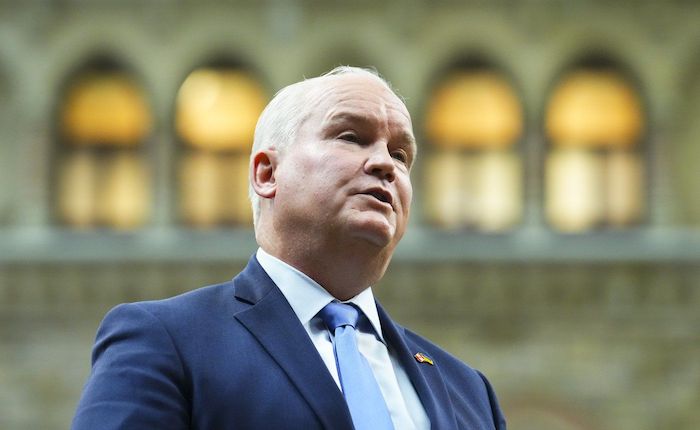 Conservative member of Parliament Erin O'Toole speaks in the House of Commons on Parliament Hill in Ottawa on Tuesday, May 30, 2023. O'Toole was speaking on an opposition motion regarding the public inquiry into allegations of foreign interference and being informed by CSIS that he is a target of China. THE CANADIAN PRESS/Sean Kilpatrick
Conservative MP Erin O'Toole says Canada's spy agency has told him he was the target of Chinese interference intended to discredit him and promote false narratives about his policies while party leader.
Rising in the House of Commons on a question of privilege Tuesday, O'Toole said the Canadian Security Intelligence Service briefing revealed a range of actions against him.
They included Chinese Communist Party funding to create misinformation, the use of groups and the WeChat social media platform to amplify the mistruths and a campaign of voter suppression against him during the 2021 general election, he said.
The former Conservative leader said the threats against him and members of his caucus were not flagged to him by the government or security agencies at the time.
They were also not communicated to the Conservatives through the federal task force intended to help safeguard the integrity of the 2021 election, he added.
O'Toole said the Liberal government's inaction amounted to a violation of his privileges as an MP and leader of the Opposition.
"The briefing from CSIS confirmed to me what I suspected for quite some time, that my parliamentary caucus and myself were the target of a sophisticated misinformation and voter suppression campaign orchestrated by the People's Republic of China before and during the 2021 general election."
On Monday, New Democrat MP Jenny Kwan said CSIS informed her last week she has been targeted by China since before the 2019 federal election over her advocacy for human rights in Hong Kong and for the Uyghur Muslim minority in China. She said she was not at liberty to discuss specifics of the targeting.
In addition, David Johnston, the federal government's special rapporteur on foreign interference, said in his recent interim report there was intelligence indicating Beijing was seeking information about Conservative MP Michael Chong and his relatives.
But Johnston's interim report found little evidence supporting O'Toole's claim specific candidates lost in the 2021 election because of foreign interference.
He said it was unclear whether information campaigns against Conservatives were tied to a state-sponsored source, and there was a legitimate possibility that Chinese-Canadians did not agree with the Conservative's hardline position on China.
In that case, it would not be foreign interference — it would be the "democratic process," the report said.
Under a federal protocol, there would be a public announcement if a panel of senior bureaucrats determined that an incident – or an accumulation of incidents – threatened Canada's ability to have a free and fair election.
There was no such announcement in 2021 or concerning the 2019 election. In both ballots, the Liberals were returned to government with minority mandates while the Conservatives formed the official Opposition.
Government House leader Mark Holland said Tuesday the federal Liberals still have faith in the man they appointed to investigate the issue of foreign interference in Canadian elections.
But Holland would not confirm whether the government could fire Johnston if an NDP motion calling for his ouster passes in the House of Commons this week.
The House debated a motion from NDP Leader Jagmeet Singh on Tuesday that calls for the government to remove Johnston as special rapporteur and to call a public inquiry.
Singh says he doesn't want to attack Johnston personally, but is concerned there is a clear apprehension of bias undermining the work he can do because of his ties to the prime minister.
Opposition party motions are not binding and the government already ignored an earlier NDP motion calling for a public inquiry that passed in March.
That motion came just a week after the Liberals appointed Johnston to look into allegations the Chinese government attempted to interfere in the last two federal elections.
Conservative Party Leader Pierre Poilievre repeated calls for a public inquiry Tuesday and discounted Johnston's role as a "fake job."
"We need to take back control of our democracy from foreign forces, we need to put Canadians back in control of their lives," he said.
Poilievre, who succeeded O'Toole as permanent party leader after the last election, said he would call a public inquiry if he becomes prime minister, reiterating his reluctance to view the classified section of Johnston's report offered to party leaders.
"The prime minister's plan is he wants to mark secret things that would otherwise be publicly debatable, but put things that would be in a grey area under the secrecy of the state, and then put them before me to prevent me from speaking publicly," he said.
Singh said he will continue to push for a public inquiry but won't end his confidence-and-supply agreement with the Liberal minority government and trigger an election.
"I don't see how it's logical if the goal is to protect our democracy to then trigger an election when we're worried about foreign interference."
This report by The Canadian Press was first published May 30, 2023.
Calgary police launch phone line for sex trade workers to report assaults, abuse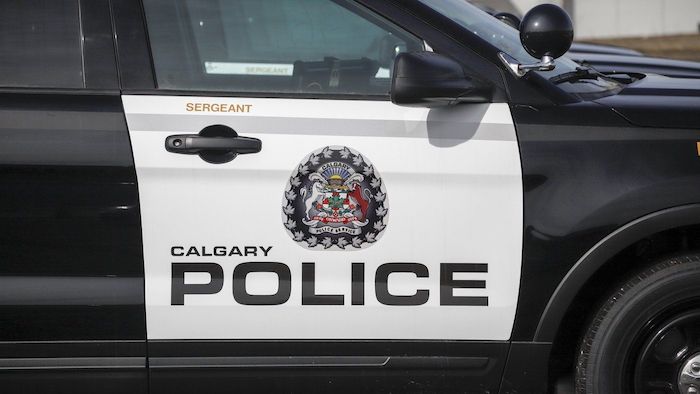 A police vehicle is shown at Calgary Police Service headquarters in Calgary, on April 9, 2020. THE CANADIAN PRESS/Jeff McIntosh
Calgary
Calgary police have a new way for sex workers to report violence and other safety concerns.
Called the Bad Date Line, it allows those in the sex trade to report harmful, violent or abusive customers.
A dedicated phone number and email address are available for people to report information to police in a less formalized way.
Police say the information will not be used to target sex workers and will instead be used to investigate perpetrators.
The move comes after police arrested and charged a man with kidnapping and sexually assaulting women in Calgary's sex trade.
Police said several women allege they were approached by a man, then drugged and taken to another location, where they were physically and sexually assaulted.
This report by The Canadian Press was first published May 30, 2023.