UPDATE – Shooting at Cross Iron Mills – Police looking for suspect vehicle
From Airdrie RCMP and Calgary Police Service
Update at 11 AM September 17, 2019
Airdrie RCMP provide mall shooting update
At approximately 7:09 p.m. on September 16, 2019, Airdrie RCMP and Calgary Police Service responded to a report of an active shooter at the CrossIron Mills mall located in Balzac, Alta. Numerous resources were deployed to this incident including RCMP, CPS, RCMP Police Dog Services, the RCMP Emergency Response Team, Airdrie Municipal Enforcement, Rocky View County Enforcement and Fire Department, EMS, CPS Hawcs and CPS canine unit. Assistance was also provided by Cochrane and Strathmore RCMP detachments.
Upon arrival it was determined that the shooting occurred in the parking lot of CrossIron Mills mall near the food court entrance and one male was injured. He was taken to hospital with serious injuries. He is still being treated and his location will not be released at this time.
The male suspect had a slender build, was dressed fully in black and he was wearing a ball cap and hood. The suspect and an accomplice fled the scene in a black 2019 Dodge Ram 4 door pick up truck and we are still looking to identify who these individuals are. In the photo is an example of what this truck would look like.
RCMP and CPS were on scene for numerous hours. The mall was placed in a "secure in place" while officers cleared the mall. It was several hours before all civilians were evacuated safely. The RCMP would like to thank CrossIron Mills Mall Security in their assistance in providing loudspeaker direction to the patrons that helped to ensure everyone remained calm and were safe. Approximately 600 employees and several thousand patrons were safely evacuated from the mall.
Airdrie and District Victim Assistance unit was called last night and will continue to support citizens who were impacted by the incident. If you or a loved one has been impacted, please reach out to ADAC at 403.945.7290. To connect immediately with a counsellor please call the Distress Center.
If you have information regarding this incident, you are asked to contact Airdrie RCMP at 403-945-7200 or your local police service. If you wish to remain anonymous, you can contact Crime Stoppers at 1-800-222-8477 online at www.P3Tips.com or by using "P3 Tips" app available through the Google Play or the Apple App Store.
Update at 11 PM September 16, 2019
Our thanks to the public for your continued cooperation this evening at Cross Iron Mills. Currently, a suspect is still at large and the RCMP continue to clear civilians from the mall.
Airdrie RCMP and CPS on scene at mall shooting
Rocky View County, Alta – Airdrie RCMP and Calgary Police Service are currently on scene at Cross Iron Mall in Rocky View County, Alta. At approximately 7:11 p.m., RCMP received a report of shots fired at the mall. One male has been injured and the suspect is still at large.
The mall is currently in "Shelter in Place" and officers are clearing the mall store by store. If you have a family member/friend in the mall please know that they will not be released until the mall has been deemed safe.
RCMP are asking that everyone stay away form this area so that they can do their jobs safely.
Teen found guilty of manslaughter in hit-and-run death of Calgary police officer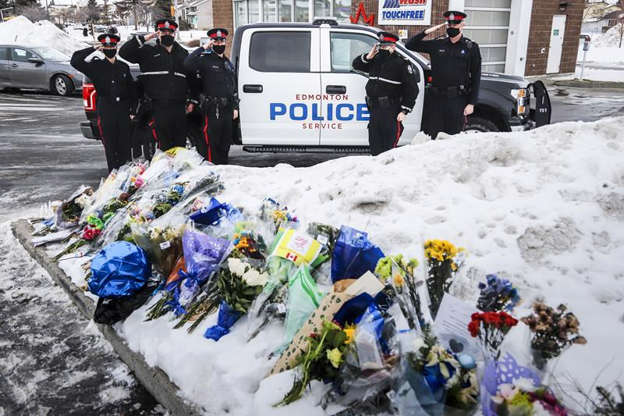 Calgary – A judge has found a teen involved in the hit-and-run death of a Calgary police officer guilty of manslaughter.
Sgt. Andrew Harnett died in hospital on Dec. 31, 2020, after being dragged by a fleeing SUV and falling into the path of an oncoming car.
The driver, who cannot be identified because he was 17 at the time, had testified he was scared when Harnett and another officer approached the vehicle during a traffic stop and he saw Harnett put his hand on his gun.
The teen's lawyer said his client was guilty of manslaughter, but not first-degree murder.
Justice Anna Loparco agreed, saying that although the accused had "outright lied" about the gun, he was in a "panicked state" when he decided to flee and unable to know his actions would cause Harnett's death.
The Crown says it will be seeking an adult sentence.
Loparco says Harnett's behaviour was "exemplary" and there was no indication that he posed a threat to the accused.
"There's no doubt he (the accused) should have realized it was likely to cause death," Loparco said Thursday.
"But I'm unable to conclude this accused turned his mind to the consequences."
This report by The Canadian Press was first published Nov. 10, 2022.
'He's not breathing': Trial begins for Calgary man accused in infant's death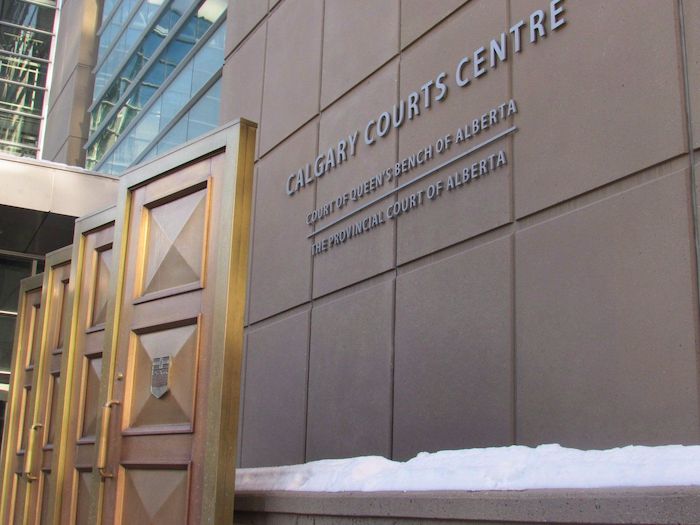 By Colette Derworiz in Calgary
A Calgary father has pleaded not guilty to second-degree murder in the death of his infant son, as court heard the man's 911 call in which he said he was trying to calm the baby down.
The trial for Anthony Karl Kurucz, 32, started Monday in the Court of King's Bench in Calgary. It is scheduled to run for almost three weeks.
Police have said emergency crews were called to a Calgary home in April 2018 to help a three-month-old in medical distress and that Kurucz was alone with his son at the time. The infant, Jayden Cyluck-Kurucz, was unconscious and he died in hospital two days later.
Kurucz was charged in September 2019 after police said the story he provided to medical staff was inconsistent with the boy's symptoms.
On Monday, court heard a recording of the 911 call from Kurucz that came in around 12:15 p.m. on April 25, 2018.
"My baby was freaking out," Kurucz said on the call. "I was trying to calm him down, rock him, that kind of thing."
He said there was blood coming out of his son's nose.
"I'm freaking out because my wife just went to take our dog to the vet," Kurucz said.
He told the dispatcher he believed the boy's heart was still beating.
"He's very floppy, he's very limp," said Kurucz.
When asked by the dispatcher whether the baby was breathing, he responded: "I can't tell. I know his heart is beating, though."
He then asked whether his son was going to live.
"I don't know what to do," said Kurucz on the call. "I didn't do anything wrong to him. I was just trying to calm him down and rock him.
"He's not going to die, is he?"
Kurucz asked the dispatcher, Craig Moxley, whether police were coming. Moxley said paramedics and firefighters were on the way. Moxley confirmed the call during his testimony in court Monday.
Court heard fire crews were the first to arrive at the home in southeastern Calgary.
One of the senior firefighters, Greg Heise, testified that the crew found Kurucz outside.
"The father was holding Jayden on the sidewalk," Heise said Monday. "We were probably caught a little off guard.
"The father said, 'He's not breathing.'"
Heise said first responders placed Jayden on the ground. His colleague started CPR while he tried to open Jayden's airway, he said.
"I was not able to do that," said Heise, noting there was dried blood around the baby's nose and mouth.
He said the father didn't provide much information when Kurucz was asked what happened.
"He was freaking out," said Heise, who noted it was difficult to get a clear answer from the father. "He initially stayed with us.
"At some point, he mentioned he needed to have a cigarette."
Heise said he and his colleague continued to treat Jayden until paramedics arrived a few minutes later.
"He was pale," said Heise, adding there was a bluish tinge around the baby's nose and mouth. "His eyes were open but not reactive."
Another firefighter and a paramedic are scheduled to take the stand Monday afternoon.
This report by The Canadian Press was first published Nov. 7, 2022.