Red Deer Restroom just might be the loveliest lavatory in Canada!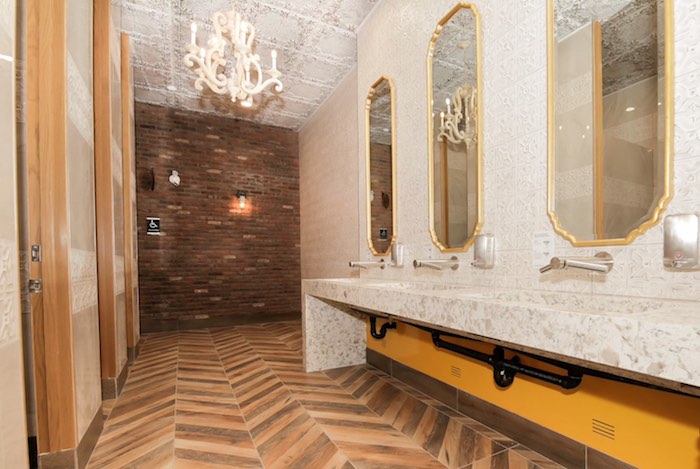 Technically it's in Gasoline Alley which means Red Deer County can also lay claim to this magnificent water closet at the Sweet Market Esso Station on the city's south edge.  Canada's best restroom contest has named the top 5 finalists and three incredible Alberta biffies are on the list!
Clearly the Sweet Market Esso's palatial potties are the most beautiful, but that does not make it the clear cut winner.  The Sweet Market will need Central Albertans to rally behind this luscious lavatory if they're going to win.  This is a voting contest so you can do your part to make sure the Sweet Market Esso 'wipes up' the competition.
Just look at this beauty!  Voting information is below.
News Release from Cintas Canada
The Sweet Market Esso Station in Red Deer, AB is a finalist in the 2021 Canada's Best Restroom contest!
The five finalists include:
Toronto Zoo – Toronto, ON
Surrey Park – Surrey, BC
Sweet Market Esso Station – Red Deer, AB
The ROOFTOP – Calgary, AB
Borden Park – Edmonton, AB
The public can submit multiple votes for the Toronto Zoo and the other four finalists now through July 9 at bestrestroom.com/Canada.
The facility that receives the most votes will win $2,500 in facility services from Cintas to help maintain their award-winning washrooms.
Cintas Canada Unveils Five Finalists in the 2021 Canada's Best Restroom Contest
The polls are open now through July 9
Cintas Canada, Ltd. invites the public to vote for the five finalists in the 2021 Canada's Best Restroom contest! The polls are open now through July 9 at bestrestroom.com/Canada. The facility that receives the most votes will win $2,500 in facility services from Cintas to help maintain their award-winning washrooms.
Cintas' nationwide contest highlights businesses that have invested in developing and maintaining exceptional washrooms. "These five facilities demonstrate a commitment to prioritizing hygiene and customer service – especially as cleanliness is so important right now – combined with creativity and whimsy not usually seen in washrooms," said Candice Raynsford, Marketing Manager, Cintas Canada.
Nominees for this year's contest were judged on five criteria: cleanliness, visual appeal, innovation, functionality and unique design elements. The five finalists include:
Toronto Zoo – Toronto, ON
Designed with the Toronto Zoo's mission of connecting people, animals and conservation science to fight extinction in mind, the new washrooms in the Zoo's Tundra Trek feature iconic Canadian species. The design draws on inspiration from our natural world for its fresh yet familiar atmosphere. From the cool blue mosaic walls that represent the calm transition of horizon to sky, to the dark and dramatic overhead features that represent the vast night sky across the tundra, no detail is too small. Each handwashing unit features a hands-free faucet, soap dispenser and hand dryer. The trough-style sink eliminates water splashing on the floor and includes hooks on the outside of the counter to hang a purse, backpack or coat. This state-of-the-art facility modernizes the Toronto Zoo's guest experience in a visually stunning way.
Surrey Park – Surrey, BC
The intent for the park washroom was to create a playful, durable, safe facility that works well within the City of Surrey's park contexts. The washroom was designed to be universally accessible, hands-free with no-touch fixtures and configured for solar power. It also features public art panels on all four sides of the structure. The design employs a distinct form, strong colours and unique use of materials.
Sweet Market Esso Station – Red Deer, AB
The washrooms at Sweet Market Esso boast decorative high-end tiles and five-star finishes, giving the restrooms a classy feel, mimicking a fancy hotel suite in Italy rather than a convenience store restroom. These washrooms are always a topic of customer conversation in the store where selfies take center stage. The constant comments regarding the awe of it all – plus the extreme cleanliness – are great reminders of the sheer elegance and grandeur these restrooms provide for the customer.
The ROOFTOP – Calgary, AB
The ROOFTOP restaurant is a unique "weather managed" outdoor patio experience located in downtown Calgary. The adjacent indoor washrooms were designed to be inclusive, engaging and distinctively unique. As you enter "The Alley" you are greeted by a life-sized bobblehead re-imagined as your personal concierge. Walk in to immerse yourself in the funky and fun graffiti wallpaper sections taken largely from the "John Lennon Peace Wall" originally created in Prague. Elements of surprise abound throughout these unusual washrooms, including the porta-potty door in the "Mostly Men" area and hidden selfie walls.
Borden Park – Edmonton, AB
Designed by gh3, the washrooms are at the core of the single-level pavilion surrounded by highly reflective glass. An integrated approach to environmental sustainability is evident in the choice of materials: wood, concrete and glass were selected for their durability, permanence and timelessness. The washroom features hands-free elements to reduce germs and a stainless-steel trough-style sink that prevents water splashing on the floor. The sleek washroom stands as a striking improvement on the typical concrete options, and a sign of outstanding design to come.
For contest updates, fun facts and washroom trivia, "Like" Canada's Best Restroom on Facebook at www.Facebook.com/CanadasBestRestroom.
Regulator lays charges against Tidewater Midstream for acidic water release
CALGARY — The Alberta Energy Regulator has laid charges against Tidewater Midstream and Infrastructure Ltd. for a release of acidic water in west-central Alberta.
The regulator says the release occurred in Oct. 2019 at Tidewater's Ram River sour gas processing plant near Rocky Mountain House. 
It says the acidic water flowed into a nearby creek.
Calgary-based Tidewater has been charged with 10 violations under the Environmental Protection and Enhancement Act, including releasing a substance to the environment that caused or may have caused an adverse effect. 
The regulator also alleges that Tidewater failed to report the release of the acidic water as soon as possible, and failed to take all reasonable measures to repair and remedy the spill.
Tidewater is scheduled to appear in court on Dec. 8 in Rocky Mountain House.
This report by The Canadian Press was first published October 21, 2021.
Companies in this story: (TSX:TWM)
The Canadian Press
Alberta's top doctor says COVID-19 cases receding but vigilance needed at Halloween
EDMONTON — Alberta's chief medical officer of health says COVID-19 case numbers in the province continue to recede.
But Dr. Deena Hinshaw cautions that the hospital situation remains precarious given the high number of patients.
And she says Albertans can't afford to let up on health restrictions, particularly with Halloween coming up.
There were 770 new cases of COVID-19 Thursday for a new total of 10,434 active cases.
There were eight more deaths, bringing that total to 3,014.
Alberta Health Services says there are 912 people in hospital with COVID-19, and that 201 of them are in intensive care.
Alberta remains under gathering restrictions for indoor and outdoor events, and Hinshaw says it's important to stick to those limits at Halloween.
Hinshaw urged those setting out candy for trick or treaters to not use bowls, but to set out the candy spaced apart on a surface like a blanket.
She says those who want to have a Halloween party should consider a small gathering of vaccinated people.
"This is not the year for large Halloween parties," Hinshaw said.
"If you're planning a Halloween gathering try to have it outdoors and make sure the limit of no more than 20 people is observed."
Hinshaw noted that last Oct. 31 there were 5,600 active COVID-19 cases, about half the current total. There were 141 people in hospital with the illness a year ago.
Alberta continues to battle a fourth wave of the pandemic.
It has more than doubled the normal number of 173 critical care beds and has had to cancel thousands of non-urgent surgeries to handle the surge.
Opposition NDP Leader Rachel Notley says with winter coming and COVID-19 still circulating, the province needs to provide stable funding to social agencies for winter emergency shelters.
"All people deserve to live in dignity and have a safe place to call home," said Notley. "These calls are urgent. It's getting cold outside, and our northern winter will be here soon."
This report by The Canadian Press was first published Oct. 21, 2021.
The Canadian Press