RCMP looking for suspect in connection to robbery and kidnapping
From Ponoka RCMP
Ponoka RCMP lay charges after social media meeting results in kidnapping – Female Wanted
The Ponoka RCMP have laid charges and made arrests against two males and a female following a 911 complaint of a kidnapping, beating and robbery which occurred on Sept. 7.
At 4:23 a.m. on Sept. 7, Ponoka RCMP were alerted to the above incident which was reported to have occurred, hours earlier, in Ponoka.  Investigation reveals that a 22-year-old male victim from Slave Lake met a female online, and after almost a year of online communication, agreed to meet her.  The male got into a vehicle, determined to be previously stolen, with the female in Ponoka.
Allegations are that the while in the vehicle, the male was assaulted by two unknown males, one of whom had a gun.  Over a lengthy period, the male was driven to several banks where he was forced to provide his banking information in order for withdrawals to be made from his accounts. The victim's truck and cell phone was stolen, and he was eventually dropped off in Blackfalds.
Ponoka RCMP General Investigation Section members collaborated with Red Deer and Blackfalds RCMP to coordinate intelligence on this incident. The suspects were identified as Amber Loretta Knickle (21), Jared Michael Mcleod (26) and Chasetin Jon Arthur Morin (25).  Charges were sworn against all three subjects. An arrest warrant was issued for Knickle on Sept. 9 and for Mcleod and Morin on Sept. 15.
Knickle is charged with robbery, while Mcleod and Morin are charged with robbery with a firearm (x2), kidnapping and assault.
On Sept. 16 at 11:58 a.m., the Central Alberta District Crime Reduction Unit located a stolen vehicle in Gasoline Alley, and with assistance from Blackfalds RCMP, arrested Jared Mcleod and Chasetin Morin, who were both in the vehicle. A search of the vehicle incidental to arrest led the RCMP to recover an imitation firearm, a loaded shotgun, ammunition, methamphetamine, and at least 61 pieces of miscellaneous stolen identity documents.  Charges are pending.
At the time of his arrest, Morin was wanted on an arrest warrant out of Red Deer for an earlier incident where he fled from police while driving the victim's stolen truck.
The RCMP have been unable to locate Amber Loretta Knickle and are seeking public assistance.  Amber is described as:
–          Caucasian female
–          5'3" tall / 119 lbs.
–          Blonde / brown hair and green eyes
–          Unknown tattoo on one of her fingers
If you have information about the whereabouts of Amber Knickle, please contact the Ponoka RCMP at 403-783-4472 or call your local police. If you wish to remain anonymous, you can contact Crime Stoppers at 1-800-222-8477 (TIPS), online at www.P3Tips.com ( http://www.p3tips.com) or by using the "P3 Tips" app available through the Apple App or Google Play Store.
RCMP crack firearms trafficking operation based in Blackfalds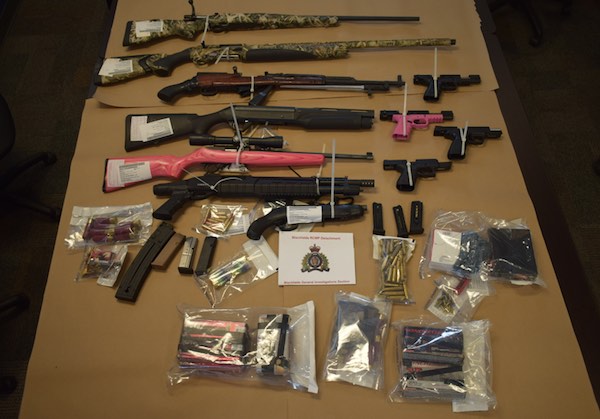 From the Blackfalds RCMP
Blackfalds RCMP – Multi agency attack on firearms trafficking
A comprehensive investigation was initiated in January, and saw at least 11 different partnering detachments, units and agencies collaborating to stop an organized firearms straw buying/trafficking operation.
The investigation was launched by Blackfalds RCMP after receiving intelligence about the possibility of the trafficking.  Extensive evidence had to be gathered which included the engagement of firearms partners; the Chief Firearms Officer, NWEST, Red Deer ALERT and Edmonton Police Service's Firearms Investigation Unit. These units were able to provide expertise related to the dynamics of straw purchasing and trafficking.
Three suspects were identified and targeted in the ongoing investigation.  On Feb. 12, search warrants were conducted at residences in both Red Deer and Blackfalds.  Because there were two different locations, and given the nature of the searches, Blackfalds, Red Deer, Sylvan Lake, Innisfail, Ponoka General Investigation Section Units and Red Deer Crime Reduction Team all provided assistance.  The RCMP Police Dog Services and Emergency Response Team were also on hand to ensure police and public safety.
Three adults were taken into custody. During the execution of the search warrant, a loaded Glock .22 pistol was located with the three adults.  10 firearms and ammunition were seized from the residences.  Some of the firearms were loaded, and had serial numbers tampered with. Continuing investigation led the RCMP to determine other firearms were purchased. The Blackfalds RCMP anticipate seizing two more pistols from a Calgary business.
David Jason Masyk (39), Jason Paul Lafferty (48) and Jennifer Lynn McCagherty (29) were all charged criminally on Feb. 13 related to firearms / firearms trafficking offences.
Lafferty is facing 25 charges, including four counts of firearms possession contrary to prohibition order. Masyk is facing 10 charges, including three counts of Weapons Trafficking and four counts of Weapons possession for the purpose of trafficking and McCagherty is facing 19 charges, including 10 counts of unauthorized possession of a firearm.
Judicial Interim Release hearings were held.  Lafferty did not speak to bail and was remanded into custody until Feb. 17, 2021. Masyk and McCagherty were both released and are set to appear in Red Deer Provincial court on March 17, 2021.
Woman shot at Blackfalds. Suspect killed in confrontation with police on QE II at Leduc
From Blackfalds RCMP and Alberta Serious Incident Response Team (ASIRT)
RCMP investigate shots fired and vehicle pursuit
Blackfalds, Alta. – At 8:15 this morning, Blackfalds RCMP responded to a firearms complaint at a residence in Blackfalds. RCMP arrived at the residence, and more shots were fired outside of the residence towards the RCMP vehicles. An adult female, not related to the incident, suffered a gun shot wound.
The female has been transported to a hospital with serious injuries.
RCMP contained the area however the male involved fled in a vehicle. He was located travelling northbound on the QEII. RCMP deployed a tire deflation device and a brief pursuit followed. The vehicle crossed the median and continued travelling north in the southbound lane.
The vehicle came to a stop near Leduc and a confrontation occurred, resulting in the death of the 27-year-old male. During the incident, one RCMP officer suffered serious, non life-threatening injuries.
The Director of Law Enforcement has been notified and the Alberta Serious Incident Response Team (ASIRT) has been directed to investigate the circumstances surrounding the officer involved shooting and the actions of police. The RCMP will continue to investigate the events leading up to the final confrontation with police.
The Alberta RCMP will not be commenting further on this incident.
Read more on Todayville.