RCMP crack firearms trafficking operation based in Blackfalds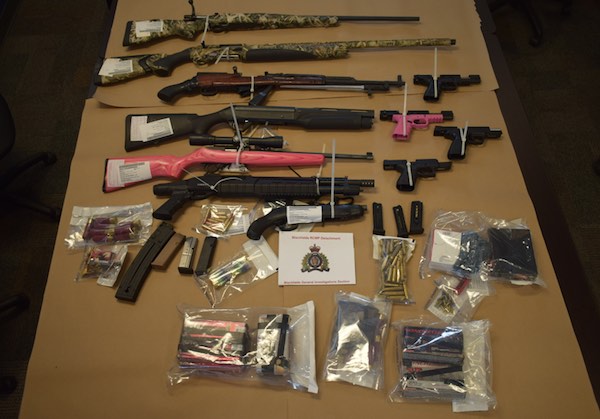 From the Blackfalds RCMP
Blackfalds RCMP – Multi agency attack on firearms trafficking
A comprehensive investigation was initiated in January, and saw at least 11 different partnering detachments, units and agencies collaborating to stop an organized firearms straw buying/trafficking operation.
The investigation was launched by Blackfalds RCMP after receiving intelligence about the possibility of the trafficking. Extensive evidence had to be gathered which included the engagement of firearms partners; the Chief Firearms Officer, NWEST, Red Deer ALERT and Edmonton Police Service's Firearms Investigation Unit. These units were able to provide expertise related to the dynamics of straw purchasing and trafficking.
Three suspects were identified and targeted in the ongoing investigation. On Feb. 12, search warrants were conducted at residences in both Red Deer and Blackfalds. Because there were two different locations, and given the nature of the searches, Blackfalds, Red Deer, Sylvan Lake, Innisfail, Ponoka General Investigation Section Units and Red Deer Crime Reduction Team all provided assistance. The RCMP Police Dog Services and Emergency Response Team were also on hand to ensure police and public safety.
Three adults were taken into custody. During the execution of the search warrant, a loaded Glock .22 pistol was located with the three adults. 10 firearms and ammunition were seized from the residences. Some of the firearms were loaded, and had serial numbers tampered with. Continuing investigation led the RCMP to determine other firearms were purchased. The Blackfalds RCMP anticipate seizing two more pistols from a Calgary business.
David Jason Masyk (39), Jason Paul Lafferty (48) and Jennifer Lynn McCagherty (29) were all charged criminally on Feb. 13 related to firearms / firearms trafficking offences.
Lafferty is facing 25 charges, including four counts of firearms possession contrary to prohibition order. Masyk is facing 10 charges, including three counts of Weapons Trafficking and four counts of Weapons possession for the purpose of trafficking and McCagherty is facing 19 charges, including 10 counts of unauthorized possession of a firearm.
Judicial Interim Release hearings were held. Lafferty did not speak to bail and was remanded into custody until Feb. 17, 2021. Masyk and McCagherty were both released and are set to appear in Red Deer Provincial court on March 17, 2021.
Cenovus Energy to buy remaining stake in Toledo refinery from BP for $300 million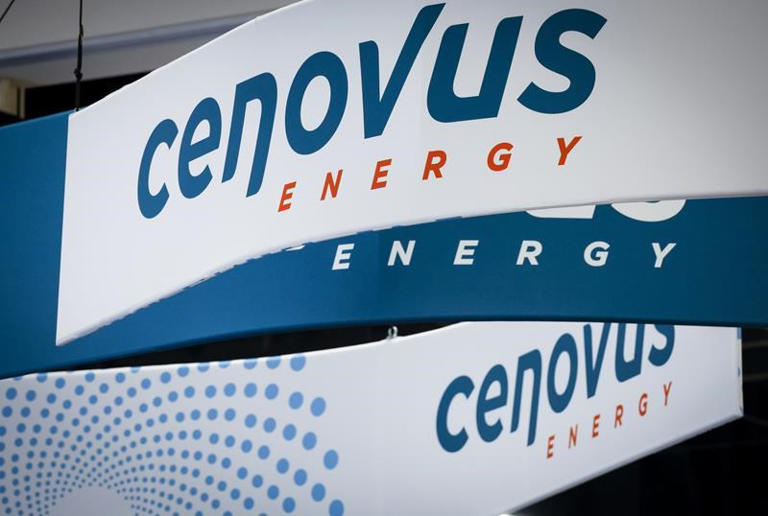 CALGARY — Cenovus Energy Inc. has reached a deal with British energy giant BP to buy the remaining 50 per cent stake in the BP-Husky Toledo Refinery for $300 million.
The Calgary-based oil producer has owned the other 50 per cent of the Ohio-based refinery since its combination with Husky Energy in 2021.
Cenovus says its U.S. operating business will take over operations when the transaction closes, expected before the end of the year.
The company says the Toledo refinery recently completed a major, once in five years turnaround to improve operational reliability.
It says the transaction will give Cenovus an additional 80,000 barrels per day of downstream throughput capacity, including 45,000 barrels per day of heavy oil refining capacity.
The deal brings Cenovus' total refining capacity to 740,000 barrels per day.
Alex Pourbaix, Cenovus president and CEO, says fully owning the Toledo refinery provides an opportunity to further integrate the company's heavy oil production and refining capabilities, including with the nearby Lima Refinery.
"This transaction solidifies our refining footprint in the U.S. Midwest and increases our ability to capture margin throughout the value chain," he said in a statement.
This report by The Canadian Press was first published Aug. 8, 2022.
Companies in this story: (TSX:CVE)
The Canadian Press
Nutrien names Ken Seitz president, CEO amid sweeping changes in agriculture markets
Saskatoon-based fertilizer giant Nutrien Ltd. has named Ken Seitz president and CEO following a months-long global talent search.
The company says Seitz, who has served as interim CEO since January and previously headed up its potash operation, brings 25 years of experience in agriculture and mining to the role.
Nutrien says it has achieved record results under Seitz's leadership amid sweeping changes in agricultural markets and unprecedented global food security challenges.
Russ Girling, chairman of Nutrien's board of directors, says the company's record performance during some of the most turbulent times in the sector underscore the strength of Seitz's leadership.
Seitz, who grew up on a dairy farm in Saskatchewan, says he's "honoured and humbled" to work alongside growers during challenging times.
He says Nutrien is well positioned to help meet the global goals of food security and climate action.
This report by The Canadian Press was first published Aug. 8, 2022.
Companies in this story: (TSX:NTR)
The Canadian Press