Province reminding Albertans to apply for Affordability Payments and watch out for scammers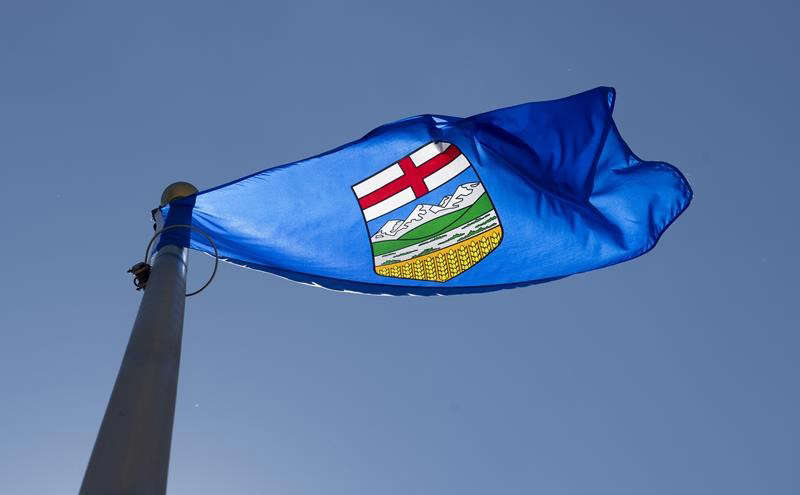 Protect yourself from scammers
Albertans should use caution if they receive a text message claiming to be from government about affordability payments.
Alberta's government has received reports of text messages attempting to defraud unsuspecting Albertans, including seniors and families who may be eligible for targeted relief payments. In one scam text, people are asked to click on a link to register for automatic bank payments.
The Government of Alberta will never text you or make unsolicited calls to ask you for your personal information.
"Under no circumstance would Alberta's government send emails or texts requesting information for the affordability program. Users should never click on links or provide personal or banking information to text messages or emails."
A secure, online application portal for affordability payments was launched by the government on Jan. 18. Families with household incomes below $180,000 are eligible to receive $100 per month for six months for each dependent child under 18. Seniors 65 or older who have household incomes below $180,000 and do not receive the Alberta Seniors Benefit can also apply for monthly payments.
Anyone who cannot apply online can apply in person through any registry agent or Alberta Supports Centre.
Albertans who receive benefits through Assured Income for the Severely Handicapped (AISH), Income Support or the Alberta Seniors Benefit, or services through the Persons with Developmental Disabilities (PDD) program, are already registered for the program and will automatically receive payments.
Quick facts
Albertans are encouraged to apply for or check the status of their Affordability Payments by logging on to the portal.
If you are ever uncertain or think you've been the target of a phishing scam, report concerns to the police and to the Canadian Anti-Fraud Centre online or by calling 1-888-495-8501.
Tip sheets and other resources to prevent identity theft and consumer-related scams can be found on alberta.ca on the Consumer and Business tips page.
For help with affordability payment applications, Albertans can:

Call the verified account support line at 1-844-643-2789.
Call the Affordability Action Plan Information Line at 1-844-644-9955.
Visit any registry agent or Alberta Supports Centre in person to receive support in 50 locations and in more than 100 languages at no charge. During the application period, Alberta Supports is providing extended hours from 4:30 p.m. to 8 p.m. Monday to Friday, and from 9 a.m. to 3 p.m. on Saturdays.

As with all online accounts, Albertans should use strong passwords and not share their password with anyone else. Tips on how to create a strong password are available on the application site.
Additional information, including a how-to video and answers to questions, is available online.
Police investigating how shooter got firearm after autopsy and balistic analysis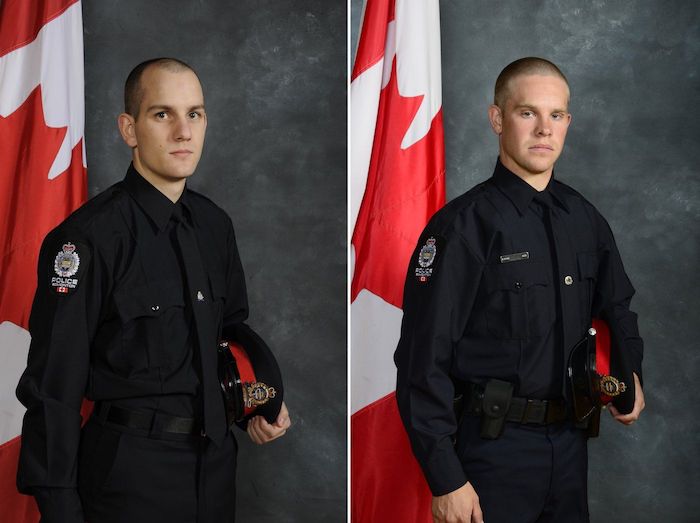 News release from the Edmonton Police Service
Autopsy on shooter, ballistic analysis complete in line of duty deaths
An autopsy on the shooter and ballistic analysis of the firearm have been completed in the Mar. 16, 2023 EPS line of duty deaths.
The Edmonton Medical Examiner conducted an autopsy on Mar. 22, 2023, and confirmed that the 16-year-old male shooter's cause of death was a single gunshot wound to the head consistent with being self-inflicted.
"We recognize that there is intense public interest in this investigation," says EPS Deputy Chief Devin Laforce. "At this time, our priorities need to be the integrity of ongoing investigations, including the origin of the firearm, as well as the safety and privacy of all the families affected by this tragedy. For these reasons, we are not releasing or confirming the name of the deceased."
A bullet casing recovered from the scene of a Mar. 12, 2023 shooting at a nearby restaurant in the area of 133 Street and 114 Avenue has been forensically matched to the firearm that was recovered at the 132 Street and 114 Avenue apartment, where Constable Brett Ryan and Constable Travis Jordan were fatally shot on Mar. 16, 2023.
Investigators believe the suspect in the Mar. 12 shooting to be the same 16-year-old male responsible for the deaths of the two EPS members, although this has yet to be confirmed. Detectives are also working to trace the origins of the firearm and how it came to be in the youth's possession.
At this time, investigators continue to believe that the youth's parents, police dispatch and Constables Ryan and Jordan had no information to suggest there was a firearm in the home when the family dispute call for service was made on Mar. 16.
"Both events have been served by robust investigations that have followed all lines of inquiry," says Deputy Chief Devin Laforce. "All tips and other investigative avenues were pursued exhaustively by the investigating teams."
The male shot on Mar. 12 in the restaurant remains in hospital in critical but stable condition, and the youth's mother who was shot on Mar. 16 remains in hospital in serious but stable condition.
Search of four Edmonton homes results in Cocaine and Meth bust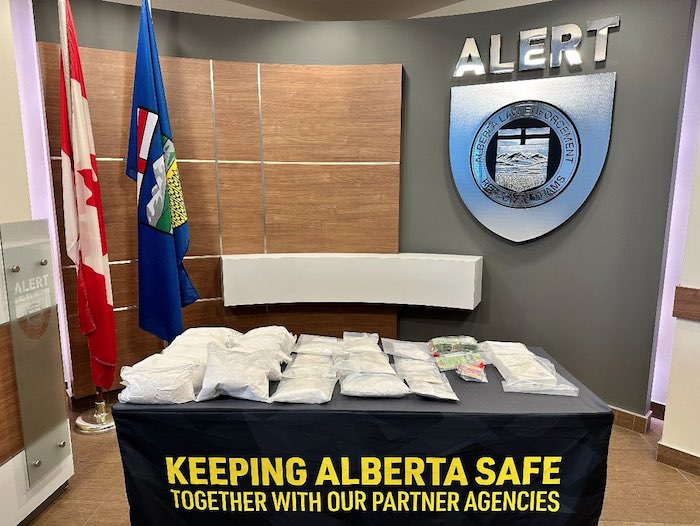 News release from the Alberta Law Enforcement Response Team (ALERT)
Cocaine seized after four Edmonton homes searched
More than two kilograms of cocaine, cash, and four vehicles have been seized following an ALERT Edmonton investigation into cocaine trafficking.
The investigation began in October 2022. Police were able to identify four homes and four vehicles linked to the drug trafficking operation.
"Through the course of this five-month investigation, officers were able to identify several suspects, and seized several pieces of equipment which were being used to produce large, commercial-sized quantities of product. This tells us that this was a much bigger, sophisticated operation," said Sgt. Jeff Woodliffe, ALERT Edmonton.
On February 23, 2023, police searched four homes and seized the following items as evidence:
2.6 kgs of cocaine;
28 grams of methamphetamine;
10 kgs of a cocaine buffing agent; and
$11,000 in cash.
The investigation remains ongoing as investigators prepare reports and disclosure for Crown Counsel.
The Edmonton Police Service assisted throughout the investigation.
Members of the public who suspect drug or gang activity in their community can call local police, or contact Crime Stoppers at 1-800-222-TIPS (8477). Crime Stoppers is always anonymous.
ALERT was established and is funded by the Alberta Government and is a compilation of the province's most sophisticated law enforcement resources committed to tackling serious and organized crime.