Province adds travel prizes to boost vaccine numbers
News release from The Province of Alberta
Travel prizes added to Open for Summer Lottery
Albertans who get fully vaccinated with two doses of an approved COVID-19 vaccine now have a chance to win vacation packages and other travel prizes from WestJet and Air Canada.
Along with three draws for $1 million each, Alberta's Open for Summer Lottery will now offer an additional 40 travel-related prizes provided by WestJet and Air Canada. This includes week-long stays at all-inclusive luxury resorts and flights across Canada and abroad.
The WestJet and Air Canada packages will be included in the August lottery draw for people who receive both vaccine doses. To enter, you simply need to register online and have received a first and second dose of COVID-19 vaccine before registration closes at 11:59 p.m. on Aug. 24. Winners will be announced on Aug. 31.
The draws are open to all Albertans age 18 and older who register for the Open for Summer Lottery, providing yet another incentive to get vaccinated against COVID-19 and another way to reward those who have already rolled up their sleeves.
"Alberta's government is doing everything it can to encourage Albertans to get vaccinated so we can put this pandemic behind us. I would like to thank WestJet and Air Canada for providing yet another reason for eligible Albertans to get protected. In turn, we want Albertans to get their vaccines as soon as possible so we can fully open for summer and open for good."
"The Open for Summer Lottery is a once-in-a-lifetime response to a once-in-a-lifetime pandemic. While protection from COVID-19 is the greatest reward, we have dreamt long enough of getting back to activities we love. This is the perfect opportunity to make some of those travel dreams a reality while encouraging more Albertans to get vaccinated."
"Vaccinations are our way out of this pandemic. With partners like WestJet and Air Canada, we're ready to kick-start tourism in Alberta and start welcoming travellers from around the globe. As we begin to open our doors and welcome visitors back to explore the beauty and wonder of Alberta, our tourism industry will be a key part of our economic rebound."
"The safe restart of travel is essential to Canada's economic recovery and the faster Canadians are vaccinated, the sooner we can restore jobs across our hard-hit travel and tourism sector. We're proud that more than 350 WestJetters continue to support vaccination efforts across the country, including 132 furloughed WestJetters who have joined Alberta Health Services to take calls, manage vaccine appointments and answer questions about vaccination. As Alberta's successful vaccination rollout continues, we look forward to stimulating recovery by once again reconnecting Canadians to their friends, family and loved ones from coast to coast."
"We are pleased to support Alberta's vaccination efforts to help conquer COVID-19. We look forward to welcoming Albertans on board Air Canada's flights when returning to the activities that everybody misses, including travelling to reunite with friends and families, taking a long-awaited beach vacation, exploring more of what the world offers, and also bringing global visitors to Alberta for business and leisure."
WestJet prizes
One WestJet Vacation Package for two to Dreams Vista Cancun Golf & Spa Resort, including round-trip economy flights and a seven-night all-inclusive stay.
One voucher for two people to fly round trip, business class, anywhere in WestJet's network.
10 vouchers for two people to fly round trip, economy class, anywhere in Canada.
Three giveaways of 1,500 WestJet dollars.
Five giveaways of WestJet Rewards Gold Status.
Air Canada prizes
One Air Canada Vacation Package for two to Planet Hollywood Cancun, including round-trip economy flights and a seven-night all-inclusive stay.
One voucher for two people to fly round trip, business class, anywhere in Air Canada's network.
10 vouchers for two people to fly round trip, economy class, anywhere in Canada.
Three giveaways of 100,000 Aeroplan bonus points.
Five giveaways of Aeroplan 50K Status.
Get your shot and register today
Along with these prizes, Alberta's government will hold three draws for $1 million each to incentivize Albertans to get vaccinated against COVID-19.
Any Alberta resident age 18-plus who has received a first dose of vaccine can now register to enter for the $1-million grand prize and additional travel prizes.
Two additional lotteries will follow in August and September to encourage Albertans to complete the vaccine series and receive their second dose. To win one of these additional $1-million prizes, Albertans must be 18 years or older and have received both doses.
To register for the lottery, including the travel prizes, visit alberta.ca/lottery. Only one entry is required to be eligible for all Open for Summer Lottery prizes.
To book your COVID-19 vaccine, visit alberta.ca/vaccine to find available appointments with AHS or participating pharmacies. Select locations across the province are offering first dose walk-in clinics.
Alberta's government is responding to the COVID-19 pandemic by protecting lives and livelihoods with precise measures to bend the curve, sustain small businesses and protect Alberta's health-care system.
Quick facts
Alberta's Open for Summer Plan safely eases restrictions in three stages as vaccination targets are reached and hospitalizations decline.
Stage 3 will occur two weeks after 70 per cent of eligible Albertans have received at least one dose of vaccine.
To be eligible for the lottery, you must:

Opt in by registering at alberta.ca/lottery.
Reside in Alberta at the time of entry and draw.
Be 18 years of age and older.
Be able to provide proof of receiving your first dose of an approved vaccine for the first draw, and both first and second doses for the second and third draws.
Please visit the website for a complete list of rules.

Any Albertan 18 or older who received approved vaccines out of province is also eligible, provided they have submitted proof of vaccination to AHS and meet all other eligibility criteria.
Calgary mayor says lifting remaining COVID-19 health orders 'height of insanity'
Calgary's mayor says it's the "height of insanity" that Alberta is moving ahead with removing almost all of its remaining COVID-19 public health orders.
As of today, close contacts of people who test positive for COVID-19 will no longer be notified of exposure by contact tracers nor will they be legally required to isolate. 
The province is also ending asymptomatic testing. 
Mayor Naheed Nenshi says it inconceivable that the announcement would be made at the same time as cases have nearly tripled from recent weeks.
He says the decision puts Albertans' health at risk.
Nenshi suggests that even the most fervent of anti-maskers wouldn't agree with allowing people who have COVID-19 to be allowed in public.
This report by The Canadian Press was first published July 29, 2021.
The Canadian Press
Red Deer man arrested in one of Alberta's largest ever contraband tobacco seizures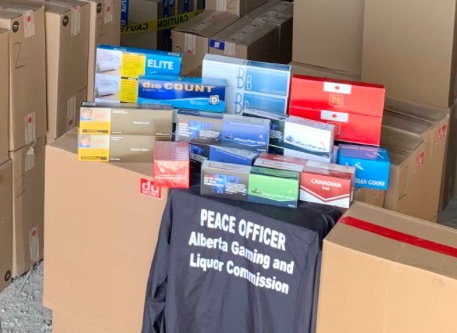 News Release from Alberta Gaming, Liquor & Cannabis
$4.5 million in contraband tobacco products seized by AGLC investigators
An investigation by Alberta Gaming, Liquor & Cannabis (AGLC) led to the seizure of an estimated $4.5 million dollars of contraband tobacco. The seizure represents one of the largest recorded in Alberta history. The total potential lost tax revenue is estimated to be more than $2.5 million dollars.
A search warrant was executed in partnership with Calgary Police Service and the RCMP at a storage facility in southeast Calgary. Ali Al-Hameedawi of Red Deer and Husham Hakeem of Calgary were each charged with trafficking in contraband tobacco, contrary to section 121.1 of the Criminal Code of Canada and fraud over $5,000. The accused are scheduled to appear in Calgary Provincial Court on August 26, 2021.
Contraband tobacco:
is any tobacco product that does not comply with federal and provincial laws related to importation, marking, manufacturing, stamping and payment of duties and taxes;
comes from four main sources: illegal manufacturers, counterfeits, tax-exempt diversions and resale of stolen legal tobacco; and
can be recognized by the absence of a red (Alberta) or peach/light tan (Canada) stamp bearing the "DUTY PAID CANADA DROIT ACQUITTÉ" on packages of cigarettes and cigars or pouches of tobacco.
In addition to lost revenues that may otherwise benefit Albertans, illegally manufactured products also pose public health and safety risks as they lack regulatory controls and inspections oversight.
All wholesalers and importers of tobacco into Alberta must be licensed to sell or import tobacco for resale. Furthermore, all tobacco products must be labelled according to federal and provincial regulations. Albertans who suspect illegal tobacco production, packaging and/or trafficking are encouraged to contact AGLC's Tobacco Enforcement Unit at 1-800-577-2522.
Under a Memorandum of Understanding with Alberta Treasury Board and Finance, AGLC enforces the Tobacco Tax Act and conducts criminal  investigations  related to the possession, distribution and trafficking of contraband tobacco products. In 2020-21, provincial revenue from tobacco taxes was $755 million.