Premier Kenney blasts Biden for confusing US energy policy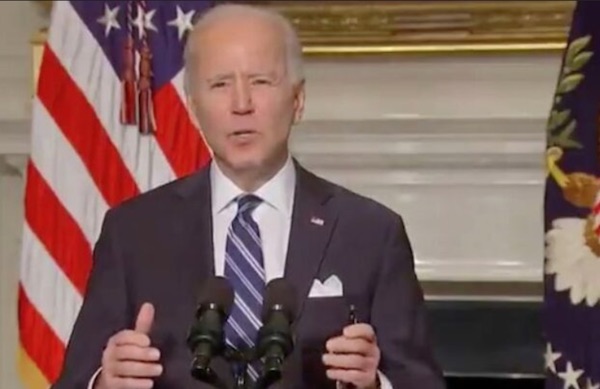 The first thing President Joe Biden did when he came into office was kill the Keystone XL Pipeline. Those who understand global energy needs, knew that would eventually come back to haunt the US which is the largest consumer of energy on the planet. Well it didn't take long. Not even a year. Eight months after taking office the US finds itself in a position of begging OPEC (an energy producing rival) to increase oil production to help bring down the price of oil. It's enough to make Alberta Premier Jason Kenney boil over with anger and lash out at the President for a shortsighted and self-defeating energy policy.
Here's a statement released today from The White House and a subsequent post from Premier Kenney reacting to the situation the US finds itself in.
From a facebook post by Alberta Premier Jason Kenney
The same US administration that retroactively cancelled Canada's Keystone XL Pipeline is now pleading with OPEC & Russia to produce & ship more crude oil.
This comes just as Vladimir Putin's Russia has become the 2nd largest exporter of oil to the US.
Ironically, Russia is now selling the US 840,000 barrels of oil per day, which is *exactly* the amount of Canadian oil that Keystone XL would deliver to the US.
At the same time, the US administration has lifted sanctions on Russia's Nord Stream 2 pipeline to Western Europe.
The same administration is also committed to ending the embargo on Iranian oil exports.
Why is the US government blocking energy imports from friendly Canada, while pressing for more imports from OPEC dictatorships & Putin's Russian regime?
Canada is the USA's closest ally. OPEC+ includes regimes that fuel conflict and instability around the world.
Canadian energy producers are transparent publicly traded companies. OPEC+ producers are overwhelmingly state enterprises, many financing corrupt regimes.
Canadian energy producers operate in compliance with the world's highest environmental, governance and social (ESG) standards. Producers in Russia, Iran, Venezuela etc. flagrantly violate those standards. Canada is a rights-respecting liberal democracy. Many OPEC+ countries are amongst the world's worst regimes.
So why is American energy policy opposed to more Canadian energy exports, but in favour of more OPEC+ exports?
And why is Canada's federal government silent about this gross double standard?
Alberta reports three cases of new COVID subvariant, more hospitalizations, deaths
EDMONTON — Alberta Health says it has detected three cases of the BA. 2 variant and reported its second-highest rate of hospitalizations due to COVID-19.
The province says there were 1,418 hospitalizations Wednesday, a day after it broke its record with 1,443.
There were 1,309 people with the disease in non-intensive care and 109 patients in ICUs across the province.
The province also recorded 22 additional deaths, bringing the total to 3,505 since the pandemic began.
Alberta Health did not say when the three Omicron subvariant cases were detected.
Federal health officials say so far, 51 such cases have been detected throughout Canada.
This report by The Canadian Press was first published Jan. 26, 2022.
The Canadian Press
Elks sign all-star receivers Bowman, Arceneaux, three others
EDMONTON — The Edmonton Elks signed former all-star receivers Adarius Bowman and Emmanuel Arceneaux on Wednesday.
The Elks also added veteran receiver Caleb Holley, defensive back Matt Elam and defensive lineman Daniel Ross.
Bowman returns to the franchise after a five-year absence.
The 36-year-old is a three-time all-star, earning the honour in the 2014, 2015 and 2016 while he was playing in Edmonton.
Bowman helped Edmonton win the 2015 Grey Cup.
His 2016 season was one of the best in team history, with Bowman completing 120 receptions for 1,761 yards and nine touchdowns in 17 games.
Arceneaux, 34, is a two-time CFL all-star, and last played in the league in 2019, suiting up for the Saskatchewan Roughriders.
He last played for the Frisco Fighters of the Indoor Football League.
Best known for his time with the B.C. Lions, Arceneaux has 578 receptions in the CFL for 8,418 yards and 57 touchdowns.
Elam and Ross have both had brief stints in the NFL.
This report by The Canadian Press was first published Jan. 26, 2022.
The Canadian Press