Police looking for public's help in connection with May 27th arson at Boyle Community Services
From Edmonton Police Services
Investigators seek public's assistance in locating person of interest, vehicle, in connection to May 27th fire
For Immediate Release:
31-Jul-2019 @ 2:25 PM
The Edmonton Police Service's Arson Unit is seeking the public's assistance in locating a person of interest and vehicle in connection to a May 27, 2019 arson in downtown Edmonton.
At approximately 1 a.m. on May 27, 2019, EPS Downtown Division patrol members and Edmonton Fire Rescue Services responded to a fire at the Boyle Street Community Services building located at 10116 105 Ave.
Arson detectives eventually took over the investigation, after the fire was deemed to be intentionally set. Surveillance images obtained by investigators show suspects using an extension ladder to access the roof of the complex.
Investigators have since determined that the suspects poured an accelerant on the roof of the community services building. The suspects then lit the accelerant, causing damage to the roof and wiring.
Thankfully, no one in the building at that time sustained any injuries from the fire.
Investigators are releasing images of a person of interest described as a bald, bearded male with a medium build, who was driving a 1994-2002 maroon-coloured Dodge Ram regular cab truck.
Anyone with information regarding the identity of this person of interest and/or the whereabouts of this Dodge Ram is asked to contact the EPS at 780-423-4567 or #377 from a mobile phone. Anonymous information can also be submitted to Crime Stoppers at 1-800-222-8477 or online at www.tipsubmit.com/start.htm.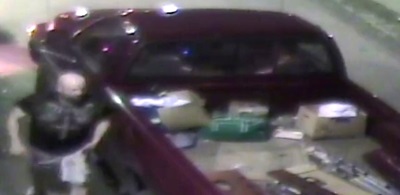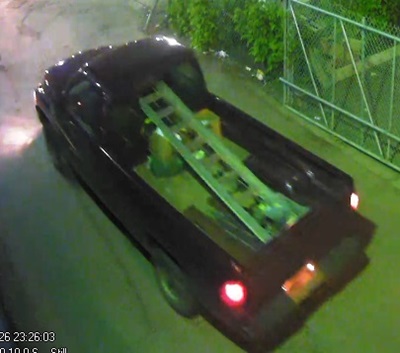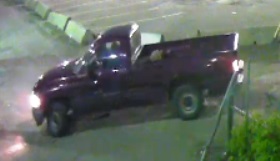 Surveillance Images capture a "person of interest" and a maroon-coloured Dodge Ram pick-up truck outside of the Boyle Street Community
Services building on May 27, 2019. A fire was set on the roof of the building in the early-morning hours on May 27, 2019. It has since been deemed an arson.
Wilkinson urges collaboration after Saskatchewan rejects federal energy table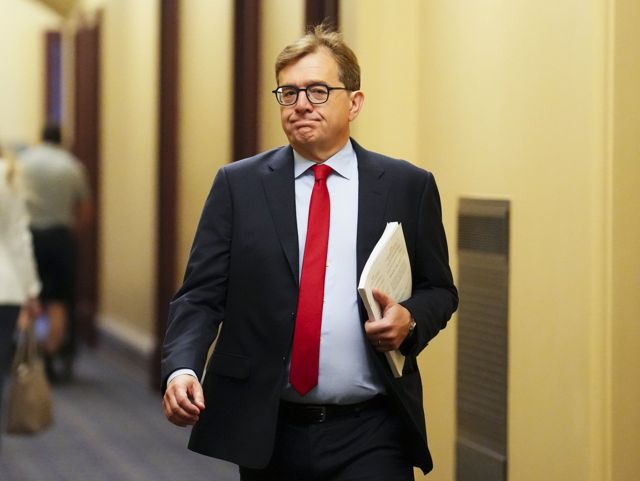 Minister of Natural Resources Jonathan Wilkinson arrives to a cabinet meeting on Parliament Hill in Ottawa on May 30, 2023. THE CANADIAN PRESS/Sean Kilpatrick
By Jeremy Simes in Regina
Federal natural resources minister Jonathan Wilkinson has asked Saskatchewan to work together on shared energy priorities after Ottawa and the province recently clashed over differing net-zero plans.
In a letter addressed to Premier Scott Moe this week, Wilkinson said he remains open to discussing how both parties can collaborate to build the economy while also ensuring the environment is sustainable for future generations.
Wilkinson has been working with each province to create regional energy and resource tables, forums that would identify areas where both jurisdictions can move forward on shared priorities and accelerate economic activity.
He said most provinces and territories have agreed to have their own table with Ottawa, but Saskatchewan has not.
Saskatchewan Justice Minister Bronwyn Eyre wrote to Wilkinson on May 16 the province won't participate because it is "directly connected to the federal 'Just Transition' plan."
Wilkson responded he's disappointed Saskatchewan won't take part, adding he believes people expect governments of all stripes to come together and find solutions.
"Given that the intention is to focus on areas of economic priority of the province for the advancement and betterment of the provincial economy, it is difficult to understand such a rejection and how this will be in the best interest of Saskatchewan's citizens," he said in the letter Wednesday.
Alberta, Nunavut and Quebec have not yet said if they will participate.
Wilkinson's letter comes after Moe said Saskatchewan would not meet Ottawa's target for electricity emissions to be net-zero by 2035.
Moe has said Saskatchewan can meet a 2050 target, but the 2035 target is not achievable, would harm the province's economy and cause electricity to be unaffordable and unreliable.
The 2035 target is part of Ottawa clean electricity standards, which are still under development. The standards would allow fossil fuels to be used if the emissions are abated.
Wilkinson said the 2035 target is possible, affordable and desirable.
He said countries and businesses are moving toward net-zero to seize economic opportunities and to avoid the effects of climate change, noting all G7 countries have committed to achieving a decarbonized electricity grid by 2035.
In her letter, Eyre indicated the province is still open to having discussions with Ottawa about projects and funding.
However, she said Saskatchewan is "drawing a line" over various environmental policies she believes are harmful.
She said Ottawa should stop these policies, which include proposed emissions caps, the carbon tax, clean electricity regulations, fuel standards and fertilizer emissions reductions.
"When you do this, we can build a stronger Canada together," she said in the letter.
Wilkinson said Ottawa and Saskatchewan already agree in several areas, including hydrogen, biofuels, critical minerals, value-added agriculture, carbon capture and small modular nuclear reactors.
He said the province could start dialogue over advancing key projects, including Foran Mining's plans in northeast Saskatchewan and the Critical Minerals Processing Centre in Saskatoon.
Wilkinson said both parties could also look at how they can advance regulatory processes around small modular nuclear reactors, which Saskatchewan is considering as part of its future electricity grid.
This report by The Canadian Press was first published June 8, 2023.
Supreme Court of Canada won't hear unvaccinated woman's case for organ donation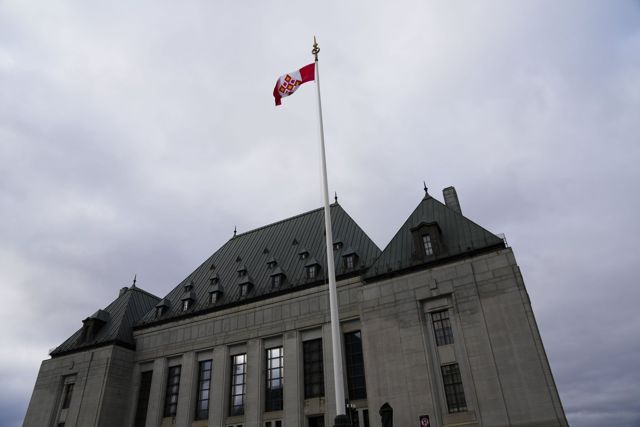 The Supreme Court of Canada will not hear the appeal of an Alberta woman who was unwilling to be vaccinated against COVID-19 in order to get a life-saving organ transplant.
Annette Lewis was diagnosed with a terminal disease in 2018 and was told she would not survive unless she received an organ transplant.
She was placed on a transplant wait list in 2020, but was informed a year later she would need to get the COVID-19 vaccine to receive the organ.
Lewis said taking the vaccine would offend her conscience and argued the requirement violated her Charter rights to life, conscience, liberty and security of the person.
"I ought to have the choice about what goes into my body, and a life-saving treatment cannot be denied to me because I chose not to take an experimental treatment for a condition — COVID-19 — which I do not have and which I may never have," Lewis said in an affidavit previously submitted to court.
The case was dismissed by an Alberta court, which said the Charter has no application to clinical treatment decisions, in particular for doctors establishing preconditions for organ transplants.
Justice Paul Belzil ruled that standard of care must be the same for all potential recipients or it could result in "medical chaos."
The Alberta Court of Appeal upheld the decision, prompting Lewis's appeal to the Supreme Court of Canada.
"Ms. Lewis is deeply disappointed that the Supreme Court of Canada decided not to hear her case," Allison Pejovic, Lewis's lawyer, said in a news release from the Justice Centre for Constitutional Freedoms.
"She had hoped that justice would prevail in the courts for herself and other unvaccinated transplant candidates across Canada."
Pejovic said Lewis's constitutional challenge ends with the Supreme Court of Canada's dismissal but she will continue trying to get the life-saving surgery.
Lewis recently filed a separate legal action against Alberta Health Services, an Alberta hospital and the transplant doctors.
There is a publication ban on the doctors' identities, the organ involved and the location of the transplant program.
Lewis is arguing negligence in the decision to remove her from the high-priority transplant list, saying it amounts to medical malpractice.
The Justice Centre for Constitutional Freedoms said Lewis will ask the court at an upcoming injunction hearing to grant an immediate reinstatement to the transplant list pending the result of the court action.