Peace River church targeted by arsonist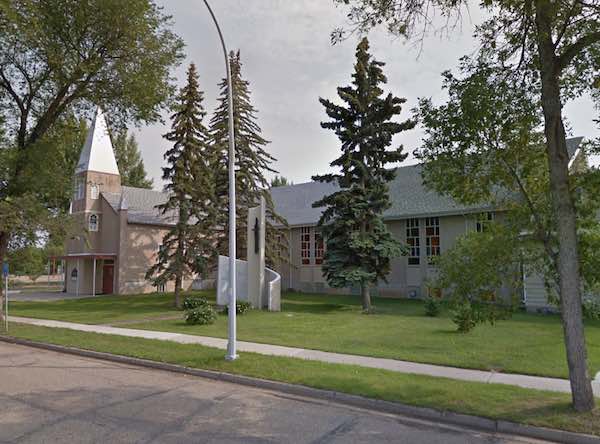 News Release from Peace Regional RCMP
Peace Regional RCMP seek assistance of public with investigation into arson to church
On July 3, 2021, at approximately 11 p.m., Peace Regional RCMP received a report of a monitored fire alarm at the Our Lady of Peace Catholic Church located in Peace River.
The Peace Regional RCMP attended the scene along with the Peace River Fire Department. An employee of the church who was alerted to the fire was able to extinguish a small fire that had ignited inside the church, prior to the arrival of emergency services.
The church has minor damages that included fire damage and a broken window. No one was injured as a result of the fire. Peace Regional RCMP's investigation, along with the Peace River Fire Department's investigation have determined this fire to be an arson.
Peace Regional RCMP are asking the public's assistance for any information in relation to this incident. Please contact the Peace Regional RCMP at 780-624-6677 or your local police. If you wish to remain anonymous, you can contact Crime Stoppers at 1-800-222-8477 (TIPS), online at www.P3Tips.com or by using the "P3 Tips" app available through the Apple App or Google Play Store.
Oilers goaltender Stalock likely to miss season due to possible heart condition
EDMONTON — Goaltender Alex Stalock will likely miss the season due to a possible heart condition, Edmonton Oilers general manager Ken Holland said Wednesday.
Speaking on the opening day of Oilers training camp, Holland said the possible condition was detected when he returned home for more tests after the team's physical exam at the end of the 2020-21 season.
"At the end of the year we did a physical. Then he went home, he went in to have additional tests. And through these additional tests he found out that he maybe has some kind of a heart condition," Holland said.
Holland said Stalock contracted COVID-19 before the start of the 56-game shortened season, but was later cleared to play and spent time on the Oilers' taxi squad after the team claimed him off waivers from the Minnesota Wild in March. 
He did not appear in a game with either Minnesota or Edmonton last season.
"He's seen a couple of cardiologists," Holland said. "He's looking to get additional opinions.
"I would say to you right now that based upon where we're at today I don't anticipate that he'll play hockey this year. But if he does get further opinions it might change his decision."
Holland said Stalock was "excited about coming to camp and pushing for a job" before getting the troubling results from the tests.
Stalock, a 34-year-old from St. Paul, Minn., has a 61-49-18 record with a 2.61 goals-against average and a .909 save percentage in 151 career NHL games with San Jose and Minnesota. 
This report by The Canadian Press was first published Sept. 22, 2021.
The Canadian Press
Regulatory group warns several Alberta doctors about sharing COVID-19 misinformation
EDMONTON — A group that oversees the practice of medicine in Alberta says it has told at least seven doctors who were spreading misinformation about COVID-19 that their behaviour was unprofessional.
Scott McLeod, registrar with the College of Physicians and Surgeons of Alberta, says the regulator has also spoken to doctors who gave into pressure from patients wanting an exemption letter– not grounded in clinical evidence — to avoid having to wear masks or vaccinations.
McLeod says the college is to publish a letter this week addressed to physicians and the public to reiterate its support for vaccines and public health restrictions put in place to try to curb the spread of COVID-19.
The college says the doctors who were warned had been spreading misinformation on social media platforms or elsewhere.
McLeod says it's disappointing to see that type of behaviour and noted it has a significant effect because doctors have a powerful voice in society.
He adds the number of doctors painting a false narrative in the province is unprecedented.
McLeod says if doctors don't stick to basic science that outlines how to protect people during a pandemic, the public and other physicians can file an official complaint with the college.
This report by The Canadian Press was first published Sept. 22, 2021.
The Canadian Press