15 year old girl rescued from Edmonton based sex trafficers
News Release from Alberta Law Enforcement Response Team (ALERT) and Edmonton RCMP
Edmonton youth rescued from human trafficking
A 15-year-old girl has been rescued from human trafficking and ALERT has charged her perpetrators. Three Edmonton men have been charged with a total of 35 criminal offences.
ALERT's Human Trafficking and Counter Exploitation unit has arrested three suspects for human trafficking with the most recent arrest coming on June 29, 2021. The suspects allegedly procured the youth for sexual services.
The arrests came following a two-month investigation when the Edmonton Police Service first received information about a 15-year-old girl being sexually exploited. The investigation revealed the youth was first groomed online, which escalated to nude photography, and eventually she was steered into the sex trade.
"Perpetrators are very skilled at grooming and manipulating their victims with gifts, money, affection; but it's all a mirage. What this survivor endured was appalling and represents a heart-breaking set of circumstances," Acting Staff Sergeant Chris Hayes, ALERT.
The survivor is receiving support and specialized care resources. Survivors of sex trafficking can call 211 for help.
Tyson Shaw, 24, Islam Montasser, 26, and Amir Idris, 30, have been jointly charged with:
Trafficking a person under the age of 18;
Material benefit;
Procuring a child;
Advertise sex services;
Arrange sexual offences against a child;
Invitation to sexual touching;
Making child pornography;
Distribute child pornography;
Possession of child pornography; and
Administer a noxious substance.
Additionally, Shaw has been charged with:
Sexual assault of a person under 18;
Sexual contact with a child;
Sexual counsel of a child; and
Indecent exposure to a person under 16.
Montasser was also charged with sexual assault of a person under 18.
Anyone with information about this investigation, or any human trafficking offence is encouraged to contact local police or Crime Stoppers.
ALERT's Human Trafficking Counter Exploitation unit investigates domestic human trafficking involving sexual exploitation occurring in Alberta. The integrated unit also works in collaboration with agencies and organizations involved in rescuing and supporting survivors of human trafficking and sexual exploitation.
ALERT was established and is funded by the Alberta Government and is a compilation of the province's most sophisticated law enforcement resources committed to tackling serious and organized crime.
Calgary Stampede receives $10M from federal government to aid recovery from pandemic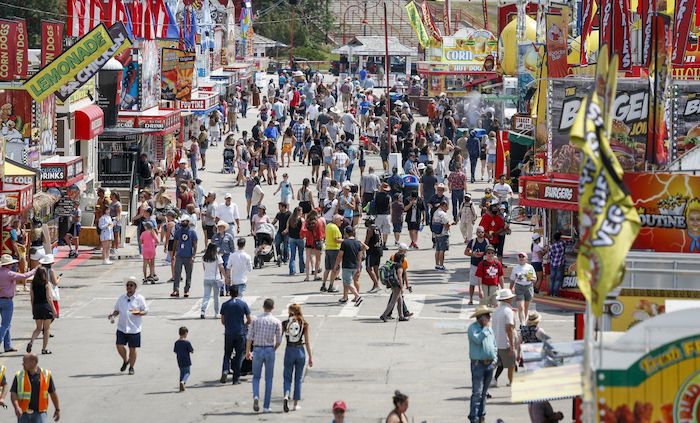 Calgary – The Calgary Stampede has received more than $10 million from the federal government to help it bounce back after last year's event was scaled down due to the COVID-19 pandemic.
A report to the city this week showed the Stampede had an operating loss of $8.3 million in 2021.
Last year's Stampede ran at half capacity because of COVID-19 public health measures and was cancelled all-together the year before.
Daniel Vandal, the federal minister for Prairies Economic Development Canada, says the money aims to support a full-scale Stampede to deliver the "authentic western experience" this year.
He says it would also help to reignite Alberta's visitor economy.
The 2022 Stampede is set to run from July 8 to 17.
"Festivals large and small were hard hit during the pandemic," Vandal said in a news release. "They are events where families and friends come together and take in the exciting atmosphere.
"The tourism industry is facing a strong comeback providing quality jobs across the country, showcasing stunning landscapes and offering exciting experiences right here in Alberta."
The federal government also provided about $1.8 million for four other tourism projects in southern Alberta: Charmed Resorts, Cochrane Tourism Association, Heritage Park and Tourism Calgary.
This report by The Canadian Press was first published June 30, 2022.
Canopy Growth to exchange C$255.4M in notes for shares and a bit of cash
SMITHS FALLS, Ont. — Canopy Growth Corp. has signed a deal to exchange C$255.4 million of its debt for shares and a little bit of cash.
Under the agreement with a limited number of noteholders, the cannabis company will acquire the 4.25 per cent unsecured convertible senior notes due in 2023 for about C$252.8 million in shares plus approximately C$3 million in cash for accrued and unpaid interest.
The price used to value the shares will be the volume-weighted average trading price on the Nasdaq Global Select Market for the 10 consecutive trading days beginning Thursday, subject to a floor price of US$2.50 and a maximum of US$3.50 per share.
Constellation Brands Inc., through its wholly-owned subsidiary Greenstar Canada Investment Limited Partnership, has agreed to swap half of the C$200 million in notes it holds under the deal.
The company, which is already Canopy's largest shareholder, will receive a minimum of 21.9 million Canopy shares based on the floor price and a maximum of 30.7 million shares.
Constellation currently holds nearly 142.3 million Canopy shares, representing a 35.3 per cent stake in the company.,
This report by The Canadian Press was first published June 30, 2022.
Companies in this story: (TSX:WEED)
The Canadian Press