Olympic focus at the Alberta Sports Hall of Fame – The Halftime Report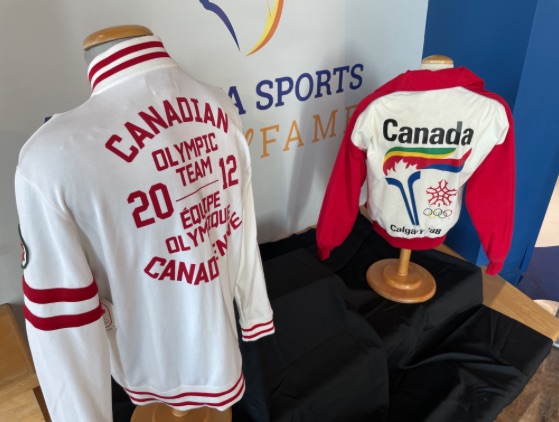 News from the Alberta Sports Hall of Fame
Team Canada
Red and white are not only the colours associated with our nations flag but are also represented in the Olympic apparel worn by Team Canada, often accented with black to make the maple leaf shapes as vibrant as possible.
These looks are also reinterpreted for spectator apparel sold through retailers like Hudsons Bay.
Do you have a favourite Team Canada outfit?
This newsletter is sponsored by the Innisfail Eagles.
Honoured Member in Focus: Kyle Shewfelt
Kyle Shewfelt began his gymnastic career in 1988, at the age of six.
At the 2004 Olympic Games in Athens, Greece, Kyle made history when he won Canada's first Olympic gymnastics medal – a gold on the floor exercise. He also placed fourth on the vault.
Kyle's international career began in 1996. That year, he placed first on floor and third on vault in Austria, and placed first on vault and second on floor in Hungary.
In 1999 and 2000, Kyle made his mark in the World Cup circuit. At the 2003 World Artistic Gymnastic Championships, Kyle captured two bronze medals – on floor and vault.
Kyle's autobiography, Make it Happen: My Story of Gymnastics. the Olympics, and the Positive Power of Sport was released in April and is available through www.kyleshewfelt.com as well as through Chapters/Indigo.
Welcome back, Alberta Olympians!
Congratulations to Alberta Olympians Claudia Holzner, Halle Pratt, Marco Arop, Sage Watson, Josephine Wu, Haley Daniels, Allison Beveridge, Kelsey Mitchell, Caeli McKay, Kasia Gruchalla-Wesierski, Nicole Hare, Jessica Sevick, Keyara Wardley, Lynda Kiejko, Stephanie Labbé, Yuri Kisil, Finlay Knox, Cole Pratt, Rebecca Smith, Blair Bann, Jay Blankenau, Lucas Van Berkel, Graham Vigrass, Kyra Christmas, Kelly McKee, Kindred Paul, and Danielle Lappage for competing on the Olympic stage in Tokyo.
Congratulations also to Honoured Members Kyle Shewfelt, who was an analyst for CBC's coverage of Olympic gymnastics, and Blythe Hartley, who was an analyst during the diving events.
We are incredibly proud of all you accomplished. Welcome home.
Provincial Sport Organization: Alberta Gymnastics Federation
The Alberta Gymnastics Federation values the growth and development of gymnastics and the opportunity to encourage and support the clubs, gymnasts, coaches, and judges who bring gymnastics to life. Gymnastics is a sport for everyone. It provides an opportunity to challenge oneself physically and enables one to explore various forms of movement in fun creative ways. We also strive to inspire gymnasts, coaches, and judges to meet their own potential through athlete and leadership development courses.

Tickets now available for Alberta Sports Hall of Fame Induction Banquet
Join us on Friday, October 22nd, 2021 when we induct the next group of provincial sports legends to the Alberta Sports Hall of Fame.
The Banquet, which had been postponed from its original date in May 2020, will now take place that evening at the Red Deer College (RDC) Arts Centre.
The timetable for the event is as follows:
5:30 – 6:30 pm: Cocktail Reception
5:30 – 6:30 pm: Silent Auction and Raffles
6:45 – 8:30 pm: Awards and Presentations
8:30 – 8:45 pm: Closing Remarks
8:45 – 9:30 pm: Dessert/Nightcap in RDC Arts Centre Lobby
The Class of 2020 includes athletes Deidra Dionne, Chris Phillips, Kelly Sutherland, and Michael Robertson; builders Jan Ullmark, Terry Morris, Ken Babey, and Derek Douglas; Bell Memorial Award winners Nancy Southern and Ian Allison; Achievement Award winner John Currie; Pioneer Award winner Stan Wakelyn; and Legacy Award winner Dennis Kadatz.
Tickets are $50 for Alberta Sports Hall of Fame Honoured Members and their guests, or $75 for general admission.
For tickets, email [email protected], call (403) 341-8614, or visit https://www.albertasportshall.ca/2020-induction-banquet to download the ticket order form.
Join us (and the Innisfail Eagles) on the links!
The Annual Alberta Sports Hall of Fame Golf Tournament is set to tee off off on Tuesday, September 14 at the Innisfail Golf Course. This season, we will be partnering with the Innisfail Eagles Hockey Team.
We are still looking for golfers, sponsors, and volunteers.
Don't miss out on the opportunity to support the preservation of Alberta sports by playing at one of the province's crown jewels.
Call (403) 341-8614 or email [email protected]ca for more information.
Join the Alberta Sports Hall of Fame on Saturday, September 18th, for a showcase of family fun, sport, and culture in celebration of Alberta Culture Days.

The event will include appearances by the Red Deer Aboriginal Dance Troupe, Association Canadienne Francaise de l'Alberta Régionale de Red Deer, Alberta Sports Hall of Fame Honoured Member and Olympic gold medalist Kyle Shewfelt, the Hungry Beast Food Truck and much more.

Events get underway at 10 am and wrap up at 4 pm.
Leave a legacy​
The Alberta Sports Hall of Fame needs your support to continue the ongoing preservation of Alberta's sports history and the development of museum exhibits. We are grateful and appreciative of the generosity of our supporters and friends. We would be happy to assist you in choosing how your personal legacy will be fulfilled and the many options available. Here is some information on donating shares to ASHFM and the benefits to you as a donor.
Alberta's chief medical officer says most of 11 Omicron COVID cases were vaccinated
EDMONTON — Alberta's total number of Omicron variant COVID-19 cases remains at 11, but the province's chief medical officer of health expects that number to grow.
Dr. Deena Hinshaw also says seven of the 11 people were fully vaccinated, two were partially vaccinated and two were unvaccinated.
Alberta Health is still gathering data on the effects and spread of Omicron, but Hinshaw says early indications are those who contract the variant can avoid severe outcomes if vaccinated.
She also reported 240 new cases of COVID-19 for a total of about 4,100 active cases.
There are 373 people in hospital with the illness, including 76 in intensive care.
Hinshaw says more than 60,000 youngsters between the ages of 5 to 11 have received a first dose of the COVID-19 vaccine.
This report by The Canadian Press was first published Dec. 7, 2021
The Canadian Press
Calgary researcher to lead study on E. coli infection in children
CALGARY — A University of Calgary researcher will lead a North American study examining a new way to treat E. coli infections that can cause kidney failure in children.
Professor and pediatrician Stephen Freedman will oversee the 26-site project, set to include more than 1,000 kids and run six years beginning in September 2022.
The university says the U.S.-based National Institutes of Health is providing more than $11 million for the investigation, meant to stop disease from progressing from bloody diarrhea to kidney shutdown and neurologic complications.
The Alberta Children's Hospital Research Institute is also providing funds.
The study will focus on Shiga-toxin producing E. coli, or STEC, which is commonly found in cattle and can spread to humans. The University of Calgary says Alberta has one of the highest rates of STEC infection in the world given its abundance of cattle, sloped terrain, food crops and use of well water.
Freedman says the study will be the first in 20 years to evaluate a treatment focused on stopping disease progression.
He says it will consider the value of "early and aggressive intravenous rehydration," a rarity in early stages of the illness. The approach calls for large volumes of intravenous fluids early-on in a bid to maintain blood flow to the kidneys.
Infected children in the study will be hospitalized before any complications occur, even if they appear relatively well, Freedman said Tuesday in a release.
"What often happens is infected children will recover from the diarrhea and may look well but in nearly 20 per cent of children, unbeknownst to their parents and sometimes doctors, their kidneys are in the process of failing," Freedman said.
The Centers for Disease Control and Prevention estimates that nearly 100,000 high-risk STEC infections occur annually in the United States.
More than 60 per cent of these infections are in children, half of whom are younger than five years old. Young children are at the highest risk of complications, which can include renal failure, strokes and in rare cases, death.
This report by The Canadian Press was first published Dec. 7, 2021.
The Canadian Press