Calgary Beer is Back! Calgary Craft Brewer reimagines one of Alberta's most iconic brands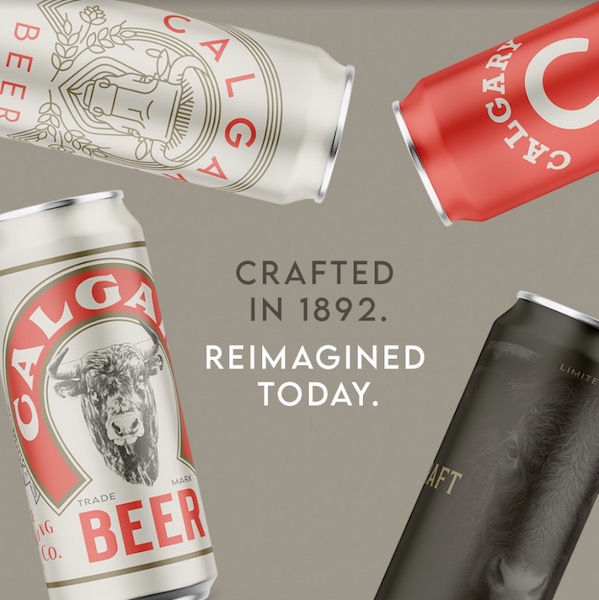 From technology, to communication, all the way to beer, our world is changing more rapidly every day. Who could have imagined how the brewing industry would be turned upside down by craftsmen and entreupreneurs who risk it all for their passion to create a better product right in their community?
In a world that used to be very predictable, everyday another new craft beer hits the market. It's hard to keep up, though many of us are doing our best. Despite all the excitement around the new tastes and all the clever marketing needed to get those beers into our hands, we all know a few people who are 'holding out'. Maybe they don't like change. Maybe they don't know where to start. Maybe they're perfectly fine with the same safe brew they've been tasting for their entire adult lives. Maybe they should know one of Alberta's finest craft brewers is bringing back a familiar brand, offering a ton of comfort and enjoyment, one sip at a time.
The renowned brand "Calgary Beer" is back! And of all the craft brewers in Southern Alberta, Village Brewery is the natural choice to have taken on this "reimagined" project. Village Brewery was established by seven veterans of the brewing business, all with an equal passion for beer, and for their community. It made perfect sense for this group to recognize their roots by recreating some local history in the town they love so much. Just in case you didn't know, Village Brewery turns 10% of their profits, back to the Calgary community.
When Village Brewery Re-launched Calgary Beer they were nice enough to make their Head Brewer Jeremy McLaughlin available for a few questions.
Here's Jeremy McLaughlin.
1) Why are you bringing "Calgary" back?
The Calgary Beer brand is an important part of beer history in Calgary. It dates back to 1892 and the brand imagery is iconic and represents the origins of beer in Calgary. At Village Brewery, we have always been about supporting the community and bringing people together around beer. The idea of being able to produce something under this brand just fits so well with what we stand for at Village. It's special to us because we were given an awesome opportunity to modernize both the label and the recipe for today's craft beer fans.
2) Is this the exact same "Calgary" I drank many years ago?
Since the core ideology of this was to modernize the brand, we were not going to be using the same Export Lager style or name and decided to go with "Craft Lager". We felt this would reach the audience that Village reaches already. The main distinction, in terms of ingredients, is a significant hop character (from Ella, Sabro and Enigma), which make up the flavour profiles of a lot of craft beer.
3) Talk about the "craft" version. The can looks fantastic by the way. Curious about that and the beer itself.
The beer is really something that we as a brewery were looking to explore, a Craft Lager or dry-hopped lager is very much in the realm of beer profiles that can be interesting to new craft drinkers but something that experienced craft connoisseur would find interesting as well. A breakdown on ingredients and vital stats should get the conversation started here:
-ABV is 5.00%
-IBU: 15
-Colour: Light Gold
-Clarity: Light/Moderate Haze -Malt: Rahr 2-Row
-Yeast: Escarpment's Krispy Kveik
-Hops: Ella, Sabro and Enigma (all mainly used as a dry-hop). These are symbolic to the ideology of the project (modernization and reimagining, while paying respect). These hops are developed through breeding programs, which modernized historical varieties of hops.
The can design was by Jackson and includes 4 versions
-A vintage throw-back to the original design
-A modernized vintage design featuring design concepts that are popular in craft breweries today (line art)
-A more high design variation that is black with the bull image wrapping the can
-A minimalistic version featuring a red backdrop and a white horseshoe, focusing on clean and crisp presentation
All Alberta residents can purchase this limited edition lager by clicking this link.
Battle of Alberta starts with a bang as Flames down Oilers 9-6 to open playoff series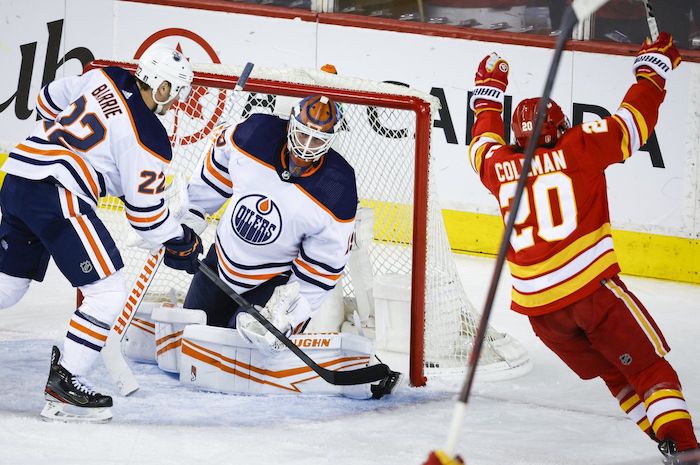 By Donna Spencer in Calgary
Matthew Tkachuk scored a hat trick for the Calgary Flames in Wednesday's 9-6 win over the Edmonton Oilers to open their playoff series.
The NHL's first playoff Battle of Alberta in 31 years compensated for its long absence with an abundance of goals in Game 1.
Blake Coleman scored twice for the Flames. Rasmus Andersson and Andrew Mangiapane each had a goal and two assists.
Elias Lindholm and Brett Ritchie also scored for Calgary while goaltender Jacob Markstrom stopped 22 shots for the win.
Zach Hyman scored twice for Edmonton. Connor McDavid produced his fourth straight multi-point game in the playoffs with a goal and three assists.
Edmonton's captain leads the league's post-season points race with five goals and 13 assists.
Leon Draisaitl had a goal and two assists and Kailer Yamamoto and Evan Bouchard also scored for the Oilers.
Edmonton starter Mike Smith was pulled in the first period after allowing three Calgary goals on 10 shots. Mikko Koskinen made 32 saves in relief.
The winner of the best-of-seven series advances to the Western Conference final.
Game 2 is Friday at the Saddledome before the series heads to Edmonton for Sunday's Game 3 and Tuesday's Game 4.
Teams that take a 1-0 lead in a best-of-seven series hold a series record of 503-232 (.684), according to NHL statisticians.
In a matchup of potent offences, the question ahead of the series was which team could keep the puck on its sticks and spend more time in the offensive zone.
Calgary dominated that department early. The Flames scored twice in a 25-second span in the first minute and led 3-0 by 6:05 when Smith was replaced by Koskinen.
Calgary's two goals in the opening 51 seconds was the fastest two goals to start an NHL playoff game, and electrified a sea of red dotted with Oiler orange and blue at the Scotiabank Saddledome.
The Oilers would not go quietly, however.
The Flames had survived a goaltender-dominated, grinding series with the Dallas Stars in the first round.
Wednesday's Game 1 was, by contrast, an open-ice track meet of mediocre goaltending. The Flames held a 40-18 edge in shots after two periods, but led 6-5 heading into the third.
Edmonton's Yamamoto briefly tied the game at 1:28 putting McDavid's rebound over Markstrom's outstretched pad.
Andersson regained the lead for Calgary at 2:57. Mangiapane from behind the net fed the all-alone defenceman whose wrist shot beat Koskinen's glove.
Tkachuk gave the Flames a two-goal lead at 8:55 with his second of the night. He snared a Draisaitl turnover at the blue line and beat Koskinen five-hole on a breakaway.
Tkachuk scored into an empty net to complete his hat trick. Hats rained down onto the Saddledome ice and chants of "we want 10" goals soon followed.
Draisaitl pulled the visitors within a goal at 19:21 of the second period when he beat Markstrom far side on an odd-man rush with McDavid.
Hyman scored at 9:38 and 14:06 of the second period. He circled out from behind the net and whipped the puck by Markstrom's glove for his second.
Hyman skated the puck into Calgary's end, stopped and got a shot away between defenceman Michael Stone's legs that deflected off Markstrom and into the top corner for his first.
Tkachuk batted in a rebound for a power-play goal at 8:24 after Bouchard converted a McDavid pass at 7:10. McDavid spun off of Dillon Dube to get a cross-ice pass away to Bouchard.
Zack Kassian's roughing penalty after Bouchard's goal gave Calgary the man-advantage for Tkachuk's goal.
Coleman struck 45 seconds into the second period and again at 6:10 for a 5-1 Flames lead.
He redirected a Noah Hanifin shot for his second goal and put a rebound over a prone Koskinen during a scramble around the crease for his first.
McDavid glided in front of the net and patiently waited for Markstrom to commit before tucking the puck between the goalie's pads at 7:41 of the first period.
Ritchie scored his first career playoff goal at 6:05. He knocked Edmonton's Evander Kane off the puck at the Oilers' blue line, reached to collect the loose puck and got a shot away under Smith's arm.
From behind the net, Backlund dished to an undefended Mangiapane in the slot for the latter to beat Smith from close range 51 seconds after opening puck drop.
Lindholm converted Calgary's first shot of the game into a goal 26 seconds after opening faceoff. He settled a bouncing puck off a cross-ice dish from Rasmus Andersson and swept it far side over Smith's glove.
The Flames were minus top shutdown defenceman Chris Tanev a second straight playoff game. He was injured in Game 6 of Calgary's first-round series against Dallas.
Tanev skated in both Tuesday's practice and in Wednesday's morning skate, but did not dress for Game 1.
Notes: With his 94th career playoff win as a head coach, Darryl Sutter joined Pat Quinn ranked No. 6 all-time . . . With three assists in Game 1, Johnny Gaudreau joined Jarome Iginla and Martin Gelinas (2004) among Flames to carry a six-game point streak in the playoffs . . . McDavid was the first Oiler to score a goal in four straight post-season games since Michael Peca and Shawn Horcoff in 2006 . . . The red lot fan zone adjacent to the Saddledome was closed Wednesday because of high winds . . . Game 1 was the highest scoring playoff game involving Calgary and Edmonton surpassing the previous high of 12 goals scored in Game 3 of the 1983 Smythe Division final.
This report by The Canadian Press was first published May 18, 2022.
This is what Jason Kenney said as he stepped down as Premier of Alberta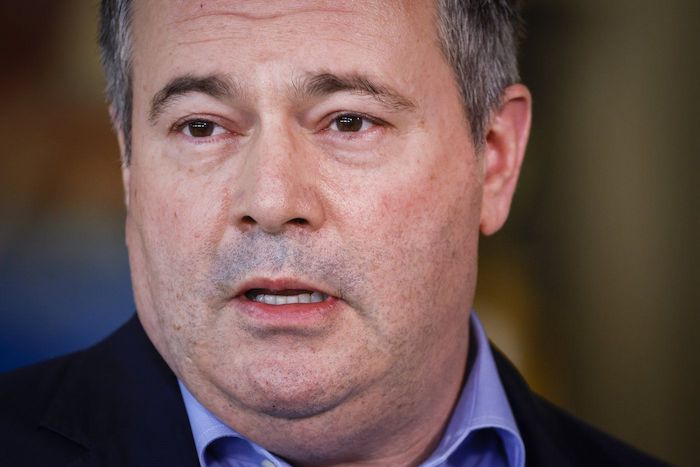 Premier Jason Kenney's address starts at the 10 minute mark and only lasts for 4 minutes.