Calgary Beer is Back! Calgary Craft Brewer reimagines one of Alberta's most iconic brands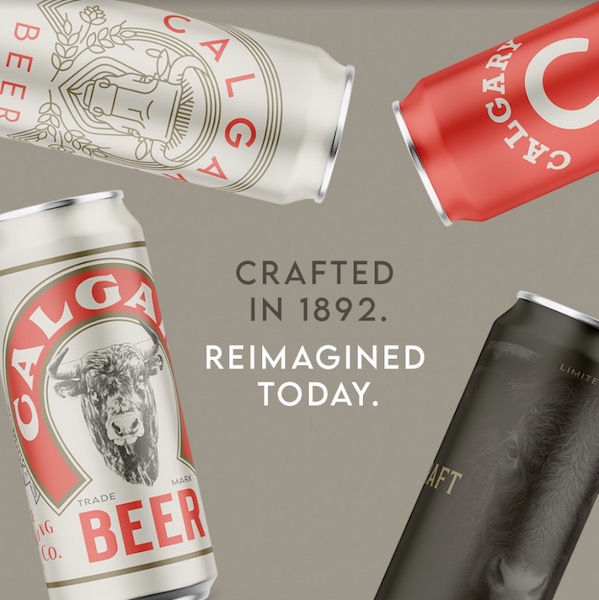 From technology, to communication, all the way to beer, our world is changing more rapidly every day. Who could have imagined how the brewing industry would be turned upside down by craftsmen and entreupreneurs who risk it all for their passion to create a better product right in their community?
In a world that used to be very predictable, everyday another new craft beer hits the market. It's hard to keep up, though many of us are doing our best. Despite all the excitement around the new tastes and all the clever marketing needed to get those beers into our hands, we all know a few people who are 'holding out'. Maybe they don't like change. Maybe they don't know where to start. Maybe they're perfectly fine with the same safe brew they've been tasting for their entire adult lives. Maybe they should know one of Alberta's finest craft brewers is bringing back a familiar brand, offering a ton of comfort and enjoyment, one sip at a time.
The renowned brand "Calgary Beer" is back! And of all the craft brewers in Southern Alberta, Village Brewery is the natural choice to have taken on this "reimagined" project. Village Brewery was established by seven veterans of the brewing business, all with an equal passion for beer, and for their community. It made perfect sense for this group to recognize their roots by recreating some local history in the town they love so much. Just in case you didn't know, Village Brewery turns 10% of their profits, back to the Calgary community.
When Village Brewery Re-launched Calgary Beer they were nice enough to make their Head Brewer Jeremy McLaughlin available for a few questions.
Here's Jeremy McLaughlin.
1) Why are you bringing "Calgary" back?
The Calgary Beer brand is an important part of beer history in Calgary. It dates back to 1892 and the brand imagery is iconic and represents the origins of beer in Calgary. At Village Brewery, we have always been about supporting the community and bringing people together around beer. The idea of being able to produce something under this brand just fits so well with what we stand for at Village. It's special to us because we were given an awesome opportunity to modernize both the label and the recipe for today's craft beer fans.
2) Is this the exact same "Calgary" I drank many years ago?
Since the core ideology of this was to modernize the brand, we were not going to be using the same Export Lager style or name and decided to go with "Craft Lager". We felt this would reach the audience that Village reaches already. The main distinction, in terms of ingredients, is a significant hop character (from Ella, Sabro and Enigma), which make up the flavour profiles of a lot of craft beer.
3) Talk about the "craft" version. The can looks fantastic by the way. Curious about that and the beer itself.
The beer is really something that we as a brewery were looking to explore, a Craft Lager or dry-hopped lager is very much in the realm of beer profiles that can be interesting to new craft drinkers but something that experienced craft connoisseur would find interesting as well. A breakdown on ingredients and vital stats should get the conversation started here:
-ABV is 5.00%
-IBU: 15
-Colour: Light Gold
-Clarity: Light/Moderate Haze -Malt: Rahr 2-Row
-Yeast: Escarpment's Krispy Kveik
-Hops: Ella, Sabro and Enigma (all mainly used as a dry-hop). These are symbolic to the ideology of the project (modernization and reimagining, while paying respect). These hops are developed through breeding programs, which modernized historical varieties of hops.
The can design was by Jackson and includes 4 versions
-A vintage throw-back to the original design
-A modernized vintage design featuring design concepts that are popular in craft breweries today (line art)
-A more high design variation that is black with the bull image wrapping the can
-A minimalistic version featuring a red backdrop and a white horseshoe, focusing on clean and crisp presentation
All Alberta residents can purchase this limited edition lager by clicking this link.
'I knew the challenges': Lethbridge police chief aware of problems before taking job
LETHBRIDGE, Alta. — It's been a particularly tough year for the police chief of Alberta's third-largest city
But Lethbridge Police Chief Shahin Mehdizadeh says he was fully aware of the problems before he took the top job in July 2020.
"I knew the challenges in this department and in this city, and a lot of these events that are bringing a lot of bad press to this department," Mehdizadeh said in a sit-down interview with The Canadian Press. "I didn't come to this with blind eyes."
The police service has faced numerous controversies in recent years.
Last year, two officers were temporarily demoted after a review determined NDP provincial legislature member Shannon Phillips, while environment minister in 2017, was surveilled and photographed at a diner. The officers involved were concerned about changes Phillips was making regarding off-highway vehicles at nearby wilderness areas.
Separately, five officers and one civilian were investigated on allegations of conducting improper database searches on Phillips while she was in cabinet.
The force was also criticized in May 2020 for the violent takedown of a citizen wearing a "Star Wars" storm trooper costume and brandishing a toy laser blaster. An independent review said the officers had not acted inappropriately.
"There were some events that have really put a lot of negative publicity on this organization," said Mehdizadeh, "but a lot of these events … range from 2016 to 2018, and any recent allegations are being tied to the historic events.
"As a result we have many investigations."
Alberta Justice Minister Kaycee Madu ordered the Lethbridge Police Service to clean up its act or risk being dissolved. He demanded an action plan to address everything from recruiting to oversight to changing the department's internal culture.
"If I concluded that the leadership of the force and the commission were not serious about fixing the problem, I was prepared to do what was necessary to fix the problem," Madu said earlier this week.
"They came back to me with an action plan that was acceptable and I approved."
Madu said he will wait to see what a public inquiry by the Alberta Law Enforcement Review Board turns up before he decides how successful the changes have been.
He noted that he doesn't blame the current chief.
"Let me be blunt … I think it stems from the previous leadership there," said Madu. "I am very sympathetic to the current chief.
"He was brought in during the midst of these problems. None of these problems are part of his watch. This is a problem that he inherited."
The president of the Lethbridge Police Association said the problems that became public were years in the making.
"It's been miserable for us for more than the past year. I think what most people don't understand is what they're seeing now is predicated on things that came before. Nothing happens in a vacuum," said Jay McMillan.
"Many of our own internal issues were born of an era where there was different leadership in place, or a lack of leadership. It sort of created a culture here that was not healthy and probably not able to withstand any external pressures."
McMillan said most of the controversies don't reflect the service now. He supports the changes outlined in the provincial action plan, he said.
"You're able to look in the mirror as an organization or an individual and identify some things you can do a little bit better," he said.
"A lot of the things in that action plan were things that were set up to take place already, so it wasn't in response to the public attention. It wasn't in response to the justice minister … the organization had already realized there were some changes that needed to be made."
Mehdizadeh said his job is to "fix these things."
"This is very historic stuff and it wasn't fair to really judge the organization based on what went on a few years ago," he said.
"I don't have the authority to make arbitrary decisions to get rid of people or fire people. There are legal processes that we have to adhere to, that we have to be respectful of and compliant to move forward."
Sanctions have been taken against a number of officers as a result of the circulation of inappropriate images, reportedly including pictures of senior staff pasted onto the bodies of characters from the animated "Toy Story" movies.
This report by The Canadian Press was first published Dec. 4, 2021.
Bill Graveland, The Canadian Press
Federal minister to provide money to fight aquatic invasive species in mountain parks
BANFF, Alta. — Federal Environment Minister Steven Guilbeault is expected to announce funding today to fight aquatic invasive species in five mountain national parks in Alberta and British Columbia.
Guilbeault, who is scheduled to be in Banff, Alta., plans to make almost $15 million available over the next five years to prevent and manage invasive species in Banff, Jasper, Kootenay, Waterton Lakes and Yoho national parks.
The money is to be used for both prevention and education programs.
Environment and Climate Change Canada says the parks are vulnerable to non-native species of mussels as well as the parasite that causes whirling disease in fish.
Invasive species can be spread by people enjoying mountain rivers and lakes.
The work is also expected to support the recovery of species at risk, including westslope cutthroat trout, Athabasca rainbow trout and bull trout.
Guilbeault is in Banff after spending Friday in Calgary meeting with oil industry representatives and Alberta Environment Minister Jason Nixon.
This report by The Canadian Press was first published Dec. 4, 2021.
The Canadian Press