Olympic Champion Mark Tewksbury unveils new exhibit at Alberta Sports Hall of Fame – The Halftime Report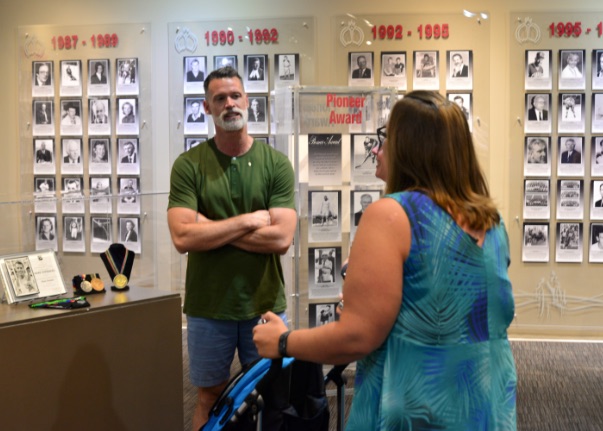 New 2SLGBTQIA+ exhibit, 'True to You in Sport', unveiled in Hall of Fame Gallery
The Alberta Sports Hall of Fame is thrilled to unveil our newest exhibit, "True to You in Sport", which examines the journeys and challenges faced by four of our Honoured Members who identify as 2SLGBTQIA+.
Honoured Member Mark Tewksbury and his partner, Rob Mabee, were on hand on July 9th to help us officially unveil the display.
The exhibit features artifacts and stories from Mark as well as fellow Honoured Members Danielle Peers, Keely Brown, and Kessie Stefayk.
"Every person should have the ability to pursue their dreams without fear of discrimination or prejudice based on age, race, religion, gender, or sexual identity. Unfortunately, this is not the case," says Breanna Suk, Collections and Exhibit Coordinator. "Many athletes have faced, and many still do, discrimination from sport organizations, team management, coaches and even fellow athletes for things they have no control over."
Located in the Hall of Fame Gallery, "True to You in Sport" is open from 9:00 am – 5:00 pm Monday through Friday, and from 10:00 am – 5:00 pm on weekends and select holidays.
Look who recently stopped by the Hall
Legendary Medicine Hat Tigers announcer Bob Ridley swung by the Hall on July 9 to drop off two mini banners celebrating his call of the 4,000 Tigers game of his career.

One will be added to the Alberta Sports Hall of Fame's collection, while the other will go to Hockey Alberta's Alberta Hockey Hall of Fame collection.
Greg Korbutt, son of Alberta Sports Hall of Fame visionary Orest Korbutt, was also by on July 9 to tour the Hall for the first time. Thanks for visiting, Greg!
Save the Date: Induction Banquet now scheduled for October 22 at RDC's Arts Centre
We are excited to announce that the 2020 Induction Banquet, which was postponed due to the COVID-19 Pandemic, is now scheduled for Friday, October 22 at Red Deer College's Arts Centre.
More details will be shared in the coming months.
Nominations are also now being accepted for next year's class of inductees. The deadline for applications is October 29, 2021.
Visit https://www.albertasportshall.ca/nominate for more information.
Exciting changes on Alberta Sports Hall of Fame Board of Directors
The Alberta Sports Hall of Fame is pleased to announce some
exciting changes to our Board of Directors following the Annual General Meeting held on June 29.
We would like to welcome new Board Chair Dale Henwood and new Vice-Chair Leslie Sproule to their new positions. Don Oszli remains Treasurer, and Jack Neumann is staying on as Secretary.
Also joining the Board are Calgary's Jasen Pratt and Innisfail's Desmond Bouteiller. Both men come from an extensive sports background, including high development sports coaching.
This newsletter is sponsored by the Peavey Mart.
Honoured Member in Focus: Donald Lovo
Donald Lovo won several Provincial and National Archery Championships.
From 1962 to 1965, he was a member of Canada's Elite International level team. He served as both Vice President and President of the Federation of Canadian Archers.
In 1968, Donald Lovo became the first Canadian to be recognized as an International Judge of Archery.
He has been awarded the Federation Internationale Target Archers gold and silver plaquettes and was honoured as Air Canada's Official of the Year in 1984.
Provincial Sport Organization: Archery Alberta
Archery Alberta is the source for target, field, and 3D archery in Alberta.
Archery Alberta, the trade name of the ATAA (Alberta Target Archers Association), is the recognized Provincial Sports Association representing archery in Alberta.
Archery Alberta facilitates the development of the sport of archery by providing accessible opportunities for clubs and archers to participate in a broad range of programs across multiple disciplines to whatever level they choose.
The Olympic Flames light a fire in athletes
The tradition of the Olympic Flame is one that connects the modern Games with their ancient Greek heritage.
The ancient gift of the flame was said to give humanity a start towards civilization.
In the modern Olympic Games, it signifies of that same myth, an ode to the growth of civilization, and the ancient traditions of the Games.
The modern Olympic Flame tradition as we know it today dates to the 1928 Olympic Games when the first Olympic flame was lit.
Honoured Member Keely Brown joins Ringette Canada's Junior National Team as assistant coach
Honoured Member Keely Brown is moving on up!
Ringette Canada announced on July 6 that Keely was joining the Junior National Team as an assistant coach working with the goalies.
Keely was inducted into the Alberta Sports Hall of Fame in 2018 as a ringette athlete. She played goal with Team Canada from 2000 – 2012 and is the longest-serving goaltender in the team's history.
Congratulations, Keely!
Are you ready to take your dates to a whole, new level?

Our new Date Night Out Monthly Charity Auction officially gets underway tomorrow.

Head to https://trellis.org/monthly-date-night-auction for this month's auction item, and check back regularly for new, exciting date options.
Golfers wanted!
We're looking for sponsors and golfers for the Annual Alberta Sports Hall of Fame Golf Tournament, which tees off on Tuesday, September 14 at the Innisfail Golf Course. This season, we will be partnering with the Innisfail Eagles Hockey Team.
Don't miss out on the opportunity to support the preservation of Alberta sports by playing at one of the province's crown jewels.
Call (403) 341-8614 or email [email protected].ca for more information.
Looking for fun and engaging programs for your kids this summer?
We will be hosting two camps this summer:July 19-23, 2021 & August 16-20, 2021. The sessions run from 9:00 am – 5:00 pm daily.
The Alberta Sports Hall of Fame will be hosting two week-long summer camps with daily themed programming ranging from Healthy Active Living to All About Art and everything in between.
Register for a day or the whole week!
$30/ day or $125/week per child, Ages 6-12yrs.
Call 403-341-3814 to register your child today- Space is limited.
**Our decision-making process is based on directives given by the Government of Alberta and Alberta Health Services. As the COVID-19 situation progress over the next two months, so will our plans.**
Leave a legacy​
The Alberta Sports Hall of Fame needs your support to continue the ongoing preservation of Alberta's sports history and the development of museum exhibits. We are grateful and appreciative of the generosity of our supporters and friends. We would be happy to assist you in choosing how your personal legacy will be fulfilled and the many options available. Here is some information on donating shares to ASHFM and the benefits to you as a donor.
Police looking for these 3 suspects after Super 8 Motel in Innisfail robbed early Monday morning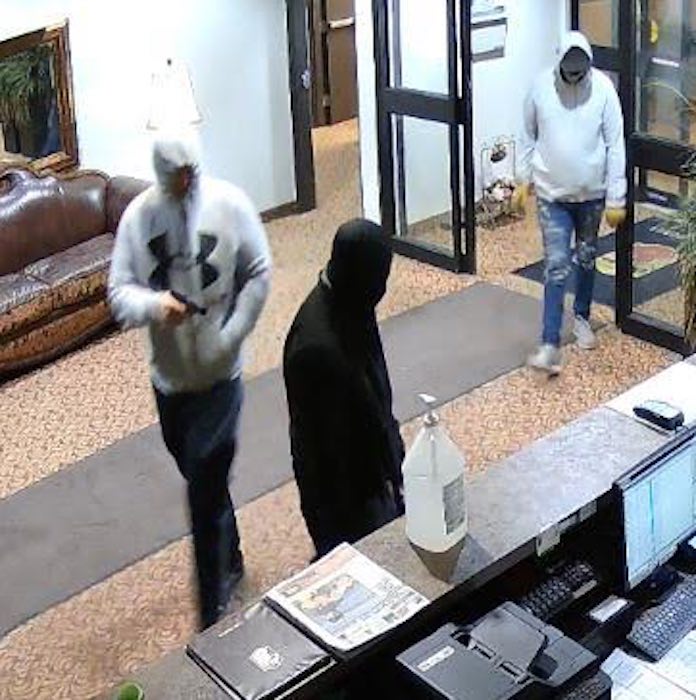 Innisfail RCMP investigate robbery
Innisfail Ala. – On May 29, 2023, at approximately 4:10 a.m., the Super 8 motel in Innisfail was the victim of an armed robbery. Three male suspects entered the hotel, two of which had firearms. Money was demanded from the manager. All three left the motel in a vehicle which is described as:
Chevrolet Dura Max truck
Sliver
Lifted
The suspects are described as:
Suspect #1: Caucasian male, tall and muscular. Wearing jeans and a grey Under Armour hoody. He was carrying a pistol.
Suspect #2: Caucasian male, short. Wearing all black. He was carrying a sawed off shotgun
Suspect #3: Caucasian male tall with a chubby belly. He was wearing a grey hoody, jeans and a black ball hat.
If you have information about this incident, please call the Innisfail RCMP at 403-227-3341 or call your local police. If you want to remain anonymous, you can contact Crime Stoppers by phone at 1-800-222-8477 (TIPS), by internet atwww.tipsubmit.com, or by SMS (check your local Crime Stoppers www.crimestoppers.ab.ca for instructions).
'Tragic accident' blamed for recent death of giraffe at Calgary Zoo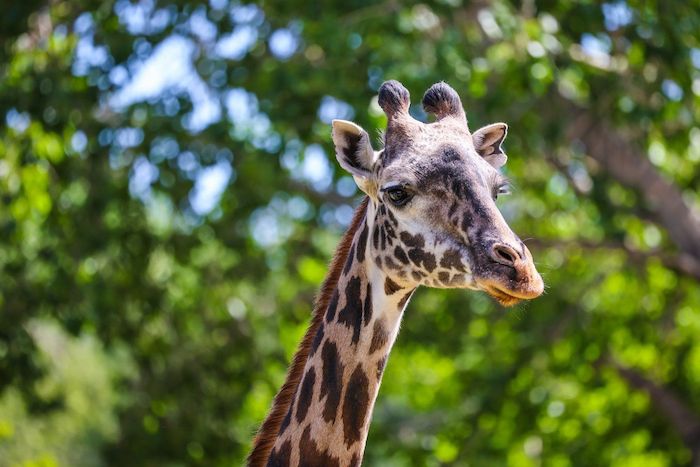 The Wilder Institute/Calgary Zoo says a "tragic accident" led to the recent death of an adult Masai giraffe. A statement from the zoo says the female giraffe named Emara died May 19 after tangling one of her horns on a cable surrounding her enclosure. THE CANADIAN PRESS/HO-Wilder Institute/Calgary Zoo-Sergei Belskey
Calgary
The Calgary Zoo says a "tragic accident" led to the recent death of one of its adult Masai giraffes.
A statement from the zoo says a female giraffe named Emara died May 19 after tangling one of her horns in a cable surrounding her enclosure.
The statement says a necropsy revealed Emara fell against the enclosure fence and died almost instantly of a broken neck.
Emara, who had just turned 12, came to Calgary from the San Diego Zoo in 2016.
The statement says she was a treasured member at the zoo and was known for her cautious yet curious personality and gentle nature.
The zoo says it is checking fencing within its African Savannah Yard enclosure to see if changes are needed to better protect the other giraffes and animals that share the space.
Doug Whiteside, interim associate director of animal care and welfare at the zoo, said Emara was in her prime and was in excellent health when she died.
"Major life changes such as this not only affect our people but can affect our animal residents as well," Whiteside said in the statement Monday.
He said the zoo's remaining giraffes, Nabo and Moshi, are doing well.
Grief counsellors are being made available to Emara's caregivers and other zoo staff.
This report by The Canadian Press was first published May 29, 2023.