NHL Stardom: It's A Money Thing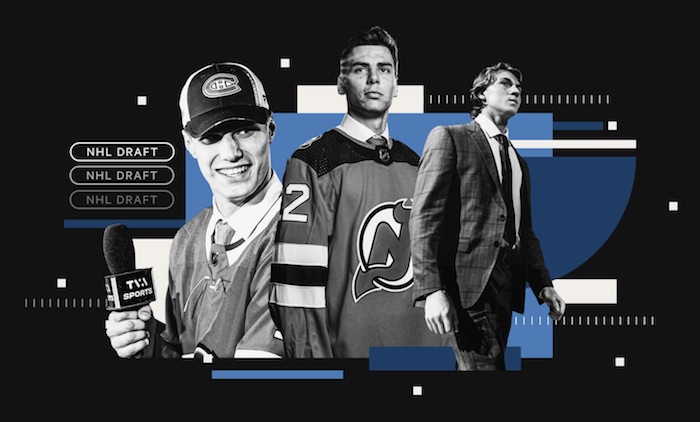 [Sign up today for Not The Public Broadcaster newsletters. Hot takes and cool slants on sports and current affairs. Have the latest columns delivered to your mail box. Tell your friends to join, too. Always provocative, always independent.]
One of the striking observations from the otherwise uneventful #nhldraft2022 was how homogenous the kids were from a social POV. These weren't humble farm boys and blue-collar sloggers. This wasn't J.C. Tremblay, one of 13 kids from Bagotville, Quebec, or Gordie Howe from tiny Floral, Saskatchewan. These prospects were middle-, upper-middle class products of a multi-million dollar development process. It's not a sport for paupers.
It also helps to have a parent or supporter who's been in the hockey industry, too. Brad Lambert, drafted by Winnipeg in the first round, is the nephew of NY Islanders coach Lane Lambert. St. Louis pick Jimmy Snuggerrud is a third-generation player who father Dave played four NHL seasons. Etc.
As we asked in August of 2021 , "Are today's superstars a product of more than talent? Are they also the products of an expensive, exclusive grooming process that leaves the Bobby Hull farm-boy archetype in the dust?
One hint of the benefit of having access to resources and people within the hockey industry is the annual spate of sons of former NHLers now being drafted each summer. In the recent draft, there was a plethora of progeny selected, many at the very top of the draft. No other league has such a high percentage of sons being selected.
There have always been a few NHL father/ son duos. Gordie Howe's boys and Bobby and Brett Hull spring to mind. But they were not as pervasive in the league as they are today. Witness the 2021 Draft that saw a host of familiar family names getting new surnames.
Cole Sillinger (Mike), Tyler Boucher (Brian), Josh Doan (Shane), Redmond Savage (Brian), Ryan St. Louis (Martin); Shane Lachance (Scott); Nick Malik, Marek), Justin Robidas, (Stephane), Jackson Blake (Jason) and Chase Stillman (Cory) were among the sons of famous fathers drafted. Others were signed as free agents.
It was no fluke. A glance around the NHL shows many sons of former stars getting steady work. Matthew and Brady Tkachuk (Keith), Kasperi Kapanen (Sami), Brandon Sutter (Brent), William and Alex Nylander (Michael), Sam Reinhart (Paul), Max Domi (Tie), Samuel Poulin (Patrick), Tag Bertuzzi (Todd), Ryan Johnson (Craig), Tyson Barrie (Len), Landon Ferraro (Ray), Marcus and Nick Foligno (Mike), Nolan Foote (Cal), Ryan MacInnis (Al) Brendan Lemieux (Claude), Ryan Donato (Ted), Daniel Audette (Donald) and Dominic Turgeon, (Pierre) are just a sampling of the direct relationship between father and sons.
The hockey pipeline is full of young men whose fathers could give them a hockey education but who also knew many of right people to tap into. The sophisticated training and arduous diet regimes are getting more like Tom Brady and less like Gump Worsley. And they're expensive— even in Howe's home nation of Canada which honours its roots.
This discipline and access is reflected in the United States where the boom in hockey participation is resulting not in farm boys and rink rats but in privileged sons and daughters of highly paid NHL stars getting an inside track on make the league or the Olympics.
NHL veterans in both the U.S., Europe and Canada know the inner workings of agents, independent training academies and skill trainers to help their sons past some of the highest hurdles in development. If they handled their millions properly they also have the funds to open doors for young stars.
As we wrote in this obit for Walter Gretzky, the elite training he gave Wayne has spawned many costly and hard-to-access training methods for people like him, a former telephone technician.
"With the success of Gretzky's training model— plus the importation of European skill training— families realized that if their sons and daughters wanted to be world-class athletes they were going to have to reject the Don Cherry "Try Harder" school and imitate the techniques Gretzky had used on his son. Within a decade, getting the proper coaching and fitness to become a star became a growth industry.
Power skating, off-ice training, ice rentals, new equipment, travel and coaching all became necessary to get a leg up on the competition. It was also very expensive. Having the resources to send your child to the top fitness gurus like Gary Roberts or to place them in a school like Shattuck St. Marys (as Sidney Crosby was) becomes a process costing tens— or hundreds— of thousands of dollars.
Author Malcolm Gladwell popularized the notion of taking 10,000 hours to translate talent into the finished product of a genius. It takes money to allow a young person that time, money that only a select number of families can provide. If you are a child in a single-income home or in a remote part of the country away from facilities, equipping and training a young prospect quickly gets out of the reach of parents of modest means.
Perhaps the most telling development story was that of Montreal goalie Carey Price, whose father bought a $13,000 four-seat Piper Cherokee plane to fly young Carey back and forth 320 kilometres to hockey practices all winter in northern B.C.
Where the NHL was predominantly players from blue-collar backgrounds till the Euros arrived in the 1970s, today it is often constituted of young men from families of means and education. The idea of the farming father of the six Sutter brothers affording his sons' training today is highly improbable. Today's NHL has a number of college-educated players and products of dedicated European training.
In that way, through no fault of Walter Gretzky, hockey has become a sport for families of means or friends with means. He taught parents that the proper training and equipment was imperative. And that doesn't mean simply the rink in your backyard. When a new pair of skates cost $500, a stick costs $125 or a set of goalie equipment runs into thousands of dollars you are losing a segment of the population to financial costs. And so Walter's legacy of training development is forever tied to a big price tag."
To say nothing of the progeny of NHL stars helping give their kids a hand-up in making it to the league and its vast piggy bank.
Bruce Dowbiggin @dowbboy is the editor of Not The Public Broadcaster (http://www.notthepublicbroadcaster.com). The best-selling author was nominated for the BBN Business Book award of 2020 for Personal Account with Tony Comper. A two-time winner of the Gemini Award as Canada's top television sports broadcaster, he's also a regular contributor to Sirius XM Canada Talks Ch. 167. His new book with his son Evan Inexact Science: The Six Most Compelling Draft Years In NHL History is now available on http://brucedowbigginbooks.ca/book-personalaccount.aspx
Pop Quiz: You Know You're A Woke Punchline When…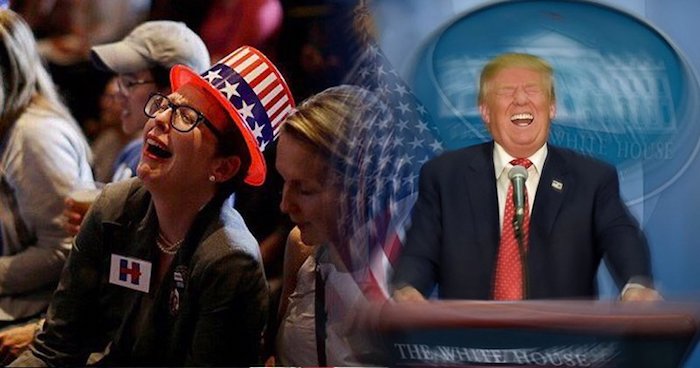 "Do unto others as you would have them do unto you." They can be powerful words to live by. Live-and-let-live has underpinned much of the Judeo/Christian tradition. It also informs many of the world's other religions. For secular people the sentiment works just as well.
If you want to be loved and respected then you must extend love and respect in equal measures to those of whom you're not all that fond. It is both a brake on hubris and an inspiration to our "better angels". While that balance has been observed more in the breach than in the commission at times, live-and-let-live nonetheless still provides a path to mutual co-existence.
There was a time when that balance guided society. Or, as they like to say, the Good Old Days. Now, the needle monitoring live-and-let-live swings like a Hillary Clinton polygraph. If you're with safe-space generation, no micro aggression is too small, no affront to LGBTQ-2 too slight to put off national calamity, no enemy too small to squash.
Woke causes replace empathy in the daily conversation. Why? Journalist Michael Shellenberger says apocalyptic behaviour "provides psychological comfort to secular Western people who have gradually abandoned traditional religions. For over a century, sociologists and psychologists have documented rising rates of depression and anxiety… Is it a coincidence that the people who said Western civilization was unsustainable are making it so?"
Not everyone has succumbed. How can you tell? In the spirit of comedian Jeff Foxworthy's "You might be as redneck if…" here is your guide to discovering if you have become a Woke punchline.
If you've forgiven Japan and Germany for the atrocities they inflicted on the world in the 1940s but you can't get past Sir John A. Macdonald putting the railway through the land of the Sioux, Blackfoot and Lakota… you might be a Woke punchline.
If you are concerned about world over-population but you're nagging your kids about when they will make you grandparents… you might be a Woke punchline.
If you're so sensitive about killing animals for food that you go extreme vegan but then attend a Pro-Choice rally in a T-shirt bragging about how many abortions you've had…you might be a Woke punchline.
If you're in favour of Trudeau's aggressive immigration policy but then your kids say they can't afford to buy a home in a large Canadian centre… you might be a Woke punchline.
If you try to convince friends at a dinner party that Trudeau's Carbon Tax really does fight global warming but your monthly hydro bill triples… you might be a Woke punchline.
If you think Trudeau family friends are the best people to investigate him ignoring CSIS warnings about China but you think Pierre Polievre is a little too cozy with the international forces of Qanon… you might be a Woke punchline.
If you believe Doug Ford is trying to dismantle free healthcare but then act indignant with the boys at beer-league hockey that you can't get your knee fixed for over two years… you might be a Woke punchline.
If you think Stephen Colbert is still funny, but think that Bill Maher is now sounding like a January 6 insurrectionist… you might be a Woke punchline.
If you think banning Muslim and Sikh symbols is racist but Quebec doing the same is their cultural right… you might be a Woke punchline.
If you think the B.C. government will cure drug addiction by giving addicts a cozy place to shoot up but you tell people at work that you can't go downtown anymore for all the junkies blocking the Starbucks entrance… you might be a Woke punchline.
If you firmly believe the prime minister is trying to keep a lid on inflation but you protest that Galen Weston is gouging you on food prices… you might be a Woke punchline.
If you donate to Save The Children but then buy a $350 pair of running shoes made by children in Asian sweatshops… … you might be a Woke punchline.
If you think career criminal George Floyd is a martyr but Egerton Ryerson is a genocidal racist… you might be a Woke punchline.
If you think today's academic standards aren't what they once were but then you go to school to berate the teacher for not communicating the curriculum properly to your indulged child… you might be a Woke punchline.
If you get to the bottom of this column without recognizing yourself in any of these contradictions… you might be a Woke punchline.
Sign up today for Not The Public Broadcaster newsletters. Hot takes/ cool slants on sports and current affairs. Have the latest columns delivered to your mail box. Tell your friends to join, too. Always provocative, always independent. https://share.hsforms.com/16edbhhC3TTKg6jAaRyP7rActsj5
Bruce Dowbiggin @dowbboy is the editor of Not The Public Broadcaster A two-time winner of the Gemini Award as Canada's top television sports broadcaster, he's a regular contributor to Sirius XM Canada Talks Ch. 167. Inexact Science: The Six Most Compelling Draft Years In NHL History, his new book with his son Evan, was voted the seventh-best professional hockey book of all time by bookauthority.org . His 2004 book Money Players was voted sixth best on the same list, and is available via http://brucedowbigginbooks.ca/book-personalaccount.aspx
NHL: Everyone Wears The Ribbon Part Deux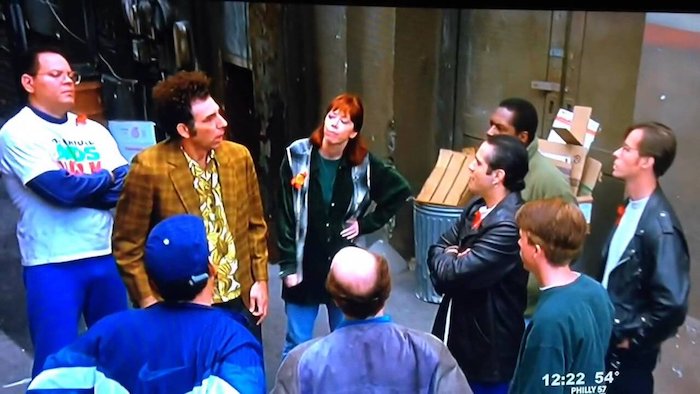 In the classic 1987 Seinfeld episode The Sponge, Kramer is harassed by AIDS Walk organizers for refusing to wear a ribbon as he walks in the event
VOLUNTEER: But you have to wear an AIDS ribbon.
KRAMER: I have to?
VOLUNTEER: Yes.
KRAMER: Yeah, see, that's why I don't want to.
VOLUNTEER: But everyone wears the ribbon. You must wear the ribbon!
KRAMER: You know what you are? You're a ribbon bully (walks away).
Kramer supports AIDS research, but he doesn't support meaningless symbols. So some aggressive AIDS walkers eventually track him down and beat him in an alley for not going along with the mob. Comedian and curmudgeon George Carlin summed up Kramer's resistance: "Religion is like a pair of shoes…..Find one that fits for you, but don't make me wear your shoes." But these days you must wear the shoes of the cool kids or suffer the consequences.
Naturally, progressives pushing their myriad causes fail to see the irony— even as they laugh at the skit. Since when was it a cultural crime that 100 percent of people don't agree on any position? You don't demand everyone eat meat, worship God or write with your left hand. Why do we demand unanimity on Woke catechism? But white- guilt liberals now look for any excuse for indignation.
The last group you'd have expected to adopt the You Must Wear A Ribbon tactic is the NHL. But no, the league that forgot Don Cherry is once again forcing its sanctity on players who dare to say "No, thanks" to wearing LGBTQ+2 sweaters as part of inclusivity promotions. This time San Jose goalie James Reimer said his Christian religious beliefs preclude him from taking part in their costume drama.
Needless to say the cascade of "homophobia" and "intolerance" cries from the AIDS walkers… er, the LGBTQ+2 media lobby… came down on Reimer's head. His team and the league huffed and puffed about their virtue, but, thankfully, declined the calls for Reimer to be perp-walked to centre ice. Social media was another story, insisting he wear the ribbon.
Here's what we wrote in January, the last time the NHL virtue soldiers jammed their holiness down other people's throats over a Philadelphia Flyer who said, "Nyet". "As Canada's Justice Minister in the 1960s, Pierre Trudeau articulated the essence of liberal tolerance with his "government has no place in the bedrooms of the nation". Sixty years later, PET's son Justin would like to amend that to "the government has no place in the bedrooms of the nation— unless those people are saying nasty things about me."
What once was a proud definition of liberty has transformed into a confidence game run for the Woke elite and its friends in the Media Party. Example this week: The Philadelphia Flyers— in keeping with their conversion to ESG colossus— staged a Gay Pride night. As part of the promotion they wore rainbow-coloured jerseys in warmup.
All except Ivan Provorov, who is Russian Orthodox. His religion is not slack-jawed with Progressive awe at same-sex marriage. So (while he wished no one ill), he refused to join the parade. Cue the Church ladies of the sporting press. "Adam Proteau: Ivan Provorov has the right to any opinion he chooses. And we have the right to have any opinion on Ivan Provorov that we choose. Like this: he's a shameful human being whose homophobia is only going to get more shameful over the years."
Fine. Then answer this: If an NHL team held a Christian night, and players were forced to wear jerseys with a crucifix, would you defend a player who opted out because of his conscience? Or would you go full Proteau and say he's a "shameful human being whose religious intolerance is only going to get more shameful over the years"?
No one in the chattering class wants to take that on, of course. They don't see that rights that work for them also must work for people they consider heretics… Meanwhile, the unwashed mass… responded with their wallets. Provorov jerseys sold out on the NHL Shop and Fanatic."
But your elites want everyone to wear the ribbon. Or take a vaccine. Or wear a mask. Or, in the case of this December column, the NHL announcing it's now a non-binary league. "… the NHL's sudden conversion to trans orthodoxy is also highly instructive on how deep the tentacles of this ideology have attached themselves in ordinary culture. The NHL? Men-as-women playing against biological women? Until this radical chic agitprop thrust itself to the fore the last few years this was unthinkable for the NHL or its fans. Laughable. Fantastical.
But now you have a league HQ embedded in the heart of Manhattan— where the global media, business and arts community have already succumbed to the intimidation of cultural blackmail. The NHL's sponsors, suppliers, broadcast partners and just plain neighbours have also taken the Trans Kool Aid. At some point the NHL's surrender must have seemed inevitable— even for a league that asks its employees to never back down to bullies.
Seeing Bettman— who has epitomized stubborn resistance in his denial of the science of CTE brain trauma— crumble before the forces of approved speech is instructive to those who think this leaky scow can still be turned around quickly. Or that the forces of objective media might raise a whimper about being."
Media so embedded in its own vanity it hurts. "Sticks and stones may hurt journalists' bones but names are first-degree murder. So save a prayer for poor Mr. Bettman. He held out longer than some before accepting the white guilt hemlock. Having known his desire to be the longest-serving commissioner in history he's probably now wishing he'd quit his job three seasons ago. Because he'll never wash away his cisgender privilege now."
It's telling that the thought police have made organized religion an underdog. James Reimer wanted nothing more than to be left alone with his Christian beliefs. In 2023 that is enough to get you cancelled.
Sign up today for Not The Public Broadcaster newsletters. Hot takes/ cool slants on sports and current affairs. Have the latest columns delivered to your mail box. Tell your friends to join, too. Always provocative, always independent. https://share.hsforms.com/16edbhhC3TTKg6jAaRyP7rActsj5
Bruce Dowbiggin @dowbboy is the editor of Not The Public Broadcaster A two-time winner of the Gemini Award as Canada's top television sports broadcaster, he's a regular contributor to Sirius XM Canada Talks Ch. 167. Inexact Science: The Six Most Compelling Draft Years In NHL History, his new book with his son Evan, was voted the fifth-best professional hockey book of all time by bookauthority.org. His 2004 book Money Players was voted sixth best on the same list, and is available via http://brucedowbigginbooks.ca/book-personalaccount.aspx