LISTEN: My date with self-isolation amid the Covid 19 scare – J'Lyn Nye Interview
I was happy to join J'Lyn Nye today on 630 CHED to discuss this. Here is a link to the interview.
It's funny how these things go. I don't buy lottery tickets so it's only fitting that I would be one of the 4.5 million Albertans who may have come into contact with one of Alberta's seven confirmed cases of Covid 19 (Coronavirus Disease). You can do the math if you're an oddsmaker.
It started with a phone call late yesterday afternoon from a nurse in the contagious disease unit at AHS. She informed me that a person who had tested positive for the virus had been at a place of business in Leduc at the same time I had been there for an appointment.
After asking a number of questions about how I was feeling, she told me that they'd like me to "self-isolate" for 14 days. During that time, I should take my temperature twice a day and if I develop any symptoms, to call and they'd arrange for a test. There really is no treatment at this point as a vaccine is yet to be developed and will likely be another 12-18 months away from widespread use.
So here I sit. Do I self-isolate? Do I go about my business? I'm a healthy guy. I've only had the flu once in my lifetime that I can remember, so what are the chances that I might test positive for this? Again, I'm not an oddsmaker, and certainly not a doctor. In fact, it's not like the flu at all so that's a useless comparison. The chances are probably slim. So I look at my calendar. Reality is that I'm lucky. I operate a digital media platform and literally 100% of my work can be done online if needed. I work from home 80% of the time, leaving the house for various business appointments and social events. Luckily my calendar is light with nothing that can't be moved or dealt with online.
There is one niggly thing though. A recording session this coming Sunday with a band I sometimes play guitar with in Central Alberta. By Sunday, I should be virtually good to go, that being day 12 after my potential contact. It took a lot of schedule bashing to pull everyone together to do this session. Maybe I should just risk it and not tell anyone. And then I think about that … none of my bandmates are getting any younger, in fact, if I'm facing reality, we're probably all in that age sweet spot where we're most-susceptible.
Ok, decision made. Postpone the session. Schedule is now clear except for a couple of sundry tasks that can be accomplished with limited help from some friends.
But … then I think about if I worked at a job where I don't get paid unless I show up to work. Maybe I'm a contractor. Maybe I have a family and am the sole income earner, or I'm a single parent working two part time jobs. I'm not sure I would make the same decision. I mean, seriously, I feel fine. Not even a sniffle. Would I stay home? Or go make some money to pay my monthend bills? I'm happy I don't have to make that decision.
"… Another thing I've thought quite a bit about is toilet paper…"
I've now had 18 hours to process all of this and think it through. I must admit, I've never really thought that much about how a disease spreads, other than notionally knowing it happens through various forms of contact, and I think is more prone to spread in certain environments; heavily populated, warm, humid conditions, etc. A scientist I am not.
My date with self-isolation has given me a very real opportunity to reflect on my own travels and interactions since having potentially being exposed to the virus eight days ago. With this newfound time in my schedule, I've had a chance to think this through. Since yesterday afternoon, I've taken myself out of circulation. I have eliminated my risk to others. With luck I won't test positive, and everyone in my circle will be spared from self-isolation. I will pull out a guitar and work on the material for the session we postponed. Overall, I'm starting to feel pretty good about my decision.
"…I wonder, can our system possibly get on top of this? It feels like a hopeless task, yet we have to try, right?…"
But what if, just what if, I become Positive Confirmation #8 in the province? Suddenly, everyone I've been around since March 3rd becomes of interest. Is Arnie at risk? I attended the Power of Success show last Thursday in Edmonton with Arnold Schwarzenegger and Friends. Lucky for them I couldn't afford the Platinum ticket that would have given me the opportunity shake Arnie's hand and get my picture taken with the man himself. I'd certainly have been within 2 meters, and I know we would have had a proper and firm handshake.
"…There will no doubt be businesses that close as a result of this- some for good…"
Oh. Something else … the long-term care home I where I visited my Dad and his wife this past Sunday? That could get messy, considering I also spent time with his doctor, one of the few in the area.
Or the auto repair shop I limped my sick car to yesterday morning after taking out both rims on the right side Sunday when I tangled with one of the ridiculously large and dangerous potholes at 110 kph on Highway 43. (That's a whole other rant!)
The list goes on. As I think of the permutations and potential for chaos, it's sobering. How quickly this can spread here is yet to be seen. It doesn't spread through the air like measles, but it does spread through contact, or droplets generated by a sneeze or cough, and can live on surfaces we touch. Washing hands and cleaning surfaces is critical to helping stop the spread, and that's just basic common sense anyway.
"However, it can spread person to person by larger droplets, like from a cough or sneeze, or by touching contaminated objects, then touching your eyes, nose or mouth," says Dr. Deena Hinshaw, Alberta's chief medical officer of health.
I wonder, can our system possibly get on top of this? It feels like a hopeless task, yet we have to try, right? Maybe geting on top of it isn't possible. But can we slow the spread with a precaution like I'm being asked to take? Yes we can. But what else has to happen if we're to make the mitigation effort as effective as possible?
There will no doubt be businesses that close as a result of this- some for good. Think about it. If I go for a coffee everyday at my favourite coffee shop, but because my employer has asked us all to work from home, that coffee shop owner is going to miss out on my $3 bucks a day. And let's say that happens for 2 weeks. That's ten cups of coffee, or $30 dollars. I'm not going to go in on the first day back and buy ten cups of coffee. No, I'll buy one. That money is lost. Multiply that by 100 customers a day and the numbers can add up to a point where many small businesses can't survive.
There needs to be programs to help them recover. Maybe there are already. What about for the wage earner who has to take time off work to self isolate and make the community safer for everyone else. Is there a program to help them reover their lost wages? How long will that take to put money back in their wallets should they make the sacrifice for the safety of the community? If we're serious about mitigation, we will need to really think about how to deal with the downstream consequences.
This isn't survival of the fittest. We need those employers and their employees to get through this and be there when this passes, or we'll be in even worse shape.
Another thing I've thought quite a bit about is toilet paper.
Although this is a new virus and research is only starting to be evaluated, it appears to affect respiratory function more so than gastronomic function, though again, it's pretty early to know for sure. But best I can tell, there is no way that I need to have a year's supply of toilet paper on hand. I can see having more than normal, just in case things get out of hand. But to be hoarding it for some weird survivalistic reason, especially against a backdrop of short-term supply shortages exacerbated by recent rail blockages seems … well, just completely irrational to me. Settle down, there's more coming! And hey, if you're sick enough to go through that much toilet paper, there may be even more wrong with you and you'll probably be in a hospital. Show a little kindness for the butts of your neighbours. Like that old joke "…Dick's a hoarder. Don't be a Dick…"
Seriously, take a moment and give this a bit of thought. This can change pretty fast, like it did for me. A phone call. And then you don't go out again for up to 14 days. So think in terms of a 3 week supply of things you'll need. If you're alone and have nobody to help you, then you'll need to be even more diligent in planning.
I'll let you know how it goes. Hopefully I'll see you in a couple of weeks!
Here is a link with helpful tips that will help you make an appropriate plan.
From the Government of Canada:
If COVID-19 becomes common in your community, you will want to have thought about how to change your behaviours and routines to reduce the risk of infection.
Your plan should include how you can change your regular habits to reduce your exposure to crowded places. For example, you may:
do your grocery shopping at off-peak hours
commute by public transit outside of the busy rush hour
opt to exercise outdoors instead of in an indoor fitness class
Your plan should also include what you will do if you become sick. If you are a caregiver of children or other dependents, you will want to have thought ahead to engage backup caregivers.
You should also think about what you will do if a member of your family becomes sick and needs care. Talk to your employer about working from home if you are needed to care for a family member at home. If you, yourself, become ill, stay home until you are no longer showing symptoms. Employers should not require a sick leave note as that will put added pressure on limited health care services.
Your plan should include shopping for supplies that you should have on hand at all times. This will ensure you do not need to leave your home while you are sick or busy caring for an ill family member.
Your plan should build on the kits you have prepared for other potential emergencies. For more information on how to prepare yourself and your family in the event of an emergency, please visit getprepared.ca.
Read more on Todayville Edmonton.
This article was originally published on March 10th, 2020.
'A crisis': Calgary charity seeks one-month homes for Ukrainian refugees after influx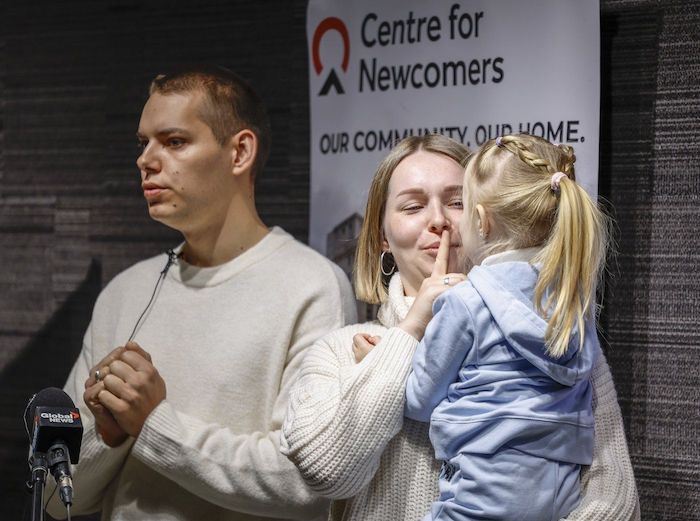 Ukrainian evacuees Dmytro Syrman, left, his wife, Anastasiia, centre, and their four-year-old daughter Varvara attend a news conference highlighting the need for temporary housing in Calgary on Wednesday, March 29, 2023. THE CANADIAN PRESS/Jeff McIntosh
By Bill Graveland in Calgary
After six months under Russian occupation, Dmytro Syrman and his family decided to flee Ukraine for a safer life abroad and are now in Calgary.
The family lived in Dniprorudne, a mining city of 17,000 in southern Ukraine. Syrman worked as a human resources manager at an iron factory.
In August, Syrman, his wife, Anastasiia, and four-year-old daughter Varvara embarked on a six-day, 3,000-kilometre drive to Poland.
"On the 24 of February, when the Russian army attacked Ukraine and occupied our city in March 2022, we lost everything," Syrman said Wednesday.
He said they began planning their escape when they realized Russian soldiers weren't leaving their city.
"We started all of this because we were scared for Varvara," he said. "When Russian bombs were falling near our city it was really scary."
Their home is still under Russian occupation.
For the past year the family stayed in Poland, sent in their paperwork to come to Canada, and two weeks ago arrived in Calgary.
They're now staying with a host family for a month while they look for long-term accommodation and to find jobs.
"We are here and starting a new life. We can't believe about people who don't know us and many helped us. We're really shocked," Syrman said.
The Syrmans were helped by Calgary's Centre for Newcomers, which started a campaign to find 100 hosts for Ukrainian families or individuals for a month while they find housing of their own.
Kelly Ernst, chief program officer with the centre, said there has been a flood of Ukrainians trying to take advantage of a federal program that allows them to temporarily resettle in Canada.
The Canada-Ukraine Authorization for Emergency Travel program has been extended until July and Ernst said he expects people will continue to flee the war-torn country.
"We're in a desperate, dire need at the moment for host homes to try to accommodate the evacuees coming from Ukraine. It's reaching the proportions of being a crisis moment," said Ernst.
He said people arriving elsewhere in Canada are migrating to Calgary because the rents are lower than in larger cities such as Toronto and Vancouver.
Ernst said approximately 450 people have been arriving in Calgary every week from Ukraine and his organization has helped people staying nights in the airport, off the street and at homeless shelters.
Natalia Shem, who is the manager of housing for the Ukrainian evacuees, said it's difficult for the newcomers to find somewhere to live before arriving.
"It's almost impossible to find long-term rent being outside of Canada and people who come here need one month of stay," Shem said. "It's an average time a family can find long-term rent, job and settle down here in Canada."
This report by The Canadian Press was first published March 29, 2023.
Budget measures unlikely enough to spur major carbon capture investments: Experts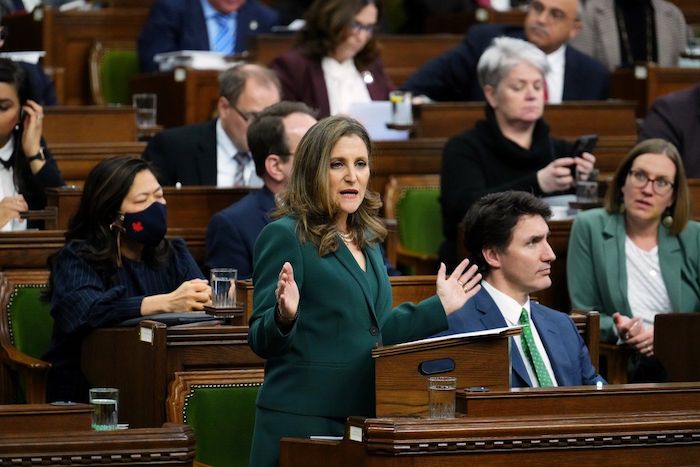 Deputy Prime Minister and Minister of Finance Chrystia Freeland delivers the federal budget in the House of Commons on Parliament Hill in Ottawa, Tuesday, March 28, 2023. Industry watchers say Tuesday's federal budget likely won't be enough to convince Canadian oil and gas companies to pull the trigger on expensive, emissions-reducing carbon capture and storage projects. THE CANADIAN PRESS/Sean Kilpatrick
By Amanda Stephenson in Calgary
A question mark continues to hang over the future of carbon capture and storage projects in Canada, in spite of a pledge in Tuesday's federal budget to deliver more investment certainty for major emissions-reducing projects.
"Look, we have set some very aggressive climate targets in Canada. You can't kick the can down the road," said carbon capture advocate James Millar, arguing that's exactly what the federal government did Tuesday when it provided no additional details around its previously stated intention to reduce the risk of investing in pricey emissions-reduction projects by essentially guaranteeing the future price of carbon.
"The difference comes down to investment certainty in the U.S., versus the promise of investment certainty in Canada."
As president and CEO of the International CCS (carbon capture and storage) Knowledge Centre, a non-profit organization based in Regina, Millar had been closely watching Tuesday's budget in hopes of obtaining more federal support for the expensive technology that can be used to trap harmful greenhouse gas emissions from industrial processes and store them safely underground.
Heavy emitters — in particular, the oil and gas sector — have identified carbon capture and storage technology as key to helping the sector meet its emissions reduction targets and have been looking for government incentives akin to what is being offered south of the border, where the U.S. Inflation Reduction Act promises to pay companies a guaranteed US$85 price for each tonne of injected carbon.
While Canada has already announced an investment tax credit that will help to offset some of the up-front capital costs of carbon capture projects, companies have so far been hesitant to pull the trigger and go ahead with proposed large-scale projects.
The Pathways Alliance, for example, a consortium of oilsands companies, has proposed building a $16.5-billion carbon capture and storage transportation line to combat emissions from existing oilsands infrastructure in northern Alberta.
But the group has not yet made a final investment decision, saying it needs to know its project will be competitive with those in the U.S. before proceeding.
One thing the oil and gas sector has said will help with that is some kind of mechanism that would reduce the risk to companies that the federal price on carbon could be lowered or eliminated. If a new government were to be elected and remove or change Canada's carbon pricing system, investing in expensive carbon-reducing technology could suddenly become uneconomical.
On Tuesday, the federal government reiterated that it intends to create such a mechanism through a so-called carbon contracts for difference system — but disappointed many who were hoping for details. Instead, the government announced it plans to begin consultations around the development of such a program.
Millar said while he doesn't doubt the government's good intentions, companies that have proposed large-scale projects need to get moving now if they have any hope of meeting Canada's goal to reduce this country's overall emissions by 40 per cent below 2005 levels by 2030 looms.
"We're already in 2023, we're seven years out. The consultations that were announced yesterday will take months," he said. "I think it will take at least a year because it's going to take time to set up the process."
The Pathways Alliance itself took a diplomatic tone Tuesday, issuing a statement after the tabling of the budget saying it was "encouraged" by the signal that more policy certainty is coming, and adding it looks forward to a "better understanding" of the government's intentions.
But Greg Pardy of RBC Capital said in a research note that in spite of some enhancements to the previously announced investment tax credit, budgetary support for carbon capture and storage was "somewhat limited — perhaps even disappointing."
"In our view, Canada's federal government needs to shift into much higher gear when it comes to incentivizing decarbonization investment if it is to achieve its bold climate change ambitions," Pardy said.
A report from BMO Capital Markets published just before the release of Tuesday's budget said Canada's policy framework for large-scale deployment of carbon capture and storage disadvantages producers here compared to the U.S., "despite claims to the contrary from some proponents of the environmental lobby."
Environmentalists have been critical of any additional federal support for carbon capture, calling it akin to a subsidy for oil and gas companies that enables them to increase production when the world should be scaling down fossil fuel usage.
But the BMO report said carbon capture is an essential part of the energy transition, and without offering improved incentives to keep up with the U.S., Canada risks not meeting its 2030 emissions reduction targets.
"Canada's market-based carbon price systems are much too uncertain to act as 'incentive' for industry to invest in major decarbonization projects," the BMO report stated.
"Emitters need financial supports that are tangible and recognized by financial institutions to underwrite bank financing."
This report by The Canadian Press was first published March 29, 2023.