Mission Update: A behind the scenes look at Alberta's Army Reservists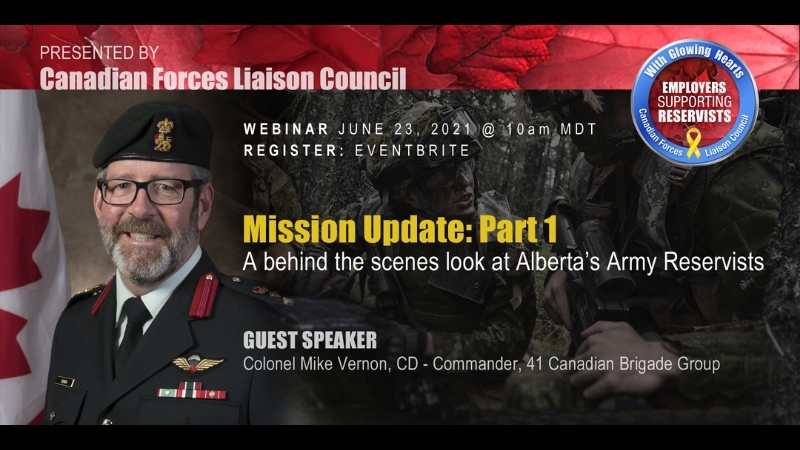 Submitted by: Canadian Forces Liaison Council
Join us for an informative webinar on June 23rd with guest speaker Colonel Mike Vernon, CD/Commander of 41 Canadian Brigade Group.
Learn more and register for Mission Update Part 1: A behind the senes look at Alberta's Army Reservists:
A behind the scenes look at who reservists are, what they do, and how the Alberta Reserve is preparing and training to support our communities and country when we need them most.
Numerous Alberta businesses employ individuals who are members of the Reserve Force. When Alberta faces a disaster – the Covid-19 Pandemic, fires, floods – reservists are asked to respond to the call and assist in the survival and support of our communities. Responding to these calls often pulls reservists away from their regular employment.
Reservists are skilled and talented people who are part-time "citizen soldiers", sailors and airmen/airwomen. In addition to their military responsibilities, they also work full time in the civilian workforce. They enhance corporate culture, small and large businesses, with the experience they have attained in the military. As a candidate for a position they have a well-earned skill set that goes above and beyond another candidate for the same role. If you already employ a Reservist, you know the benefits they bring to the workplace with both hard and soft skills.
The Canadian Armed Forces provide Reservists with world class training to develop key skills which form not only the foundations of an valuable Reservist but also a highly qualified employee. Employers benefit from their core skills and abilities such as leadership, teamwork, discipline, initiative, determination, problem solving, and the ability to work under pressure.
When you employ a Reservist, they bring their learnings from the military to your organization. In turn, they also contribute their workplace expertise when serving in the military. It's a win-win for both the organization and the Canadian Armed Forces. Reservists who serve help to provide a safe environment for businesses to thrive and is one of the very reasons many people are proud of our serving members.
The Basics
Reservists are members of the Canadian Armed Forces (CAF) who train and serve with the CAF on a part-time basis. They typically serve on weekday evenings and weekends. From time to time Reservists attend military courses and training that lasts one or two weeks and occasionally longer durations. Reservists have the opportunity to volunteer to serve on domestic and international operations on a full-time basis augmenting the regular component of the CAF. Through floods, fires or ice storms, Reservists are there to help and to keep communities and businesses operating. Their training provides both domestic response and international support – when you employ a Reservist, you in turn, are serving your country.
What is the With Glowing Hearts Initiative?
The With Glowing Hearts – Reservist Support Initiative is an HR program to attract and retain talented employees. The Canadian Armed Forces has trained over 25,000 Reservists who bring exceptional qualifications to an organization or business. Consider the Reserves as a talent pool to source potential employees to support company goals and initiatives. The initiative provides guidance and tools to support both Employers and Reservists and the good work they do together. Employing a Reservist is good for business and it makes your work, and workplace, better – With Glowing Hearts, we stand together supporting our community and country.
How does the program work?
It's simple – like any other HR initiative, the program becomes an offering to attract employees. For example, a company may already have a maternity leave policy in place, growth programs for leadership, or even policies for internships. The With Glowing Hearts – Reservist Support Initiative creates a "reserve-friendly" culture for an organization to attract, and keep, experienced and valued employees. The turnkey program assets can be used to create awareness through communication channels of choice.
What does the program include?
The program consists of the following elements:
Reservists 101: What Reservists offer Employers
"With Glowing Hearts" Reservist support customized certificate for Employers
"With Glowing Hearts" Employer/Reservist Recognition stickers
"With Glowing Hearts" Customized employer support icon (online use)
HR & FAQS: Q&A for employing Reservists
Military Leave Policy (MLP): Examples of MLP for small and large businesses
What's next?
How can I find out more information for my business?
Employers Supporting Reservists – Canadian Forces Liaison Council
Visit the website: https://www.canada.ca/en/department-national-defence/services/benefits-military/supporting-reservists-employers.html
Province wants everyone in Alberta to get a third shot
Expanding COVID-19 booster to all Albertans 18-plus
Expanded availability of third doses of COVID-19 vaccine will help Albertans increase their protection against COVID-19.
Starting Dec. 2, all Albertans aged 60 and older can book appointments for a booster dose of mRNA vaccine six months after receiving their second dose. First appointments will be available beginning Dec. 6.
All other Albertans aged 18-plus will be notified when the next age group is able to book appointments. Additional age groups will be announced as quickly as possible.
"I am pleased that we can offer booster doses to more Albertans. Millions of Albertans have rolled up their sleeves to have their best protection against COVID-19. While two doses continues to provide strong protection against severe outcomes, we will continue to push the federal government for supply to ensure all Albertans can receive their third doses to continue limiting COVID-19 infection and transmission."
"With the winter season increasing transmission risks, and more Albertans approaching the six-month milestone since receiving their second dose, the evidence supports expanding booster doses to add an additional layer of protection. Vaccines continue to be our best protection against COVID-19, and I continue to encourage Albertans to book their first, second and third doses as soon as they are eligible."
Current evidence indicates that vaccine effectiveness against COVID-19 infection appears to wane over time. While individual protection against severe outcomes remains strong after two doses for most people, there are still many in our communities who are completely unprotected, and third doses will help boost population protection and limit the spread of COVID-19.
Expansion of booster dose eligibility was informed by the advice of the Alberta Advisory Committee on Immunization.
Booking for booster doses
Effective Dec. 2, eligible individuals can book appointments for third doses online with participating pharmacies by using the Alberta vaccine booking system. Albertans can also call 811, participating pharmacies or participating physicians' offices. The first appointments will be available starting Dec. 6.
Booster eligibility is based on birth date. Albertans who are 59 turning 60, and First Nation, Métis or Inuit individuals who are 17 turning 18, are asked to not book appointments before their birthday.
Albertans who were previously eligible for third doses continue to be able to book their appointments.
Albertans eligible for additional doses
Albertans eligible for additional doses now include:
Eligible at least six months after receiving their second dose:
Albertans aged 60-plus
First Nations, Métis and Inuit people aged 18-plus
Health-care workers providing direct patient care and who received their second dose less than eight weeks after their first dose
Individuals who received two doses of AstraZeneca or one dose of Janssen vaccine
Eligible at least five months after receiving their second dose:
Seniors living in congregate care
Eligible at least eight weeks after receiving their second dose:
Individuals with eligible immunocompromising conditions
Quick facts
To date, 378,507 Albertans have received a third dose of COVID-19 vaccine.
84.1 per cent of eligible Albertans 12 years of age and older have received two doses of COVID-19 vaccine while 88.8 per cent have received at least one dose.
Cargill, union reach tentative deal that could avert strike at High River meat plant
CALGARY — The union representing workers at the meat-packing plant that was the site of one of Canada's largest COVID-19 outbreaks says it's reached a tentative deal with Cargill Inc., just days before a looming strike deadline.
The United Food and Commercial Workers Union Local 401, which represents about 2,000 workers at the Cargill meat-packing plant in High River, Alta., said Wednesday it is recommending its members accept the latest contract offer from the company.
In a statement on its website, the union said the new contract offer, if ratified on Saturday, would be the best food processing contract in Canada.
"It is a dramatic improvement from the offer that union members saw last week and will significantly improve Cargill workers' lives," the statement said.
In an email, Cargill spokesman Daniel Sullivan said the company is offering a six-year collective agreement that includes retroactive pay, signing bonuses, a 21 per cent wage increase over the life of the contract and improved health benefits.
"We remain optimistic we can [ratify the] deal before the strike deadline and encourage employees to vote on this offer," Sullivan said.
Cargill and the union have been at loggerheads for some time over issues related to wages as well as health and safety. Workers voted 98 per cent last week against Cargill's previous offer, and the union had said workers would strike on Monday if a contract agreement couldn't be reached.
In addition to a significant wage increase, the proposed deal being recommended now also offers workers a $1,000 signing bonus and a $1,000 "COVID-19 bonus," the union said Wednesday. It also contains "significant contract provisions to facilitate a new culture of health, safety, dignity, and respect in the workplace."
In May of 2020, Cargill's High River plant was the site of a major workplace-related outbreak of COVID-19. More than 900 workers tested positive for the virus, and three deaths were linked to the outbreak.
The Cargill High River plant processes 35 per cent of Canada's beef production.
This report by The Canadian Press was first published Dec. 1, 2021.
Amanda Stephenson, The Canadian Press