Mission Update: A behind the scenes look at Alberta's Army Reservists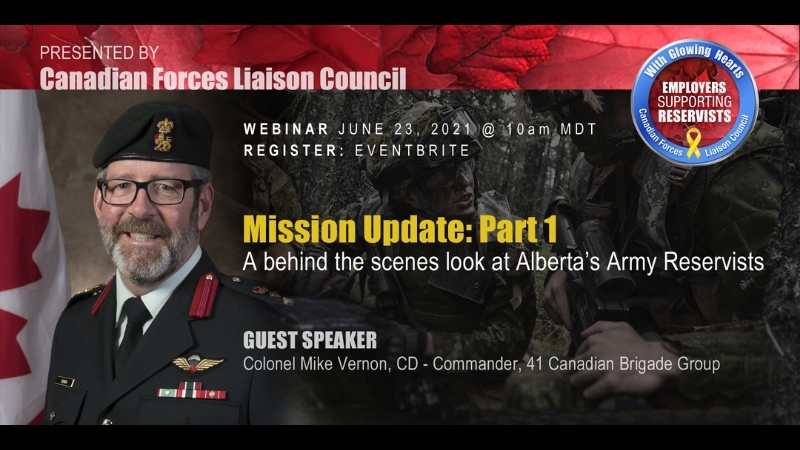 Submitted by: Canadian Forces Liaison Council
Join us for an informative webinar on June 23rd with guest speaker Colonel Mike Vernon, CD/Commander of 41 Canadian Brigade Group.
Learn more and register for Mission Update Part 1: A behind the senes look at Alberta's Army Reservists:
A behind the scenes look at who reservists are, what they do, and how the Alberta Reserve is preparing and training to support our communities and country when we need them most.
Numerous Alberta businesses employ individuals who are members of the Reserve Force. When Alberta faces a disaster – the Covid-19 Pandemic, fires, floods – reservists are asked to respond to the call and assist in the survival and support of our communities. Responding to these calls often pulls reservists away from their regular employment.
Reservists are skilled and talented people who are part-time "citizen soldiers", sailors and airmen/airwomen. In addition to their military responsibilities, they also work full time in the civilian workforce. They enhance corporate culture, small and large businesses, with the experience they have attained in the military. As a candidate for a position they have a well-earned skill set that goes above and beyond another candidate for the same role. If you already employ a Reservist, you know the benefits they bring to the workplace with both hard and soft skills.
The Canadian Armed Forces provide Reservists with world class training to develop key skills which form not only the foundations of an valuable Reservist but also a highly qualified employee. Employers benefit from their core skills and abilities such as leadership, teamwork, discipline, initiative, determination, problem solving, and the ability to work under pressure.
When you employ a Reservist, they bring their learnings from the military to your organization. In turn, they also contribute their workplace expertise when serving in the military. It's a win-win for both the organization and the Canadian Armed Forces. Reservists who serve help to provide a safe environment for businesses to thrive and is one of the very reasons many people are proud of our serving members.
The Basics
Reservists are members of the Canadian Armed Forces (CAF) who train and serve with the CAF on a part-time basis. They typically serve on weekday evenings and weekends. From time to time Reservists attend military courses and training that lasts one or two weeks and occasionally longer durations. Reservists have the opportunity to volunteer to serve on domestic and international operations on a full-time basis augmenting the regular component of the CAF. Through floods, fires or ice storms, Reservists are there to help and to keep communities and businesses operating. Their training provides both domestic response and international support – when you employ a Reservist, you in turn, are serving your country.
What is the With Glowing Hearts Initiative?
The With Glowing Hearts – Reservist Support Initiative is an HR program to attract and retain talented employees. The Canadian Armed Forces has trained over 25,000 Reservists who bring exceptional qualifications to an organization or business. Consider the Reserves as a talent pool to source potential employees to support company goals and initiatives. The initiative provides guidance and tools to support both Employers and Reservists and the good work they do together. Employing a Reservist is good for business and it makes your work, and workplace, better – With Glowing Hearts, we stand together supporting our community and country.
How does the program work?
It's simple – like any other HR initiative, the program becomes an offering to attract employees. For example, a company may already have a maternity leave policy in place, growth programs for leadership, or even policies for internships. The With Glowing Hearts – Reservist Support Initiative creates a "reserve-friendly" culture for an organization to attract, and keep, experienced and valued employees. The turnkey program assets can be used to create awareness through communication channels of choice.
What does the program include?
The program consists of the following elements:
Reservists 101: What Reservists offer Employers
"With Glowing Hearts" Reservist support customized certificate for Employers
"With Glowing Hearts" Employer/Reservist Recognition stickers
"With Glowing Hearts" Customized employer support icon (online use)
HR & FAQS: Q&A for employing Reservists
Military Leave Policy (MLP): Examples of MLP for small and large businesses
What's next?
How can I find out more information for my business?
Employers Supporting Reservists – Canadian Forces Liaison Council
Visit the website: https://www.canada.ca/en/department-national-defence/services/benefits-military/supporting-reservists-employers.html
Battle of Alberta starts with a bang as Flames down Oilers 9-6 to open playoff series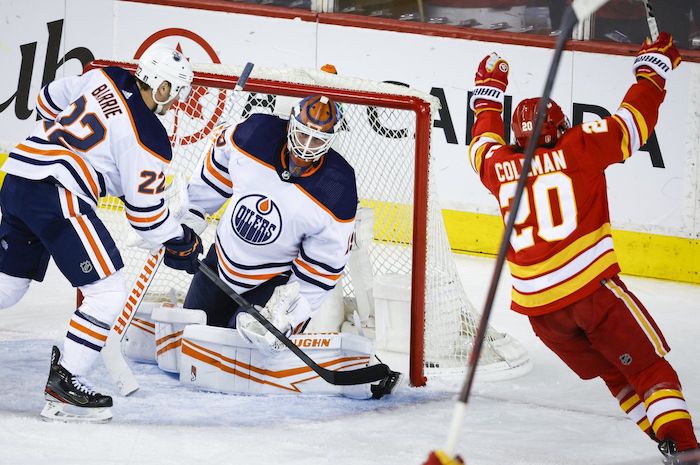 By Donna Spencer in Calgary
Matthew Tkachuk scored a hat trick for the Calgary Flames in Wednesday's 9-6 win over the Edmonton Oilers to open their playoff series.
The NHL's first playoff Battle of Alberta in 31 years compensated for its long absence with an abundance of goals in Game 1.
Blake Coleman scored twice for the Flames. Rasmus Andersson and Andrew Mangiapane each had a goal and two assists.
Elias Lindholm and Brett Ritchie also scored for Calgary while goaltender Jacob Markstrom stopped 22 shots for the win.
Zach Hyman scored twice for Edmonton. Connor McDavid produced his fourth straight multi-point game in the playoffs with a goal and three assists.
Edmonton's captain leads the league's post-season points race with five goals and 13 assists.
Leon Draisaitl had a goal and two assists and Kailer Yamamoto and Evan Bouchard also scored for the Oilers.
Edmonton starter Mike Smith was pulled in the first period after allowing three Calgary goals on 10 shots. Mikko Koskinen made 32 saves in relief.
The winner of the best-of-seven series advances to the Western Conference final.
Game 2 is Friday at the Saddledome before the series heads to Edmonton for Sunday's Game 3 and Tuesday's Game 4.
Teams that take a 1-0 lead in a best-of-seven series hold a series record of 503-232 (.684), according to NHL statisticians.
In a matchup of potent offences, the question ahead of the series was which team could keep the puck on its sticks and spend more time in the offensive zone.
Calgary dominated that department early. The Flames scored twice in a 25-second span in the first minute and led 3-0 by 6:05 when Smith was replaced by Koskinen.
Calgary's two goals in the opening 51 seconds was the fastest two goals to start an NHL playoff game, and electrified a sea of red dotted with Oiler orange and blue at the Scotiabank Saddledome.
The Oilers would not go quietly, however.
The Flames had survived a goaltender-dominated, grinding series with the Dallas Stars in the first round.
Wednesday's Game 1 was, by contrast, an open-ice track meet of mediocre goaltending. The Flames held a 40-18 edge in shots after two periods, but led 6-5 heading into the third.
Edmonton's Yamamoto briefly tied the game at 1:28 putting McDavid's rebound over Markstrom's outstretched pad.
Andersson regained the lead for Calgary at 2:57. Mangiapane from behind the net fed the all-alone defenceman whose wrist shot beat Koskinen's glove.
Tkachuk gave the Flames a two-goal lead at 8:55 with his second of the night. He snared a Draisaitl turnover at the blue line and beat Koskinen five-hole on a breakaway.
Tkachuk scored into an empty net to complete his hat trick. Hats rained down onto the Saddledome ice and chants of "we want 10" goals soon followed.
Draisaitl pulled the visitors within a goal at 19:21 of the second period when he beat Markstrom far side on an odd-man rush with McDavid.
Hyman scored at 9:38 and 14:06 of the second period. He circled out from behind the net and whipped the puck by Markstrom's glove for his second.
Hyman skated the puck into Calgary's end, stopped and got a shot away between defenceman Michael Stone's legs that deflected off Markstrom and into the top corner for his first.
Tkachuk batted in a rebound for a power-play goal at 8:24 after Bouchard converted a McDavid pass at 7:10. McDavid spun off of Dillon Dube to get a cross-ice pass away to Bouchard.
Zack Kassian's roughing penalty after Bouchard's goal gave Calgary the man-advantage for Tkachuk's goal.
Coleman struck 45 seconds into the second period and again at 6:10 for a 5-1 Flames lead.
He redirected a Noah Hanifin shot for his second goal and put a rebound over a prone Koskinen during a scramble around the crease for his first.
McDavid glided in front of the net and patiently waited for Markstrom to commit before tucking the puck between the goalie's pads at 7:41 of the first period.
Ritchie scored his first career playoff goal at 6:05. He knocked Edmonton's Evander Kane off the puck at the Oilers' blue line, reached to collect the loose puck and got a shot away under Smith's arm.
From behind the net, Backlund dished to an undefended Mangiapane in the slot for the latter to beat Smith from close range 51 seconds after opening puck drop.
Lindholm converted Calgary's first shot of the game into a goal 26 seconds after opening faceoff. He settled a bouncing puck off a cross-ice dish from Rasmus Andersson and swept it far side over Smith's glove.
The Flames were minus top shutdown defenceman Chris Tanev a second straight playoff game. He was injured in Game 6 of Calgary's first-round series against Dallas.
Tanev skated in both Tuesday's practice and in Wednesday's morning skate, but did not dress for Game 1.
Notes: With his 94th career playoff win as a head coach, Darryl Sutter joined Pat Quinn ranked No. 6 all-time . . . With three assists in Game 1, Johnny Gaudreau joined Jarome Iginla and Martin Gelinas (2004) among Flames to carry a six-game point streak in the playoffs . . . McDavid was the first Oiler to score a goal in four straight post-season games since Michael Peca and Shawn Horcoff in 2006 . . . The red lot fan zone adjacent to the Saddledome was closed Wednesday because of high winds . . . Game 1 was the highest scoring playoff game involving Calgary and Edmonton surpassing the previous high of 12 goals scored in Game 3 of the 1983 Smythe Division final.
This report by The Canadian Press was first published May 18, 2022.
This is what Jason Kenney said as he stepped down as Premier of Alberta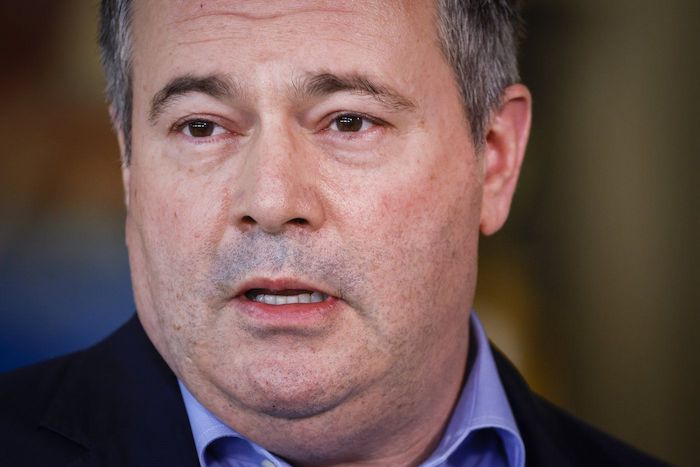 Premier Jason Kenney's address starts at the 10 minute mark and only lasts for 4 minutes.