"Meeting The Threshold": Justin's Tantrum Gets Justice Rouleau's Approval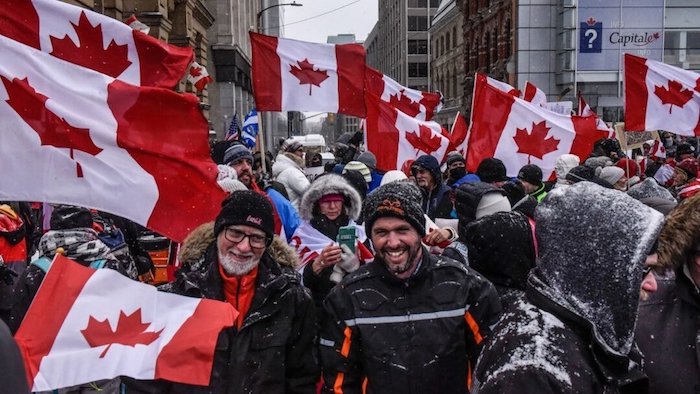 "The summer soldier and the sunshine patriot will, in this crisis, shrink from the service of their country; but he that stands it now, deserves the love and thanks of man and woman. Tyranny, like hell, is not easily conquered; yet we have this consolation with us, that the harder the conflict, the more glorious the triumph." Thomas Paine
Thomas Paine might say these are times that try the souls of men and women in Canada, not just Paine's United States. Last week's entirely predictable decision by Justice Paul Rouleau on Justin Trudeau's invocation of the Emergency Measures Act has now seemingly opened the way to Trudeau and future governments to remove the civil rights of those who criticize them.
Yes, Rouleau did concede that the prime minister's vitriolic language about the Truckers had enflamed and provoked. That his unwillingness to address any competing scientific evidence (immunity/ PCR false positives/ vaccine efficiency) led to misinformation. That his shirking leadership counted on other levels of government to do his heavy lifting. That the police and media created fake news about arson and crimes the Convoy people had nothing to do with.
But he (sighing) reluctantly conceded that, all things considered, other levels of government— hint, hint: Doug Ford and the inept Ottawa police— were more culpable. See? Ford, the guy on the outside of the Family Compact, gets the blame. Here's where Justice Rouleau put his finger on the scale to allow the PM his escape: "The (federal) Government did not have a realistic prospect of productively engaging" with those who "believed COVID-19 vaccines were part of a vast global conspiracy to depopulate the planet."
Realistic prospect? Where did the disappearing PM try to engage? He sent in mounted police and forensic accountants to save his skin. After scolding the PM for his divisive language, Rouleau buys into Trudeau's dystopian view of the conspiracy fanatics who would not engage with a PM who wouldn't engage them. If this mob had wanted to invade Parliament we'd have a trucker as PM now. But they didn't. They held back. But Rouleau gives that no credit. Only Trudeau's blind panic has merit.
And so, Shazam, bye-bye civil rights cherished for almost 200 years in order to win the PM's Doug Ford proxy war. Even the more aggressive Woke governments around the world were awed by how easy it all was. Made even easier by purchased media that bulleted the big takeaway in tandem. "Met the threshold".— as Trudeau knew they would.
—Federal government met the threshold to invoke Emergencies Act: Rouleau – CBC (which speculated during the occupation that Putin was at work behind the scenes).
—Canada's use of emergency powers during 'Freedom Convoy' met threshold, commissioner says – Reuters
—Trudeau's 'Freedom Convoy' shutdown was justified, inquiry rules – Politico
And so Canada's 'summer soldier and the sunshine patriot' escaped yet again from the standards he demands of others but not himself. Should we be surprised?
However honest Rouleau may be he is a creature of Ottawa® , marinated in its power structures and bred for the status quo of the Ontario/ Quebec nexus, trying to keep the game going a while longer. A Liberal party fixer for John Turner in the 1990s Rouleau practiced at those most sacred institutions of 514/ 613/ 416 power: Heenan/ Blaikie and Cassels/ Brock. His call to the bar has been supported by Liberal and Conservative PMs.
His sole venture outside Canada's Eastern Time Zone corridor of power was on the Supreme Court of Yukon in 2014, Nunavut Court of Justice in 2017 and Supreme Court of the Northwest Territories in 2017. And while he laboured honestly over the task of exculpating PMJT from his worst instincts, his judgment reinforces the politics, not the legals outside the political power grid of Justin's "otherness". Like the SCOTUS authors who issued the Dred Scott decision in 1857 to save the U.S. from the civil war that they soon caused, Rouleau's was more a political move than any judicial insight.
As has been noted before, justice must not simply be done, it must be seen to be done. And this patch-up job excusing another high-handed Justin episode will reverberate for generations as leaders grasp at its findings like a life preserver to crush opponents' rights and liberties. It was a decision to send a chill down the back of any civil libertarian.
So was Calgary mayor Jyoti Gondek's recent walk across a public space in the city. A protester asked the committed progressive how she and city council can support spending $70,000 on a Drag Queen Story hour for children at city libraries.
Gondek turned to a nearby Calgary policeman and accused the protester of breaking a new law prohibiting yelling at city politicians and suits. The cop responded by issuing the protester a ticket for $500. Gondek then strode away triumphantly, assured that while free speech is trampled she and her fellow council members have a safe space anywhere they go in public, far from the madding crowd.
No surprise, as the first woman mayor of Calgary has a PhD in urban sociology which "furnishes understanding of the complex as well as profound meaning of every urban reality, notably the territorial stabilization of social life, the rise of a space symbol system and culture, and the origin and evolution of human settlements."
Her grad-school word salad is just another tiny step in the progressives' march against "disinformation, misinformation and distortions", ie. anything that contradicts the WEF narratives of the day. Ones that judges like Rouleau will defend. We can only hope that someone tests this cavalier test of city council's Woke sensibilities at as higher level.
It's a clear sign to those who don't bother to vote in civic elections of the mischief that fluff-heads like Gondek can get up to. Her platform since winning the mayoralty? Day One she declared a climate emergency in Calgary, the conventional energy capital of Canada. Cost: $250K. Next, she scotched the arena deal with Calgary Flames over solar panels. Officials are still trying to undo that snarl. Her current obsessions are leaf blowers, gentrifying the Stephen Street mall and begging for ESG cuddles.
Gondek's mayoralty is a prime argument for preferential balloting. While garnering almost all the lefty votes she still failed to win 50 percent of the total vote. However, three opponents split the centre/ right vote (disclosure: one is a personal friend of Usual Suspects) that would have easily won the election had the trio settled on one opponent for Gondek.
As we've seen in the CPC vote and elsewhere, preferential balloting delivers a more nuanced result that better reflects the voters' preferences. Had there been preferential balloting at Calgary city hall it's likely Gondek would be free to walk unmolested around the city as defeated mayoralty candidate. Which is more freedom that she wishes on her protesters and the Trucker Convoys.
Sign up today for Not The Public Broadcaster newsletters. Hot takes/ cool slants on sports and current affairs. Have the latest columns delivered to your mail box. Tell your friends to join, too. Always provocative, always independent. https://share.hsforms.com/16edbhhC3TTKg6jAaRyP7rActsj5
Bruce Dowbiggin @dowbboy is the editor of Not The Public Broadcaster A two-time winner of the Gemini Award as Canada's top television sports broadcaster, he's a regular contributor to Sirius XM Canada Talks Ch. 167. Inexact Science: The Six Most Compelling Draft Years In NHL History, his new book with his son Evan, was voted the seventh-best professional hockey book of all time by bookauthority.org . His 2004 book Money Players was voted sixth best on the same list, and is available via http://brucedowbigginbooks.ca/book-personalaccount.aspx
Succession Planning: Justin's Excellent Chinese Adventure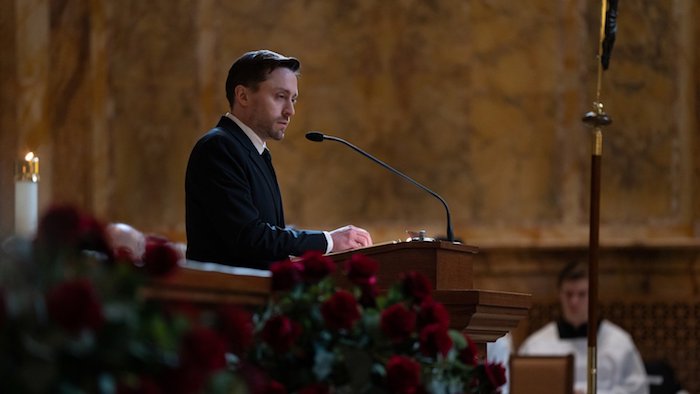 These are sad days. After this weekend we won't have Roman Roy to kick around any longer. In case your Sunday nights have been spent in quiet contemplation the past few years you'll know that Roy (played with Quisling-like glee by Kieran Culkin) is the obsequious youngest child of communications titan Logan Roy in the binge-worthy HBO series Succession.
When last we saw this quivering mass of sarcasm and sexual confusion Roman was trying to deliver a eulogy beside his dead father's casket. It did not go well. No matter. After this Sunday, he'll be living in rerun heaven. That we could only say the same for another, similar privileged dramatic persona, Justin Trudeau.
To those with keen memories the comparison between the blubbering, inconsolable Roman Roy and Canada's current PM Justin Trudeau is inescapable. Skippy, too, was delegated to eulogize his real father, Pierre in 2000. The result was a lachrymose cascade to rival the Lachine Rapids. Still in his Lord Fautleroy phase, Justin was seen by onlookers as the doting eldest son, a man too sensitive for this life. Little did we know that the performance at Notre Dame Cathedral that day was in fact an audition for higher office.
While Roman Roy's breakdown seems to have scuttled his hopes of grasping the brass ring in the family business Waystar, Trudeau's bathetic performance cemented him in the Liberal party as a man they could sell to the gormless hordes of voters in the key 416/613/514 hotbeds.
Soon he was spreading his lugubrious charm on global fronts, touting his sleeves-rolled-up vision while herding "billions" of disobedient children like Italian prime minister Georgia Meloni or these hapless boobs.
And so "Roman" Trudeau has worked this highwire act through every sort of catastrophe since 2015. The PM may have done enough to sink many careers. Remember the Aga Khan? Bollywood? Blackface? SNC Lavalin? WE Charity? How he has escaped cancellation when Culkin's character is headed to the Crave TV boneyard is one of the mysteries of the age.
This week past has rendered another episode that not even the skilled writers of Succession would dare pull off. Having somehow missed the fact that the Chinese government has been actively stirring up trouble in Canada's elections— elections in which he has personally eked out victory— Trudeau decided to calm Canadians by producing a report on the extent to which his pals in Beijing have been playing for him.
But here— screen writers take note— is the master stroke. The man in the funny socks decided that the ideal rapporteur for the job of reassuring the nation of his purity was old family friend, onetime board apparatchik in the Trudeau Foundation whose children are reported to have gone to university in China, and governor-general who'll do what he's told, David Johnston. Talk about deus ex machina!
Why the octogenarian Johnston accepted this poisoned chalice is anyone's guess— writers would call it implausible, unethical for a China hand to be arbitrating this. But accept he did. And Tuesday he disgorged his findings which say, in effect, a public inquiry might unearth too many state secrets. So let's not go there. Trust me.
Hinting at the utter dysfunction of the PM's office, the petrified bureaucracy beneath Justin and the epic incuriosity of Trudeau's cabinet chums, Johnston admitted that the PM's claims of being ignorant of warnings from CSIS about this problem dating back years might actually have merit.
A fig leaf! Yes, a fig leaf that the ethically bereft PM grasped with both hands, saying in effect that it's a wonder he can even get the RCMP to do a musical ride into the Trucker Convoy. But to sit atop a chain of command this moribund? Canada is lucky he's there to hold it all together.
Even Johnston's many friends in the Family Compact were befuddled. Which was the greater lapse? The former McGill U. Principal (President) accepting to work as Trudeau's get-out-of-jail-free card or the slap-dash scholarship of the piece? Former Conservative leader Erin O'Toole— the man defeated by Trudeau in 2020— wrote that Johnston only interviewed him on this Sino Scandal after he'd sent the opus off for translation.
We'd say that, this time, Trudeau has exceeded even the plausibility of a Succession script. His scolding by an irate Meloni, followed by this Chinese codswallop must surely mean the end of his character on the long-running PMO show. How can he continue to erode confidence in government— especially his own government— with this carnival of chaos?
Being a betting type we'd say Succession is not coming back after Sunday. But we think the show runners for Trudeau's long-running show still have at least one remaining season left for more Justin antics. Unless the Chinese say no, of course.
Sign up today for Not The Public Broadcaster newsletters. Hot takes/ cool slants on sports and current affairs. Have the latest columns delivered to your mail box. Tell your friends to join, too. Always provocative, always independent. https://share.hsforms.com/16edbhhC3TTKg6jAaRyP7rActsj5
Bruce Dowbiggin @dowbboy is the editor of Not The Public Broadcaster A two-time winner of the Gemini Award as Canada's top television sports broadcaster, he's a regular contributor to Sirius XM Canada Talks Ch. 167. Inexact Science: The Six Most Compelling Draft Years In NHL History, his new book with his son Evan, was voted the seventh-best professional hockey book of all time by bookauthority.org . His 2004 book Money Players was voted sixth best on the same list, and is available via http://brucedowbigginbooks.ca/book-personalaccount.aspx
The Formidable Superstar, Jim Brown Never Fit Black Or White Stereotypes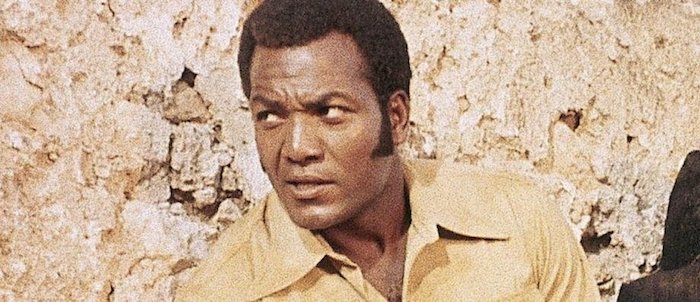 "M***er fuckers be hanging off him. Eight of 'em be begging Jim, 'Please, Jim, would you fall down, please? We're on TV, my kids are watching'." Richard Pryor on NFL players trying to tackle Jim Brown in the 1960s.
The death at 87 of legendary athlete/ film star/ political activist Jim Brown comes just over three months from the death of hockey icon Bobby Hull. Both were alpha males possessed of adonis figures, the essence of vitality in their time. Brown gave up the NFL to become a film star. He went on to champion causes in the black political movement.
Hull went on to sire a HHoF player Brett Hull and work in the cattle industry. He also traded on his stardom. He is still regarded as one of the five most famous Chicago sports figures of all time, up there with Michael Jordan, Dick Butkus, Gayle Sayers and Ernie Banks.
Neither man was without controversy, however. Brown's name was frequently associated with domestic violence. According to press reports, "On June 9, 1968, Brown, then 32, was booked on suspicion of assault with intent to commit murder against his girlfriend. The arrest occurred when Brown lived in Los Angeles while working as an actor. The woman, a model, was found semiconscious and moaning on a concrete patio 20 feet below the balcony of Brown's Hollywood apartment."
There were other incidents with police involvement, many in fact, but you get the drift. Hull, too, had a nasty legacy of domestic assault stemming from incidents involving his first wife. Neither man spent time in jail for the episodes. Hull made some politically insensitive remarks as well.
But, funny thing. When Hull died the Canadian sports press reports dutifully dredged up all his personal business to rebalance the adulation he received in life. As we reported at the time, some people thought that part of his life defined Hull.
But you had to look very hard into the reports of U.S. sports media on Brown's death this week to find much about his less-attractive side. The praise for his athletic prowess was effusive. Rightly so. But for the liberal sports press that came of age in the 1960s, it was too much to taint Brown's political legacy by showing his less-flattering past. So they almost universally gave it a pass. In one interview, Bob Costas, the liberal's liberal in the press box, skirted the issue to dwell on his boyhood memories of Brown.
Wonder why? Those news sources that dared mention it— the New York Times— were lambasted for sullying his reputation with the facts. "It's the New York Times vs. ESPN for scumbag of the week" is a sampling of the pushback from the sports world.
While playing at Syracuse, Brown was perhaps the greatest lacrosse player in American history before going on to football fame with the Cleveland Browns of the NFL. We can still remember, as Richard Pryor did, the sight of No. 32 dragging defenders along behind him as he set rushing and TD records in a 12-game season— records that are still mostly unassailable. He's a Top Five NFL player all-time. Colts HOF tight end John Mackey summed up Brown's style. "He told me, 'Make sure when anyone tackles you he remembers how much it hurts'." They did. Vividly.
We can also recall the shocking news that Brown was ditching football in 1966 after nine NFL seasons to star in a Hollywood epic, The Dirty Dozen, with Lee Marvin, John Cassavetes and Donald Sutherland. (He intended to return to the Browns but when they wouldn't let him miss training camp he retired.) How would he do? We rushed to see the film. Brown was just fine, dragging his fellow cast members after him like NFL players as he took on the Nazis.
He went on to star in 100 Rifles as Hollywood's first black action star. Other movies followed. When the glamour of films lost its lustre Brown became an icon for the black political movement. He supported Muhammad Ali in his fight to avoid prison for refusing to serve in Viet Nam. He created camps and schools for black children and was a recurring figure at the seminal moments for black empowerment.
But his philosophy was not today's Marxist #BLM brand. "We've got to get off the emotional stuff and do something that will bring about real change," he said. "We've got to have industries and commercial enterprises and build our own sustaining economic base. Then we can face white folks man-to-man and we can deal." He was not easily intimidated.
In 2018, Brown and Kanye West met with President Donald Trump to discuss the state of America. Criticized by the black community for the meeting, Brown said, "we can't ignore that seat and just call names of the person that's sitting in it". Brown called Trump "accessible", and said that the president was not a racist. The Brown obits in liberal media buried those quotes deep in stories.
Still he scared some folks. Files declassified in 2003 showed that the FBI, the U.S. Secret Service and several police departments had monitored Brown and the Black Economic Union, attempting to smear the group as a source of Communist and radical Muslim extremism. Hillary Clinton would have been proud.
Brown himself was into unapologetic self-improvement as he showed when he went to Pryor's hospital room after the comedian set himself alight while freebasing. While others soft pedalled their advice Brown made it clear that Pryor had to kick drugs, and that he would help him do so. (As thanks, Pryor later screwed Brown in a film deal that would have brought him millions.)
Brown was unrepentant when confronted about his past. "I'm no angel," he told The (Cleveland) Plain Dealer in 1970. Regarding the assault allegations, he said, "I've never been convicted. I've just been harassed. I've been hit so much I don't sting any more… I take it and look my accuser in the eye. I don't look at my shoes when I talk to anybody. I know what I am. I only have to live with myself."
That he did. The biggest difference between him and Hull was that the critics of the Golden Jet wanted to get tawdry clicks from his life story. With Brown they wanted him to advertise their Woke selves. That's a huge and crucial difference in this insane world.
Sign up today for Not The Public Broadcaster newsletters. Hot takes/ cool slants on sports and current affairs. Have the latest columns delivered to your mail box. Tell your friends to join, too. Always provocative, always independent. https://share.hsforms.com/16edbhhC3TTKg6jAaRyP7rActsj5
Bruce Dowbiggin @dowbboy is the editor of Not The Public Broadcaster A two-time winner of the Gemini Award as Canada's top television sports broadcaster, he's a regular contributor to Sirius XM Canada Talks Ch. 167. Inexact Science: The Six Most Compelling Draft Years In NHL History, his new book with his son Evan, was voted the seventh-best professional hockey book of all time by bookauthority.org . His 2004 book Money Players was voted sixth best on the same list, and is available via http://brucedowbigginbooks.ca/book-personalaccount.aspx