By Daryl McIntyre
Lost in the Pandemic
Such a surreal time. So many of you have said it. So many of us are living it. The reasons are myriad. We all have our own stories. I'm just going to share mine; my personal perspective.
I feel like I should be informing people. It's what I did for 36 years. Through every major news story since the early 80's .. I had the privilege and duty to share information. Now, I'm the one looking for it. I'm looking for the credible news sources to tell me what's going on in our world right now. I really miss being in the centre of it all. I miss being the source of information .. not just the consumer.
I'm also finding something new. There are a lot of options for information these days. (though you really have to curate your sources) I appreciate the major news organizations… the so-called main stream media. I used to work within that system and I guarantee that every individual working at those news organizations is doing their absolute level best to serve the public with credible information . That is something I was proud of and proud to defend throughout my time in the industry.
Six months after having to leave my broadcasting job .. I have had a lot of time to reflect. I completely checked out from the news of the day after departing CTV Edmonton. I understand now why so many people are happy to avoid reality. It truly is "blissful ignorance." I also missed being involved in the world of daily local news and I simply didn't want to watch. It was too painful.
The reality of the Covid-19 pandemic however has forced me to re-connect. I need information. My friends and relatives need information. I am getting it through main stream media because I know the individuals involved. They are doing the best they can.
I am also gleaning information from other cited sources through social media. This is a delicate world. You need to be fully aware. You need to be thoughtful. You need to question. You need to analyze but there is a lot of important, useful, insightful information on line.
Old news people like to "preach" to the public they used to broadcast to as a way to continue to feel relevant. I'm not preaching. I just want all of you to focus on real information .. not spin. Facts .. not rumour. The most important thing you can do right now is focus on your family, your friends, your community.
Be informed. Be factually informed. Fight misinformation. Stick together literally or figuratively.
I look forward to seeing you all on the other side.
Daryl McIntyre worked in television news for close to 4 decades. He was anchor of CTV News at 6 in Edmonton for more than 30 years.
Click here for more stories from Todayville Edmonton.
'Flared back up': Alberta town of 8,400 evacuated for second time due to fire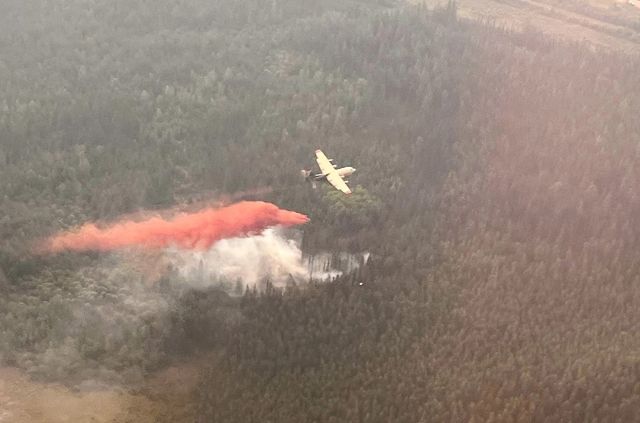 Airtankers work on a wildfire near Edson, Alta., in a Friday, June 9, 2023, handout photo. The town was evacuated Friday night due to an out-of-control wildfire. THE CANADIAN PRESS/HO-Government of Alberta Fire Service
Edson
A town in western Alberta was under an evacuation order late Friday due to an out-of-control wildfire — its second such order this spring.
Local officials issued the evacuation for Edson and parts of Yellowhead County.
"We're still evacuating the community and evacuating the hospital," said Edson mayor Kevin Zahara.
"All things considered, so far so good — but the next 72 hours are going to be critical for us. We have a lot of warm temperatures in the forecast and it's windy here right now.
"It's going to be dependent on those winds and the weather on how this fire behaves."
Alberta government officials said the fire burning near the community of about 8,400 jumped fire guards and moved closer to populated areas, including the town. They warned that there could be impacts to roads and highways if the fire crossed the guards and blocks evacuation routes.
"Because that fire is so out of control, some of the forestry crews have had to back off," said Luc Mercier, chief administrative officer for Yellowhead County, in a video statement on one of the town's Facebook pages. "They can't fight that fire."
Mercier said the fire could threaten Highway 16, the main east-west route in the area.
"We have significant concerns with egress along Highway 16 in the coming days," he said. "The next 36 hours will be paramount with the winds coming forward."
An update issued at 11 p.m. said live embers and flames were seen in Willmore Park, meaning the fire had crossed the river. The notice said if people had not left the area yet, "now is the time." Officials said emergency crews were busy with fire operations and would not be able to respond if people needed help.
The Edson area, about 190 kilometres west of Edmonton, saw four new fire starts on Friday, said Mercier.
An unprecedented start to the wildfire season led Alberta to bring in a provincewide state of emergency on May 6. At one point, about 29,000 people were out of their homes in various communities.
The state of emergency was lifted last week.
On Friday afternoon, before the evacuation order was issued for Edson and the surrounding area, about 3,500 Albertans remained out of their homes.
Evacuation buses were leaving from three points in Yellowhead County and five in Edson. An evacuation centre was being set up in Edmonton's Expo Centre.
Zahara said there had been little threat in the area as recently as four days ago. Hot weather and high winds put a stop to that.
"This fire has flared back up," Zahara said.
"It's really important people adhere to the evacuation order."
He said no services, including fire and medical, would be available in Edson until further notice.
Edson was evacuated for three days in early May by another wildfire.
Zahara said at the time that he thought there was a good chance the town would be lost to the flames.
That evacuation took a heavy financial toll on townspeople through loss of income and unexpected expenses such as hotel rooms, he said.
— By Bob Weber in Edmonton
This report by The Canadian Press was first published June 9, 2023.
A look at Alberta Premier Danielle Smith's new cabinet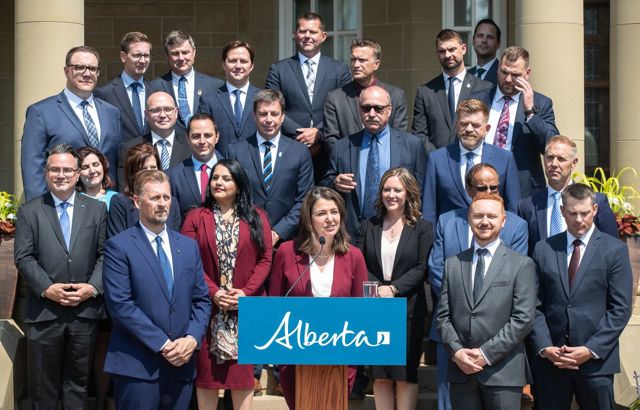 Premier Danielle Smith introduced her cabinet Friday, the second one since taking over as United Conservative Party leader in October. Here are the changes at a glance:
Second in command: Mike Ellis retains his Public Safety and Emergency Services portfolio but is also now deputy premier.
Big promotions: Mickey Amery moves from Children's Services to Justice; Nate Horner moves from Agriculture and Irrigation to Finance; Adriana LaGrange already had a heavyweight title in Education but now takes on enormous responsibilities in Health.
New faces: RJ Sigurdson joins cabinet for the first time in Agriculture and Irrigation; Searle Turton is new in Children and Family Services; Dan Williams gets his first cabinet seat in Mental Health and Addiction.
Returning vets: Jason Nixon, the environment minister and government house leader under former premier Jason Kenney, is back in cabinet handling the Seniors, Community and Social Services post. Ric McIver, dropped from Smith's first cabinet, returns in his old job of Municipal Affairs. Muhammad Yaseen, a former associate minister of immigration, now has full cabinet rank as minister of Immigration and Multiculturalism; Tanya Fir, former economic development minster under Kenney, is back in Arts, Culture and Status of Women portfolio.
Same faces, new jobs: Rebecca Schulz (Environment and Protected Areas), Brian Jean (Energy and Minerals), Nathan Neudorf (Affordability and Utilities), Joseph Schow (Tourism and Sport), Demetrios Nicolaides (Education), Rajan Sawhney (Advanced Education), Matt Jones (Jobs, Economy and Trade), Peter Guthrie (Infrastructure).
Same faces, same jobs: Nate Glubish (Technology and Innovation), Dale Nally (Service Alberta and Red Tape Reduction), Devin Dreeshen (Transportation and Economic Corridors), Todd Loewen (Forestry and Parks).
This report by The Canadian Press was first published June 9, 2023.