"It's going to be OK!" Sweet message of hope from one small business to all the others
This message from the owner/operator of "Sweet Capone's" has started to circulate in Central Alberta.
It captures the essence of the struggle facing all small businesses today.
It's worth sharing with all those you know who are fighting to keep their business alive when they may not be able to flip the sign from "closed" to "open".
I have often wondered what it was like for my grandparents and great grandparents. To have lived through, and endured the struggles that a world war presented. It couldn't have been easy – to navigate the waves of fear and to not succumb to the panic that creeps in when uncertainty hits. They had to ration food and other goods. Here in Canada and living in the middle class of society no less, I am beyond fortunate. Emergency rationing of food and other items is not something I have ever had to do.
I also have not had to experience the painful dread of knowing that one, or all of my sons would be drafted and shipped off to fight in a war – when they are barely old enough to shave…. and never knowing if it would be the last time I would get to hold them close.
I also have not known a society where most of the male figures are away fighting or deceased, and women are left to keep things going on the homefront – both in and out of the home.
I have not known the terror of a dictatorship, and with it, have had all of my rights and freedoms completely stripped away. I have not known annihilating persecution, segregation and the many unspeakable horrors that many cultures have experienced in the face of war. Even to this day.
I have not lived through obliteration where my home and everything I valued has been demolished and torn apart.
I have not known these things. But what I do know is this: previous generations survived all of these things and went on to create a society in which they thrived. Expanded. Flourished. They must have, or else you and I would not be here otherwise. Our previous generations have shown us that weathering adversity produces good fruit. Opportunities open up where they once did not exist. Weaknesses are identified and stronger solutions are put in place. New inventions and ideas sprout fourth and become endearing to our way of life. We identify what we can live with – and conversely, what we can live without. We develop a deeper sense of appreciation through loss, and draw closer to one another in times of strife.
A dear friend of mine said today, "history is like a pond. Ripples only exist on the surface and get harder to detect with distance." I think he is so right. We forget what previous generations went through and did for us when we allow fear to send us running in the opposite direction.
That pond? Those ripples? They didn't just start on their own. Our grandparents and the generations before them, they jumped into the water. They dove into it, perhaps even head first! And when they did that, they sent out ripples of resilience, determination and strength that would one day reach us. If we stop running in fear and instead turn around and dip a toe in those calming waters, something amazing will happen. We will be refreshed, renewed and repurposed. And even greater still, we will create ripples of our own that will serve as messages of hope for all the generations to come after us.
As for us here at Sweet Capone's, we will stay open and are happy to serve you in any capacity until we are unable. We love you, believe in you, and can't wait to see the ripples that we will produce together when all is said and done!
Stay safe and see you soon!
Love Carina and Joel Moran (owners)
Moneris confirms credit and debit card processing outage, but offers few details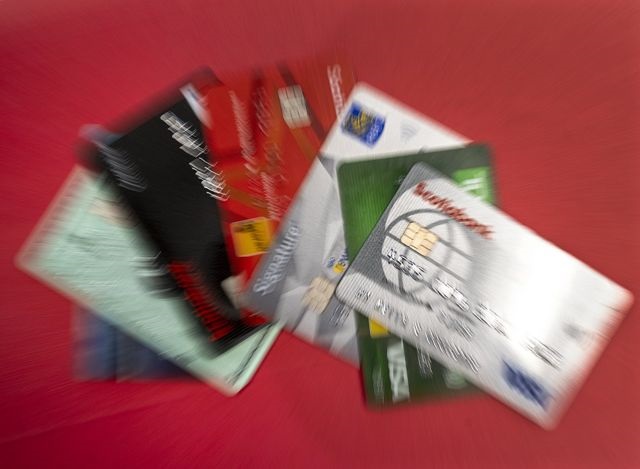 Toronto
The Canadian payment processing firm Moneris confirmed Saturday that credit and debit card transactions were interrupted by a network outage earlier in the day.
The Toronto-based technology company issued a statement saying there was nothing to suggest the outage was related to a cyber attack.
Complaints about outages started rolling in to the Downdetector.ca website before noon eastern time, but Moneris did not say when the outage started.
About three hours later, Moneris posted a message on X — the social media site formerly known as Twitter — saying it had resolved the network problem.
It remains unclear how many businesses and transactions were affected, but data provided by Downdetector.ca indicated complaints had come in from across the country.
In a statement provided to The Canadian Press, the company said the outage lasted about 90 minutes.
"We have resolved the network outage and returned transaction processing to normal," the statement said. "We continue to investigate the root cause of the issue. There are no indications this appears to be cyber-attack related and all transaction systems are functioning normally again."
The company, a joint venture between Royal Bank and BMO Bank of Montreal, said transaction processing could be slow as its systems catch up with the backlog.
Moneris says it supports more than 325,000 merchant locations across Canada.
This report by The Canadian Press was first published Sept. 23, 2024.
Smith says despite difficulty with Ottawa, Alberta has allies in Trudeau cabinet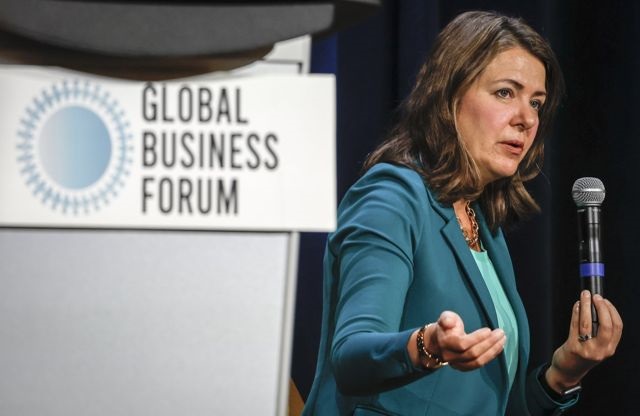 Alberta Premier Danielle Smith speaks to business leaders at the Global Business Forum in Banff, Alta., Friday, Sept. 22, 2023. Smith told the conference that despite her concerns with the federal Liberal government there was some cabinet ministers she can work with. THE CANADIAN PRESS/Jeff McIntosh
By Bill Graveland in Banff
Alberta Premier Danielle Smith told a business conference on Friday that despite her concerns with the federal Liberal government, there are some cabinet ministers she can work with.
Smith has been at odds with federal Environment Minister Steven Guilbeault and Natural Resources Minister Jonathan Wilkinson amid concerns over Ottawa's climate-change policies and transition plan for a net-zero emissions economy.
Guilbeault intends to publish draft regulations this fall to cap emissions from oil and gas, then force them downward overtime. Ottawa has also set a target to have the electricity grid be net-zero by 2035, but Alberta says it's unrealistic.
Smith says Alberta won't implement the emissions cap, nor will it follow the 2035 target.
The premier told delegates at the Global Business Forum in Banff, Alta., that Wilkinson needs to answer for comments he made earlier this week at the World Petroleum Congress in Calgary.
Wilkinson's call for the industry to work aggressively to get to net-zero was basically telling them to "pack it up, because the oil and gas industry is winding down," said Smith.
"You could just feel the energy leave the room and you could just feel the investment dollars leave the room."
Smith said energy producing provinces such as Alberta, Saskatchewan and Newfoundland and Labrador, can't trust the Trudeau government to look out for their interests at international conferences.
"After hearing how the natural resources minister talks about our industry, after hearing how the federal environment minister talks about our industry, we can't afford to let them carry our message," Smith said.
"We can't afford not to be there."
Smith said she has been in discussions with Saskatchewan Premier Scott Moe and intends to talk to Newfoundland and Labrador Premier Andrew Furey about joint presentations at conferences in the future.
Despite her disappointment with Wilkinson and Guilbeault, Smith said it's not all bad.
Finance Minister Chrystia Freeland among the top allies, she said.
"Let's give her credit for shepherding through all of the constant need to give more debt financing to Trans Mountain pipeline to get that to the finish line. That has not been easy," Smith said.
She also praised Innovation Minister Francois-Philippe Champagne, Public Safety Minister Dominic LeBlanc, Labour Minister Seamus O'Regan and Employment Minister Randy Boissonnault.
"I would say it's not uniformly negative in the Liberal caucus. But for some reason they're allowing Stephen Guilbeault to be a maverick and a renegade and quite offensive to those of who are trying to be reasonable and adult about this," Smith said.
Smith said it's time for the federal government to back away from setting "aggressive targets" in dealing with the provinces.
"Aggressive targets are not helpful. They're not helpful to us. They're not helpful to investors."
This report by The Canadian Press was first published Sept. 22, 2023.