Line 3 replacement helps Native American community curb poverty, says Indigenous business owner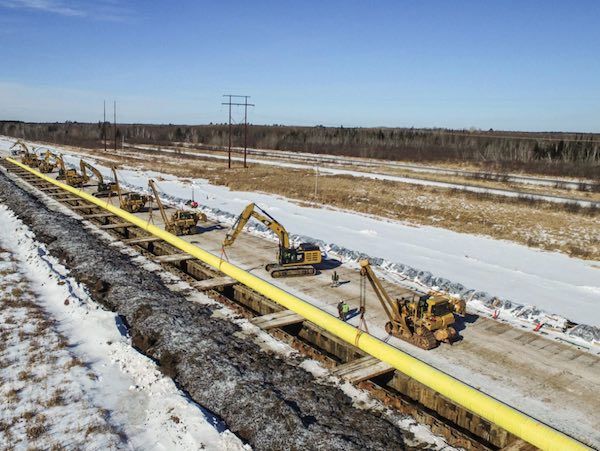 'We wanted to let other people know that all the Native Americans don't oppose the pipeline'
Article from the Canadian Energy Centre
On the White Earth Reservation in northwest Minnesota, Matt Gordon takes great pride that his family's Native American-owned construction company is able to help workers support their families in a region where 21 per cent of the population lives in poverty.
Gordon Construction is working on Enbridge's Line 3 Replacement Project, and that ongoing work is helping provide vital jobs and income for a region that has seen its share of struggles.
The company has over 150 employees, 60 of whom are recognized federally as Native Americans, Gordon says. Of the other 90 employees, many are married to a Native American member, supporting a Native American family, or living on the reservation.
"All that money stays on the reservation. One guy that works or one lady that works, they take care of not only their children or their significant other or spouse, they take care of their aunt or their grandma. It's a big web is what they take care of," he says.
"These are union jobs for a lot of these people. You get hours built up and good health insurance. You don't have to go to Indian Health anymore. You have a retirement after you're vested and you have a sustainable income."
Activist hypocrisy
After anti-pipeline activists wreaked havoc on a worksite earlier this month, Gordon and five fellow Native American business leaders working on Line 3 released a joint letter calling out activists in part for "intentionally creating a false narrative that there is no Native American support for this project and the economic impacts and opportunities it brings to our people."
The work of Native Americans employed by Gordon Construction and other companies were disrespected and put on hold when protestors descended on the work site, claiming to be defending the environment and Indigenous rights.
"They ended up not only damaging our equipment, they put gravel in our fuel tanks, in our hydraulic tanks, flattened all the tires. They essentially took that place over for almost 24 hours. They just left garbage everywhere," Gordon says.
"It's a touch of irony how these people are coming in to say they're there for the environment, but then it's just total chaos and anarchy and then they leave a mess. It took three days for that place to be cleaned up before we could go back to work."
Gordon says the letter was also a reminder that there's not universal opposition to Line 3 from Native Americans.
"We wanted to let other people know that all the Native Americans don't oppose the pipeline," Gordon says.
"It's a good thing all the way around up in the northwest Minnesota corridor."
Early advocate for Line 3
From his office window in the small town of Mahnomen, where his family has been for generations, Gordon often sees oil trains rolling by. It's an ongoing reminder of both the power of U.S. oil demand and the risks of transportation without pipelines.
"We see oil coming up and down every day. It's not going to stop just because one pipeline shuts down," he says. "Pipelines are indisputably safer."
Gordon was an early advocate of the Line 3 project, having previously worked with owner Enbridge including doing pipeline integrity digs for safety inspection on the existing pipeline.
"Essentially they have a structure set up on safety and environmental similar to that of working for the government, but I would say it's even more stringent," he says.
"My big thing of it is that they are a fair company. They work with you and they're not trying to bankrupt you or make you lose money. They want you to succeed because if you're a success, they're a success."
Benefits in Mahnomen
Mahnomen County, inside the White Earth Reservation, has the lowest per capita income in Minnesota. It's about $21,000 per year, according to the U.S. Census Bureau.
Gordon says that working pipelines, community members are able to make much more.
"You're looking at guys that are working 60 hours a week, anything after eight hours a day is overtime, and all these guys are bringing home $2,500, $3,000 a week, which is huge to a lot of people in the community. Pretty proud of that fact."
In addition to its contracts on the new Line 3, Gordon Construction is looking forward to supporting decommissioning and reclamation of the existing pipeline.
"Not only are we working now, but we'll be working in the future when they're doing the decommissioning of the line and shutting the old line down with final restoration. That'll be a two to three year project," Gordon says.
"We'll have 40 to 60 guys dedicated to the final restoration portion after the line is done. And then you have the decommissioning aspect, and we're trying to help support that process also."
McDavid enters history books, Skinner shines as Oilers top Kings 2-0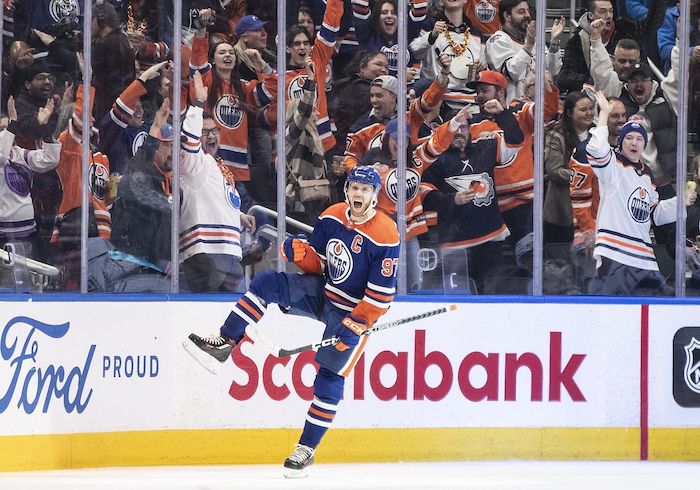 Edmonton Oilers' Connor McDavid (97) celebrates his 300th career goal, against the Los Angeles Kings during third period NHL action in Edmonton on Thursday March 30, 2023.THE CANADIAN PRESS/Jason Franson
By Shane Jones in Edmonton
Connor McDavid scored his 300th career goal, Stuart Skinner made 43 saves for Edmonton's first shutout of the season and the Oilers defeated the Los Angeles Kings 2-0 on Thursday.
McDavid became the first player in NHL history to have five different 10-game point streaks in a single season, breaking Wayne Gretzky's record of four in the 1986-87 season.
McDavid also became the fifth player in league history to reach 300 goals and 500 assists before playing 600 career games. Gretzky, Mario Lemieux, Peter Statsny and Bryan Trottier are the others.
Evander Kane scored the other for Edmonton (44-23-9), which has won three in a row and gone 12-2-1 in March.
The Oilers also moved ahead of the Kings for second place in the Pacific Division by one point.
Joonas Korpisalo made 35 saves for Los Angeles (43-22-10), which has lost two in a row on the heels on a franchise-high 12-game points streak.
Kane opened the scoring with just 52 seconds left in the first period. Leon Draisaitl made a beautiful behind-the-back spin pass to Kane, who was able to send a one-timer past Korpisalo for his 15th of the season.
Draisaitl picked up his 70th assist and extended his point scoring streak to 11 games on the play.
Skinner was later able to keep the Kings off the board midway through the second period, making a big glove save on Adrian Kempe's breakaway backhand shot.
Edmonton outshot Los Angeles 27-24 through 40 minutes after a scoreless second period.
McDavid made it 2-0 3:53 into the third period when he picked off a pass and sped away on a short-handed breakaway to score his 61st goal of the season. It was also his fourth short-handed goal of the campaign.
Skinner made huge saves on Vladislav Gavrikov and Viktor Arvidsson in the dying minutes and collected his 10th win in the month of March to set a franchise record for wins in a single month.
NOTES
The Kings entered the game with a 9-1-2 record in March and the league's best point percentage for the month, while Edmonton was second. Edmonton leads the NHL with 4.71 goals per game in March, while the Kings are fourth at 4.00. A major difference is that the Kings also had the lowest goals against per game at 2.08 during that span … Edmonton had also scored four or more goals in 11 of its 14 games this month and its power play has operated at 42.3 per cent during their 7-0-1 run coming into the contest. … Edmonton became the first team to have two players record 70 assists in the same season since the 2008-2009 Pittsburgh Penguins and just the 21st team in NHL history to do so … The Kings were without Gabriel Vilardi (upper body), while the Oilers were missing Ryan Murray (back), and Ryan McLeod (upper body).
UP NEXT
The Oilers play host to the Anaheim Ducks on Saturday.
The Kings play the third game of a four-game road trip in Seattle against the Kraken on Saturday.
This report by The Canadian Press was first published March 30, 2023.
Appropriate for Alberta premier to discuss COVID case with accused, deputy says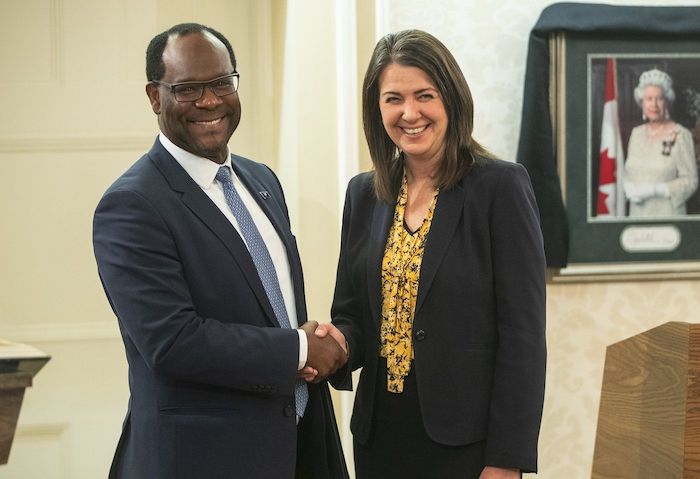 Kaycee Madu shakes hand with Alberta Premier Danielle Smith after he was sworn into cabinet in Edmonton, Monday, Oct. 24, 2022. Madu says it was appropriate for his boss to phone up a pastor charged over pandemic-rule protests and discuss the accused's upcoming criminal trial. THE CANADIAN PRESS/Jason Franson
By Dean Bennett in Edmonton
Alberta's deputy premier says it was appropriate for Premier Danielle Smith to phone up a pastor and discuss his upcoming criminal trial on charges stemming from protests over pandemic restrictions.
Kaycee Madu, who is also the province's former justice minister, said Thursday that Smith is working to make Alberta better, adding that she is free to contact whomever she wants in pursuing that mission.
Opposition NDP Leader Rachel Notley labelled Madu's comments a dangerous "la la land" rationale and the start of a slippery slope toward a "tinpot dictatorship."
Smith faces renewed criticism over a leaked phone conservation she had with Calgary pastor Artur Pawlowski in January about his looming criminal trial for his role at a protest over COVID-19 health measures that blocked the United States-Canada border-crossing at Coutts, Alta., in January 2022.
Audio of the call was obtained by the Opposition NDP and played for reporters Wednesday.
In it, Smith is heard commiserating with Pawlowski over her government's trial tactics, offering to make inquiries on his behalf and saying the Crown is pursuing politically motivated charges against him.
Legal and political observers say the call is a profound breach of the firewall separating politicians from those who decide who gets prosecuted.
Smith has long been critical of COVID-19 masking, gathering and vaccine mandate rules, questioning if they were needed to fight the pandemic. She has called them intolerable violations of personal freedoms.
Madu, when asked by reporters whether it was proper for Smith to have called Pawlowski, said: "COVID policies were divisive for the people of Alberta. I am looking to see us pass that particular era and focus on the people's priorities."
He said Smith's focus as premier has been on things that matter to Albertans, such as affordability, economic growth and taking care of the vulnerable.
"In the course of that particular work, the premier is free to speak with anyone that she wishes to speak with."
Notley said those remarks, coupled with Smith's words on the phone call, put Alberta on a slippery path to the politicization of its justice system. She called for an expedited independent inquiry into the matter before the writ is dropped next month for a scheduled provincial election.
"We're on the verge of a tinpot dictatorship," Notley said.
"You start ripping apart the fundamental tenets of democracy, you move into dictatorship. It's that simple."
Madu moved out of the justice portfolio under former premier Jason Kenney after a third-party report found he tried to interfere in the administration of justice by calling up Edmonton's police chief to complain about a traffic ticket.
Madu was given a new portfolio under Kenney, then promoted to deputy premier when Smith won the party leadership and became premier in October.
Smith has not spoken to reporters since the audio was released, but in a statement Wednesday reiterated she has acted strictly within the parameters of advice from justice officials and has not spoken directly to Crown prosecutors.
"There is no need for further investigation of this matter," Smith said in a statement Thursday.
Notley said the call is dramatic and disturbing proof of Smith breaching the judicial firewall.
"You cannot have unfettered power in the office of the premier. There are limits," Notley said. "Our Constitution for as long as we've been a country has said that those limits are defined by an independent judicial system."
Calgary-based pollster Janet Brown said the controversy will reanimate voter concerns with Smith.
"Why was she even taking a call from someone facing a criminal offence and talking about their criminal charges?" said Brown in an interview.
"This will give undecided voters pause. They will be wondering about her judgment, and her judgment is her Achilles heel."
Political scientist Duane Bratt said Smith is exerting pressure on the justice system by constantly questioning justice officials about why they are pursuing COVID-19 cases.
"Even if this isn't about talking to Crown prosecutors, this is clear pressure on (Justice Minister Tyler) Shandro," said Bratt, with Mount Royal University in Calgary.
Constitutional law professor Eric Adams, with the University of Alberta, said the call threatens public trust in the courts.
"You expose the administration of justice to the reasonable concern of the public that some people have access to the premier and preferential treatment and some people don't," said Adams.
"Our system can't function on that basis."
This report by The Canadian Press was first published March 30, 2023.