Lieutenant Governor of Alberta celebrates ten emerging artists for 2020
Lieutenant Governor of Alberta celebrates ten emerging artists for 2020
Alberta's 2020 Emerging Artists named
Edmonton (June 4, 2020)
The Lieutenant Governor of Alberta Arts Awards Foundation today announced awards totaling $100,000 to the 10 recipients of its 2020 Emerging Artist Award. More than 60 invited guests joined the Zoom awards show, which is now public, and available on the Youtube link above.
"We are pleased to be able to invest in advancing the careers of these outstanding artists at the early stages of their professional development" says Foundation Chair, Arlene Strom. "When economic times are tough, our artists are particularly vulnerable. And in the midst of societal change and upheaval, ensuring our artist voices and perspectives are heard is critical."
Here are this year's awardees:
Kablusiak, visual, multidisciplinary artist, Calgary
Amy LeBlanc, writer, Calgary
Luc Tellier, theatre, Edmonton
Carlos Foggin, music, classical, Calgary
Lauren Crazybull, visual, Edmonton
Evan Pearce, multi-media, music, new technology, Edmonton
Molly Wreakes, music, French Horn, Edmonton
Bruce Cinnamon, writer, Edmonton
Tamara Lee-Anne Cardinal, visual, multimedia, Calgary
Griffin Cork, theatre and film, Calgary
Her Honour, the Honourable Lois E. Mitchell, CM, AOE, LLD, Lieutenant Governor of Alberta congratulated the awardees on a Zoom meeting June 4, 2020. Each awardee receives a $10,000 cash award, a handcrafted medal and 2020 Emerging Artist certificate.
The 10 recipients were selected from 160 applications in a two-tiered adjudication process overseen by The Banff Centre. The adjudication panel included: Denise Clarke, associate artist, One Yellow Rabbit, 2007 Distinguished Artist awardee; Adam Fox, Director of Programs, National Music Centre; Lindsey Sharman, curator, Art Gallery of Alberta; Alice Major; writer, poet, 2017 Distinguished Artist awardee.
Here is some background the each of the artists:
Kablusiak (they/them) is an Inuvialuk artist based in Mohkinstsis/Calgary and holds a BFA in Drawing from the Alberta University of the Arts. Recognition for Kablusiak includes the Alberta Foundation for the Arts Young Artist Prize (2017) and the Primary Colours Emerging Artist Award (2018), and short-list nominee for the Sobey Art Awards (2019). A multi-disciplinary artist, they imbue a variety of mediums with their trademark ironic humour to address cultural displacement.
Amy LeBlanc is the author of three books: her debut poetry collection, I know something you don't know, was published with Gordon Hill Press
in March 2020. Her novella, Unlocking, will be published by the UCalgary Press in 2021. Pedlar Press will publish her short story collection, Homebodies, in 2022. Her very timely master's thesis is a work of fiction examining pandemics and chronic illness.
Luc Tellier is a theatre actor, director, and educator from Amiskwaciy Waskahikan, colonially known as Edmonton. He's been seen in over twenty-five professional productions since graduating from MacEwan University's Theatre Arts Program in 2014. As an arts educator and through his own freelance workshops, he mentors hundreds of students every year – sharing his belief that the arts are for everyone!
Carlos Foggin is driven by his passion to share live orchestral music with as many Albertans as possible! In 2016, he founded the Rocky Mountain Symphony Orchestra which has since performed to more than 30,000 Albertans in over 50 concerts in small southern communities. He is a celebrated pianist, organist and improviser and has performed internationally on some of the world's greatest organs.
Lauren Crazybull is a Blackfoot Dene artist living in Edmonton. In 2019, Lauren was selected as Alberta's inaugural artist in residence and was long listed for the Kingston Portrait Prize. Through her art, Lauren is asking poignant questions about how Indigenous identities can be represented, experienced, celebrated and understood through portraiture.
Evan Pearce began his career by editing music videos using found footage for local bands, but he's now on the leading edge of two new emerging technology art forms: VJ-ing and New Media – working at the intersection of music, video, and leading-edge technology. Evan is fascinated with incorporating XR (Extended Reality) and AI (Artificial Intelligence) in a live performance setting while VJing – and beyond.
Molly Wreakes is a classical french horn player originally from Edmonton, who has performed internationally as both a chamber and orchestral musician. Molly served as the academist with the Royal Stockholm Philharmonic Orchestra In 2018/19 – performing with the orchestra and training with their horn section and orchestra members. Molly is also an avid chamber musician who is inspired to explore community outreach opportunities through music and musical creativity.
Bruce Cinnamon is a writer whose creative work thrives in the radiant sunshine of the gigantic Alberta sky, twisting and bending the familiar prairie landscape into carnivalesque fantasies. Bruce won the 2015 Alberta Views short story contest; his first novel, The Melting Queen, was published by NeWest Press in 2019. He is currently working on his second novel, a fantasy story about a small Alberta town which suddenly vanishes when it is torn into a parallel universe by a predatory City.
Tamara Lee-Anne Cardinal is a multi-media artist, community activist, and perpetual learner. She is a recipient of the National BMO 1st Art! Competition Award, and of the 2017 Alberta Foundation for the Arts Young Artist Award. Cardinal has been an active member in the urban Indigenous community in Treaty 7 Territory. Her work reflects the teachings she receives along her journey – and invites others to become a part of the process, to partake in its making.
Griffin Cork is a Calgary-born actor and producer in the film and theatre industries. He is co-founder and Artistic Producer of Hoodlum Theatre, a small collective dedicated to creating disruptive and unabashed work. His company Numera Films took home an AMPIA Rosie Award for Best Web Series – Fiction in 2019 for Abracadaver. Griffin is committed to telling engaging, Albertan stories and strives to merge the mediums of film and theatre.
Backgrounder: About the awards
The late Fil Fraser, the late Tommy Banks, the late John Poole and Jenny Belzberg (Calgary) established the Lieutenant Governor of Alberta Arts Awards Foundation in 2003 to celebrate and promote excellence in the arts. The endowments they established were created with philanthropic dollars and gifts from the Province of Alberta and Government of Canada.
Since its inception in 2003, the Foundation has awarded $1,230,000 to 20 Distinguished Artists and 63 Emerging Artists, all Alberta affiliated.
The Foundation administers two awards programs:
The Emerging Artist Awardsprogram, established in 2008, gives up to 10 awards of $10,000 each to support and encourage promising artists early in their professional careers. Emerging Artist Awards are given out in even years.
The Distinguished Artist Awardsprogram, begun in 2005, gives up to three awards of $30,000 each in recognition of outstanding achievement in, or contribution to, the arts in Alberta. Distinguished Artist Awards are given in odd years. The 2019 Distinguished Artist Awards celebration will be in Maskwacis, Battle River region in September 21, 2019.
Todayville's President Lloyd Lewis is a Board Director of the Foundation and was the Master of Ceremonies for this year's online awards show.
Read more on Todayville.
Telus Corp. marks opening of Telus Sky in downtown Calgary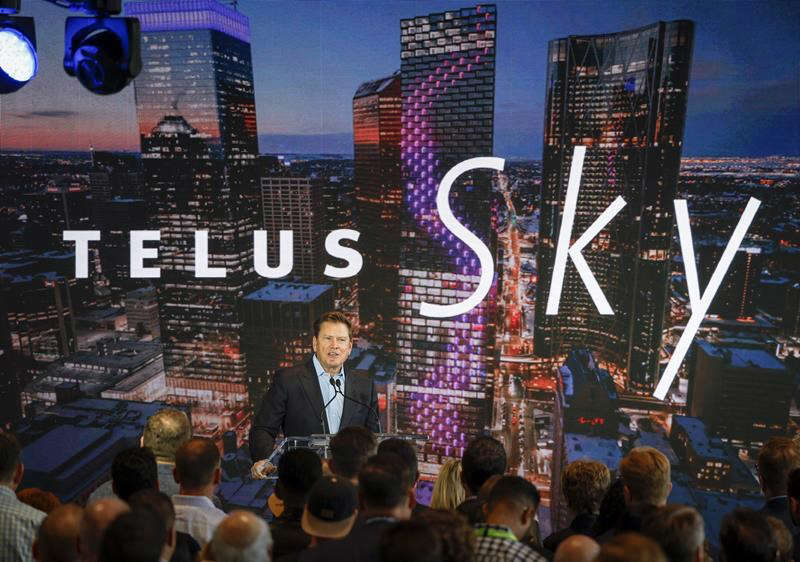 CALGARY — Telus Corp. marked the opening of its new 60-storey Calgary headquarters on Wednesday.
The new $400-million skyscraper, Telus Sky, has been in development for nine years and is now the third-tallest building in downtown Calgary. It features 750,000 square feet of office and retail space as well as 326 rental homes.
The building's eye-catching design, by architects Bjarke Ingels Group (BIG) and Dialog, along with developer partner Westbank and Allied, starts with a rectangular floorplate and then gradually twists as it rises.
Integrated into the facade of Telus Sky is Canada's largest public art display. "Northern Lights" by Canadian author and artist, Douglas Coupland, creates a light show across the building's exterior.
Telus Sky will be home to more than 1,600 Telus employees. It joins TELUS Garden in Vancouver, TELUS Harbour Toronto, TELUS House Ottawa, and Place TELUS Québec as one of the company's LEED (Leadership in Energy and Environmental Design) Platinum-certified buildings.
Among the building's environmental features is a storm water management system that recycles rainwater for use in washroom toilets, reducing the building's municipal water demand by 70 per cent.
This report by The Canadian Press was first published July 6, 2022.
Companies in this story: (TSX:T)
Amanda Stephenson, The Canadian Press
First set of tickets for Pope's mass in Edmonton booked within minutes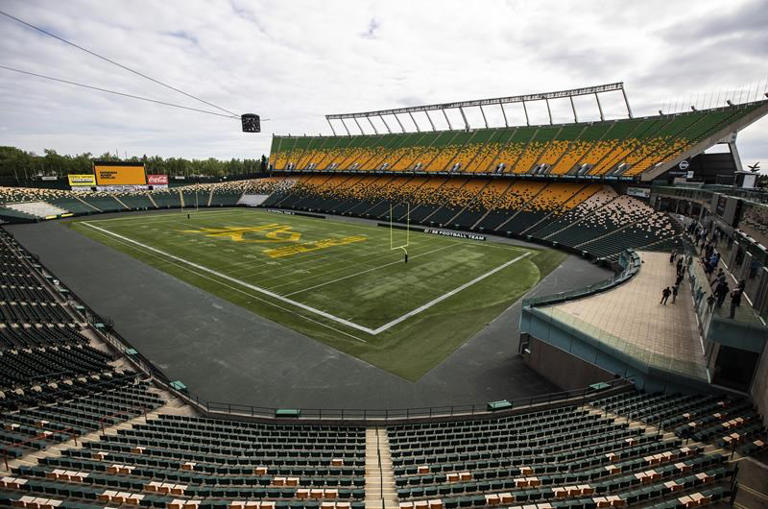 EDMONTON — Thousands of tickets for the Pope's open-air mass at Edmonton's Commonwealth Stadium were all booked about 15 minutes after they were made available to the public for free.
The July 26 mass with Pope Francis is part of his six-day Canadian tour, which also includes stops in Quebec City and Iqaluit.
Neil McCarthy, a spokesperson for the papal visit, says organizers were hopeful the first block of 16,000 tickets would be booked immediately because the impact of the event cannot be underestimated.
A total of 65,000 people can attend the mass at the football stadium.
McCarthy says if people haven't been able to book a seat, they can do so on two other days later this month, when the remaining blocks of free tickets will be made available.
Organizers divided the booking process for the mass over three days, because they say it is easier to manage and want to prioritize some Indigenous people who want to attend.
"We've got seating allocations for Indigenous participation, whether it's residential school survivors, elders, knowledge keepers or those who are supporting them," McCarthy said Wednesday.
"Today was a very, very positive start to the day. People really want to be with him."
The Pope is to arrive in Edmonton on July 24. The next day, he is to meet survivors and visit the site of the former Ermineskin Residential School in Maskwacis, about 80 km south of Edmonton.
He is scheduled to arrive in Quebec City on July 27 and stop in Iqaluit on July 29.
The Pope's visit comes after he apologized in April to Indigenous delegates at the Vatican for the Roman Catholic Church's role in Canada's residential schools and the intergenerational trauma it caused.
This report by The Canadian Press was first published July 6, 2022.
The Canadian Press