Lieutenant Governor of Alberta celebrates ten emerging artists for 2020
Lieutenant Governor of Alberta celebrates ten emerging artists for 2020
Alberta's 2020 Emerging Artists named
Edmonton (June 4, 2020)
The Lieutenant Governor of Alberta Arts Awards Foundation today announced awards totaling $100,000 to the 10 recipients of its 2020 Emerging Artist Award. More than 60 invited guests joined the Zoom awards show, which is now public, and available on the Youtube link above.
"We are pleased to be able to invest in advancing the careers of these outstanding artists at the early stages of their professional development" says Foundation Chair, Arlene Strom. "When economic times are tough, our artists are particularly vulnerable. And in the midst of societal change and upheaval, ensuring our artist voices and perspectives are heard is critical."
Here are this year's awardees:
Kablusiak, visual, multidisciplinary artist, Calgary
Amy LeBlanc, writer, Calgary
Luc Tellier, theatre, Edmonton
Carlos Foggin, music, classical, Calgary
Lauren Crazybull, visual, Edmonton
Evan Pearce, multi-media, music, new technology, Edmonton
Molly Wreakes, music, French Horn, Edmonton
Bruce Cinnamon, writer, Edmonton
Tamara Lee-Anne Cardinal, visual, multimedia, Calgary
Griffin Cork, theatre and film, Calgary
Her Honour, the Honourable Lois E. Mitchell, CM, AOE, LLD, Lieutenant Governor of Alberta congratulated the awardees on a Zoom meeting June 4, 2020. Each awardee receives a $10,000 cash award, a handcrafted medal and 2020 Emerging Artist certificate.
The 10 recipients were selected from 160 applications in a two-tiered adjudication process overseen by The Banff Centre. The adjudication panel included: Denise Clarke, associate artist, One Yellow Rabbit, 2007 Distinguished Artist awardee; Adam Fox, Director of Programs, National Music Centre; Lindsey Sharman, curator, Art Gallery of Alberta; Alice Major; writer, poet, 2017 Distinguished Artist awardee.
Here is some background the each of the artists:
Kablusiak (they/them) is an Inuvialuk artist based in Mohkinstsis/Calgary and holds a BFA in Drawing from the Alberta University of the Arts. Recognition for Kablusiak includes the Alberta Foundation for the Arts Young Artist Prize (2017) and the Primary Colours Emerging Artist Award (2018), and short-list nominee for the Sobey Art Awards (2019). A multi-disciplinary artist, they imbue a variety of mediums with their trademark ironic humour to address cultural displacement.
Amy LeBlanc is the author of three books: her debut poetry collection, I know something you don't know, was published with Gordon Hill Press
in March 2020. Her novella, Unlocking, will be published by the UCalgary Press in 2021. Pedlar Press will publish her short story collection, Homebodies, in 2022. Her very timely master's thesis is a work of fiction examining pandemics and chronic illness.
Luc Tellier is a theatre actor, director, and educator from Amiskwaciy Waskahikan, colonially known as Edmonton. He's been seen in over twenty-five professional productions since graduating from MacEwan University's Theatre Arts Program in 2014. As an arts educator and through his own freelance workshops, he mentors hundreds of students every year – sharing his belief that the arts are for everyone!
Carlos Foggin is driven by his passion to share live orchestral music with as many Albertans as possible! In 2016, he founded the Rocky Mountain Symphony Orchestra which has since performed to more than 30,000 Albertans in over 50 concerts in small southern communities. He is a celebrated pianist, organist and improviser and has performed internationally on some of the world's greatest organs.
Lauren Crazybull is a Blackfoot Dene artist living in Edmonton. In 2019, Lauren was selected as Alberta's inaugural artist in residence and was long listed for the Kingston Portrait Prize. Through her art, Lauren is asking poignant questions about how Indigenous identities can be represented, experienced, celebrated and understood through portraiture.
Evan Pearce began his career by editing music videos using found footage for local bands, but he's now on the leading edge of two new emerging technology art forms: VJ-ing and New Media – working at the intersection of music, video, and leading-edge technology. Evan is fascinated with incorporating XR (Extended Reality) and AI (Artificial Intelligence) in a live performance setting while VJing – and beyond.
Molly Wreakes is a classical french horn player originally from Edmonton, who has performed internationally as both a chamber and orchestral musician. Molly served as the academist with the Royal Stockholm Philharmonic Orchestra In 2018/19 – performing with the orchestra and training with their horn section and orchestra members. Molly is also an avid chamber musician who is inspired to explore community outreach opportunities through music and musical creativity.
Bruce Cinnamon is a writer whose creative work thrives in the radiant sunshine of the gigantic Alberta sky, twisting and bending the familiar prairie landscape into carnivalesque fantasies. Bruce won the 2015 Alberta Views short story contest; his first novel, The Melting Queen, was published by NeWest Press in 2019. He is currently working on his second novel, a fantasy story about a small Alberta town which suddenly vanishes when it is torn into a parallel universe by a predatory City.
Tamara Lee-Anne Cardinal is a multi-media artist, community activist, and perpetual learner. She is a recipient of the National BMO 1st Art! Competition Award, and of the 2017 Alberta Foundation for the Arts Young Artist Award. Cardinal has been an active member in the urban Indigenous community in Treaty 7 Territory. Her work reflects the teachings she receives along her journey – and invites others to become a part of the process, to partake in its making.
Griffin Cork is a Calgary-born actor and producer in the film and theatre industries. He is co-founder and Artistic Producer of Hoodlum Theatre, a small collective dedicated to creating disruptive and unabashed work. His company Numera Films took home an AMPIA Rosie Award for Best Web Series – Fiction in 2019 for Abracadaver. Griffin is committed to telling engaging, Albertan stories and strives to merge the mediums of film and theatre.
Backgrounder: About the awards
The late Fil Fraser, the late Tommy Banks, the late John Poole and Jenny Belzberg (Calgary) established the Lieutenant Governor of Alberta Arts Awards Foundation in 2003 to celebrate and promote excellence in the arts. The endowments they established were created with philanthropic dollars and gifts from the Province of Alberta and Government of Canada.
Since its inception in 2003, the Foundation has awarded $1,230,000 to 20 Distinguished Artists and 63 Emerging Artists, all Alberta affiliated.
The Foundation administers two awards programs:
The Emerging Artist Awardsprogram, established in 2008, gives up to 10 awards of $10,000 each to support and encourage promising artists early in their professional careers. Emerging Artist Awards are given out in even years.
The Distinguished Artist Awardsprogram, begun in 2005, gives up to three awards of $30,000 each in recognition of outstanding achievement in, or contribution to, the arts in Alberta. Distinguished Artist Awards are given in odd years. The 2019 Distinguished Artist Awards celebration will be in Maskwacis, Battle River region in September 21, 2019.
Todayville's President Lloyd Lewis is a Board Director of the Foundation and was the Master of Ceremonies for this year's online awards show.
Read more on Todayville.
Alberta to bring in another five million bottles of children's pain medication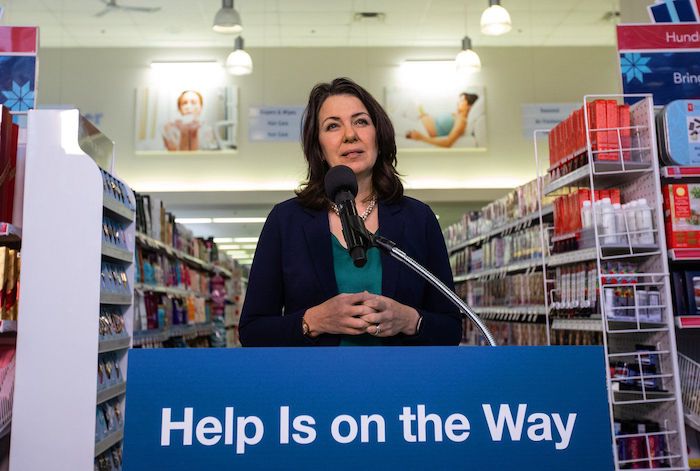 The Alberta government says it has secured another five million bottles of children's medication to manage fever and pain.
Premier Danielle Smith says the government is working with Alberta Health Services and Health Canada to bring in the pediatric acetaminophen and ibuprofen.
Parents across Canada have been scrambling to manage their children's fever and pain as rates of respiratory syncytial virus, or RSV, and influenza skyrocket amid a dire shortage of the medications.
Smith says overwhelmed parents can feel confident the government is moving as quickly as it can to bring in the medication and get it to pharmacies across the province.
The federal government also imported one million units of children's acetaminophen — commonly known as Tylenol — across the country late last month.
Health Canada has distributed the children's Tylenol to retailers and has also sent children's ibuprofen — commonly known as Advil — to hospitals.
This report by The Canadian Press was first published Dec. 6, 2022.
CannTrust CEO was warned over illicit pot growing: former compliance worker
TORONTO — A former director of quality and compliance at CannTrust Holdings Inc. says he warned the company's chief executive that Health Canada could levy penalties if the firm grew pot in unlicensed rooms at its Niagara, Ont. facility.
In the months leading up to Health Canada finding pot growing in unlicensed rooms, Graham Lee said Tuesday that he told Peter Aceto he couldn't say what the exact consequences could be, but knew the government regulator had previously issued warning letters and handed out penalties.
For example, Lee said Health Canada reviewed CannTrust's inventory more extensively after it discovered the company using a storage facility at its Vaughan, Ont. location contrary to licensing.
"In general, Health Canada was there every day checking up on the inventory," Lee recalled.
His comments were made at the Old City Hall courthouse in Toronto in response to questioning from Dihim Emami, a lawyer representing the Ontario Securities Commission (OSC) in a case aiming to prove Aceto and other former CannTrust executives are guilty of several offences related to unlicensed growing at the Niagara facility.
Aceto, former CannTrust chairman Eric Paul and former vice-chairman Mark Litwin have pleaded not guilty to fraud and authorizing, permitting or acquiescing in the commission of an offence.
Litwin and Paul are also facing insider trading charges, and Litwin and Aceto are charged with making a false prospectus and false preliminary prospectus.
The OSC and Royal Canadian Mounted Police allege Litwin, Aceto and Paul did not disclose to investors that about 50 per cent of the growing space at CannTrust's Pelham, Ont. facility in the Niagara area was not licensed by Health Canada. They say the men used corporate disclosures to assert that they were compliant with regulatory approvals.
They also allege that Litwin and Aceto signed off on prospectuses used to raise money in the U.S., which stated that CannTrust was fully licensed and compliant with regulatory requirements, and that Litwin and Paul traded shares of CannTrust while in possession of material, undisclosed information regarding the unlicensed growing.
The men no longer work for CannTrust and their lawyers are arguing their clients are all innocent.
Frank Addario, Aceto's lawyer, previously told The Canadian Press his client was hired because of his financial acumen and track record. Before his time at CannTrust, Aceto was the president and chief executive of ING Direct Canada.
Addario also pointed out that CannTrust was subject to inspections and financial audits that uncovered no material issues.
"The evidence will show Peter Aceto behaved legally and with integrity during his time at CannTrust," Addario said in an email.
However, Lee testified Monday that the growth of cannabis in unlicensed rooms was "very openly discussed" at the pot company.
"There was no hiding this. There was no denial of this," he said.
On Tuesday, he reinforced those allegations, describing how he brought up his concerns about unlicensed activity during at least one meeting in winter 2019 that he recalled Aceto attended.
"I noticed that no one in the room was referring to or cognizant of the fact that these were unlicensed areas, so I reminded them," Lee said.
This report by The Canadian Press was first published Dec. 6, 2022.
Tara Deschamps, The Canadian Press