If Redman is right covid cases will take a nosedive in a matter of weeks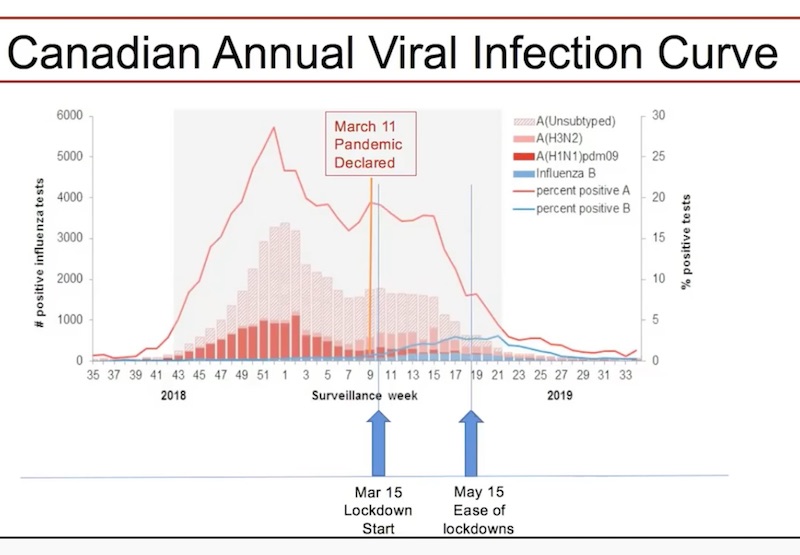 Retired Lieutenant Colonel David Redman has been trying to convince governments all over Canada to take an entirely different approach in the battle against covid-19.  The former head of the Alberta Emergency Management Agency is particularly critical of lockdown restrictions.  Redman insists lockdowns do not work against viral infections and he has a growing amount of data to prove his point.
A number of US states either loosened or completely ended lockdown restrictions over a month ago now.  New cases should be through the roof, but they're not.  Some of that may have to do with the rapid pace of the vaccination programs in the US.  Still that doesn't explain why the numbers have not been higher in Florida, where restrictions were loosened last fall well  before vaccinations started.  A comparison of case number trends in states with completely different lockdown restrictions reveals a difficult reality.  The number of active covid cases do not seem to be affected very much.
Below are daily case graphs from Worldometers.com, showing how similar the case rates look in states regardless of their significant differences in lockdown restrictions.
Texas did away with most restrictions at the beginning of March
Strick lockdown restrictions remain in place in California 
Florida lifted most lockdown restrictions in late September
A case number comparison between Canada and Sweden is also hard to explain.  Most Canadians are under significant lockdown restrictions while life in Sweden has continued in a relatively normal way since covid appeared early last year.  Somehow, the active case data shows a remarkably similar trend between Canada and Sweden.  Again these numbers are available at worldometers.com
If David Redman is correct, Canadians can look forward to cases plummeting sometime in the next couple of weeks.  In this video Redman says he believes covid case rates in Canada will follow the annual viral infection curve regardless of lockdown restrictions.
Here is an abridged version of David Redman's presentation on emergency management.  Redman has been trying unsuccessfully to convince governments across the country to pivot away from their health emergency response plans to the more general emergency response plans.  It's a compelling argument and a must see.
Panel says Grassy Mountain coal mine in Alberta Rockies not in public interest
A joint federal-provincial review has denied an application for an open-pit coal mine in Alberta's Rocky Mountains, saying its impacts on the environment and Indigenous rights aren't worth the economic benefits it would bring.
"We are not confident about the technical and economic feasibility of some proposed mitigation measures," the report says.
"We find that this was particularly true for effects on surface water quality, westslope cutthroat trout (and fish and fish habitat more generally), and vegetation."
Riversdale Resources had proposed the Grassy Mountain project in southern Alberta's Crowsnest Pass region. The area has seen mining in the past.
The mine, said Riversdale, would create about 500 jobs during two years of construction and 400 over the 23-year life of the mine. The company said it would pay $1.7 billion in royalties and $35 million in municipal taxes over that time.
It was supported by many in the town of Crowsnest Pass.
But concerns were raised during a hearing about the chance the mine could contaminate headwaters of the Oldman River with selenium. The element commonly found in coal mines is toxic to fish in large doses.
The review panel also heard the mine would damage ecosystems and impair the cultural and physical heritage of three local First Nations.
"The mitigation measures proposed are not sufficient to fully mitigate these effects," says the report.
The panel advises federal Environment Minister Jonathan Wilkinson to turn the mine down. It has also denied the project's permit applications under provincial laws.
The Grassy Mountain mine is the first of a number of coal projects that have been proposed for the mountains and foothills of Alberta's western boundary. At least eight companies have taken large exploration leases.
Earlier this week, Wilkinson announced that any proposals from those exploration leases would be subject to a federal environmental review. He said concerns about selenium prompted the move.
This report by The Canadian Press was first published June 17, 2021.
Bob Weber, The Canadian Press
Alberta confirms two patient deaths from COVID-19 Delta variant at Calgary hospital
EDMONTON — A health official says two patients at Calgary's Foothills hospital have died from the Delta variant of COVID-19 — and one had been fully immunized.
Kerry Williamson with Alberta Health Services says the two patients, a man and a woman, were in their 80s, had significant co-morbidities and likely acquired the virus in the hospital.
One patient had received two doses of an mRNA vaccine, while the other had not been immunized.
They were among 23 hospital patients and staff who became infected with the Delta variant, one of the variants first identified in India.
Health experts have stressed that it is still possible to contract COVID-19 even with full immunization, but that the chances of severe outcomes drop significantly with vaccination.
The Delta variant is being watched carefully in Alberta, given it is now the dominant strain in the United Kingdom and, with its rapid transmission, is threatening plans there to reopen the economy and lift health restrictions.
This report by The Canadian Press was first published June 17, 2021.
The Canadian Press