Gerry Feehan explores Cape Breton Island
The Canso Causeway connects mainland Nova Scotia to the island of Cape Breton. As we drove across the span on a crisp autumn day, the ebb tide was pulling westward, hard through the Canso Strait. We stopped at the Port Hastings visitor's centre where a pleasant woman bid us welcome and told us we were in luck, "You're just in time for the Celtic Colours." Being an observant fellow, I had already noted the changing season—the brilliant oranges and reds of the Maritimes' fall foliage. And I smartly told her so. "Oh, no," she laughed, "Celtic Colours isn't about the leaves. It's our annual autumn festival." For nine days every October the entire island hops with a chorus of Cape Breton traditions: ceilidhs, live music, spoken word and dance performances, all celebrating the island's rich history and culture.
But before we did any festival going, it was exploration time. Cape Breton is a marvel of twisting vistas, glorious hikes, great food—and friendly people. En route to the world-renowned Cabot Trail in Cape Breton Highlands National Park we took a circuitous path, skirting Bras D'Or Lake (not really a lake, more a brackish inland sea). Along the lakeshore near Big Pond we stopped and paid homage to Rita McNeil at the late singer's eponymous Tea Room. When we finally arrived at Ingonish Beach Campground on the National Park's southeast border, it was late in the day. We ate dinner and hit the hay. There was a big hike planned for the morning: Franey Trail, a long steep climb to a panoramic viewpoint from which one looks down on the Clyburn River canyon spilling into the Atlantic Ocean. Admiring the view at the summit, we chatted quietly with a young local couple who were proud to tell us the history of the region, their Scottish heritage and the hard lives their ancestors had endured on land—and at sea, which they wistfully stared out as they shared the memory.
That evening we dined luxuriously at the historic Keltic Lodge and later, over a digestif in the leathery lounge, struck up conversation with a European tourist. "Don't you think Cape Bretoners are the friendliest people on earth?" I asked. We had been overwhelmed by Maritime hospitality. Looking puzzled, he answered dryly, in a thick accent, "I have had only a few weeks here, so I am not yet able to arrive at this conclusion." Tough sell, those Germans.
When we awoke the air was cool, crisp and clear—a perfect day for an autumn sojourn on the Cabot Trail, which loops for 298km around the northern tip of Cape Breton. We cruised counterclockwise from Ingonish. Our first stop was White Point where the harsh Atlantic batter stony cliffs along the island's unprotected north shore. Then we began a twisting ascent through the lush Acadian forest to Cape Breton's central highlands. The display of foliage was magical. Maple, beech and birch all boasted their brightest fall colours in hues of red, orange and yellow. And, as if frozen in the windless air, the trees had yet to drop a single leaf. It was a palette of autumn perfection.
I pulled the motorhome into a serene overlook. Florence and I sat in silence, gazing through the windshield at the crimson and gold majesty. Suddenly, and before I could exit the vehicle to snap a picture, three vanloads of tourists pulled in, sprung from their seats and began frantically taking photos. Abandoning the hope of any verdant solitude, I instead jumped into the cacophonous human fray and started taking shots of tourists taking pictures.
We set up camp that evening at quiet MacIntosh Brook near Lone Shieling, where 350 year-old sugar maple trees stand sentinel over a long-abandoned Scottish crofter's hut. Despite the quiet, I didn't sleep well that night, for there was a menacing giant lurking in my future: Cabot Cliffs Golf Links.
You may have read my charming story about golf in Ireland – and how the Irish courses were the most beautifully humiliating courses I had ever encountered. Well, Cape Breton Island has retained its Celtic tradition not only in music and dance but also in its fondness for brutal but alluring links golf. Cabot Cliffs is equal to the best of its turf cousins across the sea. I was fortunate to secure a tee time—and a private caddy—to enjoy this spectacular course.
After the (humbling) golf interlude, we re-dedicated ourselves to exploration by foot with a last hike, on the Skyline Trail on Cape Breton's west coast. Although crowded, the traipse was enjoyable and the ocean views breathtaking. On a clear day (which we experienced) one can see the white cliffs of Quebec's Magdalen Islands shining distantly in the Gulf of St Lawrence.
With tired feet—and badly in need of food and drink—we arrived late at Cheticamp Campground. I noticed a sign announcing that the Harbour Restaurant in this quaint Acadian village offered a free shuttle for patrons. I phoned, booked a reservation and requested a ride. 15 minutes later a car pulled up to our campsite and a pleasant lady with a French-Canadian accent said, "Hop in." It was Lorraine LeBlanc, the restaurant owner. And after a great chow down on Morue en Cabane (slow-cooked cod, chives and pork scraps) and Lorraine's famous Apple Garden cake, she returned us to our campsite. Now that's Cape Breton hospitality! Despite my inherent thriftiness, I left a reasonable tip.
Our time in the Highlands was coming to an end and still there was the Celtic Colours to enjoy. The festival venues are island-wide but many artists bunk each night at the Gaelic College in St Ann's near Baddeck (Alexander Graham Bell's summer stomping grounds). Widely scattered venues result in a long, dark drive on narrow roads back to St Ann's after a day of performing. But for the tireless musicians the party carries on—with impromptu jam sessions lasting well into the wee hours.We arrived in St Ann's on the last night of the Festival. We boon-docked in the Gaelic College parking lot. The Celtic Colours finale was scheduled to begin very late, past 12:00am—and well past our bedtime—so, after a parking lot BBQ, we lay down for a disco nap, awaking after midnight to the sound of instruments being tuned. It was a raucous evening, hosted by the effervescent humour of singer-songwriter Buddy MacDonald. It was past 4 am when the last fiddle was packed unwillingly into its case. We trundled off to bed… and enjoyed a well-deserved Celtic sleep in.
Gerry Feehan is an award-winning travel writer and photographer. He lives in Kimberley, BC.
Thanks to Kennedy Wealth Management for sponsoring this series. Click on the ads and learn more about this long-term local business.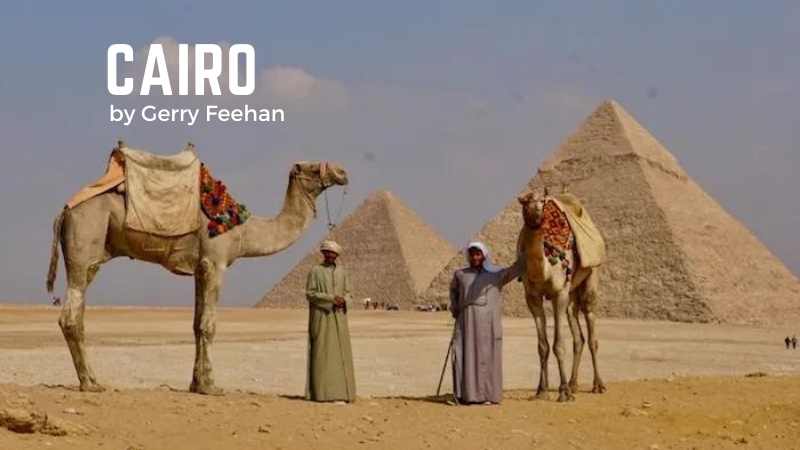 The Pyramids of Giza
The first thing one notices upon arrival in Egypt is the intense level of security. I was screened once, scanned twice and patted down thrice between the time we landed at the airport and when we finally stepped out into the muggy Cairo evening. At our hotel the scrutiny continued with one last investigation of our luggage in the lobby. Although Egyptian security is abundant in quantity, the quality is questionable. The airport x-ray fellow, examining the egg shaker in my ukulele case, sternly demanded, "This, this, open this." When I innocently shook the little plastic thing to demonstrate its impermeability he recoiled in horror, but then observed it with fascination and called over his supervisor. Thus began an animated, impromptu percussion session. As for the ukulele, it was confiscated at hotel check-in and imprisoned in the coat check for the duration of our Cairo stay. The reasons proffered for the seizure of this innocuous little instrument ranged from "safety purposes" to "forbidden entertainment". When, after a very long day, we finally collapsed exhausted into bed, I was shaken — but did not stir.
Al-Qahirah has 20 million inhabitants, all squeezed into a thin green strip along the Nile River. Fading infrastructure and an exponential growth in vehicles have contributed to its well-deserved reputation as one of the world's most traffic-congested cities. The 20km trip from our hotel in the city center, to the Great Pyramid of Cheops at Giza across the river, took nearly two hours. The driver smiled, "Very good, not rush hour."
Our entrance fee for the Giza site was prepaid but we elected to fork out the extra Egyptian pounds to gain access to the interior of the Great Pyramid. Despite the up-charge — and the narrow, dark, claustrophobic climb – the reward, standing in Cheop's eternal resting place, a crypt hidden deep inside the pyramid, was well worth it. We also chose to stay after sunset, dine al fresco in the warm Egyptian evening, and watch the celebrated 'sound and light' performance. The show was good. The food was marginal. Our waiter's name was Fahid. Like many devout Muslim men, he sported a zabiba, or prayer bump, a callus developed on the forehead from years of prostration. Unfortunately throughout the event Fahid hovered over us, attentive to the point of irritation, blocking our view of the spectacle while constantly snapping fingers at his nervous underlings. The 'son et lumière' show was a little corny, but it's pretty cool to see a trio of 4500-year-old pyramids – and the adjoining Great Sphinx — illuminated by 21 st century technology.
Giza at nightThe next night our group of six Canucks attended an Egyptian cooking class. Our ebullient hostess was Anhar, ('the River' in Arabic). Encouraged by her contagious enthusiasm, we whipped up a nice tabouli salad, spicy chicken orzo soup and eggplant moussaka. We finished up with homemade baklava. Throughout the evening, Anhar quizzed us about the ingredients, the herbs and spices, their origins and proper method of preparation. Anyone who answered correctly was rewarded with her approving nod and a polite clap. Soon a contest ensued. Incorrect answers resulted in a loud communal 'bzzzt' — like the sound ending a hockey game. It's not polite to blow one's own horn, but the Feehan contingent acquitted themselves quite nicely. If I still had her email, Anhar could confirm this.
Cairo was not the highlight of our three-week Egyptian holiday, but a visit to the capital is mandatory. First there's the incredible Pyramids. But as well there's the Egyptian Museum that houses the world's largest collection of Pharaonic antiquities including the golden finery of King Tutankhamen and the mummified remains of Ramses the Great. Ramses' hair is rust coloured and thinning a little, but overall he looks pretty good for a guy entering his 34 th century.
Then there's Khan el-Khalili, the old souk or Islamic bazaar. We strolled its ancient streets and narrow meandering alleyways, continually set upon by indefatigable street hawkers. "La shukraan, no thanks," we repeated ineffectually a thousand times. The souk's cafes were jammed. A soccer match was on. The 'beautiful game' is huge in Egypt. Men and women sat, eyes glued to the screen, sipping tea and inhaling hubbly bubbly.
An aside. When traveling in Egypt, be sure to carry some loose change for the hammam (el baño for those of you who've been to Mexico). At every hotel, restaurant, museum and temple — even at the humblest rural commode — an attendant vigilantly guards the lavatory. And have small bills for the requisite baksheesh. You're not getting change.
After our evening in the souk we had an early call. Our guide Sayed Mansour met us at 6am in the hotel lobby. "Yella, yella. Hurry, let's go," he said. "Ana mish bahasir – I'm not joking." "Afwan," we said. "No problem," and jumped into the van. As we pulled away from the curb Sayed began the day's tutorial, reciting a poem by Percy Blythe Shelly:
I met a traveller from an antique land,
Who said—"Two vast and trunkless legs of stone
Stand in the desert. . . . My name is Ozymandias, King of Kings;
Look on my Works, ye Mighty, and despair!"
And we were off, through the desert, to Alexandria. Founded by Alexander the Great in 332 BC, Egypt's ancient capital was built on the Nile delta, where the world's longest river meets the Mediterranean Sea. The day was a bit of a bust. The city was once renowned for its magnificent library and the famed Lighthouse of Alexandria. But the former burnt down shortly after Christ was born and the latter — one of the original seven wonders of the ancient world – toppled into the sea a thousand years ago. Absent some interesting architecture, a nice view of the sea from the Citadel — and Sayed's entertaining commentary — Alexandria wasn't really worth the long day trip. Besides, we needed to get back to Cairo and pack our swimwear. Sharm el Sheikh and the warm waters of the Red Sea were next up on the Egyptian agenda.
Exodus Travel skilfully handled every detail of our trip: www.exodustravels.com And, if you're thinking of visiting Egypt, I can suggest a nice itinerary. No sense reinventing the pyramid: [email protected]
Gerry Feehan is an award-winning travel writer and photographer. He lives in Kimberley, BC.
Thanks to Kennedy Wealth Management for sponsoring this series. Click on the ads and learn more about this long-term local business.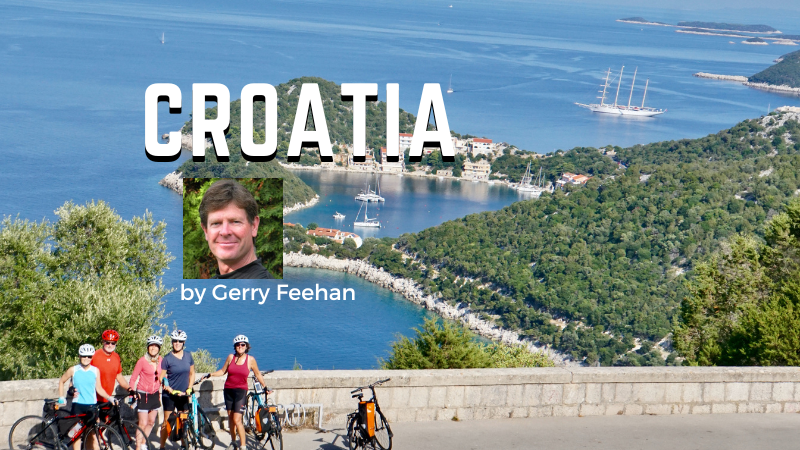 On our second day of riding, while huffing and puffing up an absurdly steep Croatian road, I said to my wife Florence, 'Perhaps it would be wise if you were to switch to an e-bike. The guide says the grade is going to get even tougher over the next few days.' As she pedaled away, Florence remarked, 'You use electricity. I'll use electrolytes.' Then she accelerated up the slope and disappeared around a bend in the lane. I stopped disheartened, dismounted and examined my bicycle, hoping to discover a low tire or some other mechanical excuse to abandon the climb.
We were on a seven-day 'Pedal and Sea' adventure on the Dalmatian Coast. We'd been forewarned that it'd be a tough slog. Preparedness being my motto, I spent weeks before departure supplementing my strict training regime with long-distance cycling. The calculations were precise. Twice a week I'd do 4 kilometers of pedaling — followed by a beer and a small nachos plate. Or was it 3 kilometers of pedaling, 2 brewskies and a medium quesadilla? No matter. The critical thing was to arrive in Croatia in tiptop condition, ready to pedal.
Ironically, the town we flew into was called Split. A Roman Emperor named Diocletian was among the first to vacation on the Dalmatian Coast. He loved Split so much that, after subjugating the locals and burning a few Christians at the stake, he retired here in 305 AD and built a gargantuan palace hewn from local limestone. Today, his enormous fortress still overlooks the quaint harbour. From the palace it's a short walk up into Marjan Forest Park, which offers splendid views of the city and the surrounding Adriatic Sea.
We boarded our bark, The Azimut in nearby Trogir. We enjoyed a spread of fresh seafood as the boat motored out of port and into the open sea. Our guides Antonio and Andrei introduced themselves and outlined the program for the upcoming week. After lunch the whole group sat on deck marveling at the pristine, azure water as the Azimut skipped across the flat sea.
Two hours later we landed on Solta island. We disembarked, mounted our steel steeds and enjoyed a leisurely ride to the stony interior of the island. We returned to the boat in time to watch the sun sink into the flaming Adriatic. Then cocktails, then a scrumptious supper, then a few late-night laughs — then off to our berths for some well-earned jet-lagged shut eye.
In the morning I emerged from our stateroom, ordered a latte and watched the crew undertake the laborious daily task of manhandling a boatload of bicycles, bucket-brigade style, from the mezzanine deck to the dock. After breakfast we gathered en masse on the quay, strapped paniers to bikes, secured helmets to heads and awaited instructions. I surveyed my fellow Azimut shipmates, many of whom donned colourful attire advertising past cycling glories. The advanced age of some instilled in me a degree of cockiness. I decided to take it easy on them this first full day of riding; let them know it was okay for old geezers and geezerettes to share the road with me. On the first steep hill four septuagenarians pedaled by me in unison, peloton-style, instantly leaving me in the dust. As they rotated away, not judging a book by its leathered cover came spinning into my mind.
The itinerary was pretty much the same each day — one beautiful Croatian Island after another, but with ever steeper terrain and longer rides. Our flamboyant, able skipper was Captain Jadran. Every morning he stood at the helm, clad in a pink shirt, orange shorts, flip flops and a groovy Navy hat, part Humphrey Bogart, part Austin Powers. A cigarette dangled perpetually from his lips, which he removed only to shout sharp commands at the crew.
There were 36 guests on board the Azimut. Antonio and Andrei our large, male mother geese, patiently and attentively looked after the whole flock, guiding us from start to finish every day, on every ride. They replaced chains felled by faulty gear changes, fixed flattened tires and bandaged the occasional scrape.
Although most of us started out using good old-fashioned human power, slowly but surely more and more e-bikes started popping up on the quay in the morning.
Before the week was half over the hard-core contingent was whittled down to less than ten. And those that made the switch did not switch back. But they certainly smiled a lot more. E-bikes have enabled the family to play together — and stay together. If mom is hard-core but dad and the kids aren't as enthusiastic, they can still bike together the live-long day.
Spoiler: we were not the first travellers to discover Croatia. Although we arrived in September's shoulder season, the ports, even at smaller remote islands, were crowded — boats often stacked 6-deep, necessitating a circuitous, ship-to-ship hopping expedition to get ashore. Dubrovnik, the gem of Dalmatia, was crawling with visitors. Circumnavigating the City's famous wall, a 2-kilometre stretch offering heavenly views of the ancient city and port, was a push and shove affair.
Fortunately, we didn't spend too much time with the maddening crowd. Our days were occupied riding bucolic island byways, our nights rocking on board with the boisterous satisfaction of having conquered thigh-burning mountain passes.
Most of our ocean crossings took less than a couple hours and land was always in sight. The longest haul was from Hvar to the island of Vis — a two-pack sail for the captain. At the height of cold war fears, communist strongman Marshal Tito installed a secret submarine base along Vis' rugged coast. But frankly, after an arduous cross-island ride, I was less interested in consuming cold war trivia than in downing a large serving of Viska, traditional island dough aroused with olive oil and stuffed with onion, anchovies and tomatoes.
The toughest ride was on Korcula. This leg was only a little over 50km, but there were several brutal climbs. Fortunately the pain was abated by frequent stops to admire the stunning white limestone cliffs spilling into the aquamarine Adriatic. The day ended at a small roadside shop where we quaffed a well-earned Radler (a delicious concoction of flavoured soda and beer) purchased from an indifferent Korculan shopkeeper. To be clear, not all Croatian shopkeepers are indifferent.
Some are also grumpy.
On our last night on board the ship, at the Captain's dinner, Jadran thanked us and offered a toast to all his guests. I manufactured an impromptu rendition of the Azimut Blues on my ever-present ukulele. When I finished the ditty, the captain, who had exchanged his colourful garb for proper navy attire, ceremoniously adorned me with a Croatian captain's hat. An unlit smoke hung from his lips. I looked down at his feet: flip-flops.
Gerry
If you go: https://www.pedalandseaadventures.com/
Lights out
Gerry Feehan is an award-winning travel writer and photographer. He lives in Kimberley, BC.
Thanks to Kennedy Wealth Management for sponsoring this series. Click on the ads and learn more about this long-term local business.