Fully vaccinated with negative tests in hand, Calgary mom and daughters forced into quarantine on return to Canada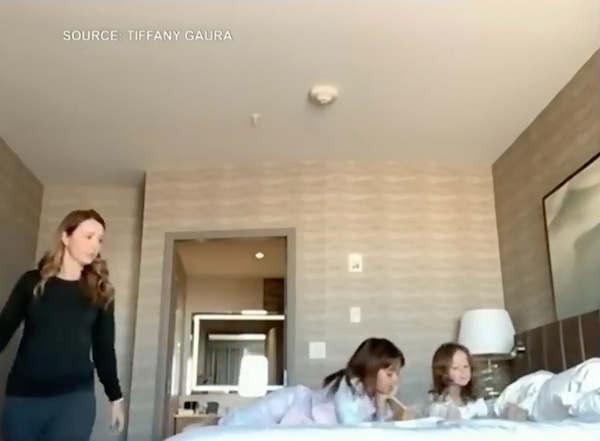 This article consists of the facebook posts of Calgary mother Tiffany Gaura. Tiffany and her two daughters happened to be travelling home from a visit with her husband who is working in Cairo, when the Canadian government announced strict travel restrictions against those traveling from 'some' countries where the new Omicron virus has been found. Gaura has given us permission to use her posts in this article and has filled in a few small gaps for us. She's hoping Canadian officials will show more flexibility, especially considering they've established restrictions on travellers coming from only a select few of the countries where Omicron has turned up. Gaura is especially frustrated since Omicron is already in Canada and travellers from Europe and the United States are not quarantined on arrival.
Day 1 – Dec 4, 6:37 PM – Shock and Awe
This is a tough post for me. Today we traveled back to Canada from Cairo. We came early to complete the new quarantine requirement given Egypt has been listed as a "Country of Concern". I am FULLY VACCINATED. We had PCR tests in Cairo and Frankfurt. We have an empty home to go to here in Calgary.
Upon arrival in YYC, we were taken by CBSA (Canadian Border Services) to PHAC (Public Health Canada) screening. It was a 15 minute interrogation about my history with Covid (none), my plans in Canada and my testing and vaccination. They read me my rights and told me I was entitled to a lawyer. They told me the fine for breaking quarantine is up to $750,000. We had a dedicated escort throughout, ensuring we weren't escaping. Secondary unexplained screening at customs, and a PCR on arrival. We weren't allowed to make any stops or get anything to eat or drink. The whole process took about 2 hours.
We were transported in a dedicated vehicle to the Westin Airport Hotel in Calgary. The Government of Canada as contracted the entire hotel as a "secure quarantine location". The parking lot is blocked with No Trespassing signs. We were met by the Red Cross of Canada employees in HazMat suits.
We were processed and taken to an isolation floor. We cannot go outside. We cannot leave our room. We cannot get deliveries or packages. We cannot consume anything from offsite. We only get the meals they send us (it's now 6:30pm and we have not had anything to eat or drink since we landed at 3pm). They have no cups for water in the room. I requested some but to no avail. Once we get our test results (presumably negative, and can take up to 72 hours) we must contact the Red Cross who will coordinate with Quarantine Officers for our release, that can take 48 hours (they say). They will provide us dedicated transport to our quarantine location (our home) where we must complete our 14 days in isolation. We must also take another test on Day 8.
This is happening, right now, in Canada, two years into a pandemic to vaccinated individuals. I don't have the words to express this well. I waver back and forth between rage, embarrassment and disbelief. This will change my life, I have no doubt.
Day 2 – Dec 5, 11:17 AM = Frustration sets in
Next time you think about making a donation to the Canadian Red Cross, keep in mind that your donation dollars are going to things like supervising fully vaccinated travellers in mandatory government quarantine facilities. I'm sure there are other organizations that could use your money.
Day 3.- Dec 6. 11:22 AM = Canadian Quarantine for Fully Vaccinated Travelers With Negative Covid Tests
– We still have no PCR results, because apparently in Canada it takes 72 hours to get results in 2021. Or maybe they just want us to stay here longer.
– The food is horrible. It arrives cold and has limited nutritional value. It's not FoodSafe for sure. I may call public health.
– No fruits or vegetables (aside from potatoes). No beverages are offered, so it's tap water for the win. No wait, I did get some coffee filters and packaged creamer. It's gross.
– The hotel gives a number for people to call so they can speak to us BUT they won't actually put any calls through to our room. When you call they just say they will pass the message on to the Red Cross who will send us the message
– The kids are going stir crazy. No fresh air, no physical activity. We are doing yoga and school work, I brought a few card games, but that can only fill so many hours of the day with no space or freedom to roam.
– We have only one bed in the hotel room so we all sleep together.
– I asked for tampons, it took 24 hours to receive them.
– We have a window to nothing. Can't see the parking lot or any coming and goings from the site. I wonder if they give rooms that have a view to that.
This interview was conducted by the CBC while Tiffany and her children were still in quarantine.
Day 4 – Dec 7 – Third Negative Test Results Finally Come After More Than 3 Days.
4 days in quarantine. We left when we got our results. I made a choice to leave after I was unable to contact anyone at either PHAC or the Red Cross who could give us any information about being released by a quarantine office.
This interview was conducted by the CTV in the hours after Tiffany and her children returned home after 4 days in quarantine.
McDavid scores shootout winner as Oilers down Predators for third straight victory
EDMONTON — Connor McDavid scored the shootout winner and added a goal in regulation as the Edmonton Oilers continued their efforts to dig their way out of a recent slump with a 3-2 victory over the Nashville Predators on Thursday night.
Evan Bouchard also scored for the Oilers (21-16-2) who have now won three straight after going 2-11-2 in their previous 15 games. Edmonton goalie Mikko Koskinen stopped all three Nashville shootout attempts.
Filip Forsberg, Matt Duchene scored for the Predators (27-14-4), who lost for the first time in four games.
The Oilers tied an unfortunate franchise record by allowing the game's first goal for the 11th straight game when Forsberg scored his 200th career goal high to the stick side past Koskinen five minutes into the opening period. It was also the 26th time in the last 30 games Edmonton has allowed the first goal of the game.
Edmonton got that back with 32 seconds to play in the first as McDavid blazed up ice and cut past defender Matt Benning before putting his 21st of the season through the legs of Nashville goalie Juuse Saros.
The Predators went ahead 2-1 seven-and-a-half minutes into the second when Duchene elected to shoot on a two-on-one, notching his 21st high to the glove side past Koskinen.
The Oilers pulled even again with five minutes to play in the middle frame as a long point shot from Bouchard hit a defender and caromed into the net.
There was no scoring in the third, with Edmonton outshooting the Preds 43-26 through regulation time.
Overtime saw Darnell Nurse hitting a post for the Oilers.
The Oilers begin a three-game road trip in Montreal on Saturday. The Predators are off until Tuesday, when they will host to the Vancouver Canucks.
Notes: The Oilers, who signed forward Evander Kane to a one-year deal earlier in the day, have also been getting some of their top players back in the lineup. Ryan Nugent-Hopkins returned from injury Tuesday, and Zach Hyman returned from COVID protocol Thursday… Still out of the lineup for Edmonton were Mike Smith (thumb) and Tyson Barrie (upper body)… Missing for Nashville were Dante Fabbro (upper body) and Eeli Tolvanen (COVID-19 protocol)… Predators 24-year-old forward Tanner Jeannot came into the game leading the NHL in rookie scoring with 13 goals and his team in hits with 141.
This report by The Canadian Press was first published Jan. 27, 2022.
The Canadian Press
CP NewsAlert: Calgary police issue Amber Alert for missing two-year-old boy
Calgary police have issued an Amber Alert for a two-year-old boy.
They say Hawkin Gerald Thomas was taken from the downtown area at about 2:30 p.m. following a supervised visit with his mother, 40-year-old Tamara Jean Vanderjagt.
Police say they are concerned for the boy's welfare.
Hawkin is described as white with blond hair and he was last wearing a red sweater, green boots and dark camouflage sweat pants.
His mother is described as white with blue eyes, bright short red hair, about five foot four inches tall, and she was wearing a black hoodie and red pants.
She was driving a brown 2017 Mitsubishi Outlander with Alberta licence plate NLY 991.
The car was last seen heading west on 9 Avenue Southeast going past Blackfoot Trail.
The Canadian Press