Face coverings vital to Edmonton's COVID recovery
Face coverings vital to Edmonton's COVID recovery
September 25, 2020
Face coverings have been required in all indoor public spaces and in public vehicles within Edmonton since August 1. Since then, a vast majority of Edmontonians have respected the requirement, helping protect themselves and their neighbours from COVID-19.
Face coverings are an important tool in the fight against COVID-19, according to Dr. Chris Sikora, Edmonton Zone's Medical Officer of Health.
A small number of people continue to ignore the health and safety of others in the midst of this global pandemic. Tickets have been issued to two individuals not wearing masks while on the LRT system. The fine for each violation, under the City's Temporary Mandatory Face Coverings Bylaw, is $100.
In both cases, City staff took an education-first stance and repeatedly tried to help the individuals understand the bylaw before issuing a ticket. The individuals were offered a free mask during many of these interactions.
The number of COVID-19 cases continue to rise in the city. Most Edmontonians are doing their part to help reduce the spread of the virus, and a re-doubling of this effort is needed as fall arrives and indoor activities increase.
We would also like to thank all Edmontonians for putting used disposable masks and gloves where they belong—in a garbage can. The City is continuing to distribute additional litter kits to community leagues and businesses.
Province demanded plan: Edmonton mayor outlines ways city will try to curb crime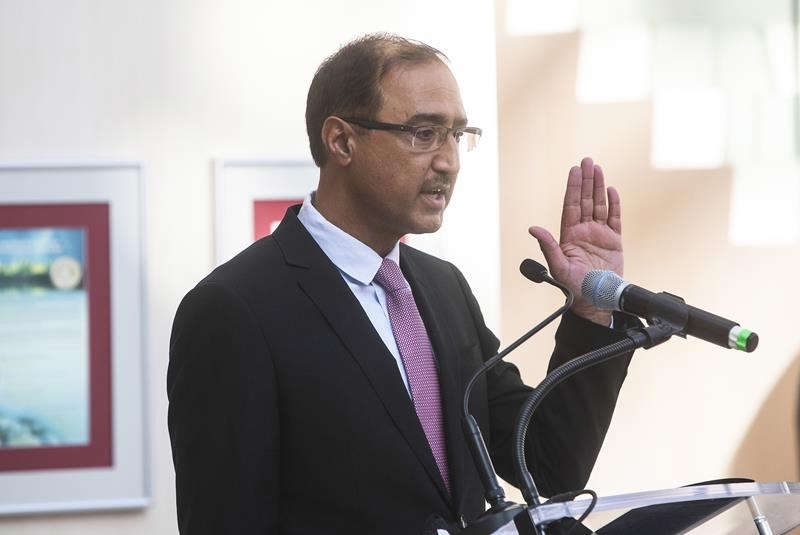 He added that Calgary also receives 40 to 50 per cent more in funding to support community efforts to end homelessness.
"I don't understand the reason for this discrepancy when both cities are facing similar challenges," he said.
"We're asking the government of Alberta to immediately close this discrepancy and provide Edmonton the same level of support they provide to Calgary."
Sohi's comments come after the city published Thursday the final version of its safety plan for downtown, Chinatown and the transit system. The city abided by a deadline set two weeks ago by Justice Minister Tyler Shandro.
Shandro used his ministerial power to demand a report from the city on what is being done to get crime under control. In a letter to Sohi on May 26, Shandro also pointed to the recent killings of two men in Chinatown.
Sohi said he had been working on problems affecting the city's core since he took office in October. He has said the areas of action that help address social disorder — mental health, drug addiction and homelessness — are mainly within the province's jurisdiction.
"If (the province is) really and truly serious about safety and about the well-being of Edmontonians, then give us the same support that you give Calgary," he said.
The plan combines immediate steps and longer-term initiatives.
In the short term, the city will put more police and peace officers on the street, fund private security to patrol Chinatown, implement programs to prevent and respond to drug overdoses, and increase responses to encampments and derelict homes.
There is also a plan to immediately set up an operations centre in Chinatown for police, peace officers and staff from social agencies. A location is yet to be determined.
Several initiatives call for cleaning streets and back alleys several times a day, adding more public washrooms in core neighbourhoods, and implementing a needle cleanup program.
Longer-term initiatives include decentralizing social services from core neighbourhoods and streetscape improvements.
Sohi also said the province should increase funding for Edmonton police to reflect population growth and inflation.
"In 2008, the province funded 105 police officers for our city, but capped the per capita cost to $100,000," he said. "That funding has not been adjusted for inflation and, in 2022, the cost per officer has nearly doubled."
Sohi added the city has made up that shortfall by increasing property taxes.
Shandro said in a statement Thursday that the plan has been submitted to his office and is being reviewed
"I am encouraged by the constructive discussions I've had with Mayor Sohi and the recent steps municipal officials have taken to improve public safety for Edmontonians — including city council's vote to amend the municipal transit bylaw to ban loitering and drug use on public transit," he said.
"There is still a considerable amount of work to do to address crime and violence in downtown Edmonton and make it safer for everyone, but these are positive steps in the right direction."
This report by The Canadian Press was first published on June 9, 2022.
Daniela Germano, The Canadian Press
Alberta justice minister demands answers from Edmonton on crime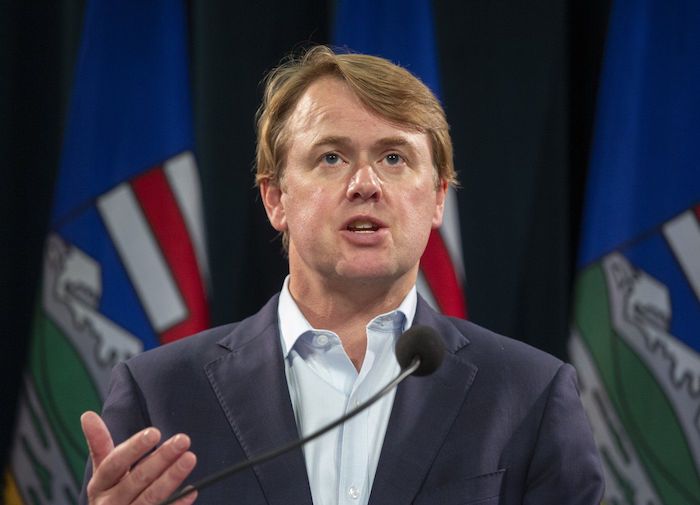 By Dean Bennett in Edmonton
Alberta's justice minister says people in Edmonton are not being kept safe from violent crime, particularly on public transit, and he's ordering Mayor Amarjeet Sohi to provide answers.
Tyler Shandro has told Sohi he's invoking his ministerial powers under the province's Police Act to demand a report within two weeks on what the city will do to arrest a spike in serious crime.
In a letter to Sohi made public Thursday, Shandro cited an increase in downtown crime as well as in aggressive encounters and drug use on light-rail rapid transit.
He pointed to the killings last week of two men in the Chinatown district downtown.
"As the minister of justice and solicitor general, I have a responsibility under the Police Act to ensure the people of Edmonton receive adequate and effective policing," Shandro said in the letter.
"It is quite apparent that residents feel uncomfortable and unsafe in the downtown core, riding transit and traversing the transit centre corridors.
"In short, the people of Edmonton deserve better than what this city council is delivering."
Sohi called the letter an overreach by the provincial government, but added that he is glad the provincial government is finally paying attention.
"I share the same concerns about the safety in our downtown, Chinatown and on the LRT that he highlighted in this letter," Sohi said Thursday. "The social issues that are causing these safety issues are nothing new.
"The disorder and crime that we are seeing in our downtown is directly linked to the lack of provincial investments in ending houselessness, the mental-health crisis, the drug poisoning and addictions crisis."
Shandro's letter said the United Conservative government is doing its part to address core issues that can lead to crime, including spending millions of dollars to fight drug addiction and homelessness.
Shandro did not make himself available to media to answer questions.
There was no comment from the Edmonton Police Service. Chief Dale McFee was to attend a city council meeting Friday.
Edmonton city councillors are currently debating whether to set this year's police budget at $385 million, which would be a drop of $22 million if police could not secure extra funds from declining photo radar revenues.
Shandro said earlier this week he would be concerned if Edmonton's police budget were to be cut.
The police budget has not been cut, said Sohi, who added that the city has invested more in transit officers, community action teams and in safety-related projects in affected areas.
"Council is investing in many issues that are the responsibility of the province and, frankly, they are falling short," he said.
"The pandemic has brought to light so many social issues that are not being properly addressed or adequately funded."
Sohi said he looks forward to meeting with the minister next week to outline his concerns and explain how the city is doing its part.
Irfan Sabir, justice critic for the Opposition NDP, said violent crime in Alberta's capital is a serious issue that needs to be addressed. But, he added, the UCP government is choosing to off-load complex problems and pick fights instead of collaborating.
"People in Edmonton want a plan in place (so) they can be assured that they are safe in their homes and their communities. But in this instance, the minister is just passing the buck," said Sabir.
This report by The Canadian Press was first published May 26, 2022.
— with files from Colette Derworiz in Calgary