Equalization payments aren't just controversial in Alberta anymore! Ontario poll shows overwhelming negative view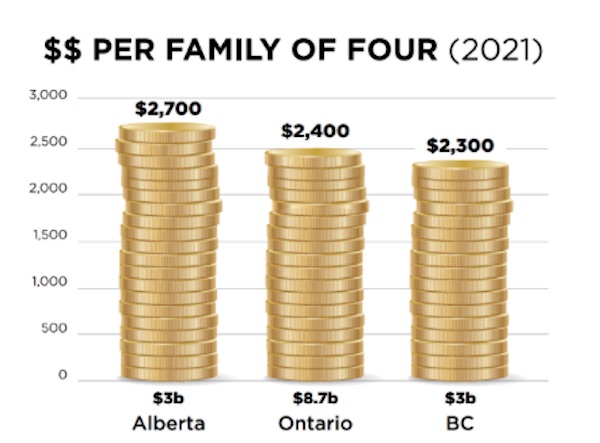 POLL: VAST MAJORITY OF ONTARIANS SAY EQUALIZATION PAYMENTS ARE UNFAIR
Fairness Alberta calls for $8 billion rebate for Ontario
Fairness Alberta has released a poll showing 73% of Ontarians believe ever-growing Equalization payments are unfair given the narrowing wealth gap between provinces since 2015.
The poll, from a weighted survey of 1,000 Canadians recently conducted by the Toronto firm One Persuasion Inc. (MoE +/-3.1%), showed a large majority of Ontarians said it is unfair that Equalization payments rose 23% since 2015, making Ontario's share of funding the program equivalent to roughly $2400 per family of four (see bottom). Opposition to the status quo on Equalization was highest in the 905 region of suburban Toronto.


(To see the full results of the poll click here)
"Ontarians have been funding unfairly high Equalization payments for others while their own provincial government was struggling to pay for services even before COVID-19," said Fairness Alberta Executive Director Dr. Bill Bewick. "Given the collapse of the wealth gap between provinces, the so-called 'have' provinces should get the share of Equalization that came from their taxpayers rebated until we achieve meaningful reforms to federal-provincial funding."
As Dr. Bewick outlined in the National Post, even a 50% rebate would mean a bump to provincial budgets of $4 billion in Ontario and $1.5 billion being returned to B.C. and Alberta as their provincial responsibilities come under strain.
"The $21 billion-and-growing price tag for Equalization is totally unnecessary and unaffordable given how much more equal provinces have become since 2015," added Dr. Bewick. "This isn't just an Alberta problem. Ontario, B.C., Alberta, Saskatchewan, and Newfoundland make up nearly 70% of Canada's population and it has become obvious that the program is unfair to all of them."
A recent study by Ben Eisen and Milagros Palacios illustrates the "Great Convergence" in provincial fortunes since the 2015 energy downturn. While the gap between the median 'have' and 'have not' fell from $5000 per person in 2015 to only $1600 in 2020, Equalization payments grew 23%. With increases tied to national GDP rather than need, a $20.9 billion windfall is going to 5 provinces (with less than 1/3 of the population) in 2021.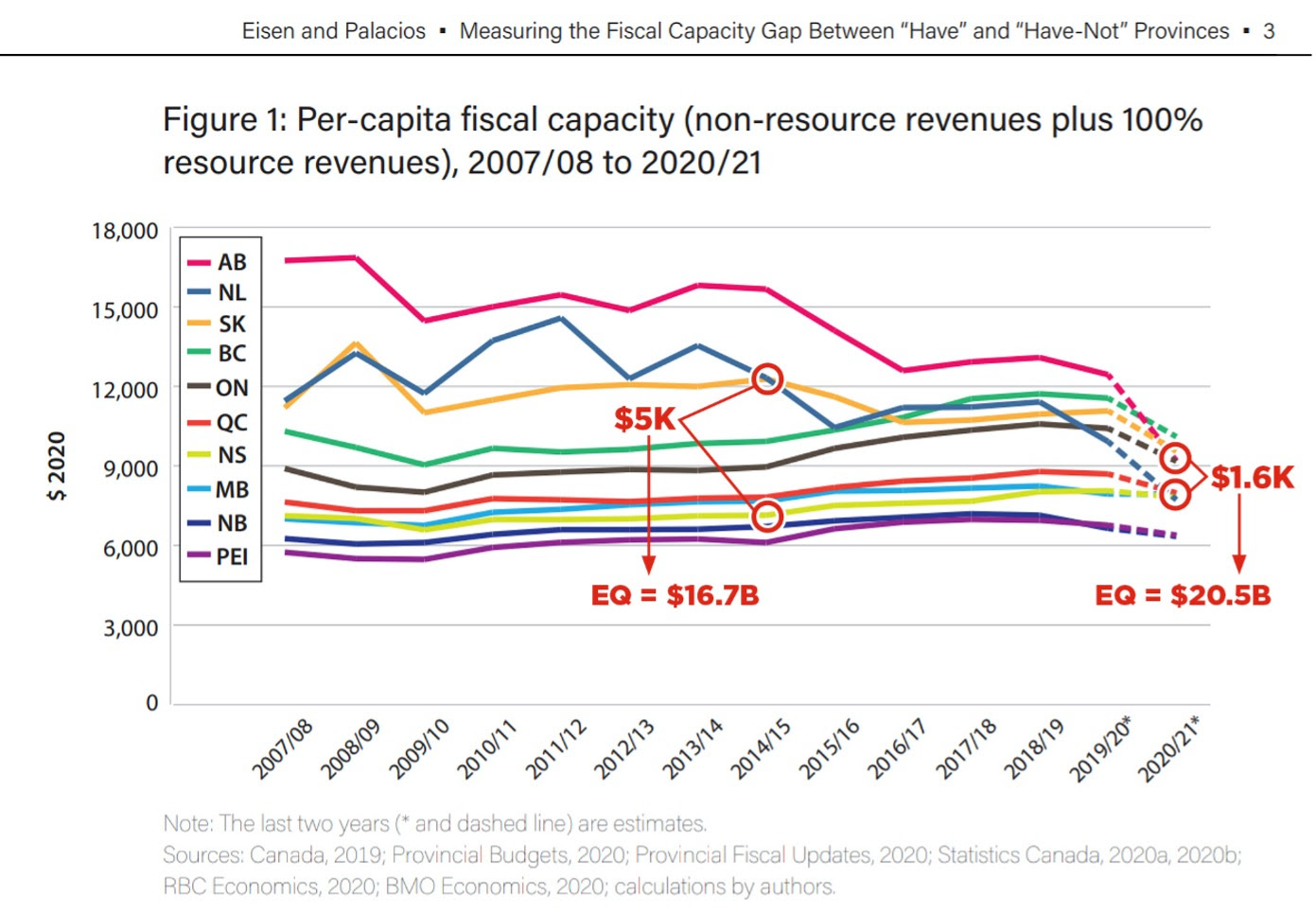 About Fairness Alberta:
Fairness Alberta is a grassroots, non-partisan, and non-separatist association of concerned citizens, aiming to increase awareness across the country about Albertans' disproportionate contributions to Canada, while also providing clear, factual information on unfair federal policies that will further undermine the prosperity of Alberta and other contributing provinces.
Fairness Alberta previously released analysis and recommendations for reforms to Equalization and the Fiscal Stabilization program, with an overview of fiscal federalism as well at www.fairnessalberta.ca.
Previous releases, interviews, columns, and two presentations to the House of Commons Standing Committee on Finance can be found in the NEWS section of our website. For more information on Fairness Alberta, its mandate, and future plans, please visit our website at www.fairnessalberta.ca.
For further information or to arrange interviews, please contact:
Bill Bewick, Ph.D.
Executive Director
Fairness Alberta
Cell: (780) 996-6019
Email: [email protected]fairnessalberta.ca

*per-province calculations based on provincial contributions to general revenue proportionally applied to the $20.9b spent on Equalization in 2021. Source for per-province shares is this Library of Parliament document: https://lop.parl.ca/sites/PublicWebsite/default/en_CA/ResearchPublications/201701E
McDavid scores in OT, Oilers down Flames to advance to Western Conference final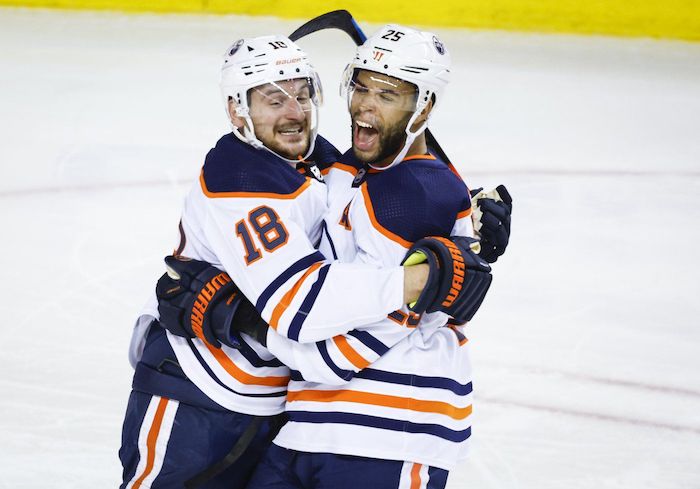 By Joshua Clipperton in Calgary
The Edmonton Oilers are off to the Western Conference final.
Connor McDavid scored at 5:03 of overtime as the Oilers defeated the Calgary Flames 5-4 on Thursday to win their second-round playoff series 4-1.
The Edmonton captain fired his seventh goal of the post-season past Jacob Markstrom off a pass from Leon Draisaitl to send the Oilers spilling over the bench in celebration.
Zach Hyman, with a goal and two assists, Darnell Nurse, Jesse Puljujarvi and Evan Bouchard also scored for the Oilers. Mike Smith made 32 saves as Edmonton claimed the first post-season Battle of Alberta in 31 years.
Draisaitl added four assists — his fifth straight contest registering three-plus points to build on the NHL playoff record he set in Game 4.
McDavid and Draisaitl have both amassed 26 points to lead the playoffs so far.
The Oilers will face either the Colorado Avalanche or St. Louis Blues in their first conference final appearance since 2006. Colorado leads that series 3-2, with Game 6 set for Friday in St. Louis.
Mikael Backlund, with a goal and an assist, Johnny Gaudreau, Calle Jarnkrok and Andrew Mangiapane replied for Calgary. Blake Coleman added two assists, while Jacob Markstrom made 30 saves as the Flames dropped to 0-10 when trailing a playoff series 3-1.
Coleman, who won the Cup the last two seasons with the Tampa Bay Lightning, appeared to snap a 4-4 tie with just under six minutes left in regulation after Backlund took the puck hard to Edmonton's net. But the goal was waved off following a video review after it was ruled the winger kicked the puck over Smith's goal line with his skate as he battled with Oilers defenceman Cody Ceci.
With his team trailing 1-0 after a tentative first period, Edmonton interim head coach Jay Woodcroft double-shifted Draisaitl and McDavid early in the second, and it nearly paid off on a couple of good opportunities.
But the Flames, who topped the Oilers by seven points in the regular season to claim the Pacific Division crown, went up 2-0 at 5:41 when Backlund scored his fifth on a slick deflection.
The Oilers got on the board at 7:40 after Draisaitl protected the puck against Backlund before finding Nurse in the slot for him to fire his second past a screened Markstrom.
Edmonton tied it up just 2:26 later on a 3-on-1 rush when Markstrom could only get a piece of Hyman's shot before Puljujarvi swept home his second as the Oilers erased another multi-goal deficit on the road.
The offensive floodgates then really opened over a wild stretch that would see four pucks find the back of the net in 71 seconds.
Hyman scored his sixth goal of the series, and eighth of the post-season, on a power play at 14:57 before Gaudreau tied things again at 3-3 at 15:12 with his third.
Jarnkrok then scored his first as a member of the Flames since coming over in a trade with the Seattle Kraken at 15:28 to make it 4-3.
But the Oilers responded again at 16:08 when Bouchard's blast beat Markstrom for his second as the teams set an NHL record for the fastest four goals in playoff history — 22 seconds faster than the previous mark set by the Philadelphia Flyers and Toronto Maple Leafs in 1976.
Following a tepid start for both teams inside a nervous Scotiabank Saddledome, the Flames nudged in front at 10:13 of the first when Mangiapane took a terrific pass from Coleman to bury his third goal of the playoffs.
The winger's first point of the series gave his team its first lead since late in the second period of Game 2 — a stretch of exactly 155 minutes — that started a run of three straight losses to push Calgary to the brink of elimination.
One of three finalists for the Vezina Trophy as the league's top goalie in the regular season, Markstrom entered Thursday with an .850 save percentage in the series after posting a .943 mark in Calgary's seven-game victory over the Dallas Stars in the opening round.
After the Oilers, who beat the Los Angeles Kings 4-3 to set up the matchup with their provincial rival, killed off a McDavid high-sticking penalty, the Flames goaltender had to scramble to keep the Edmonton captain's dash to the net at bay with the puck briefly lying free in Calgary's crease.
This report by The Canadian Press was first published May 26, 2022.
___
Follow @JClipperton_CP on Twitter.
Alberta justice minister demands answers from Edmonton on crime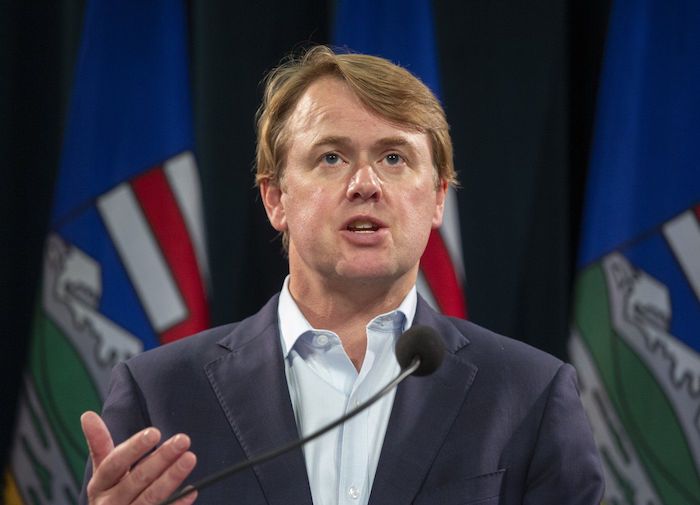 By Dean Bennett in Edmonton
Alberta's justice minister says people in Edmonton are not being kept safe from violent crime, particularly on public transit, and he's ordering Mayor Amarjeet Sohi to provide answers.
Tyler Shandro has told Sohi he's invoking his ministerial powers under the province's Police Act to demand a report within two weeks on what the city will do to arrest a spike in serious crime.
In a letter to Sohi made public Thursday, Shandro cited an increase in downtown crime as well as in aggressive encounters and drug use on light-rail rapid transit.
He pointed to the killings last week of two men in the Chinatown district downtown.
"As the minister of justice and solicitor general, I have a responsibility under the Police Act to ensure the people of Edmonton receive adequate and effective policing," Shandro said in the letter.
"It is quite apparent that residents feel uncomfortable and unsafe in the downtown core, riding transit and traversing the transit centre corridors.
"In short, the people of Edmonton deserve better than what this city council is delivering."
Sohi called the letter an overreach by the provincial government, but added that he is glad the provincial government is finally paying attention.
"I share the same concerns about the safety in our downtown, Chinatown and on the LRT that he highlighted in this letter," Sohi said Thursday. "The social issues that are causing these safety issues are nothing new.
"The disorder and crime that we are seeing in our downtown is directly linked to the lack of provincial investments in ending houselessness, the mental-health crisis, the drug poisoning and addictions crisis."
Shandro's letter said the United Conservative government is doing its part to address core issues that can lead to crime, including spending millions of dollars to fight drug addiction and homelessness.
Shandro did not make himself available to media to answer questions.
There was no comment from the Edmonton Police Service. Chief Dale McFee was to attend a city council meeting Friday.
Edmonton city councillors are currently debating whether to set this year's police budget at $385 million, which would be a drop of $22 million if police could not secure extra funds from declining photo radar revenues.
Shandro said earlier this week he would be concerned if Edmonton's police budget were to be cut.
The police budget has not been cut, said Sohi, who added that the city has invested more in transit officers, community action teams and in safety-related projects in affected areas.
"Council is investing in many issues that are the responsibility of the province and, frankly, they are falling short," he said.
"The pandemic has brought to light so many social issues that are not being properly addressed or adequately funded."
Sohi said he looks forward to meeting with the minister next week to outline his concerns and explain how the city is doing its part.
Irfan Sabir, justice critic for the Opposition NDP, said violent crime in Alberta's capital is a serious issue that needs to be addressed. But, he added, the UCP government is choosing to off-load complex problems and pick fights instead of collaborating.
"People in Edmonton want a plan in place (so) they can be assured that they are safe in their homes and their communities. But in this instance, the minister is just passing the buck," said Sabir.
This report by The Canadian Press was first published May 26, 2022.
— with files from Colette Derworiz in Calgary