Canada's largest fireworks show of the year set for Calgary, Edmonton, Lethbridge, and Red Deer to celebrate the Stampede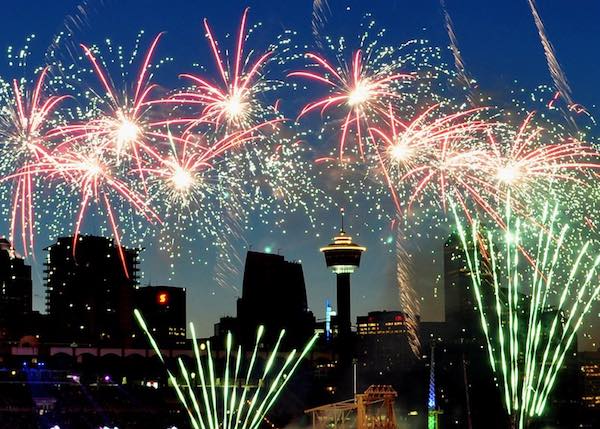 News Release from The Calgary Stampede
Calgary Stampede to Light up the Night Sky Across Alberta!
The Calgary Stampede is proud to celebrate the resilience and determination of our great province through a province-wide fireworks display on Friday, July 9. The Fireworks Spectacular presented by Bell, will take place in Lethbridge, Red Deer, Edmonton and Calgary and we invite all Albertans to join together in celebration as we light up the night sky in recognition of our shared goals and bright future for our province. This incredible display will be a must-see, as the largest and most sophisticated firework event produced in Canada this year.
Since 1912, fireworks have played an important role in Stampede celebrations. Taking place in coordination with the fireworks of the Calgary Stampede Evening Show performance on the first night of Stampede 2021, the sparkling world-class display will occur simultaneously in all four participating cities to a synchronized musical soundtrack.
"This is our way of lighting up the Alberta skies and providing the opportunity to celebrate together," says Steve McDonough, President & Chairman of the Stampede Board. "Thousands of Albertans will be able to view this amazing firework show from their own neighbourhood at the same time, with the same soundtrack on July 9th."
"On behalf of Lethbridge City Council, we congratulate our friends in Calgary for their creativity and collaboration on this fireworks spectacular. We look forward to helping celebrate the beginning of the Calgary Stampede with what is sure to be a brilliant display of fireworks for residents and visitors to enjoy," says Mayor Chris Spearman of the City of Lethbridge.
"The Calgary Stampede is leading the way in the return to community life in our province. Red Deer is honoured to be a part of this initiative to celebrate our Western heritage together," says Red Deer Mayor, Tara Veer. "Albertans have been hit hard by the pandemic, but together we can rebuild and demonstrate our resilience on July 9th."
The pyro-technical experts from Fireworks Spectaculars Canada, an Alberta based company, are familiar with all four cities, and bring their award winning and awe-inspiring team together across the province to create this magical moment to kick-off the 2021 Stampede.
"At this stage, we have to think about how we get major events up and running again. The Calgary Stampede is leading the way and, one by one, other events will follow. As Explore Edmonton takes over management of K-Days in Edmonton, we are watching and learning from our friends at the Stampede. This will mark the beginning of recovery for the events sector and it marks a milestone moment for Alberta as we emerge from the pandemic," says Maggie Davison, Interim CEO, Explore Edmonton
"As we move hopefully into our post-pandemic future, this fireworks display will allow us to safely honour what we've been though, to express our gratitude to all the essential workers who gotten us through, and to look forward with optimism," says Calgary Mayor Naheed Nenshi
The Fireworks Spectacular presented by Bell will feature four identical, world-class firework displays in each city – Calgary, Edmonton, Red Deer and Lethbridge – starting at 11 p.m. on July 9. Albertans are invited to participate in this in this free, family-friendly celebration with specific viewing locations and information available at CalgaryStampede.com. It will also be broadcast live on CTV Calgary, CTV2 and CTVNews.ca beginning at 11 p.m., so that you can watch from the comfort of your own home. Tune in as we light up the night sky to celebrate Stampede Spirit across Alberta. We thank our community partners Explore Edmonton, The City of Red Deer, Westerner Park and Lethbridge & District Exhibition. This is a celebration of our province, and at the Calgary Stampede we believe we are Greatest Together.
Watch in person from your seat at the 2021 Calgary Stampede Evening Show! Evening Show and Rodeo tickets are now available and include admission into Stampede Park the day of the show. New in 2021, a VIP, full-service, outdoor experience that will put you in the heart of the action on the Grandstand tarmac. Reserve a table for your group of four or six people to enjoy the experience in a brand-new way! To book your Evening Show, Rodeo or VIP Tarmac tickets, or to purchase general Park admission for days you are not attending the Evening Show or Rodeo, go to CalgaryStampede.com
About the Calgary Stampede
The Calgary Stampede celebrates the people, the animals, the land, the traditions and the values that make up the unique spirit of the west. The Calgary Stampede contributes to the quality of life in Calgary and southern Alberta through our world-renowned Stampede, year-round facilities, western events and several youth and agriculture programs. Exemplifying the theme We're Greatest Together, we are a volunteer-supported, not-for-profit community organization that preserves and celebrates our western heritage, cultures and community spirit. All revenue is reinvested into Calgary Stampede programs and facilities.
Oilers goaltender Stalock likely to miss season due to possible heart condition
EDMONTON — Goaltender Alex Stalock will likely miss the season due to a possible heart condition, Edmonton Oilers general manager Ken Holland said Wednesday.
Speaking on the opening day of Oilers training camp, Holland said the possible condition was detected when he returned home for more tests after the team's physical exam at the end of the 2020-21 season.
"At the end of the year we did a physical. Then he went home, he went in to have additional tests. And through these additional tests he found out that he maybe has some kind of a heart condition," Holland said.
Holland said Stalock contracted COVID-19 before the start of the 56-game shortened season, but was later cleared to play and spent time on the Oilers' taxi squad after the team claimed him off waivers from the Minnesota Wild in March. 
He did not appear in a game with either Minnesota or Edmonton last season.
"He's seen a couple of cardiologists," Holland said. "He's looking to get additional opinions.
"I would say to you right now that based upon where we're at today I don't anticipate that he'll play hockey this year. But if he does get further opinions it might change his decision."
Holland said Stalock was "excited about coming to camp and pushing for a job" before getting the troubling results from the tests.
Stalock, a 34-year-old from St. Paul, Minn., has a 61-49-18 record with a 2.61 goals-against average and a .909 save percentage in 151 career NHL games with San Jose and Minnesota. 
This report by The Canadian Press was first published Sept. 22, 2021.
The Canadian Press
Regulatory group warns several Alberta doctors about sharing COVID-19 misinformation
EDMONTON — A group that oversees the practice of medicine in Alberta says it has told at least seven doctors who were spreading misinformation about COVID-19 that their behaviour was unprofessional.
Scott McLeod, registrar with the College of Physicians and Surgeons of Alberta, says the regulator has also spoken to doctors who gave into pressure from patients wanting an exemption letter– not grounded in clinical evidence — to avoid having to wear masks or vaccinations.
McLeod says the college is to publish a letter this week addressed to physicians and the public to reiterate its support for vaccines and public health restrictions put in place to try to curb the spread of COVID-19.
The college says the doctors who were warned had been spreading misinformation on social media platforms or elsewhere.
McLeod says it's disappointing to see that type of behaviour and noted it has a significant effect because doctors have a powerful voice in society.
He adds the number of doctors painting a false narrative in the province is unprecedented.
McLeod says if doctors don't stick to basic science that outlines how to protect people during a pandemic, the public and other physicians can file an official complaint with the college.
This report by The Canadian Press was first published Sept. 22, 2021.
The Canadian Press