Equalization payments aren't just controversial in Alberta anymore! Ontario poll shows overwhelming negative view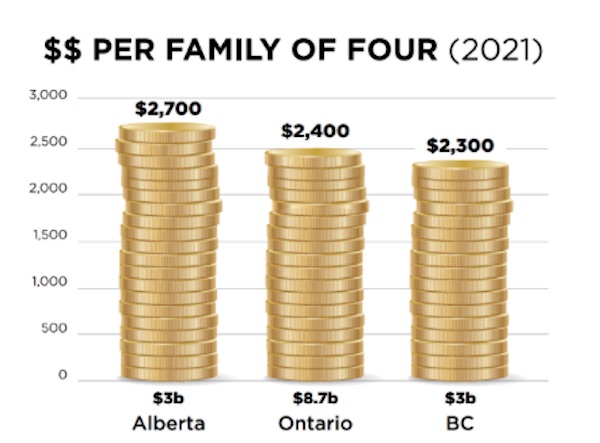 POLL: VAST MAJORITY OF ONTARIANS SAY EQUALIZATION PAYMENTS ARE UNFAIR
Fairness Alberta calls for $8 billion rebate for Ontario
Fairness Alberta has released a poll showing 73% of Ontarians believe ever-growing Equalization payments are unfair given the narrowing wealth gap between provinces since 2015.
The poll, from a weighted survey of 1,000 Canadians recently conducted by the Toronto firm One Persuasion Inc. (MoE +/-3.1%), showed a large majority of Ontarians said it is unfair that Equalization payments rose 23% since 2015, making Ontario's share of funding the program equivalent to roughly $2400 per family of four (see bottom). Opposition to the status quo on Equalization was highest in the 905 region of suburban Toronto.


(To see the full results of the poll click here)
"Ontarians have been funding unfairly high Equalization payments for others while their own provincial government was struggling to pay for services even before COVID-19," said Fairness Alberta Executive Director Dr. Bill Bewick. "Given the collapse of the wealth gap between provinces, the so-called 'have' provinces should get the share of Equalization that came from their taxpayers rebated until we achieve meaningful reforms to federal-provincial funding."
As Dr. Bewick outlined in the National Post, even a 50% rebate would mean a bump to provincial budgets of $4 billion in Ontario and $1.5 billion being returned to B.C. and Alberta as their provincial responsibilities come under strain.
"The $21 billion-and-growing price tag for Equalization is totally unnecessary and unaffordable given how much more equal provinces have become since 2015," added Dr. Bewick. "This isn't just an Alberta problem. Ontario, B.C., Alberta, Saskatchewan, and Newfoundland make up nearly 70% of Canada's population and it has become obvious that the program is unfair to all of them."
A recent study by Ben Eisen and Milagros Palacios illustrates the "Great Convergence" in provincial fortunes since the 2015 energy downturn. While the gap between the median 'have' and 'have not' fell from $5000 per person in 2015 to only $1600 in 2020, Equalization payments grew 23%. With increases tied to national GDP rather than need, a $20.9 billion windfall is going to 5 provinces (with less than 1/3 of the population) in 2021.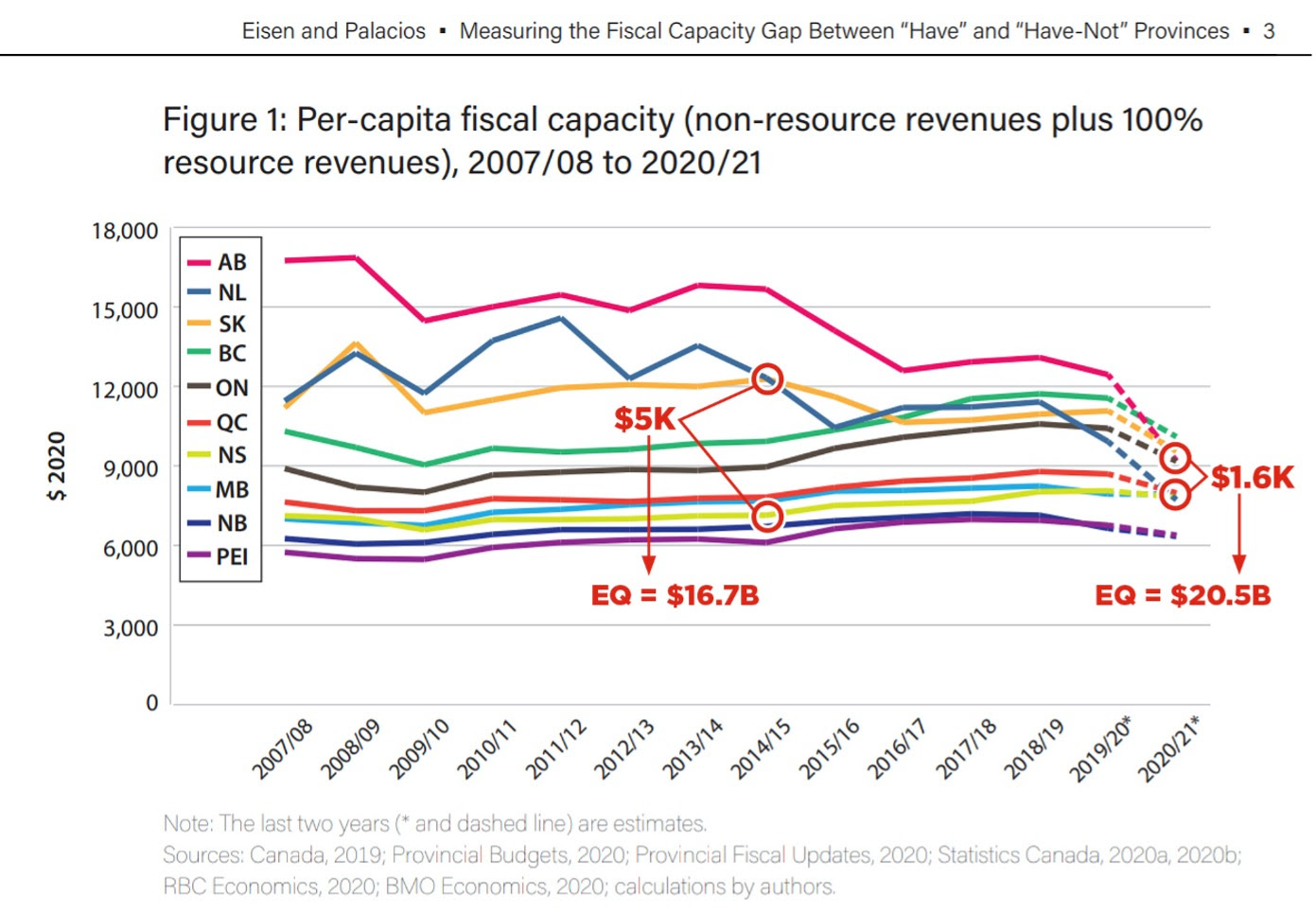 About Fairness Alberta:
Fairness Alberta is a grassroots, non-partisan, and non-separatist association of concerned citizens, aiming to increase awareness across the country about Albertans' disproportionate contributions to Canada, while also providing clear, factual information on unfair federal policies that will further undermine the prosperity of Alberta and other contributing provinces.
Fairness Alberta previously released analysis and recommendations for reforms to Equalization and the Fiscal Stabilization program, with an overview of fiscal federalism as well at www.fairnessalberta.ca.
Previous releases, interviews, columns, and two presentations to the House of Commons Standing Committee on Finance can be found in the NEWS section of our website. For more information on Fairness Alberta, its mandate, and future plans, please visit our website at www.fairnessalberta.ca.
For further information or to arrange interviews, please contact:
Bill Bewick, Ph.D.
Executive Director
Fairness Alberta
Cell: (780) 996-6019
Email: bill.bewick@fairnessalberta.ca

*per-province calculations based on provincial contributions to general revenue proportionally applied to the $20.9b spent on Equalization in 2021. Source for per-province shares is this Library of Parliament document: https://lop.parl.ca/sites/PublicWebsite/default/en_CA/ResearchPublications/201701E
Police looking for these 3 suspects after Super 8 Motel in Innisfail robbed early Monday morning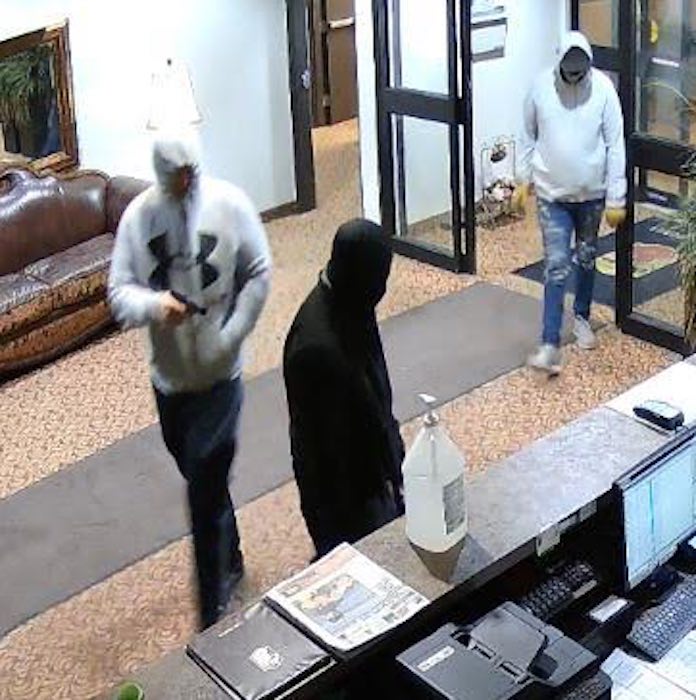 Innisfail RCMP investigate robbery
Innisfail Ala. – On May 29, 2023, at approximately 4:10 a.m., the Super 8 motel in Innisfail was the victim of an armed robbery. Three male suspects entered the hotel, two of which had firearms. Money was demanded from the manager. All three left the motel in a vehicle which is described as:
Chevrolet Dura Max truck
Sliver
Lifted
The suspects are described as:
Suspect #1: Caucasian male, tall and muscular. Wearing jeans and a grey Under Armour hoody. He was carrying a pistol.
Suspect #2: Caucasian male, short. Wearing all black. He was carrying a sawed off shotgun
Suspect #3: Caucasian male tall with a chubby belly. He was wearing a grey hoody, jeans and a black ball hat.
If you have information about this incident, please call the Innisfail RCMP at 403-227-3341 or call your local police. If you want to remain anonymous, you can contact Crime Stoppers by phone at 1-800-222-8477 (TIPS), by internet atwww.tipsubmit.com, or by SMS (check your local Crime Stoppers www.crimestoppers.ab.ca for instructions).
'Tragic accident' blamed for recent death of giraffe at Calgary Zoo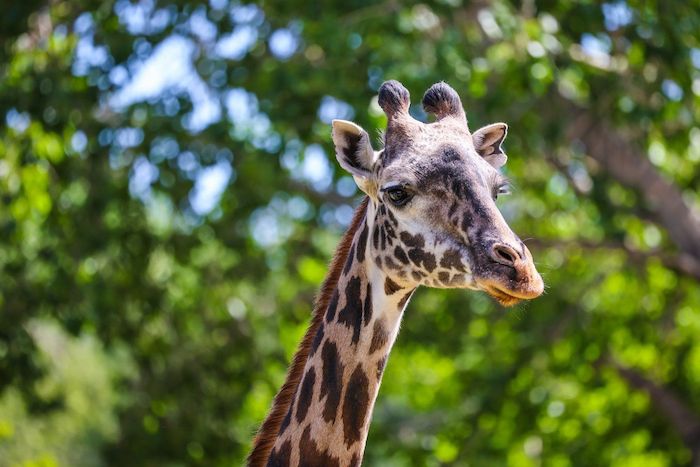 The Wilder Institute/Calgary Zoo says a "tragic accident" led to the recent death of an adult Masai giraffe. A statement from the zoo says the female giraffe named Emara died May 19 after tangling one of her horns on a cable surrounding her enclosure. THE CANADIAN PRESS/HO-Wilder Institute/Calgary Zoo-Sergei Belskey
Calgary
The Calgary Zoo says a "tragic accident" led to the recent death of one of its adult Masai giraffes.
A statement from the zoo says a female giraffe named Emara died May 19 after tangling one of her horns in a cable surrounding her enclosure.
The statement says a necropsy revealed Emara fell against the enclosure fence and died almost instantly of a broken neck.
Emara, who had just turned 12, came to Calgary from the San Diego Zoo in 2016.
The statement says she was a treasured member at the zoo and was known for her cautious yet curious personality and gentle nature.
The zoo says it is checking fencing within its African Savannah Yard enclosure to see if changes are needed to better protect the other giraffes and animals that share the space.
Doug Whiteside, interim associate director of animal care and welfare at the zoo, said Emara was in her prime and was in excellent health when she died.
"Major life changes such as this not only affect our people but can affect our animal residents as well," Whiteside said in the statement Monday.
He said the zoo's remaining giraffes, Nabo and Moshi, are doing well.
Grief counsellors are being made available to Emara's caregivers and other zoo staff.
This report by The Canadian Press was first published May 29, 2023.