EPS investigation leads to arrest of Edmonton man for firearms and fraud offences
From Edmonton Police Service
Month-long firearms investigation culminates with the arrest of 23-year-old Edmonton man
The Edmonton Police Service has arrested and charged a 23-year-old Edmonton man with multiple firearm and fraud-related offences in connection to a month-long investigation.
EPS Crime Suppression Team 3 (CST) began investigating a male suspect in relation to several attempted illegal firearm purchases throughout Alberta. Investigators learned the suspect was fraudulently using another individual's Possession and Acquisition Licence (PAL) in repeated attempts to purchase restricted handguns and shotguns online from legal gun owners across Alberta.
Investigators eventually tracked the suspect to a downtown Edmonton residence near 102 Avenue and 117 Street. At approximately 4 p.m., on Friday, April 9, 2021, EPS Tactical Unit members executed a search warrant at the residence and seized several weapons and ammunition including a loaded semi-automatic 9mm rifle, .455 revolver, 200 rounds of 9mm and .455 ammunition, loaded magazines, a holster and magazine pouch, a stun baton, phones and computers.
Tevon Paul Simpson, 23, of Edmonton, is facing multiple counts of firearm and fraud-related charges including:
Unsafe Storage of a Firearm (x2)
Possession of a Firearm Knowing Unauthorized (x2)
Possession of a Restricted Device (x2)
Possession of a Loaded Prohibited Firearm (x2)
Possession of a Prohibited Firearm while Prohibited (x5)
Uttering a Forged Document (x3)
Identity Fraud (x4)
Loaded gun, ammunition, knives, cross bow, and drugs worth almost $200,000 seized in Edmonton bust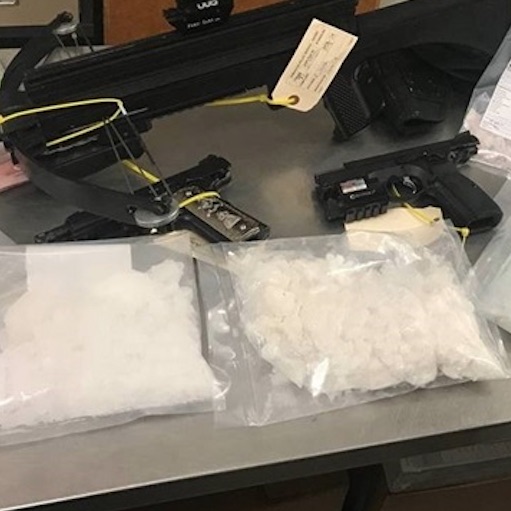 News Release from the Edmonton Police Service
Drug trafficking investigation leads to illegal drugs, weapons, stolen property
The Edmonton Police Service has seized illegal drugs worth more than $180,000 following a four-month long drug trafficking investigation.
In January 2021, EPS Disruption Team, with assistance from Alberta Law Enforcement Response Team (ALERT), entered into an investigation into the suspected drug trafficking activities of a 44-year-old male. On April 29, 2021, officers arrested Wade Rodger, 44, and Leah Sanche, 38. The two were travelling in a vehicle in which police located a loaded 9 mm handgun that was later found to be stolen, approximately 500g of Methamphetamine and $1,500.
Later that same day, police executed search warrants at a northeast Edmonton residence in the Abbotsfield area. David Berry, 39, was arrested at the residence, and a search of the property revealed:
One loaded 9mm handgun with the serial number filed off
Several hundred rounds of ammunition in various calibres
1.2 kg of methamphetamine
1.3 litres of GHB
A small quantity of cocaine, LSD, fentanyl, magic mushrooms, various steroids and pharmaceuticals
Restricted and prohibited weapons such as tasers, brass knuckles, throwing stars, throwing knives, a cross bow, and a suit of ballistic grade body armour
Several catalytic converters
Numerous documents containing multiple complainant's personal information, such as credit card information and government mail
Weapons, drugs seized
The total value of the drugs seized in the investigation is more than $180,000.
Rodger, Sanche and Berry are facing 24 criminal charges related to drug trafficking, weapons and possession of stolen property. More charges are pending.
Fentanyl, cocaine, guns, and cash seized during million dollar bust in Calgary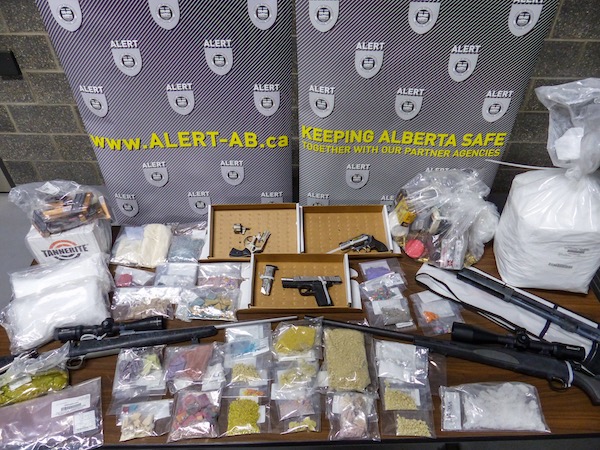 From Alberta Law Enforcement Response Team
Focus on fentanyl paying off with $1 million Calgary bust
Calgary… A recent drug bust in Calgary took upwards of 20,000 doses of fentanyl off the street, part of a series of recent investigations by ALERT that were aimed at disrupting the opioid market.
ALERT Calgary seized nearly $1 million worth of drugs and six firearms after two homes were searched on April 16, 2021. ALERT seized 4.5 kilograms of fentanyl, along with methamphetamine, cocaine, and buffing agents. Two people were arrested and 39 charges were laid.
"Fentanyl has been a scourge in our communities and organized crime is responsible. ALERT will remain ruthless in our pursuit of drug dealers, and investigations like these, demonstrate our success in getting harmful drugs off the street," said Supt. Dwayne Lakusta, ALERT CEO.
The million-dollar seizure is the highlight, to date, of a recent string of investigative successes by ALERT Calgary. The unit has worked in tandem with policing partners, such as Calgary Police Service and RCMP to specifically target street-level opioid and meth sales.
"Integration is the key element of ALERT's success. By working with our partners and sharing intelligence on emerging issues, ALERT's specialized units are able spring into action and deliver meaningful results," said Lakusta.
The following provides a brief synopsis and tally of recent investigative success, including ALERT's most recent bust. The investigations are not believed to be linked:
April 16, 2021 two people were arrested and two homes were searched in Calgary. Nicholas Rybenko, 39, and Wessen Vandenhoek, 35, face multiple drug and firearms charges after ALERT seized:
6 firearms;
4,505 grams of fentanyl;
353 grams of methamphetamine;
13 grams of cocaine;
17,146 grams of a suspected buffing agent;
$30,000 cash.
April 6, 2021 two homes in Calgary's Beltline were searched and a 24-year-old man was arrested. Ady Zhang Chang was charged with possession of drugs for the purpose of trafficking and possession of proceeds of crime, after ALERT seized:
134 grams of fentanyl;
181 grams of cocaine; and
$1,250 cash.
March 29, 2021 a traffic stop was initiated on a suspect believed to be involved in street-level drug sales. ALERT located drugs inside the vehicle and its occupants were arrested. Amrudin Karimyar, 23, and Mohit Sandhu, 19, were charged, and ALERT seized:
43 grams of fentanyl;
9 grams of methamphetamine;
14 grams of cocaine; and
$6,955 cash.
February 2, 2021 ALERT searched two homes in Calgary and arrested a 31-year-old man. Jaspreet Cheema faces a number of drugs and firearms charges after ALERT seized:
A loaded handgun;
220 grams of fentanyl;
12 grams of cocaine;
1,912 grams of a cocaine buffing agent;
$12,970 cash.
Since 2018, ALERT teams from across the province have seized 18 kilograms of fentanyl powder and just over 250,000 fentanyl pills. Over 100 investigations have been conducted involving opioids.
Members of the public who suspect drug or gang activity in their community can call local police, or contact Crime Stoppers at 1-800-222-TIPS (8477). Crime Stoppers is always anonymous.
ALERT was established and is funded by the Alberta Government and is a compilation of the province's most sophisticated law enforcement resources committed to tackling serious and organized crime.