DISTINGUISHED & EMERGING ARTIST AWARDS JUNE 2022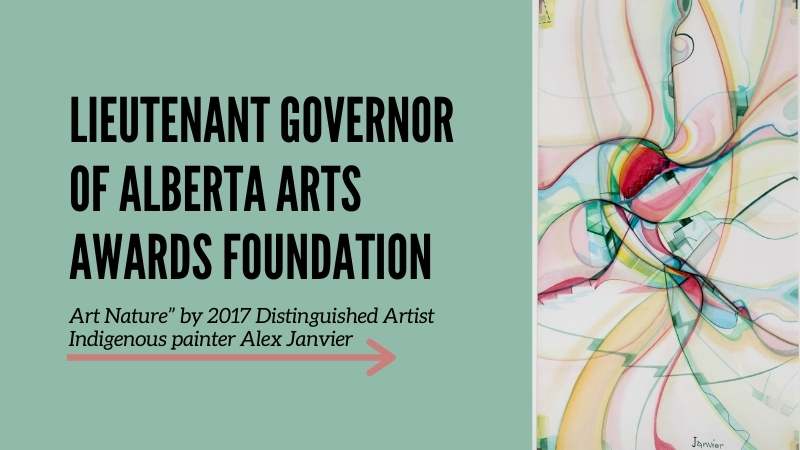 Lac La Biche County and Portage College have been making plans for a community celebration to honour three new 2021 Lieutenant Governor of Alberta Distinguished Artists. Given the ongoing COVID-19 related challenges of convening in person, Portage College, Lac La Biche County, and the Lieutenant Governor of Alberta Arts Awards Foundation have moved the celebration to June 11, 2022.
This change has provided a new opportunity: for the first time in the Awards' history, the host community of Lac La Biche County will celebrate both the 2021 Distinguished Artists and up to 10 new 2022 Emerging Artists.
Her Honour Salma Lakhani, Lieutenant Governor of Alberta, says she is looking forward to honouring the Distinguished and Emerging Artists next summer in Lac La Biche.
"I appreciate the tremendous work that the community has already invested into this special celebration, and I know that the 2022 awards will be well worth the wait. In the meantime, I offer my heartfelt thanks to all of the artists, administrators and patrons across Alberta for everything that you are doing to keep the arts a vibrant part of our lives and our communities during this extraordinary time."
The organizers look forward to hosting this prestigious event and showcasing Alberta's diverse arts scene. Their June 2022 plans include opportunities to chat with artists, outdoor community celebrations featuring an Art Walk and Market, art classes and demonstrations, an artist retreat, and a celebratory awards gala.
Click to learn more about the Foundation.
Yamamoto among four players to receive qualifying offers from the Edmonton Oilers
EDMONTON — The Edmonton Oilers extended qualifying offers to forwards Tyler Benson, Cooper Marody and Kailer Yamamoto as well as goalie Stuart Skinner on Sunday.
Benson, 23, has one assist in seven career NHL games. He was selected in the second round. No. 23 overall, in 2016.
Marody, 24,was originally drafted by the Philadelphia Flyers in 2015 and has appeared in six career NHL contests.
The 22-year-old Yamamoto had eight goals and 13 assists in 52 games with Edmonton last season. The '17 draft pick has 20 goals and 32 assists in 105 career NHL contests.
Skinner, 22, played in one game with Edmonton last year. He was drafted by the Oilers in 2017.
This report by The Canadian Press was first published July 25, 2021.
The Canadian Press
Veteran Canadian RB McCarty comes out of retirement to sign with Calgary Stampeders
CALGARY — Veteran Canadian running back Calvin McCarty came out of retirement Sunday to sign with the Calgary Stampeders.
McCarty, 36, retired in March following 13 seasons with Edmonton. McCarty appeared in over 200 regular-season games with the franchise and helped it win a Grey Cup title in 2015.
The five-foot-10, 215-pound McCarty ran for 1,615 career yards and 17 TDs while registering 263 catches for 2,005 yards and 143 touchdowns in 203 games with Edmonton. In 2019, McCarty became just the fourth running back in CFL history to achieve the 200-game milestone.
The Stampeders also announced they've released receiver Dorian Baker, defensive back Josh Nurse and defensive linemen Dadi Nicolas, Qaadir Sheppard and Mbi Tanyi. All are Americans.
This report by The Canadian Press was first published July 25, 2021.
The Canadian Press