DISTINGUISHED & EMERGING ARTIST AWARDS JUNE 2022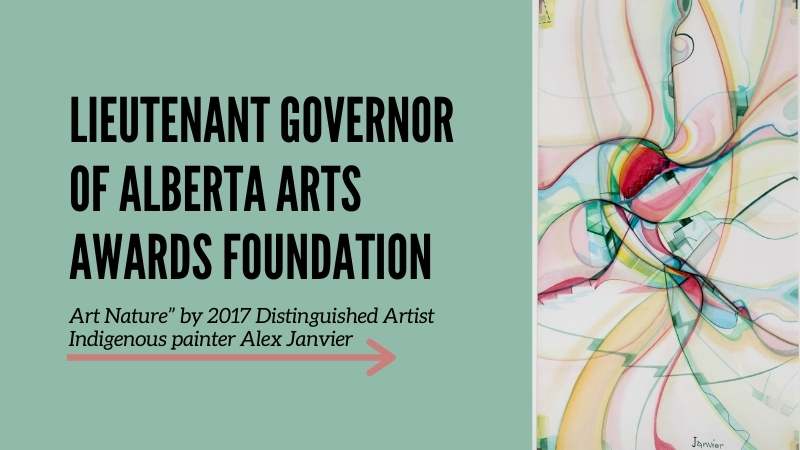 Lac La Biche County and Portage College have been making plans for a community celebration to honour three new 2021 Lieutenant Governor of Alberta Distinguished Artists. Given the ongoing COVID-19 related challenges of convening in person, Portage College, Lac La Biche County, and the Lieutenant Governor of Alberta Arts Awards Foundation have moved the celebration to June 11, 2022.
This change has provided a new opportunity: for the first time in the Awards' history, the host community of Lac La Biche County will celebrate both the 2021 Distinguished Artists and up to 10 new 2022 Emerging Artists.
Her Honour Salma Lakhani, Lieutenant Governor of Alberta, says she is looking forward to honouring the Distinguished and Emerging Artists next summer in Lac La Biche.
"I appreciate the tremendous work that the community has already invested into this special celebration, and I know that the 2022 awards will be well worth the wait. In the meantime, I offer my heartfelt thanks to all of the artists, administrators and patrons across Alberta for everything that you are doing to keep the arts a vibrant part of our lives and our communities during this extraordinary time."
The organizers look forward to hosting this prestigious event and showcasing Alberta's diverse arts scene. Their June 2022 plans include opportunities to chat with artists, outdoor community celebrations featuring an Art Walk and Market, art classes and demonstrations, an artist retreat, and a celebratory awards gala.
Click to learn more about the Foundation.
RCMP say competitor in Ironman is dead after volunteers pulled him from the water
CALGARY — RCMP say a competitor in an Ironman triathlon west of Calgary has died.
Police say they received a complaint of a drowning at Harmony Lake in Rocky View County on Sunday morning.
They say a 47-year-old Ontario man was located by Ironman race volunteers in the water.
The volunteers pulled him out, began CPR, and called EMS, but police say he died at the scene.
RCMP say they have contacted the medical examiner who will be assisting in determining a cause.
They say the man's family has been notified.
This report by The Canadian Press was first published Aug. 1, 2021.
The Canadian Press
FC Edmonton roll to 3-1 win over No. 1 Valour FC in CPL action
EDMONTON — FC Edmonton struck early and refused to relent Saturday as it rolled to a 3-1 victory over Valour FC in Canadian Premier League action.
Easton Ongaro put Edmonton (3-4-2) up 1-0 just 13 minutes in.
Tobias Warschewski added a goal for the home side in the 55th minute and eight minutes later, Amer Didic scored to give Edmonton the 3-0 lead.
Andy Baquero Ruiz clawed back a goal for Valour (6-3-0) in the 88th minute.
Edmonton outshot Valour 12-9, with six of its shots on target. Valour had three shots on goal.
Despite the result, Valour continues to sit atop the league with 17 points, one ahead of Pacific FC.
This report by The Canadian Press was first published July 31, 2021.
The Canadian Press