Devin Dreeshen seeks UCP nomination in Innisfail-Sylvan Lake
February 13, 2018
For immediate release
Innisfail, AB – Devin Dreeshen, a fifth-generation local farm owner, volunteer, and long-time conservative party activist, today announced his intention to be the United Conservative Party nominee for the upcoming by-election in Innisfail—Sylvan Lake constituency.
"I have deep roots in this community," said Dreeshen who was born in Innisfail. "The Notley government is piling taxes and regulations on our farmers and our resource industries, while ignoring critical infrastructure needs of rural towns, villages and counties." "I want to join the United Conservative team in the Legislature to tell the NDP they can't ignore the people here."
Honourable Luke Ouellette, Minister of Infrastructure and Transportation for Alberta and MLA for Innisfail—Sylvan Lake from 2001 to 2012, expressed his support for Dreeshen's candidacy. "Devin has my vote. He will be a great MLA and a strong voice for Innisfail—Sylvan Lake in the Legislature. He will be at the front, pressing the government on issues like hospital funding, making sure we get what we need."
Honourable Gerry Ritz, federal Minister of Agriculture from 2007 to 2015, also endorsed Dreeshen. "For years, Devin was my point man on grain issues and ending the Canadian Wheat Board monopoly. He was a strong advocate for farmers and for rural communities within the Harper government, and I know he will be just as effective on Jason Kenney's team. He has my strong support."
Dreeshen farms near Pine Lake and has a long record of community service. He is a director of the Western Canadian Wheat Growers Association, serves as a board member on the Crossroads Agricultural Society, and a volunteer at the Pine Lake Country Fair.
His background as a farmer led him to Ottawa where he was an advisor to Agriculture Minister Gerry Ritz from 2008 to 2015, advocating for Canadian agriculture trade, improved rural infrastructure support, and leading the effort to end the Canadian Wheat Board monopoly.
He presently owns a consulting business advising agricultural stakeholders on trade issues both provincially and nationally, especially in the context of NAFTA renegotiations.
Dreeshen will be travelling across the constituency of Innisfail – Sylvan Lake to reach out to voters, listen to their concerns and seek their support for his candidacy.
For further information, please contact:
Devin Dreeshen
Email: [email protected]
Twitter: @DevinDVote
Facebook: @DevinDreeshen4AB
TC Energy shuts down Keystone pipeline system after leak in Nebraska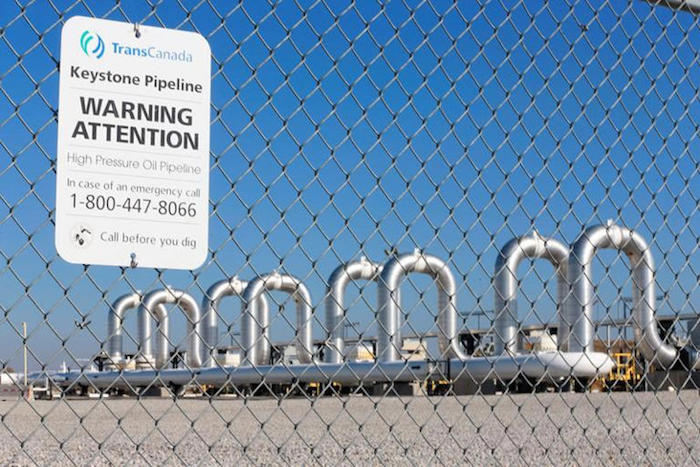 CALGARY — TC Energy Corp. says it has shut down its Keystone pipeline after a leak in Nebraska.
The company says it has mobilized people and equipment in response to a confirmed release of oil into a creek, about 32 kilometres south of Steele City, Neb.
TC Energy says an emergency shutdown and response was initiated Wednesday night after a pressure drop in the system was detected.
It says the affected segment of the pipeline has been isolated and booms have been deployed to prevent the leaked oil from moving downstream.
The Keystone pipeline system stretches 4,324 kilometres and helps move Canadian and U.S. crude oil to markets around North America.
TC Energy says the system remains shutdown as its crews respond and work to contain and recover the oil.
This report by The Canadian Press was first published Dec. 8, 2022.
Companies in this story: (TSX:TRP)
The Canadian Press
Advocate asks AFN chiefs to ensure $40B settlement deal leaves no child behind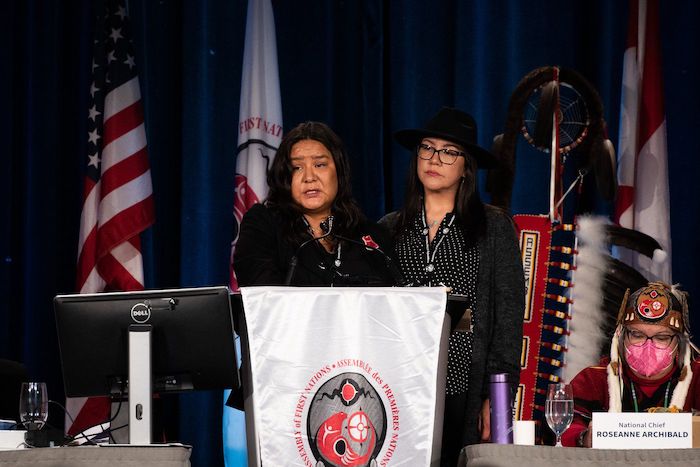 By Stephanie Taylor in Ottawa
A First Nations child welfare advocate on Wednesday implored chiefs to ensure "no child is left behind" in a landmark $40-billion settlement agreement with the federal government.
Cindy Blackstock delivered the message to an Assembly of First Nations gathering in Ottawa, after being invited to take the stage by Cindy Woodhouse, regional chief in Manitoba who helped negotiate the agreement, which had been thrown into question since being rejected by the Canadian Human Rights Tribunal.
The AFN, representing more than 600 First Nations across the country, had asked the tribunal to approve the settlement deal, which would see the government spend $20 billion to compensate families and children for systemic discrimination in the Indigenous child welfare system. It would also spend another $20 billion on making long-term reforms.
Blackstock, the executive director of the First Nations Caring Society who first lodged the complaint at the heart of the issue, raised concerns that the agreement wouldn't provide $40,000 in compensation to all eligible claimants, which is the amount the tribunal ruled they should get.
"We can make sure that in our First Nations canoe of justice, no child has to see their money go away and no child is left behind in justice," she said Wednesday.
"We are capable of that."
Following the tribunal's decision in October, the federal government filed for a judicial review of some parts of its decision.
Endorsing the settlement agreement loomed as one of the biggest items on the assembly's agenda, with chiefs being asked to vote on what the organization should do next.
The chiefs had been preparing to vote on conflicting resolutions, with one asking them to support the final settlement agreement, while another sought to see the organization not appeal the tribunal decision and renegotiate the deal.
But on Wednesday, further talks between both sides took place, assisted by former senator and judge Murray Sinclair, who helped the AFN, federal government and lawyers for two related class-action lawsuits reach the $40-billion agreement in the first place, which was formally announced in January.
Chiefs ultimately voted late Wednesday against re-entering negotiations but to instead support compensation for victims outlined in the agreement and "those already legally entitled to the $40,000 plus interest under the Canadian Human Rights Tribunal compensation orders."
It also included a provision that AFN leaders must regularly return to chiefs to provide it with progress updates and "seek direction" from chiefs on implementing the final agreement.
Many chiefs thanked Blackstock, who was greeted with applause after further agreement was met and said she was honoured to see people come together for children harmed by Ottawa's discrimination.
"We have had too many apologies, we've had too many compensation deals, we've had too many kids hurt. And this has got to be it," she said.
She added more discussion on the long-term reform part of the deal would be presented to chiefs on Thursday.
Earlier in the day, the assembly heard from sisters Melissa Walterson and Karen Osachoff, plaintiffs on the case, about the impact the foster care system had on their lives.
Osachoff said she had been in the child welfare system since she was born and didn't have a chance to grow up with her sister.
"Had it not been for the '60s Scoop and the child welfare (system), her and I would have grown up together."
She said she understands why the tribunal characterizes those like her as "victims," but told chiefs to instead think of them as survivors.
"I am not a victim and our claimants are not victims."
This report by The Canadian Press was first published Dec. 7, 2022.