Danger Man: Putting A Target On Pierre Poilievre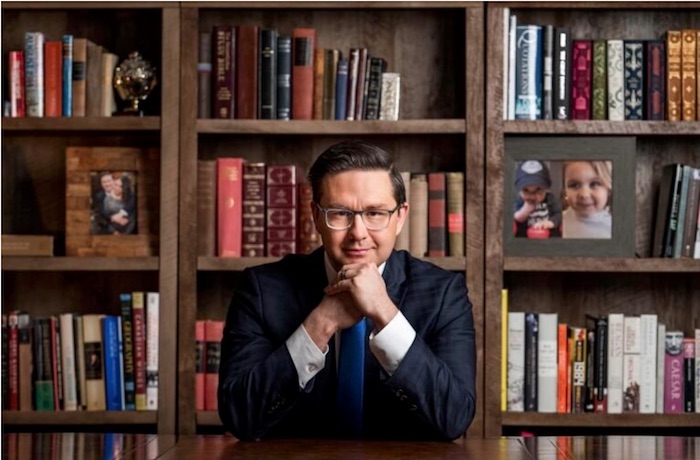 Sign up today for Not The Public Broadcaster newsletters. Hot takes/ cool slants on sports and current affairs. Have the latest columns delivered to your mail box. Tell your friends to join, too. Always provocative, always independent.
"If Pierre Poilievre was really serious about shaking up Ottawa, he could send a clear message by staying out of Stornoway," he said. "This is about living the high life and getting the taxpayer to pay for it."— NDP MP Charlie Angus in the Globe& Mail
It's been a tough couple of weeks for the Trudeau Media Party. First they watched in horror as their Elizabeth May pet project— known to its friends as the Green Party— collapsed in ignominy. Despite best attempts to escalate a Facebook page into a force worthy of inclusion in leaders' debates, the party president says the Greenies are a dead parrot.
Then, after a carefully curated campaign to portray Pierre Poilievre as the Nosferatu of the National Capital the Ottawa MP wiped out his rivals to win the leadership of the Conservative party of Canada. Despite dire warnings of a Northern Trump, Poilievre won a commanding 68 percent of the votes (330 out of 338 of the districts) sweeping every constituency but the Press Club on Parliament Hill.
To make it worse, when Poilievre ascended the podium for his acceptance, he delivered a speech he'd found in Erin O'Toole's desk drawer. Instead of "shutter the CBC" and "fire the governor of the Bank of Canada" it was all "people can't afford to live these days" and "Quebec can do whatever the hell it wants". Okay, he did put in a line about people wanting a government that could run a passport office. But that was about all the snark.
The CBC, CTV and Global panels, having prepared a Spanish Inquisition for Poilievre, were gobsmacked. "He seemed like a nice guy" was the stunned tone of the punditry. "Hope nobody noticed we blew this one" was another take. No worries, At Issue, no one outside the 613 has noticed you since Peter Mansbridge went off into Podcast Land.
Perhaps their only consolation is that Siri still cannot recognize Poilievre's name when prompted. So they still have that going for them.
But it's a phony peace. Already the Trump extremist comparisons are being levelled: "You don't have to squint too hard to see the parallels between former U.S. president Donald Trump and newly crowned Conservative Party of Canada Leader Pierre Poilievre, writes columnist @maxfawcett @NatObserver"
The Establishment knows why Poilievre got such a plurality and why young people in polling are favouring the Conservatives over the Fresh Prince of Rideau. The support for the nerdish guy reflects a population that sees the failure of institutions like Healthcare, the Bank of Canada and, yes, the passport office and has decided we have a crisis in management.
And the Family Compact can't have that. Too many people are in on the hustle. Too many cottages in the Outaouais, too many sinecures in the Senate, too many trust funds are riding on keeping a guy like Poilievre away from the free-lunch codes. That's why, within days, Global TV reporter David Akin was disrupting Poilievre's speech and the prime minister was pitching story lines for distribution to the purchased media.
While it should be an easy thing to make a non-person in a One Media state like Canada, Trudeau is still desperately trying to close the information loop. To keep his slappies cozy in the womb of Wokeness while placing Poilievre and the Conservatives beyond the Pale. To make PP a friend to the far right and semi-fascists. Said Trudeau of Poilievr. "Fighting against life-saving vaccines is not responsible leadership. Opposing the pandemic supports that saved jobs and helped families is not responsible leadership."
That means completing the taming of compliant media, business, arts and culture. Making conservatism a bad joke told at the Junos. Pursuing a climate policy that makes the government, not the market, the energy industry. Making Poilievre a strident pro-life advocate.
With as many as three years left till Trudeau must call an election— Jagmeet Singh, god willing— there is ample time to complete the de-personing of Poilievre and anyone who supports him. The Alberta Sovereignty cause will accelerate the movement to paint opponents as wild-eyed monsters unfit for civilized conversation.
If needs be, the PM can always resurrect the Emergency Measures Act to round up political foes. Having debased the standard his father established in 1970, Trudeau can easily paint Western radicals and Poilievre Trumpists as a threat to the state.
If you laugh at the notion of rounding up political enemies you haven't been paying attention to Joe Biden's putsch in the U.S. Aided by the Rob Reiners and Stephen Colberts he has closed his information loop for supporters. It is now possible to live within the bosom of Biden Land and consider any unbelievers to be "semi-fascist" enemies of the state. And have media endorse it wholeheartedly.
In the weeks since raiding the bedrooms of Baron and Melania Trump in search of the nuclear codes, Biden's FBI is now paying friendly visits on anyone who's expressed support for the former president, taking their cell phones and warning them of future recriminations. Not people involved in the 06/01 riot in Congress. No, people who have been ID'd online as having unpalatable opinions.
The concept of Biden using the FBI and DOJ to have his predecessor— and possible 2024 challenger— indicted before the November midterms is a distinct possibility. To those heavy breathing inside the information loop who've seen the failures of Russiagate, two impeachments, tax investigations and more all come up short, this is not an infringement of the First Amendment. It's proof they root for the good guys.
Trudeau is banking on the same sentiment as he looks to make Poilievre into the Ceaucescu of the Capital.
Bruce Dowbiggin @dowbboy is the editor of Not The Public Broadcaster (http://www.notthepublicbroadcaster.com). A two-time winner of the Gemini Award as Canada's top television sports broadcaster, he's a regular contributor to Sirius XM Canada Talks Ch. 167. Inexact Science: The Six Most Compelling Draft YearsIn NHL History, , his new book with his son Evan, was voted the eighth best professional hockey book of by bookauthority.org . His 2004 book Money Players was voted seventh best, and is available via http://brucedowbigginbooks.ca/book-personalaccount.aspx
That Old-Time Segregation. Good Enough Grandma. Good Enough For Me.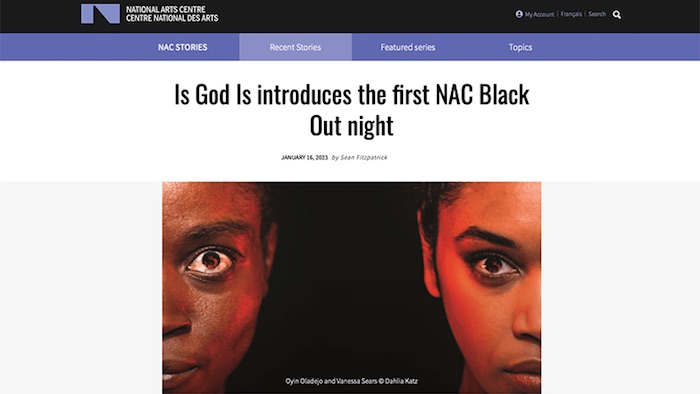 British universities are adding trigger warnings to Greek and Shakespearean tragedies to protect students from being triggered by tragedy.— The Telegraph
Those who remember the not-so-distant past will recall the epic struggle waged by the Left to end apartheid in South Africa. Focussed on the jailed leader Nelson Mandela, the movement gripped progressives in a righteous fervour to end the brutal segregationist regime of the white government.
Happily, the pressure exerted by governments around the world— including Canada's— finally freed Mandela in 1990 and ended apartheid. The world celebrated. The Left took a victory lap with a Matt Damon movie about the integrated SA Rugby team winning the World Cup. Never more would the spectre of segregation blot the history of the Western democracies.
Not so fast. In this age of intellectual convenience the Left works fast. As we pointed out last week they have now convinced the former Allied nations that they actually lost WW II and the Cold War due to white supremacy and transphobia.
Here in Canada, under the guise of Critical Race Theory, they have resurrected apartheid nostalgia as a tool to achieve something-something-something. The federally funded National Arts Centre in Ottawa, a stone's throw from the site of the Tuckers Convoy a year ago this month, was planning for two so-called Black-Out Nights where only blacks would be permitted into the plush pews for a little cultural uplift called "Is God Is". Hints that "black-identifying" might get you in the door were quashed by staff who said it was "blacks only".
The ban on whites, Asians and Indigenous theatre goers sprang from consultant research, no doubt at great cost, saying that the biggest barrier to theatre going is "it's not for someone like me". (Price of NAC tickets might also be a tiny impediment.) And so NAC management came up with Black Out Nights. "Honored that @CanadasNAC is standing by their commitment to a BLACK OUT performance of one of my favorite plays, 'IS GOD IS,'" tweeted playwright Jeremy O'Harris who holds a masters degree from the slave ship known as Yale.
News of the NAC's little secret spread outside the cognoscenti—despite the best efforts of the Media Party. Soon, the so-earnest-it's-painful arts administrator who runs the NAC these days was skating backwards faster than Bobby Orr. Deciding it was not a BLM mountain to die on, Christopher Deacon declared that the NAC might have to "course-correct and refine" its virtue orgy. Too bad for a progressive organization that hired a Director of Equity and Inclusion, whose stunning advice was that the NAC should do more Equity and Inclusion.
Now, the entire event has been shelved, to the chagrin of the same publicly funded zealots who wanted Jordan Peterson banned from speaking in Ottawa. "Sometimes the most needed change encounters resistance," quoth commissar Deacon. In finest apparatchik speak Deacon says they'll persevere. "But we press on… it's a journey to a better place". In case you're wondering Deacon is a white male liberal, but his black heart is in the right place. Which is good enough for the PMO.
(Sidebar: I worked as a PR flack at the NAC around the time of the first Quebec Referendum in 1980. Inclusion of francophones, not promotion of blacks, was the flavour of that Trudeau regime. So we had a dedicated well-paid employee whose job was to translate English into perfect Larousse French. Translating from French to English was my job, and anyone who's heard my French will know how frightening a prospect that was for national unity. But no one cared.)
Lest one think this CRT outreach is limited to the NAC, look no further than Toronto's Theatre Passe Muraille which— in my theatre days of the 70s-80s— was a plucky outfit long on class warfare and unwatchable plays. That continues into today where the star of a one-woman show on colonialism and such refused to let white theatre critics review her oeuvre 'bug".
Not to be outdone, Passe Muraille has its own Black Out Nights when even those willing to absorb the turgid agitprop onstage may not enter if they are un-black. Should someone wish to "self identify" as black they must undergo a gauntlet of staffers who will instruct them in the proper right-think. BTW: White staff, technicians and administrators will be allowed to participate and still cash Canada Council cheques.
Make no mistake. This virtue wallow is occurring across the performing arts in Canada, and the Canada Council is the love pump that supports the entire regime of inclusivity and inconsequentiality. Which is to say if you want money from this source— or win awards dedicated to the Arts in Canada— you must parse the accepted grievance du jour for material suitable to the panels who opine on such.
Sample: "Tragedy is a genre obsessed with violence and suffering, often of a sexual or graphic kind, and so some of the content might be triggering for some students."— The University of Aberdeen. Then you can write The Acceptable Death of a Exploitation Salesman or Cat On A Solar-Powered Roof.
Naturally, the Black Out movement has its equivalent in academia. My alma mater, the University of Toronto, now brags about a black convocation to celebrate the ultimate safe space. The organizers say, "On top of the regular demands that come with earning a university degree, Black students often deal with the added stress of microaggressions and a lack of representation in the classroom."
Nothing says Nelson Mandela or Martin Luther King more than retreating from the world. The organizers of U of T's Black Convocation announced, without irony, that the theme of (the 2021) event preferred by safe-space fans is "resilience."
The percentage of Canadians who fervently believe the safe-space mantra— sticks and stones will hurt my bones but words will destroy civilization— can safely be contained on one of those leaky scows that ply the St. Lawrence filled with Venezuelan oil. But the impact of this furious, concentrated rabble of class warriors is profound compared to their numbers (blacks are 3.5 percent of Canada's population.)
Why? Because fear. Fear is the secret to the current dystopia— not resilience, as U of T would have it. Those in positions of authority, like General George McLennan in the Civil War, always overestimate the opposition, quaking in their boots that they'll be exposed by a tsunami that exists mostly in grievance sites and academic swamps. Then they go on CBC Metro Morning to publicly bend a knee to this pressure.
In fact the numbers are massively exaggerated by feckless media slappies who think one loud voice translates as a movement as real as the Trucker Convoy. And who flatter themselves as change makers. Until someone calls the bluff on this hustle you can expect much more of this New/ Old Time Segregation.
Sign up today for Not The Public Broadcaster newsletters. Hot takes/ cool slants on sports and current affairs. Have the latest columns delivered to your mail box. Tell your friends to join, too. Always provocative, always independent. https://share.hsforms.com/16edbhhC3TTKg6jAaRyP7rActsj5
Bruce Dowbiggin @dowbboy is the editor of Not The Public Broadcaster A two-time winner of the Gemini Award as Canada's top television sports broadcaster, he's a regular contributor to Sirius XM Canada Talks Ch. 167. Inexact Science: The Six Most Compelling Draft Years In NHL History, his new book with his son Evan, was voted the seventh-best professional hockey book of all time by bookauthority.org . His 2004 book Money Players was voted sixth best on the same list, and is available via http://brucedowbigginbooks.ca/book-personalaccount.aspx
Will Cable Cord Cutting Shock Pro Sports Back To Its Senses?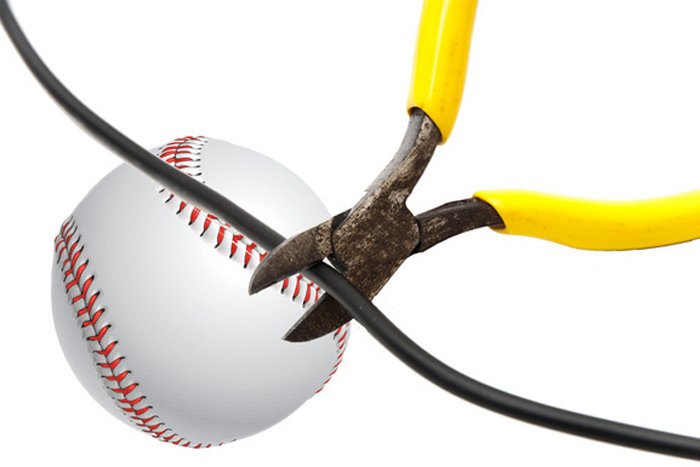 If there's one constant in modern sports it's bewilderment at how high salaries have risen for elite athletes. Where a million dollars a year was once the "unheard-of" threshold for salaries, today's stars are easily taking home 20, 40, even 50 million a year under the new economy in sports. Even college athletes, once forbidden to accept remuneration, are cashing in millions for their name, image or likeness.
When people complain about overpaid athletes to IDLM we simply say the money is in the business, who else do you think should get the cash? Ditto for franchise values, where the Denver Broncos recently sold for a staggering $4.65 B. and the Washington Commanders might fetch $6B.
Largely the infusion of riches in pro sports has come from TV and digital-rights contracts between leagues and regional sports networks (RSN). Those RSNs are the carriers of the local and regional teams. Packaged through cable or satellite carriers they deliver valuable programming dollars to leagues. And for smaller media markets they are a vital source of revenue to keep up with the big boys whose ancillary revenues are pumped by many more customers.
As just one example, the MLB St. Louis Cardinals are currently earning about $66 million a year from their 15-year, $1B deal they signed with Fox Sports in 2015. There are 18 other teams on Sinclair/Diamond local TV deals, all of whom rely on RSNs to play New York salaries in Pittsburgh or Kansas City.
In Canada, as opposed to the American model, regional sports contracts are held directly by either TSN or Sportsnet, national carriers. The monopoly status has suppressed revenues to Canadian NHL, MLB or NBA teams relative to the deals cut in large markets such as New York's tri-state area, southern California or Chicago.
Recently TV rights packages values were boosted by the arrival of Amazon, YouTube and Google which began to compete with traditional networks for U.S. broadcast rights. But now RSNs are threatened by the cord-cutting trend that sees American and Canadian consumers dumping their traditional bundlers of services to go à la carte digital directly with the producers of programming. ( In Canada the DAZN network has gone head-to-head with TSN for NFL games on a digital deal with the league.)
This past week the American cable giant Comcast reported a year-over-year 11 percent loss in its customer base. That's about two million Americans saying "I can do without the middle men and the useless channels. I want to subscribe directly to the producers of the material I want to see." From a peak of 110.5 million customers in 2013 the Comcast market is estimated to drop as low as 65 million customers by 2025.
In part this is consumers shedding programming bundles they never watch and bloated subscription fees as they tighten their belts. It's also a reflection on the Netflix streaming revolution sparked by Covid-19 lockdowns that saw locked-down consumers get used to the convenience of directly streaming programming from Netflix or Amazon Prime or Disney without paying for a raft of useless channels.
Advertisers have noticed, too. They are headed to streaming services, where their messages can be more targeted to desired audiences than cable TVs scattershot approach.
The impact is being seen in the U.S. where Diamond Sports Group, which controls a huge portion of the pro sports RSNs, is said to be headed to bankruptcy court to restructure its $8.6B in debt. "There are a lot of business and financial terms and policies to work through," says Deadspin, "but the long and short of it is that DSG is likely going to skip an interest payment it owes, which should be enough for them to get to the bankruptcy claim they've been rumored to be after for a while now."
Bloomberg reported that if they file for bankruptcy it could "potentially put at risk crucial broadcasting rights revenues" for major North American sports networks. Greg Boris, a sports management professor at Adelphi University summed up the looming disaster for pro sports. He told The Score that RSNs have "been a golden goose. You remove cable TV from the scenario, and franchises are worth a fraction of what they are today, players make a fraction of their salaries today… the boom has been going on for almost 30 years. But the vast majority of the people that pay never watch (services they purchase). That's been the model."
Leagues are now investigating what to do if the RSN model collapses. Currently the leagues operate direct streaming services for customers wishing to watch out-of-town games not involving their local team. They could simply add the RSN rights too these streams.But direct-to-consumer can be very costly. The Disney+ operation was thought to be a slam dunk, but now management at Disney admits it will be a few years before the operation gets out of the red. American carrier Comcast launched the Peacock network as an outlet for NBC content. It lost $2.5B in 2022 and projects to lose another $2B in 2023. Similar startups such as CBC Gem have been flops.
Direct-to-consumer is also not the easy money machine that RSNs were. If a league or a team operates a direct customer service it takes on the responsibility of signing up and maintaining its customer base. That means dealing with the fickle fans who might drop his/ her package to an NHL, NFL, MLB or NBA team for a few years till the club improves.
That could be a disaster for underperforming teams like MLB's Pirates or NHL Vancouver Canucks who had the assurance that, while their programming sucked, the other offerings on the cable package were worth customers retaining the service. Direct-to-consumer could, however, be a ray of hope for fans of bad teams that force clubs to finally get serious about producing a winning product.
This potential financial shortfall is probably one of the reason pro sports has so fervently embraced sports betting— to the annoyance of many fans. If the TV money goes, they'll need every dollar they can find to pay out the contracts they've been issuing with impunity the past decade.
Sign up today for Not The Public Broadcaster newsletters. Hot takes/ cool slants on sports and current affairs. Have the latest columns delivered to your mail box. Tell your friends to join, too. Always provocative, always independent. https://share.hsforms.com/16edbhhC3TTKg6jAaRyP7rActsj5
Bruce Dowbiggin @dowbboy is the editor of Not The Public Broadcaster A two-time winner of the Gemini Award as Canada's top television sports broadcaster, he's a regular contributor to Sirius XM Canada Talks Ch. 167. Inexact Science: The Six Most Compelling Draft Years In NHL History, his new book with his son Evan, was voted the seventh-best professional hockey book of all time by bookauthority.org . His 2004 book Money Players was voted sixth best on the same list, and is available via http://brucedowbigginbooks.ca/book-personalaccount.aspx