Why aren't more doctors treating covid? Doctor testifies early treatment saves lives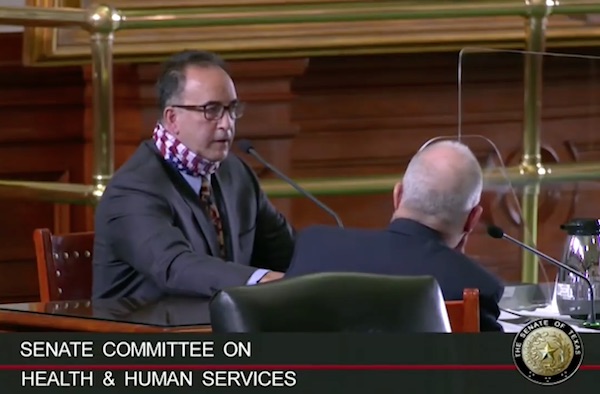 In the early months of the covid pandemic, doctors were unwilling to use what they felt, and what they were told would be ineffective, experimental drugs to treat their patients. But Houston Doctor Richard Urso refused to send his patients away without trying to help. Dr. Urso was an early proponent of drugs which became controversial in the media. He was accused by three of the patients he successfully treated, of malpractice. It took months, but eventually the Texas Medical Board dismissed the charges and stated the treatment offered by Dr. Urso was in fact, appropriate. Urso has yet to lose a single patient to covid.
In March, Dr. Urso was invited to testify as the Texas Senate Health and Human Services Committee examined how that state's medical system approached the covid challenge.
Within two days of this testimony (March 10) the Texas Senate introduced legislation to mandate information on early treatment be provided to every positive covid-19 patient. The key now is for doctors to act. The key for patients with positive test results, is advocating for treatment.
Click below to see another remarkable testimony from Dr. Peter McCullough.
There's another way to end the pandemic. Doctors can knock covid out with treatment
'Lit a match': Prosecutor says pastor's fiery speech at Coutts blockade was criminal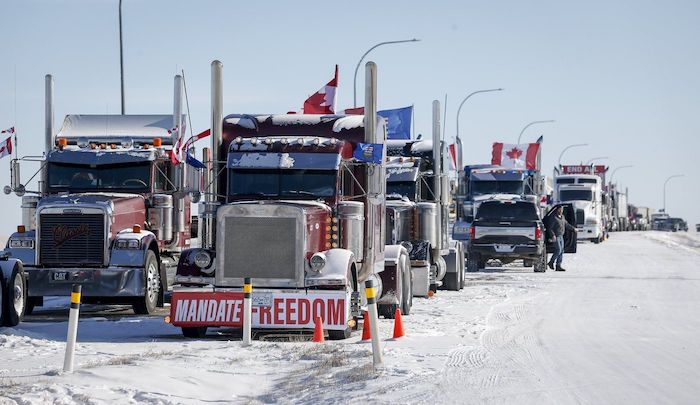 By Bill Graveland in Lethbridge
A Crown prosecutor told court that a Calgary pastor accused of encouraging truckers to keep blocking a Canada-U.S. border crossing meant to fan the flames with his visit.
Steven Johnston presented closing arguments Friday in the trial of Artur Pawlowski.
Johnston said Pawlowski knew exactly what he was doing when he spent a day with the truckers involved in the blockade at Coutts, Alta.
The blockade began in late January 2022 to protest COVID-19 health restrictions. It paralyzed Alberta's main U.S. border crossing for more than two weeks.
"He went there … to fire up that crowd, to tell them to hold the line, to tell them not to leave, to tell them stand strong, 'this is our Alamo,'" Johnston said of Pawlowski's visit.
"He went to Coutts, lit a match and left the place."
Pawlowski has pleaded not guilty to mischief and breaching a release order, as well as a charge under the Alberta Critical Infrastructure Defence Act of wilfully damaging or destroying essential infrastructure.
Several people were also charged after RCMP found a cache of guns, body armour and ammunition in three trailers during the blockade. Four men face charges of conspiracy to commit murder.
The Crown's case against Pawlowski consists of a 20-minute video of a speech the pastor gave to protesters on Feb. 3, 2022, urging them to hold their ground.
"The eyes of the world are fixed right here on you guys. You are the heroes. Don't you dare go breaking the line," Pawlowski said in the video shown in court.
Johnston said the pastor's speech was akin to yelling "fire" in a movie theatre.
The prosecutor said Pawlowski also referred to labour strikes in Poland, but the main reason for the pastor's speech was to encourage protesters "hold the line" and continue blocking the border crossing.
"When he says 'here,' he doesn't mean some labour dispute. He's actually in Coutts when that occurred," Johnston said.
"He also referred to Coutts as this 'pitiful piece of land," so we're talking about Coutts."
The defence argued during the trial that Pawlowski was expressing his opinion and didn't incite the crowd to do anything.
Outside court Friday, Pawlowski said he tried to speak with Johnston about the proper pronunciation of his last name.
"This is my last name, so the least you could do an effort, after a year of persecuting an individual, to learn how to pronounce that individual's last name," Pawlowski told reporters.
The trial was put over to Feb. 17, when a date is to be set for a decision.
Pawlowski said he is optimistic about the verdict.
"I believe it went very well. It was a very unusual trial for me because witnesses were not called and the only evidence, if you will, is my sermon in Coutts."
Pawlowski was also charged with violating COVID-19 protocols nearly two years ago, but the charges were stayed by the Crown in December.
This report by The Canadian Press was first published Feb. 3, 2023.
Quebec says only people at risk who haven't had COVID-19 should get booster dose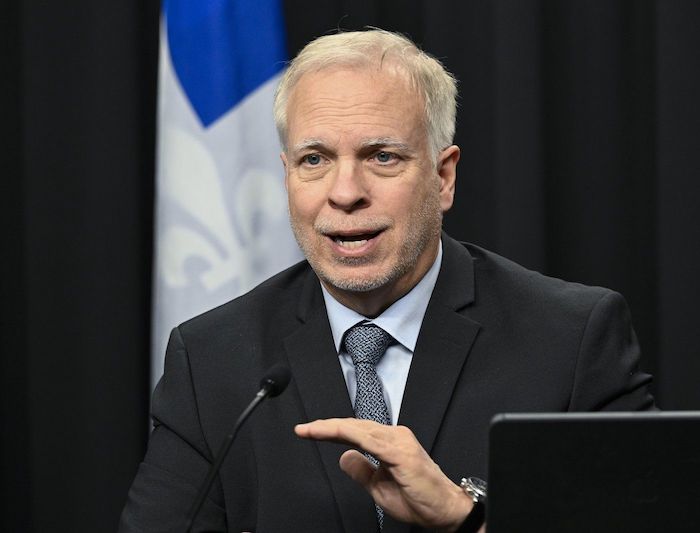 Only people who are considered at risk for severe COVID-19 — and who haven't already been infected — need to get a booster dose, Quebec's public health director said Thursday.
The vast majority of Quebecers have hybrid immunity — protection through vaccination and through a SARS-CoV-2 infection — making regular boosters unnecessary, at least for this winter and spring, Dr. Luc Boileau told reporters.
"People with hybrid immunity … have a very good protection against a severe form of the illness," Boileau said. "And this immunity lasts for a long enough time that we can propose changes."
Those who have been vaccinated but haven't contracted the virus are also protected against severe COVID-19, he said, but their immunity "has a tendency to drop with time."
Quebec's vaccination committee decided to focus the province's immunization policy on preventing hospitalizations and deaths, he said. People who are 60 and older or who have chronic illnesses, health workers, pregnant women and those who live in isolated regions are among the people who should get a booster every six months — but only if they have never caught the virus, Boileau said.
Dr. Caroline Quach-Thanh, chairperson of Quebec immunization committee, said the data shows that people already vaccinated for COVID-19 who have contracted the virus "maintain their protection."
"Adding a dose doesn't add a lot protection for severe (illness)," she said.
Health officials estimate that more than three-quarters of Quebecers under 60 have had COVID-19 over the past three years, while about half of those over 60 have caught the virus.
Boileau said only people who are immunocompromised should continue getting boosters even if they've been infected, "because their immunity could be affected by their condition."
Before Thursday's announcement, boosters were recommended for all people considered at risk of severe COVID-19. Boileau said COVID-19 vaccines will remain available to anyone who wants one. "We won't refuse anyone," he said.
This report by The Canadian Press was first published Feb. 2, 2023.